The 9 Best Waterproofing Professionals in Auckland
In the ever-changing weather of Auckland, waterproofing is crucial. To keep your roof or balcony free from leaks and damage, we've listed for you the best waterproofing professionals in Auckland today!
Waterproofing is necessary for many parts of your house — the roofing, gutter, balcony, terrace, deck, and even below-ground. It can also be applied anew whether you're renovating or building a new house.
We took the time to look for the companies with the best products, most talented people, and modern equipment to finish the work at hand. Based on our research, here are the best waterproofing professionals in Auckland!
1)  NZ Waterproofing Specialists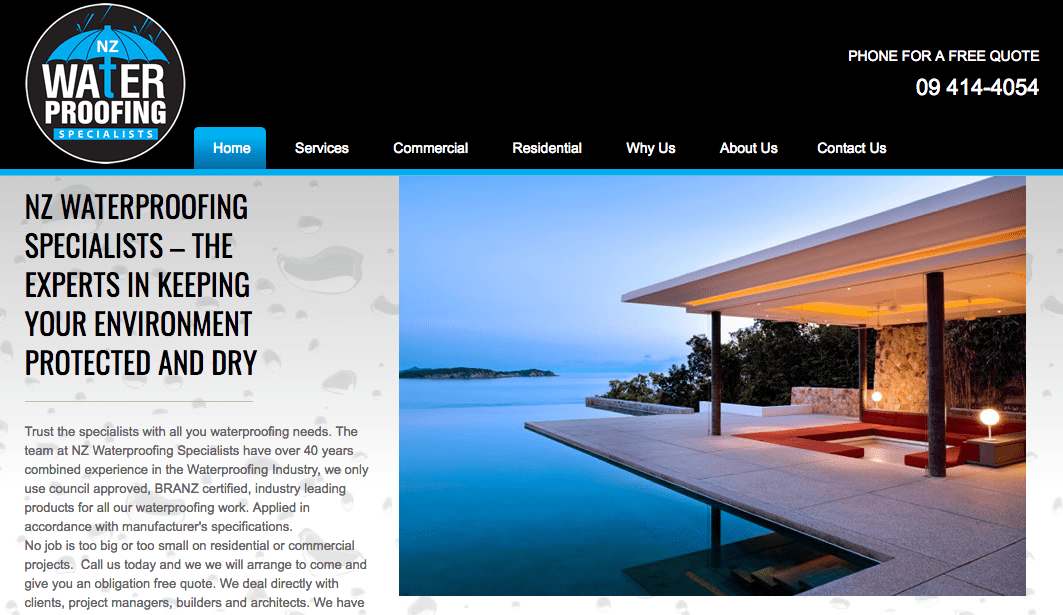 | | |
| --- | --- |
| Best for | Premium Waterproof Membranes |
| Services | New Homes and Renovations, Residential and Commercial Properties, and Plaster Cladding Coating |
| Address | 54 Helvetia Drive, Browns Bay, Auckland 0632, New Zealand |
| Contact no | (09) 414 4054 |
| Website | https://www.nzwaterproofingspecialists.co.nz/ |
Keep your roofing and decks durable and dry by letting NZ Waterproofing Specialists lay a new membrane over them. These are BRANZ-approved, which ensures premium quality to keep your property leak-free through the years.
Boasting 40 years of experience, they are one of the best waterproofing professionals in Auckland. They can coordinate with your builders and architects to achieve the best results for your house.
They offer waterproofing services for new builds or renovation projects. Also, they can apply a solid torch-on membrane for your roofing in order to help it resist dampness and moisture.
Highlights
Uses premium membranes
Extraordinary resistance for wet and damp surfaces
Over 40 years of experience
Can liaise with your builders, project managers, and architects
2) Gunac Waterproofing Specialists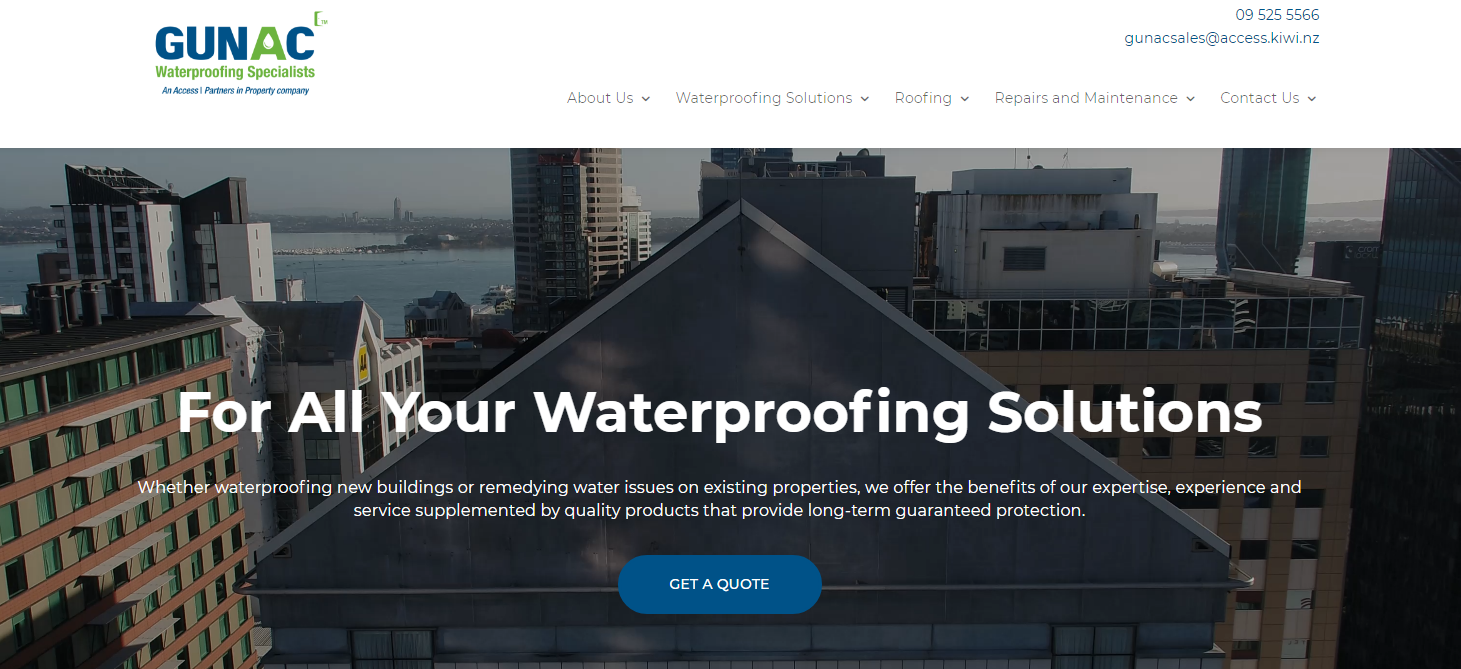 Best for
Property Maintenance
Services

Sheet Membrane
Liquid Membrane
Below Ground Tanking
Sealants
Specialists Coatings (Swimming Pools)
Warm Roofs
Metal Roofs
Green Roofs

Address
84 Kerrs Road, Wiri
Auckland 2104
Contact no
09 525 5566 |

[email protected]

Website
https://www.gunac.co.nz
Gunac | Waterproofing Specialists bring 40 years of experience in the waterproofing industry. The team has experience waterproofing some of Auckland's well-known buildings including Crowne Plaza, Cordis Hotel, The International Apartments, and more.
Their expert team is capable of handling projects of any scale. No matter what you commission them to do, you can rest assured that it will be done skillfully and promptly.
Highlights
Many years of experience
Skilled team of professionals
Offer a high quality service
Skilled and competent applicators
Offer holistic property solutions
3)  Elephant New Zealand Limited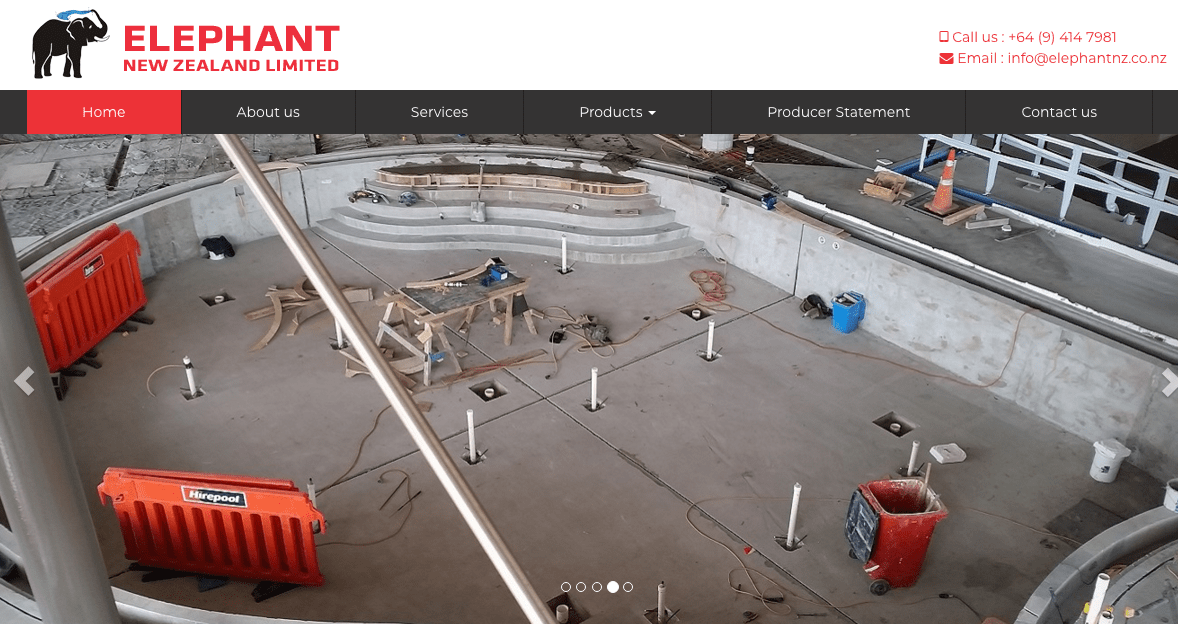 | | |
| --- | --- |
| Best for | Building Construction |
| Services | New and Existing Decks and Balconies, Basements, Water Tanks, Swimming Pools, Roofs, Gutters, Retaining Walls, Ponds, Cellars, and Tunnels, Crack Injection Repair |
| Address | Unit L, 3 Henry Rose Place, Albany, North Shore City, New Zealand |
| Contact no | (09) 414 7981 |
| Website | http://www.elephantnz.co.nz/ |
Elephant New Zealand Limited provides waterproofing for everything from roofs through to building foundations. They employ the most competent and friendly teams to serve their clients.
They offer BRANZ-appraised products, bringing superior quality to the table. An example are the Voltex membranes that they offer — these are remarkably durable and made of textiles stapled together.
Or you can have the TPO membrane that has UV-resistant properties to counter heat. It can make the building or place cooler as a result, letting you trim your power expenses.
Highlights
Superb quality membranes
Competent and amiable teams
BRANZ certified products
4)  DVK Commercial and Residential Waterproofing Ltd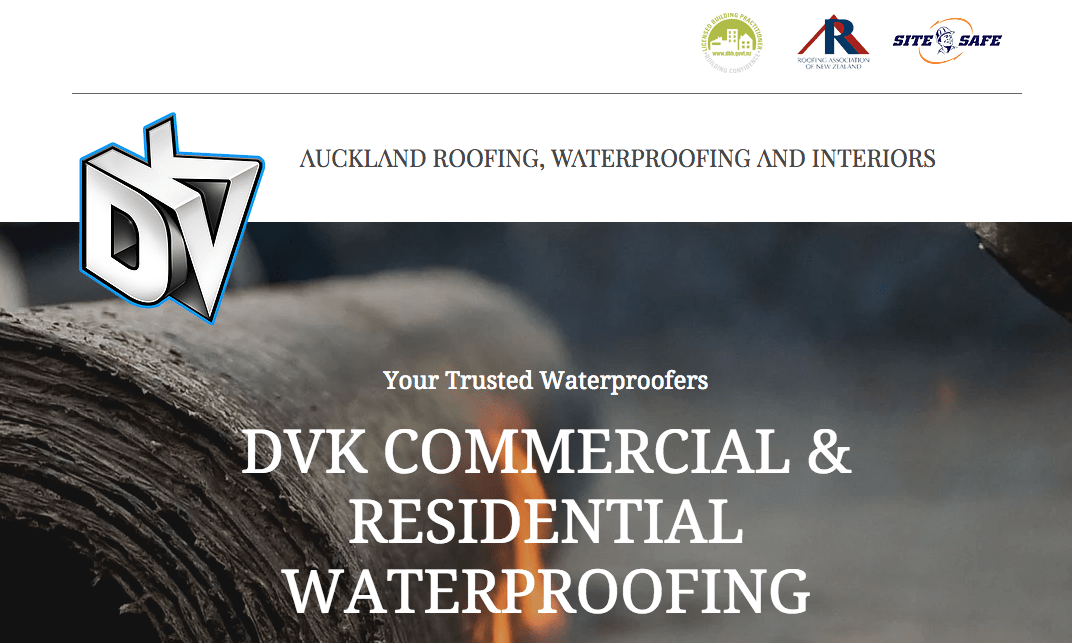 | | |
| --- | --- |
| Best for | Efficient and Dependable Team |
| Services | Membrane Roofs, Membrane Decks, Below-Ground Tanking, Internal Gutters, and Flat Areas |
| Address | 14/40 Andromeda Crescent, East Tamaki, Auckland 2013, New Zealand |
| Contact no | (09) 271 6585 |
| Website | https://www.dvk.co.nz/ |
If you're looking for waterproofing and roofing technicians in one, put your trust on DVK. All you have to do is leave your roof to them — no matter how deteriorated or untidy, they can fix it for you.
They have a wide selection of membranes for the right purpose such as for roofs, decks, balconies, gutters, and even below-grounds to make a strong building foundation.
DVK is a Licenced Building Practitioner and a Roofing Association of New Zealand Site Safe member. And that makes them some of the best waterproofing professionals in Auckland.
Highlights
No internal waterproofing
Team can finish within the set timeframe
Site Safe member
Licenced Building Practitioners
5)  MPM Waterproofing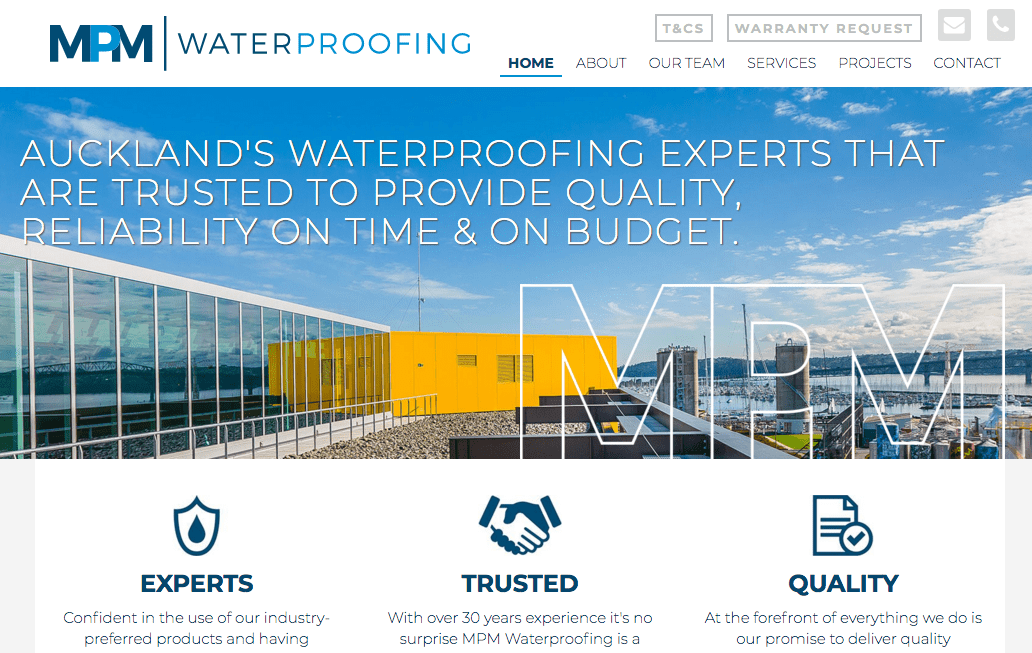 | | |
| --- | --- |
| Best for | Unrivalled Workmanship Quality |
| Services | Below-Ground Tanking, Membrane Roofing, Membrane Decks, Membrane Podiums, Green Roofs, Insulated Roofs, and Joint Sealing |
| Address | 112B Mays Rd, Onehunga, Auckland 1061 |
| Contact no | (09) 582 1390 |
| Website | http://www.mpmwaterproofing.co.nz/ |
For quality that impresses and will stay for a very long time, look no further than MPM Waterproofing. They are able to promise great waterproofing through their robust products and expert skills.
MPM Waterproofing services residential, commercial, and industrial clients. They have been around for over 30 years, offering membranes for below-ground, roofings, decks, and podiums.
Aside from this, the team can complete the job under a strict time frame and works within your budget. Plus, they listen well to their clients in order to get the desired finish and workmanship.
Highlights
Experienced and competent team
Offers high quality products
Wonderful finish and result
The team can work with the budget you have
6)  A Plus Group NZ
Best for
Commercial and Industrial Waterproofing
Services
Roof, Deck & Gutter Waterproofing, Tanking, Basement Waterproofing, Bathroom Waterproofing, Rubber Roofing Repair or Replacement, Leaky Basement Inspection
Address
1B Herd Rd, Hillsborough, Auckland 1042
Contact no
phone: 027-210-1415

email: [email protected]

Website
http://www.aplusgroupnz.co.nz/
A Plus Group offers waterproofing solutions for any part of your property. They provide both commercial and industrial waterproofing services.
Clients praise their neat and excellent services. The A Plus Group is a good choice for any of your waterproofing needs.
Highlights
Various waterproofing services available
Free site visit and quote
7)  Auckland Flat Roof & Waterproofing Services

Best for
Comprehensive services
Services
Roof Repair & Maintenance, Re-roofing Services, Waterproofing
Address
3H/20 Charlotte Street – Auckland, NZ 1021
Contact no
Phone: 022 444 4475
Email: [email protected]
Website
https://www.flatroof.co.nz/
Auckland Flat Roof and Waterproofing Services is a company that works all around the Auckland area. They offer a comprehensive set of services for flatroof and waterproofing.
Their team of specialists prioritises customer satisfaction as they work. With their help, you can maintain your roof and increase its longevity.
Highlights
Wide variety of products and services
Skilled flatroof services
8) Superior Waterproofing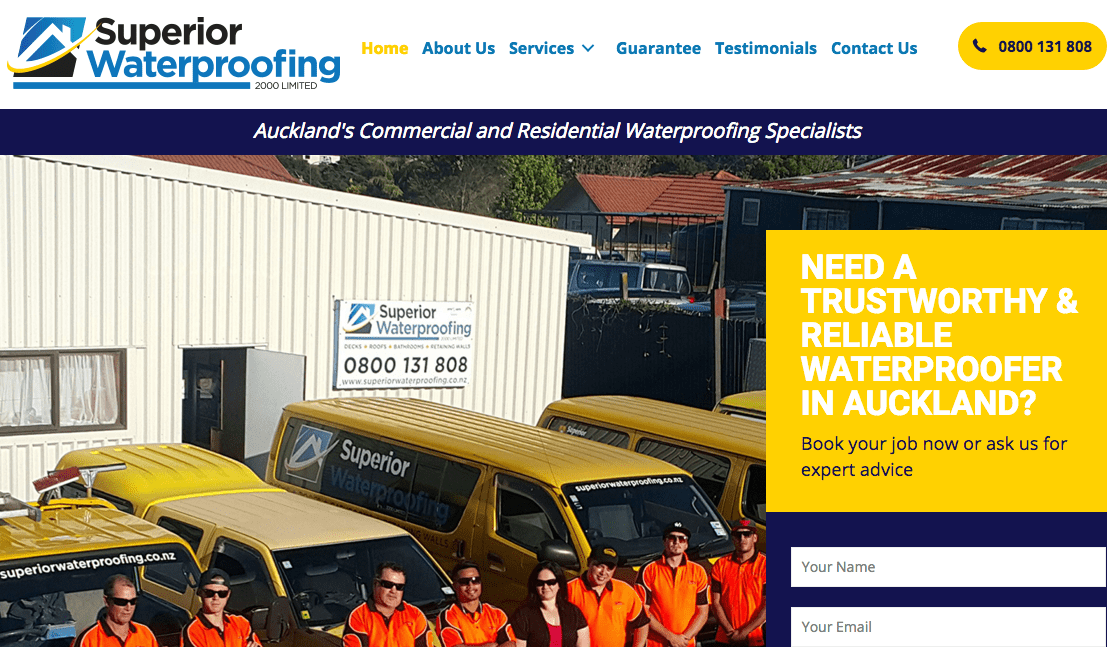 | | |
| --- | --- |
| Best for | Resourceful and Well-Experienced Team |
| Services | Membrane Maintenance, Roof/Gutter/Deck Restoration, Bathroom and Wet Areas, Below-Ground Tanking, Leaky Basements, and Exterior Coating |
| Address | 3a/4 Waikaukau Rd, Glen Eden, Auckland, New Zealand |
| Contact no | 0800 131 808 |
| Website | https://www.superiorwaterproofing.co.nz/ |
No matter how simple or complex the job, just leave it to Superior Waterproofing. In the span of 10 years, they were able to complete 3,000 projects successfully — that's an enormous amount of experience!
They are licenced waterproofers supervised and led by Eddie Tell. They have what it takes to restore or repair the membrane on your roof, gutter, deck, balcony, bathroom, and below-ground.
As such they are some of the best waterproofing professionals in Auckland. With their dedicated service, your new home will be built on a foundation that's stable and phenomenally watertight.
Highlights
Have completed more than 3,000 projects
Fantastic waterproofers
Takes all sorts of jobs from simple to complex
Protects against leaks and corrosion
Customer Reviews
Laurie Abel's review is posted on the home page of Superior Waterproofing. She writes:
"Thanks Eddie and team at Superior Waterproofing for a job well done. Very happy with results and the friendly co-operative guys on the job. I will be happy to recommend you any time."
9) Sahara Waterproofing NZ Ltd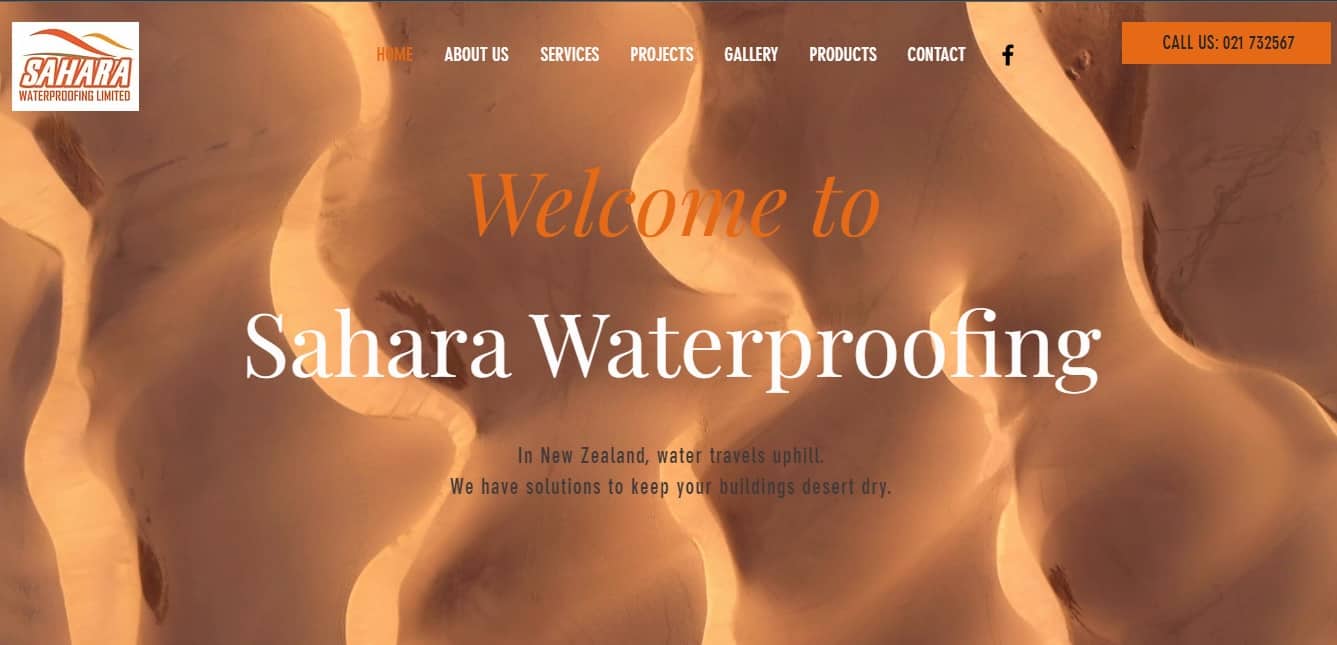 Sahara Waterproofing NZ Ltd is a company that provides a wide range of waterproofing solutions for both residential and commercial settings. With over 40 years of experience, they have since been providing the area with desert-dry waterproofing.
We find their expertise with quality products to be highly efficient since clients can be assured that all materials and products used are both durable and stands the test of time.
Each of their products features a 15-year warranty to ensure that clients get the most utilization from their services and even have a cost-efficient plan overall for their property.
Another thing we find exemplary is their after-evaluation procedure so that they can make sure that the job was thoroughly done and also give clients peace of mind knowing that the waterproofing solution is effective.
Overall, with their expert staff and equally professional equipment and materials used, we recommend them to clients in the area to give them a try.
Highlights
Certified team with over 40 years of experience
Products have a 15-year workmanship warranty
Utilizes the latest waterproofing products and techniques
And that's all for the best waterproofing professionals in Auckland. Get your home watertight with the assistance of these hardworking pros!
Has everything about the topic been crystal-clear? If you have any questions, feel free to send us a message and we'll reply to you soon.
Apart from that, you might also be interested to read about the best concrete suppliers in Auckland. We have great concrete products there that can be delivered to your site promptly.