The 10 Best Providers for Web Design in Napier
Featured Image Source from Freepik
Need a website for your business? If so, you're at the right place, as we handpicked the best web design providers in Napier here for you!
But how much does a web design service cost and what kind of website should you go for? We'll tackle this and more below to help you pick from our top choices further on.
Without further ado, let's go!
How Much Does a Web Design Service Cost in Napier?
Web design service costs differ from company to company. Some freely show the prices on their site while others don't.
Web design services in Napier typically cost around $500 for a one-page website and $7,500 for a specialist website like one used by a finance company or government.
Now, here's an overview of the website type you can go for and their estimated prices:
| | |
| --- | --- |
| Website type | Estimated price |
| 1-page website | From $500 |
| Multiple-page website (5 to 9 pages) | From $1,000 |
| eCommerce website | From $2,500 |
| Specialist website | From $7,500 |
A 1-page website displays your company's details, images, and contact details on a single page. This fits small-and-medium firms and is the most affordable of the bunch.
On the other hand, a multiple-page website has many headers you can click to go to another page. This is a great option for both fledgeling and established companies.
Now, if you intend to sell your goods and services, you'll need an eCommerce website. This has many add-on features including one that keeps online payments secure.
And the most expensive website type, a specialist website, conveys information with the purpose to inform, advise, sell, or advertise to citizens or the public.
Here are the rates for web design packages for some Napier companies:
| | |
| --- | --- |
| Web Designer | Price range |
| WebCanny Ltd | $350 – $1,599 |
| Bay Web Design | $790 – $2,500 |
| 543 Design | $899 – $2,099 |
Note that all these prices exclude GST. Also, check if the website package has the features you need, like whether the site is editable or has SEO and hosting included.
Nowadays, as many people are browsing on their smartphones, you should definitely think about making your website mobile-friendly.
Before choosing a web design company, you have to see if it can meet your needs. You can gauge this through its experience, reputation, portfolio, and client reviews.
Remember, the important thing is that you get a website that can drive your business to succeed and a decent price for the service.
The Best Web Design Providers in Napier
With that in mind, let's now round up our top picks for web design providers in Napier!
1) eDesign Hawkes Bay

Services
Websites
Online blogs
Social media marketing
Google
Webmasters & Analytics
SEO
Website
https://edesignhb.co.nz
Address
Napier, New Zealand
Contact details
Phone: 06 5611 565
Mobile: 027 6009209
Email:

[email protected]

Office hours
Monday – Friday: 8.00 AM – 5.00 PM
Saturday – Sunday: closed
Sally Ross from eDesign Hawkes Bay is passionate about helping clients in different fields of digital marketing.
This includes web designing and hosting, social media marketing, online blogging, SEO and Google Analytics, which ranks up your website on search engine pages.
Her web designs are simple, straightforward, and informative. She has designed for a broad range of trades such as a dentist, art gallery owner, travel agent, and more.
However, she doesn't just build you a website and stop there. She will work with your team and devise a strategy to make your brand known and drive your traffic and sales.
With over 11 years of experience, Sal is a competent web designer who can help small and medium businesses thrive. For that reason, we strongly recommend eDesign in this list.
Great for SMEs
Experienced web designer
Mobile-friendly web design
Rates are not indicated online
Customer Reviews
On Google Reviews, eDesign holds 5/5 stars from many clients. They mostly said that she was skilful, knowledgeable, and reliable to work with.
Here's a review of Sal from A.Pierard:
"Sally has been a critical member of our team over the past year, helping us identify our weaknesses and capitalise on our strengths. Her skills cross over into practically every field which gives extra value and she is great to work with, most importantly: easygoing and flexible. We look forward to her continuing contributions and know that our successes are due in no small part to her hard work and skill."
Also, Eva wrote this comment:
"Sally doesn't leave you stranded in the "web world" once your project is finished she provides real support so you can navigate yourself."
2) WebCanny Ltd

Services
Web design
Domains
Design layout
SEO Hosting
SSL
Website
https://webcanny.co.nz
Address
Cnr of Byron and Browning Streets, Napier 4110, Hawkes Bay, New Zealand
Contact details
Phone: 06 281 2290
Fax: 06 835 5115
Email:

[email protected]

Office hours
Monday – Friday: 9.00 AM – 6.00 PM
Saturday – Sunday: closed
If you're on a tight budget for a new website, then you can try WebCanny. They are known for offering affordable and nice-looking websites across NZ and Australia.
They offer five packages that are tailored to different needs. These consists of a standard website, redesign, eCommerce, optimised site, and even a Facebook page.
Right now, they have a 10th-anniversary sale bringing down the prices by half, from the thousands to the hundreds. That's their edge over other web designers on our list.
Their design process is simple and efficient, which will only take a short period. They will discuss with you your options including the domain name, layout, and marketing.
WebCanny is also perfect for startup and veteran companies. They can help to further your business with features of SEO, SSL, and CMS, which enables you to edit your content.
Affordable rates
Simple design process
50% anniversary discount
Design is an issue for some clients
Hard to get a hold of
Customer Reviews
Despite complaints about poor design and no-response calls, others said otherwise and were happy with the work they've received. Here are some reviews from clients:
Dan, one client, gave this review:
"I had Violet as my point of contact she was absolutely amazing I was hesitant about using a company out of my home town but webcanny completely delivered on their promises, contact throughout the process was amazing they allowed me time to do things on my end and made the whole process really manageable while I was running a business and working on the tools.
Highly recommend them if anyone needs a website built."
And check out DJ's comment of them:
"I cannot really fault them ,they are damm good value for money in my opinion! Sure their might be small difficulty's in communication perhaps, but overall pretty good !
Violet of WebCanny is very helpful and understanding of your wishes and ideas and brings them to the fore in you website!
Daniel who handled my enquirys at the beginning was also very helpful! I'm very pleased with my website thanks guys thanks WebCanny!"
3) 543 Design

Services
Logo design
Graphic design
UX design
Website design
Business cards
Online advertising
Website
https://www.543websitedesign.co.nz
Address
Ahuriri, Napier, New Zealand
Contact details
Phone: +61 2 2635 8062
Email:

[email protected]

Office hours
Open every day from 6.00 AM – 10.00 PM
543 Design creates wonderful websites at just a fraction of the cost of what competitors charge. This is why they are one of the best web design providers in Napier.
An all-rounder, they offer a full suite of services from logo design to online advertising. They even make business cards and conduct social media consultations for clients.
From what we've seen, their websites are attention-grabbing and intuitive. They make bold use of effects, pictures, and videos to pitch your message to the world.
And here's the kicker: all their websites are editable, optimised, and mobile-friendly. As we said earlier, the price packs a punch, thus giving you great value for your money.
They can also build you an eCommerce website that is so easy to use. The gold package includes all the nifty features and 20 products—or more if you want.
Complete website package
Cost-effective service ($1,699 for a full website)
Also mobile-friendly
Newsletter signup discount
Inconsistent price information
Customer Reviews
Clients scored the web design agency 4.9/5 stars. Jamie was lauded for his top-notch work, speedy response, and personable service.
One client named Giovanna wrote this review:
"Jamie captured the essence of the look and flavour of our website design. There was little back and forth needed. We very much like our website design, a true reflection of our business values."
Also, Lorretta said this:
"Thankyou Jamie and 543 Design, we took our time to get Kia Ora Health and Wellness looking professional, appealing to the eye, and easy for clients to maneuver around. Our response has been great and we are looking forward to being a very busy online consultation business. I am very grateful for Jamie's help and support through the whole process, and I look forward to working with 543 Design in the future."
4) NZ Digital

Services
Web design
Digital ads
Digital marketing
Website
https://nzdigital.co.nz
Address
21 Hastings Street, Napier South, Napier 4110, New Zealand
Contact details
0508 693 444


[email protected]

Office hours
Monday – Friday: 9.00 AM – 5.00 PM
Saturday – Sunday: closed
NZ Digital is an award-winning digital and web design agency based out of Napier. You can get a feel of the website they can build for you just by browsing theirs.
Compared to other web designers, it has a strong drive to help you stand out from the crowd by designing websites that create an engaging experience for your audience.
Coupled with that is a seamless user experience. This means the site will be easy on your eyes as you scroll down the page or read an article.
This digital agency can build sites for companies of all sizes, which is another benefit. And with SilverStripe, you'll be able to change your website's content securely anytime.
Of course, your website will also have a mobile version, letting you reach more clients and ready for you to take the market by storm!
User-focused web design
Can design for all company sizes
Mobile-friendly site
Rates are not indicated online
Customer Reviews
A lot of the reviewers have been working with Adam from NZ Digital for some time. They have high regard for him and his multi-disciplined team of professionals.
Lisa, one client, shared this review:
"I highly recommend Adam and the team at NZ Digital. They have top notch customer service and are great to work with. I first got in touch with Adam when looking for a developer to help with our website in 2016, and we've been using these guys ever since. Adam offered some suggestions (kindly at no cost) which fixed the issue I was dealing with. It wasn't long after this that we decided to switch to using NZ Digital for all of our development, hosting and WordPress support work."
Plus, Matt wrote this of the web designer:
"NZD are fantastic. There are geniuses when it comes to custom software. They listen, understand business needs, are solution focused and deliver consistent results. Adam and the team have added huge value to our business and we cannot thank them enough for the work they have done. Give them ago, they are awesome."
5) Bay Web Design

Services
One-page website
Business website
eCommerce
Website
https://www.baywebdesign.co.nz
Address
7 Fitzroy Road, Bluff Hill, Napier 4110, New Zealand
Contact details
Phone: 0800 001 522
Mobile: 0210 754 300
Email:

[email protected]


Skype: phil.dziner
Office hours
Monday – Friday: 8.30 AM – 5.30 PM
Saturday – Sunday: closed
Based in Bluff Hill, Bay Web Design offers a selection of web design services for business owners at great rates.
Whether you need a simple one-page site, an engaging business site, or an online store to sell your products, they can develop them using WordPress software.
Except for effective content writing, that's as far as their service offerings go. By this, we mean that they only offer 'light' digital marketing services.
That said, they are quite good at designing a website to meet the client's needs. They also provide a super-simple design process from consultation to site launching.
What's more, their service doesn't end there. Even after your website is completed, they continue to offer assistance by phone, email, or Skype for free.
So in a small but important way, they prove themselves worthy of being on our list of the best web design in Napier.
Competitive pricing
Reliable ongoing support
Flexible payment options
Mobile-friendly site
Limited digital marketing services
Customer Reviews
On Google, Bay Web Design garnered a flawless 5-star score. Clients received a great-looking website that's easy to use and met their requirements.
Here's a comment coming from Annabelle:
"I had been toiling with my old web developing company for some years, and was looking for a local company to revamp and simplify my site, when Phil at Bay Web Design was recommended to me. Phil listened to everything we needed and wanted for our new site, then delivered!
His work has provided a vast improvement for our site, with easy navigation, increased site visits and ease of maintenance. Our customer growth has also increased and we are constantly complimented on our attractive site.
I highly recommend Phil at Bay Web Design to anyone looking for website development and SEO technology. His patience, knowledge and continued support is much appreciated."
Also, Sarah said this of Phil:
"I contacted Philip to help us update our website to reflect all the Covid-19 restrictions. Even though it was a weekend, this was completed straight away, along with fixing a number of other small issues. All the work that Philip has done for us has always been to a high standard and he has a way of explaining things to non-tech people that takes the fear out of doing website administration. Highly recommended.
Thank you Phil!"
6) People&People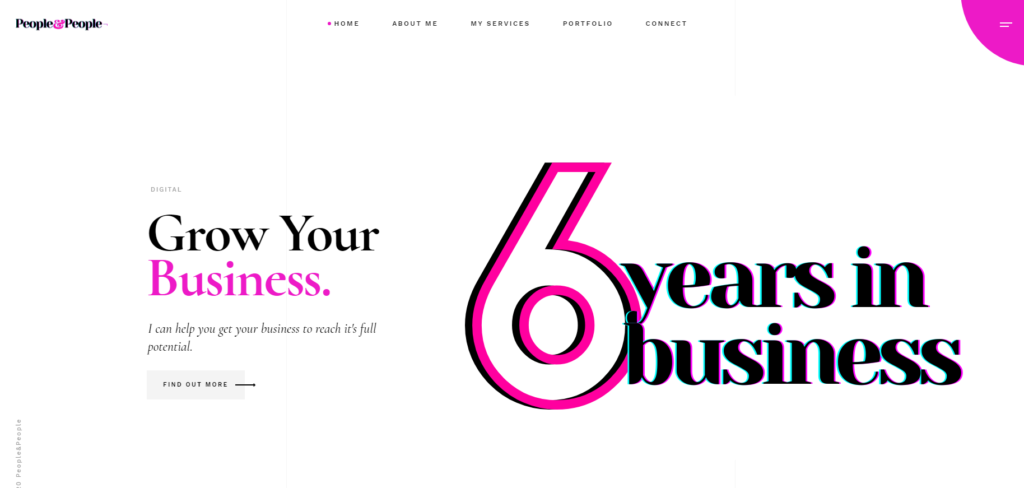 Formerly known as Strictly Social New Zealand, People&People is a marketing agency established by self-taught social media marketer Elizabeth-Marie, whose background in the field includes contracting for social media channel management for Hastings District Council and Napier City Council as well as advising Hawke's Bay Regional Council.
It's worth noting that her area of expertise doesn't end with social media marketing. Elizabeth-Marie is also proficient in influencer marketing, email marketing, development, and design, web marketing, and community management. She has strong communication skills and many years of experience researching audience needs, making her and People&People excellent choices for developing brands and launching business websites.
People&People's list of offerings is one of the most extensive on this list, putting great focus on digital marketing with creative consulting, social media marketing, marketing enhancement advising, virtual advising, and many more. All of these services are typically tailored to fit the clients' needs, with People&People attending consultations to know more about the client's brand and its needs.
With several years of experience in the field and numerous proven successful clients, People&People continues to prove its expertise in marketing. Contact the firm today to find out how their services can help you grow in the digital landscape.
Extensive list of marketing services
Offers creative consulting and graphic design
Proven success in helping businesses grow
Office hours not listed on website
Customer Reviews
People&People showcase several testimonies from previous clients, all of which have nothing but praise for the firm. See some of them below:
"Liz Nes is my social media saviour! She's the curator of the BayBuzz Facebook presence. I depend on her to be fully up to speed on what the platform offers technically, to be proactive in recommending how it can best be used to meet our communications needs, and to make sound and timely judgments about adding content that reflects our brand and engages our audience. And she has never let me down. Five stars!"
"Liz Nes is my social media saviour! She's the curator of the BayBuzz Facebook presence. I depend on her to be fully up to speed on what the platform offers technically, to be proactive in recommending how it can best be used to meet our communications needs, and to make sound and timely judgments about adding content that reflects our brand and engages our audience. And she has never let me down. Five stars!"
7) Grow Limited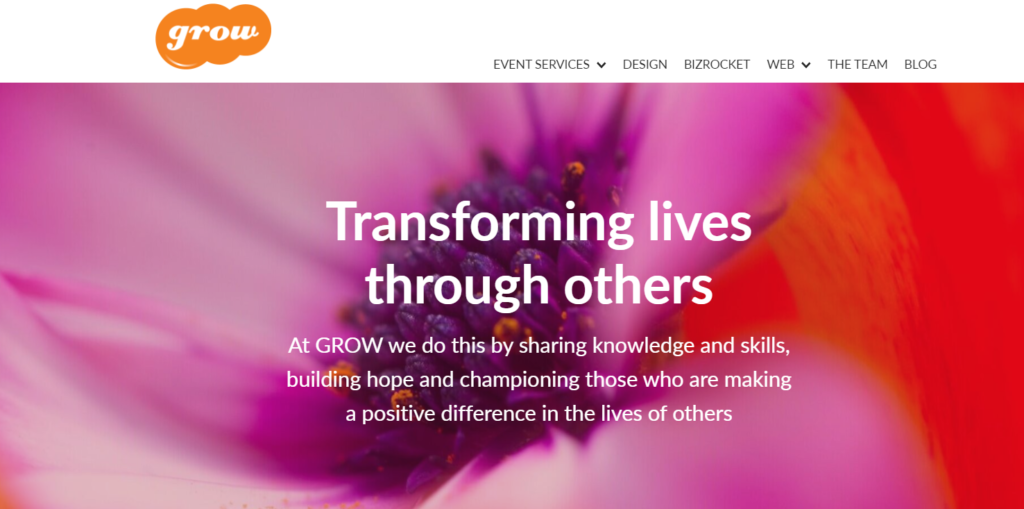 Grow stays true to its name as it assists businessmen and other clients in expanding their reach online. The company offers comprehensive packages of varying services, assuring that they are able to provide a one-stop solution when it comes to branding and marketing on the web.
They have three main bundles, The Stunner, Easy As Website, and Brand & Web Powerhouse, going from cheapest to the most expensive. Each is equipped with their own specific deals, but all guarantee quality service and outcome.
Aside from these, Grow also has photography services to offer on the side in case you need product photos and the likes.
They house professional photographers that are experts in the field, especially when it comes to advertisements. Images can help bring messages across and generate more sales, and clients are able to achieve that with Grow.
Each service Grow can offer is truly one worth investing in. They know what works and what's hot in the market, as well as provide fast results.
Free resources and workshops
Easy processing
Effective strategies and brand marketing
Not available during the weekends
8) OMG Solutions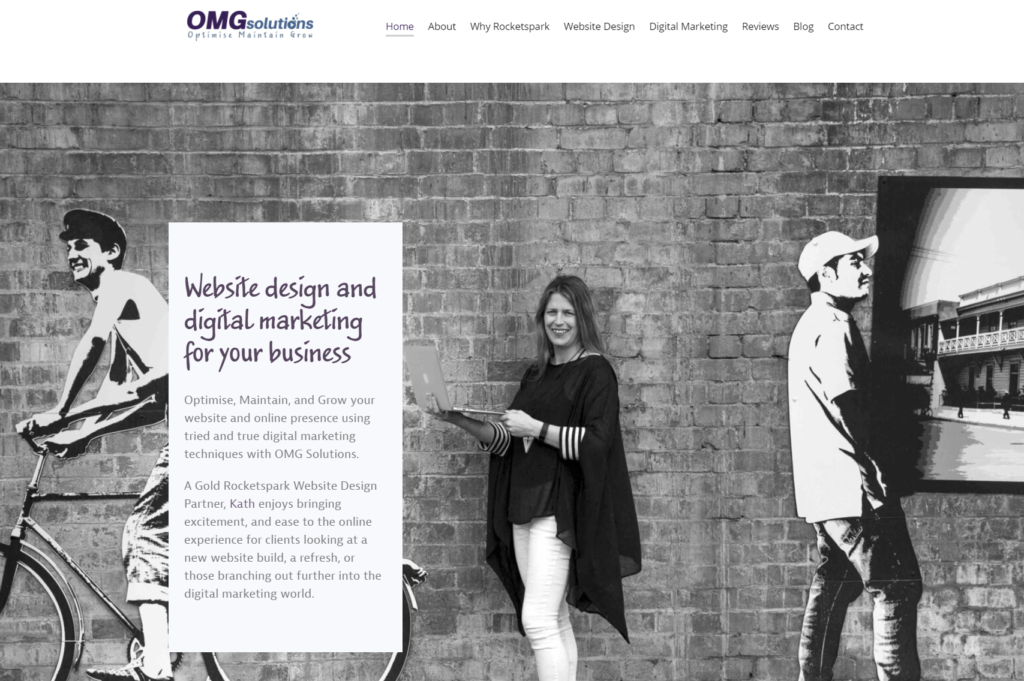 Optimise, maintain, and grow — these are the three things Kath Boyd, owner and founder of OMG Solutions, dedicated herself to helping clients with when she established the firm in 2014.
The firm offers website design, digital marketing training, consulting, and coaching to the people of New Zealand.
Kath takes the time to meet with each client that approaches OMG Solutions, learning more about their brands and what it has to offer. After, she custom-fits their desired digital solution to meet their specified needs.
Numerous websites have been created through this process. Clients in the past have raved about OMG Solutions bringing to life their visions, allowing them the opportunity to grow in the digital space with the website created.
To those who are interested, Kath accepts inquiries via email and phone, and is operating from Monday to Friday.
Custom-fit website designs
Outstanding customer service
Excellent post-service support
9) Hands Free Marketing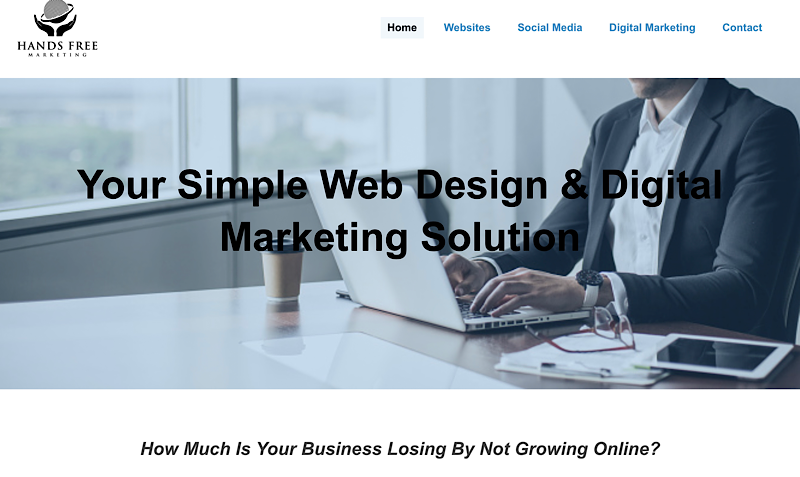 If you own a small or medium-sized business, Hands Free Marketing might be the right company for you. Jevon Quirk, the founder of the marketing agency, aims to help SMEs achieve business growth through marketing.
Since marketing seems to be a tedious job despite its great advantage for businesses, Hands Free Marketing does the job for you. They help in web design, e-commerce, social media, and digital marketing.
Regardless if you're not familiar in the world of IT, Hands Free Marketing will do everything and tailor your marketing solutions to your needs. They are noted for their simple yet efficient and highly understandable solutions.
For those who want to know what to expect, Hands Free Marketing has their own portfolio of their previous projects. It can be accessed through their website.
We also like that they have pricing information on their website. They have various packages for the different marketing solutions that their clients might need.
Tailored solutions
Client portfolio is available for viewing
Prices are available on their website
Free consultation available
Works with local and international clients
Good customer service
Limited marketing services
No office hours available
10) DB IT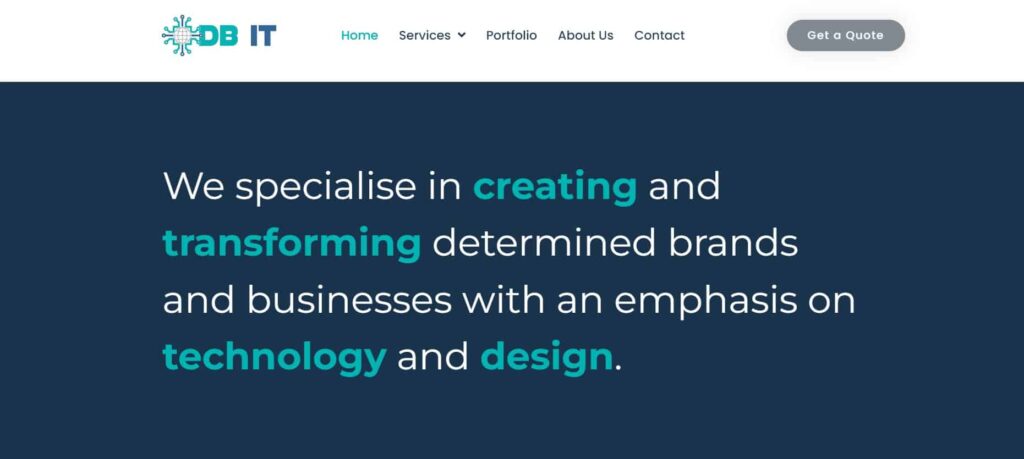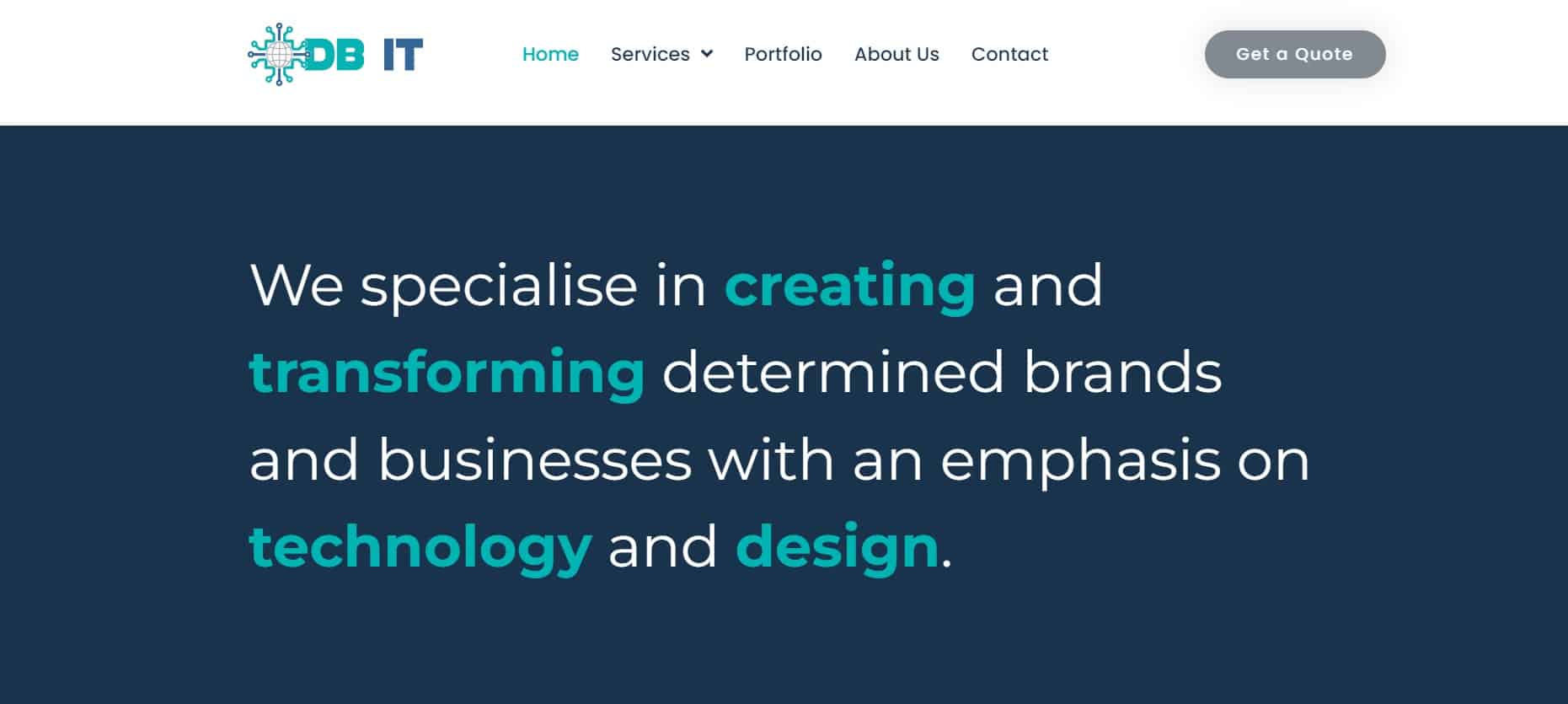 DB IT is a digital marketing agency that provides clients with a wide range of marketing services online, such as logo design and website design, in addition to print advertising to round out the marketing experience.
We like how they can create professional websites with the right balance of visual elements and features that can help visitors and generate leads.
Furthermore, having worked for a variety of companies in a variety of industries, their team is highly experienced in dealing with various designs and strategies that will best take the brand name to the next level.
However, they do have limited services for print media such as brochures and pamphlets, and their costs are not readily apparent on their website.
Overall, we definitely suggest them to business owners wishing to better advertise their brand to potential clients, thanks to their responsive and creative team of specialists, as well as their exceptional experience in SEO and WordPress.
Responsive customer service
Visually appealing websites
Integrated features employed
Limited print media packages
Operating hours unavailable
Customer Reviews
Here are some reviews from their clients:
"I had a very good experience at Burford Dental thanks to Dr Divyadeep and his awesome assistant Teana. I usually feel quite nervous going to the dentist, but the friendly and efficient staff helped me feel at ease and relaxed. I would highly recommend for those who are looking for a friendly and professional dentist. Thank you Burford Team!"
"Burford dental have been my orthodontist and dentist for over 20 years. Amazingly, some of the staff that treated me all those years ago, are still with the business today. A wonderful bunch of friendly staff who always make you feel comfortable and at ease."
FAQS about the Top Web Designers in Napier
---
And that's all for the best web design providers in Napier list. For a simple and professional website, you know which company you should contact.
Have any questions or thoughts about our picks? If you have one, kindly send us a message, and we'll get back to you as soon as we can.
Focusing on your email marketing? You can also browse the best email marketing in NZ with a team who can help you generate leads and traffic to your website.