Featured Image Source from New Territory Media
Need a webcam for your Mac or PC? If you do, perfect timing, as we've compiled a list of the best webcams in NZ here for you.
We'll guide you through the basics of buying a webcam first. This will help you choose the ideal one from our top choices afterwards.
What to Consider When Buying a Webcam
You're probably here because you found that your laptop's webcam wasn't good enough, or you're on a WFH setup and need a webcam to use for webinars and conferences.
Either way, we can help you find the right webcam with a few critical steps. You just need to go over the things you need to consider when buying a webcam:
1. Video quality
Video quality is the most important factor when getting a webcam. It directly affects your experience when you video-chat or talk with a person or group.
The least you can get is Full HD or 1080p for a sharp and clear video of yourself. But if you want an even clearer and more detailed video, you might consider a 4K webcam… though we do think this overkill for, say, WFH purposes, generally.
Besides that, you have to look at how many frames-per-second your webcam can handle. The higher the FPS, the smoother and more natural your video will be.
2. Exposure
This pertains to the amount of light that your webcam lens can take in. In other words, it keeps your video feed bright, even if your room is dark.
Hence, you should look for a bigger lens or those with glass lenses. Or you can find out the aperture number of your webcam.
The aperture number is expressed by f/number – for example, f/2.8. The lower the aperture, the more light a lens can take in, and therefore the brighter the picture.
3. Autofocus
Having this feature allows your face to be seen even if you move around within the camera's view. Since it can track your face, the picture will focus on you all the time.
Cheaper webcams typically don't have this feature. So the video will be blurred if you try to move closer or move a bit away from the centre of the webcam.
Speaking of, you also have to consider the field of view. If you mostly video-chat solo, a narrower FOV will work, but if you often chat with a family member, a wider FOV is preferable.
The most common FOVs for webcams are from 65 to 90 degrees. But you can also find a super-wide 180-degree view, like that of Microsoft's LifeCam Cinema webcam.
4. Audio
Equally important for a webcam is its audio. This allows you to communicate clearly with others from different angles without any static noises.
Look for ones that have stereo sound or noise-cancelling features so that your voice can be heard on the other line loud and clear.
5. Compatibility
And before you buy a new webcam online, don't forget to check if the webcam is compatible with your desktop or laptop. This saves you the trouble of having to return it if you picked the wrong product.
The Best Webcams in New Zealand
Now you know how to evaluate your options. With that in mind, we now present to you the best webcams in New Zealand!
1) Logitech C920 HD Pro Webcam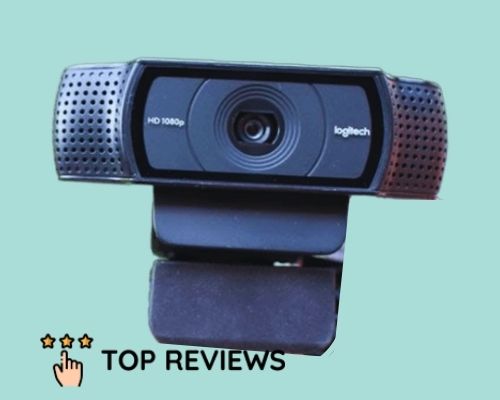 | | |
| --- | --- |
| Best for | Razor-sharp video calls |
| Video quality | 1080p 720p |
| Frame rate per second | 30 fps |
| Field of view | 78 degrees |
| Price | $219.99 |
If you want to have clear and crisp video calls and conferences, the Logitech C920 Pro Cam is one of the best webcams in NZ.
Mounted on top of your monitor, the webcam captures a striking 1080p video at 30 fps, meaning you can see who you're talking to as clear as day and in real-time.
It has a 78-degree field of view for your friend or colleague to see you and some of your room. You can seamlessly talk to them through the dual mics on the webcam.
What's more, you can add text and effects to your video with Logitech's Capture app to make it fun and interesting, or to share it among your friends on social media.
Full HD
Auto-focus enabled
Clear stereo sound
2-year warranty
2) Microsoft LifeCam Cinema Webcam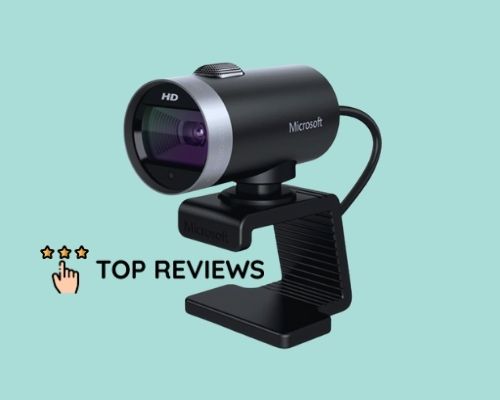 | | |
| --- | --- |
| Best for | Noise-cancelling mic |
| Video quality | 720p |
| Frame rate per second | 30 fps |
| Field of view | 180 degrees |
| Price | $119.99 |
Some people like the LifeCam's scope-like design—we're among those people. But it isn't just for show: this lets the webcam rotate and capture the background at 180 degrees.
Microsoft LifeCam Cinema webcam supports clear HD video at 30 fps. With TrueColor technology, it adjusts to your lighting conditions for a vibrant and bright video.
With its auto-focus and ClearFrame features, your video will be smooth and detailed, even if you get close to the camera or turn off some of the lights around you.
Along with that, it features a noise-cancelling mic so you can listen and speak loud and clear in your video. Nothing more frustrating than a static-muffled voice!
Noise-cancelling audio
180-degree rotation
Auto-focus enabled
3-year warranty
Customer Reviews
The LifeCam Cinema webcam has been well-received on Amazon. Though it only records at 720p, it performs well for video calls, in low-light environments, and is easy to install.
Matthew, one buyer on Amazon, wrote this:
"This Camera was a champion. Still kicking after 9 years.
During March 2020 when webcam prices where shooting up I went to go buy one like everyone else. Then I remembered I had a webcam in a box somewhere.
This has done zoom calls, Skype calls, Webex calls, and Google Hangouts calls SUPER well. I never let on that 9 years ago I spent about $50 on a webcam and it is sooooo much better than most built in webcams. The microphone for teamspeak works well too.
I am 100% happy with this Camera and Microphone.
WOULD BUY AGAIN for $50"
Also, here's another review from Baltis:
"A web cam is a web cam is a web cam, right? Well, not exactly. I've messed around with a few web cams in the past, all of which had less than stellar picture quality. Life Cam is easily the best web-cam I've used. It's actually affordable and it's in 720P-hd no less. Well, let's not jump the gun. It does do 720P but it doesn't do it to the full capabilities some would expect or want. It's a feature you'd probably find yourself not using since the resources it takes to actually run it and calibrate it are a little daunting. I'm actually willing to bet that many who bought this cam just got it as a web cam and nothing more. And it is "just a web cam" but it's a damn good one…"
3) Logitech BRIO UHD 4K Webcam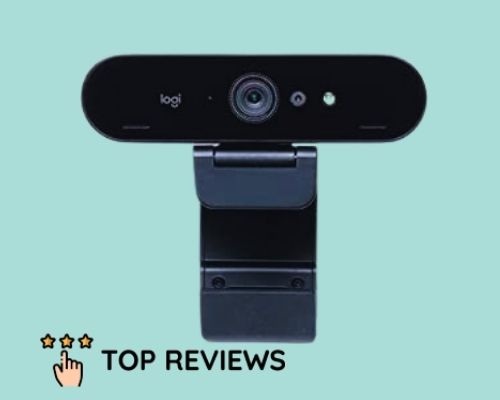 | | |
| --- | --- |
| Best for | 4K webcam |
| Video quality | 4K |
| Frame rate per second | 4K: 30 fps 1080p: 30 or 60 fps 720p: 30, 60 or 90 fps |
| Field of view | 65, 78, and 90 degrees |
| Price | $494.39 |
Logitech BRIO is a premium webcam with an impressive range of features. It delivers crystal-clear 4K videos at 30 fps and adapts to all lighting conditions very well.
You can switch over to other options to find what works best, such as 1080p at 30 or 60 fps, and 720p at 30, 60, or 90 fps for a smoother recording and streaming.
Along with that, you can also choose the frame angle you want, be it full view of you and your background, balanced, or close-up to entirely focus the camera on you.
With dual-ambient microphones, the webcam can record your voice from up to 1 metre away with full clarity while reducing the background noise.
Also, the webcam features facial recognition through Windows Hello to secure your computer. With this, you only have to look at the webcam to log into your account.
4K video quality
Up to 90-degree FOV
Built-in dual mics
Auto-focus enabled
Facial recognition via Windows Hello
Customer Reviews
There are naysayers for the Logitech Brio, but their number doesn't quite match up to the number of positive reviews. Here are what some satisfied customers said:
One customer wrote of Logitech Brio:
"So I purchased this webcam for better quality streaming while working from home. I've had it for over a month and here is what I can tell you:
First off, it's a very good quality camera. I have a very good computer which a good internal camera and the Brio 4K blows it out of the water. If you use the camera in a regular setting, see my picture as reference, it's still looks better and brighter. If you add some cheap lights, like the ring light and download Logitech G Hub, it will make a massive difference. This Brio 4K loves lighting and will give you a super sharp image so invest 30$ for those lights, you'll be glad you did."
Here's another comment coming from Tom:
"I bought two of these for my YouTube / Twitch streaming program. I had previously been using the Logitech C920 and a Genesis 120-degree wide angle. While no other webcam has the wide angle of the Genesis, in my opinion, the BRIO is the sharpest, crispest webcam on the market today (March 4, 2018)! 'Highly recommend!"
4) AUKEY FHD Webcam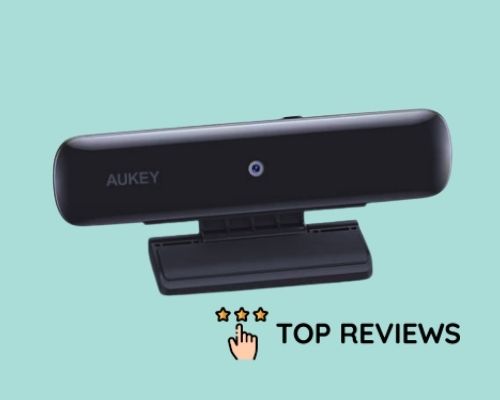 | | |
| --- | --- |
| Best for | Affordable webcam |
| Video quality | 1080p |
| Field of view | 75 degrees |
| Price | $90.41 |
If you don't want to spend a lot yet want a reliable webcam for video calling and live streaming, then the Aukey FHD Webcam is an excellent option!
With a 1080p resolution and precision glass lens, your video will come out clear, bright, and focused. There is a 75-degree field of view that captures two people wonderfully.
The round, reliable webcam can be clipped on top of your Mac or Windows laptop or placed flat on the desk. Installation only requires you to plug in the USB cord to start.
Other than that, it has an integrated microphone, which records your voice well enough. Also, its stylish and neat design blends in with any computer and table.
Affordable
Flexible installation
Built-in mic
Simple setup
Not as good as other webcam in terms of video quality
5) Logitech StreamCam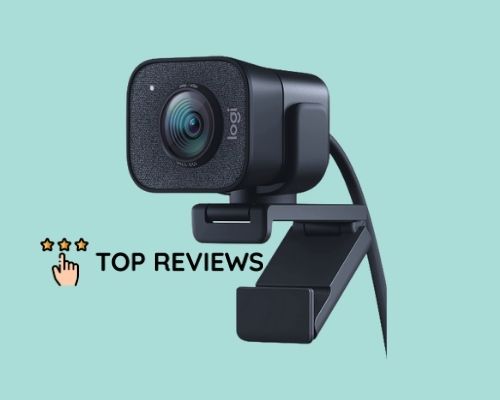 | | |
| --- | --- |
| Best for | Vloggers and gamers |
| Video quality | 1080p |
| Frame rate per second | 60 fps |
| Field of view | 78 degrees |
| Price | $319.99 |
Whether you love vlogging, gaming, or just posting Instagram stories, Logitech StreamCam is tailor-made for you.
It streams and records in full HD at 60 fps, has dual front-facing microphones for clear audio, flexible mounting choices, and lots of customisable options via the Capture app.
What's unique about StreamCam is that you can shoot videos vertically in full HD. To do so, you simply rotate your webcam so that it's vertically positioned.
To enhance your webcamming experience, you can use the Capture app to modify the settings, including exposure, image stability, frame rate, and more.
Moreover, you have freedom in how to set up your camera. It can be on top of or by your screen or even on a tripod, giving you more possibilities for getting that perfect shot!
Full HD
Can stream vertically
Dual front-facing mics
Supports USB-C connectivity
1-year warranty
Higher-priced than most of the competition
FAQS about the Top Webcams in NZ
---
And that wraps up our top webcams in NZ list! They are great value for money and will let you stream and record videos seamlessly.
Any questions or suggestions for us? If so, kindly let us know and we'll get back to you or see if we can update this post with your suggested product.
For your car's safety, we also put together a list of the best dash cams in New Zealand. Feel free to browse that list too if you need a dash cam as well!