The 13 Best Website Builders In NZ Reviewed and Compared
Featured Image Source: Piqsels
Have you ever wanted to create a website yourself? Luckily, there are several easy website builders in NZ you can use today that require little to no experience!
We've gone through all the local offerings in the country and curated this list of the best website builders in New Zealand. We took a look at their features, pricing, and of course their ease of use, all of which we rated too so you can have a quick way to compare options.
Now we know that some people will just decide it's too much trouble to do it themselves, or maybe they simply don't know how to make a website in NZ. So we also went looking for companies that do the work for you, just so you have the option. They're towards the end of this article.
Anyway, let's discuss the costs of all these services first before we dive into our list of the best website builders in New Zealand.
How Much Do Website Builders Cost in New Zealand?
If you want to set up a website for your business but don't want to spend an exorbitant amount on hiring a designer, a website builder in NZ is a cost-effective option.
This is understandable because the average cost for having a website professionally designed in Auckland ranges from $1,000 to $10,000.
Factors that can affect the final price of NZ website builder services include the functionality or features you need and web hosting costs. Of course, the web designer's experience and skill also play a large part in how much it will set you back.
Some designers can also charge extra for rush projects and revisions. So, it's always best to clear these concerns up during the consultation process.
To give you a better understanding of how much professional web design can cost, we've listed the three plans that one of our featured companies offers. The prices indicated are initial estimates only, but already include design and web hosting.
| | |
| --- | --- |
| Starter Package | $2,500 |
| Small Biz Package | $3,500 |
| eCommerce | $4,900 |
Fortunately, as we said, you can design the site yourself—and that's the real focus of this article, actually.
The caveat here is that it will take up a lot of your time… and time costs money.
That being said, there are now many easy-to-use builders that can have you up and running in a surprisingly short amount of time.
For the do-it-yourself options, we've outlined some of the companies featured on our list in the table below. They offer subscriptions on a monthly basis or an annual payment scheme.
DIY Website Builders in NZ: Cost Comparison
| | | | |
| --- | --- | --- | --- |
| | Subscription Tier | Monthly Plan | Annual Plan |
| Dazzly | Business Plan | $44.95 | $479.40 or $39.95/month |
| Shopify | Basic Shopify | $29 USD | – |
| | Shopify | $79 USD | – |
| | Advanced Shopify | $299 USD | – |
| RocketSpark | Website builder | $39.00 | $399.00 or $33.25/month |
| | Ecommerce Grow | $59.00 | $588.00 or $49.00/month |
| | Ecommerce Pro | $99.00 | $996.00 or $83/month |
| Website World | Starter SSL | $25.00 | $261.00 or $21.75/month |
| | Awesome A SSL | $80.00 | $835.00 or $69.60/month |
| | Awesome E SSK | $200.00 | $2,088 or $174/month |
| Freeparking | SITEWIZ Starter | $16.00 | $192.00 |
| | SITEWIZ Starter Plus | $36.00 | $432.00 |
| | SITEWIZ Business | $56.00 | $672.00 |
| Website Widgets Ltd | Professional Web Design Package Option 1 | $500 | Contact for information |
| | Professional Web Design Package Option 2 | $500 – $1000 | Contact for information |
| | Professional Web Design Package Option 3 | $1500+ | Contact for information |
The Best DIY Website Builders in New Zealand
Now that you know how much a website builder costs compared to professional web design services, we can take a look at our picks for the top website builders in New Zealand.
We'll begin with the DIY options!
1. Dazzly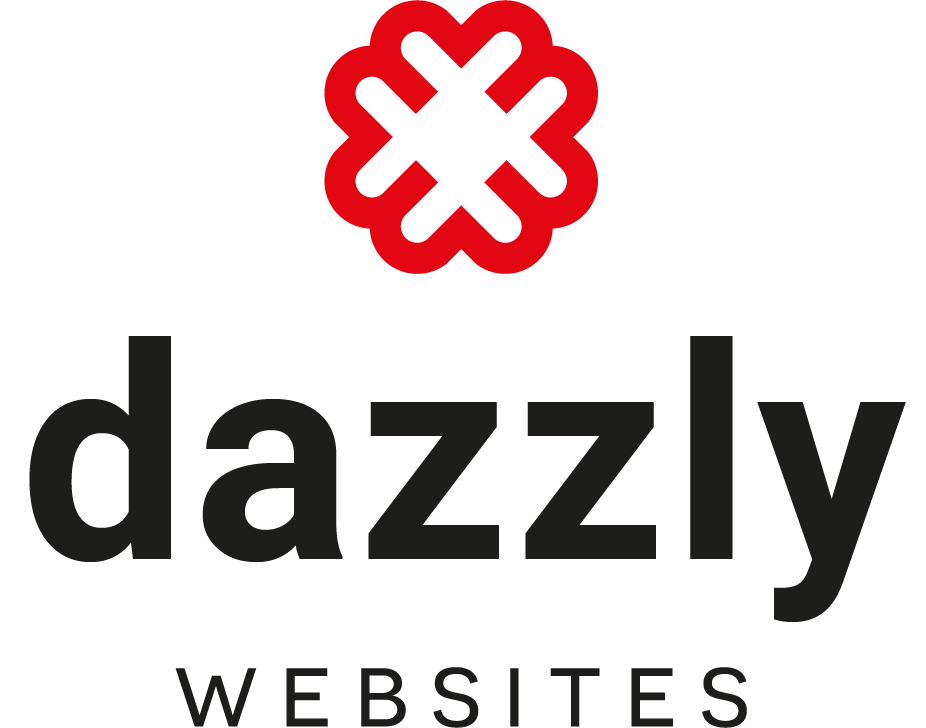 SERVICES
Website Builder, 24/7 Customer Support, Free Templates, Royalty-Free Images
WEBSITE
https://www.dazzly.co/en-NZ/
ADDRESS
1250 Dominion Road, Mount Roskill, Auckland 1041
CONTACT DETAILS
Toll Free: 0800-122-090
Email:

[email protected]

OPERATING HOURS
Open 24/7
If you want to help support a New Zealand startup, signing up with Dazzly is a great way to get started. They help local businesses set up their websites quickly and easily with two easy plans or memberships.
The free plan provides you with a free subdomain alongside templates that are optimized for mobile. It includes stock icons and photos (including a curated New Zealand image database), as well as visitor tracking for every site.
Customers can easily create a site for their businesses with this website builder in just a few minutes. There are examples of each website on the template page (including an eCommerce template) that likewise indicates how long it'll take to build each to completion.
When you're finished creating and designing via the drag-and-drop interface, you can just press 'publish changes' so your website goes live. You can preview the final look and continue to edit it as well.
One of the best things about Dazzly is that it's so user-friendly. You can figure it out regardless of your skill level in website creation or computers.
And since the service is free to try, you can figure out for yourself if Dazzly is a good fit for you. This is better than looking for a free website builder in NZ that won't produce results you'll be proud of.
Those who wish to access more functions can look at Dazzly's business plan, which costs $39.95 a month with the annual plan or $44.95 if you pay monthly. With this paid plan, you'll be able to receive premium support, performance hosting, added security, built-in SEO, and many more added features.
If you already have a previous domain, the business plan lets you conveniently connect your Dazzly website to it as well and they'll help you migrate it for a seamless transition.
You can likewise register domains directly through Dazzly, which automates the website connection process – making everything so easy to get up and running.
They provide various video tutorials, guides, and a comprehensive FAQS section for support. If your question still hasn't been answered, you have the added benefit of 24/7 customer support, which is a nice touch to their already stellar service.
While they may not offer any third party integrations or add-ons, Dazzly provides you the basics you need to build your own website without any coding skills. It's affordable, easy to use, and includes round the clock support.
Here is a video on how you can build a website successfully using Dazzly!
Released (13/01/2022) – Scoop NZ:
How Dazzly Website Builder is Taking New Zealand Small Businesses to New Heights in 2022
With all of that, it's easy to see how it got a spot on our list of the best website builders in NZ.
Ratings At a Glance

● Features – 3/5
● Ease of Use – 5/5
● Cost – 4/5
● Support – 5/5
All plans include SSL, hosting, support, and SEO & analytics
User-friendly interface
Can integrate existing domain to Dazzly
No ads for business plan sites
24/7 New Zealand Support
Completely do-it-yourself
eCommerce still a new addition
Pricing:
Free to try – use the website builder for free and see your website before you commit!
Monthly price – $44.95 (excl. GST) – all features included (incl. SSL certificate)
Annual price ~$39.95 (excl. GST) per month – paid in annual lump sum
Client Reviews
Previous clients have had nothing but praise for this Dazzly—such as Mark W. from Christchurch, who has this to say:
"Awesome 5 Star Service!!! Setting up my own Website using this NZ based company was so simple and actually fun!! Lewis and the Dazzly team were always just a free phone call away to supply support & friendly helpful advice. Having already previously tried an overseas USA based website maker, I can honestly tell you that Dazzly is superior, friendlier, easier, better value and more responsive BY FAR!! If you're a Kiwi business owner & want a Kiwi based website then look no further – use Dazzly!!"
Jade Pokere, the owner of a local business, also shares her experience with Dazzly:
"First time making a website and working along side of Dazzly has been amazing, the support has been great, always available (24/7) and happy to help! I can't believe it was this easy to open my online store. Thanks!"
2. Shopify

Next on our list is Shopify. What's great about this website builder in NZ is that they are known all over the globe.
Which makes them able to power over 1,700,000 businesses worldwide! This is happening because they are an all-in-one commerce platform to start, run, and grow a business.
A reason why we can recommend them is of their design expertise. They ensure that your website will be designed accordingly to your brand and that any users will be able to understand its interface easily.
We think they are great because aside from web design, they also offer other services that may also still help you and your business grow to its full potential.
Their customer service is also very responsive and provide guidance over chat and voice communication. Definitely a factor to consider in choosing the best website builder in NZ.
Ratings At a Glance

● Features – 4/5
● Ease of Use – 5/5
● Cost – 4/5
● Support – 5/5
Offers a wide range of services
Modern Design
24/7 customer support
Not all prices are available on their website
Pricing:
Free Trial
Basic Shopify – $29 USD per month
Shopify – $79 USD per month
Advanced Shopify – $299 USD per month
Client Reviews
Here is a testimonial from one of their previous clients:
"I had all my signs and my branding ready to go and it was a matter of is this going to work… but people loved it, it wasn't just in my head."
3. Rocketspark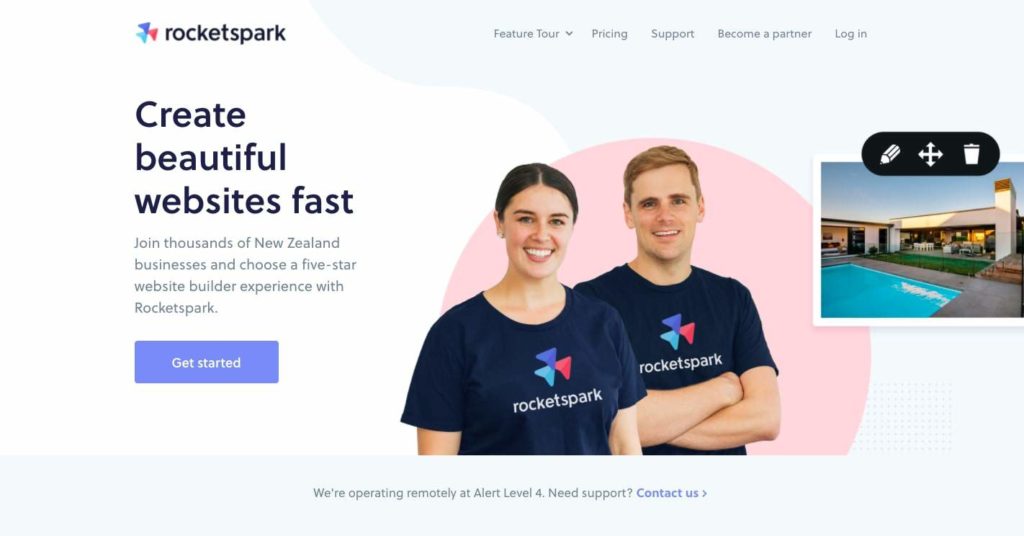 SERVICES
Website Builder, Customisable Site, SEO & Analytics, Social Media Integration, Partner Programme
WEBSITE
https://www.rocketspark.com/nz/
ADDRESS
Unit I-L/60 Victoria Street, Cambridge, 3434, New Zealand
CONTACT DETAILS
Phone: 0800-ROCKET (0800-762-538)
Email:

[email protected]

OPERATING HOURS
Phone hours are 9am–4pm, Monday to Friday
Rocketspark is a website builder in NZ that was first launched in 2009 by four friends who wanted to help local businesses easily get their websites up and running in a cost-effective way. From its humble beginnings in a small flat in Hamilton, this startup has expanded its reach internationally.
The founders of Rocketspark have diverse backgrounds and experience in various fields such as management, web design, and online retail. True to their name, if you want to get a website up and live quickly, then Rocketspark's website builder is the way to go.
With a drag-and-drop interface, even non-tech savvy entrepreneurs will be able to build their site without hiring a coder or web designer. Rocketspark conveniently offers several preset templates with various themes, so you can choose which one fits your brand the best.
Because of their user-friendly interface and quick set-up capability, we think that Rocketspark is one of the best website builders in NZ for those who are starting out or are admittedly not too tech-savvy.
However, what makes Rocketspark unique is that they understand that people might not want to design a site themselves, which is why they have partnered with several designers and marketers and offer their services to clients who need them.
The partnership doesn't stop with a running website – the design partners can continue to update and maintain them for clients as well.
Designers charge an initial setup fee starting at $1000. They also earn up to 30% commission from the subscription paid by clients to Rocketspark.
Moreover, if you're interested in being a design partner, Rocketspark offers you 50% off on your own website. This provides a great opportunity to learn the platform without any of the added stress to complete clients' expectations.
Where Rocketspark shines is their featured eCommerce store, which includes inventory management, coupons, promotions, tax, shipping rates, "buy now pay later" options, and more! They've compiled virtually every service you may need so all you have to worry about is your business.
These features are provided via various optional third-party integrations into your dashboard from developers like Xero, Google Analytics, Paypal, and more. You can perform your own accounting, keep track of your traffic, or even make reservations or bookings.
Upgrading your account gives you extra options such as customer subscriptions and access to Vend POS, which lets you manage your sales both online and in-store into one integrated interface.
What's more, their customer support team is always on duty if you have any questions or have stumbled on an issue with your builder. That's what you pay the subscription fee for, after all: so that the back end is always taken care of.
We like Rocketspark's service as a website builder in NZ because you get free SSL, unlimited storage, and limitless bandwidth no matter what tier plan you subscribe for.
However, to get the most for your business, you'll probably want to go with the eCommerce plans.
In short, there aren't many disadvantages to Rocketspark, which easily places it up there with other established website builders. We especially like that you have an option to do it yourself or hire a designer and the various add-ons provide a ton of flexibility.
Ratings at a Glance

● Features – 5/5
● Ease of Use – 4/5
● Cost – 4/5
● Support – 5/5
User-friendly website builder
Well-made preset with customizable templates
All plans include SSL, hosting, support, and SEO & analytics
Reliable customer support
Unlimited storage and  bandwidth
For businesses and eCommerce only
Expensive designer rates
Customer Reviews
Chantelle Good is a long time client of Rocketspark because it provides her the best platform for her needs. She writes:
"We only build websites in the Rocketspark platform because they were the solution to our problem – as a business we struggled to find website build software that was beautiful, easy to use, google friendly and most importantly that we could easily update ourselves. Then we found Rocketspark and just like that our problem was fixed. 50+ website's created now through Rocketspark and we haven't looked back! Rocketspark's customer service and support team is great. They are friendly, efficient and knowledgable. It is always a pleasure chatting with them! Keep it up team :)"
Fiona Sheppard, another client, highly recommends Rocketspark, as she shares:
"Very easy to use the platform to build a beautiful website. Great templates and their customer service and support are amazing. They are consistently improving and adding updates and take customers' ideas and input into account. Highly recommend"
4. GoDaddy New Zealand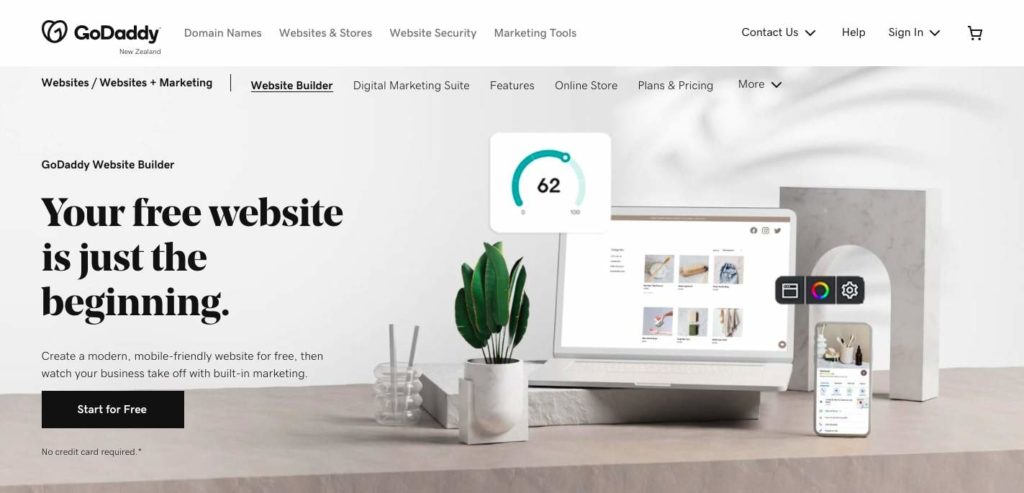 SERVICES
Website Builder, Digital Marketing Suite, Online Store, Website Management, Mobile Design and Editing, Customisable Themes, Content Creation, Website Hosting, Domains, Websites, WordPress Hosting, Web Security, Online Marketing
WEBSITE
https://nz.godaddy.com
CONTACT DETAILS
Support (Countrywide): (+64) 800-441-995
Support (Auckland): (09) 975-9407
WhatsApp: (+64) 800-748-318
OPERATING HOURS
Monday to Friday: 9:00am – 2:00am
GoDaddy is one of the more recognisable website builders in NZ on our list and is renowned for its web domain name and hosting solutions. However, they also offer a do-it-yourself website builder as part of their expanding services.
GoDaddy's board of directors and senior management hail from various established companies, such as PayPal, Adobe, and Expedia, just to name a few. So, it isn't entirely surprising that this is a slick, well-oiled machine of a company.
As mentioned earlier, one of their many services is giving clients the means to build their websites. Whether it's a blog, a user-friendly company website, or a visually striking online store, GoDaddy's website builder has got you covered.
You can choose from multiple themes to give you a quick starting point. You can alter your layouts, fonts, and designs with simple click and drag operations.
You can add plugins for more customization, be it to streamline your eCommerce process or to add media-rich content on your blog.
You can have more than one site under your account and manage them all in one neat and easy-to-use dashboard.
However, you'll only have a backup of your sites and uploaded media if you purchase a paid plan.
To help entrepreneurs in the digital space, GoDaddy provides multiple marketing tools to increase each business's success. These include SEO tools, email marketing, "review" widgets, and social media post creation and syncing.
While their content creation and design might be intuitive and quite easy to understand, their web hosting plans may be a little complicated to comprehend for a client not familiar with how hosting works.
With GoDaddy, you can choose between shared web hosting or private web hosting. You can also decide on whether the server hosting your site operates using Microsoft or Linux systems.
In addition, you're guaranteed a swift page-load performance for higher search rankings. GoDaddy provides multiple tracking tools to monitor your analytics or track orders sent out to customers, just to name a few.
However, GoDaddy becomes quite expensive since SSL certificates and backups for your site have to be purchased as extra add-ons.
This is considering that there are a lot of web hosting and website building services out there that already include these with their starter packages.
Nevertheless, GoDaddy makes up for this with strong uptime when compared to its competitors. As long as you sign up for the paid plans and security add-ons, you get a fantastic platform and host.
Despite handling over 82 million domain names and 20 million entrepreneurs all around the globe, GoDaddy also provides 24/7 customer support. Whether you have questions about account management or eCommerce queries, a GoDaddy Guide is ready to help through phone or chat.
With the lack of SSL certificates and backup in the basic plans aside, GoDaddy is one of the best web hosting and website builders out there today. Their ease of use, customer support and various features easily earn them a spot on our list.
Overall, if you prefer a service that has emphasis in web security, hosting, and marketing, GoDaddy could be the best website builder in NZ for you.
Ratings at a Glance

● Features – 5/5
● Ease of Use – 4/5
● Cost – 3/5
● Support – 5/5
Quick-loading website pages
Has 20+ customisable themes
Offers marketing and optimisation features
24/7 customer support
No physical location in New Zealand
No cloud hosting
Tutorials or learning materials aren't easy to understand
Does not help with migrating old websites to their platform
Customer Reviews
GoDaddy is well-known for its customer support because of its prompt responses. Alexandra Crescenta praised the company's service when she ran into problems with her site:
"GoDaddy has been hosting my website for about a year. In that time, it's never been down until today. When the website went down today, GoDaddy got it working again within minutes. It had crashed due to an update needed on a plug-in that I hadn't yet done. This is the 3rd or so times that I've called GoDaddy for help or with questions. Each time, I've gotten excellent service."
5. Website World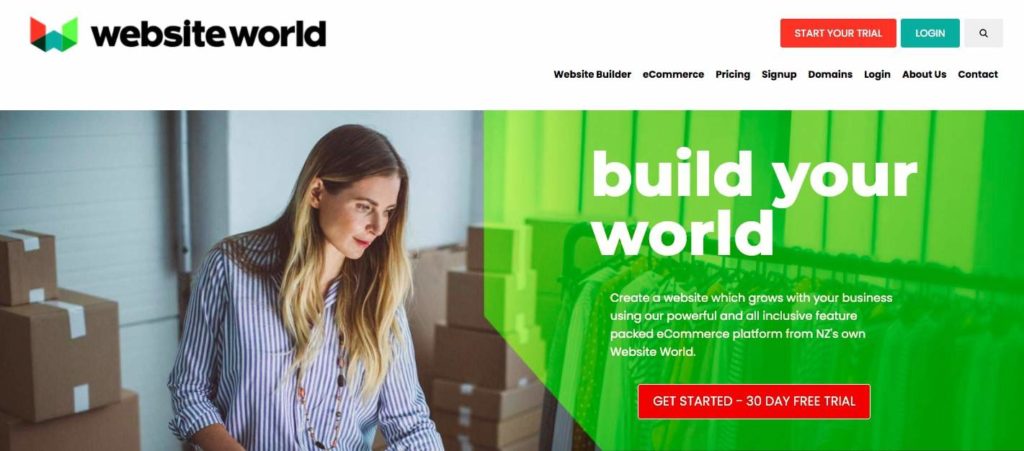 SERVICES
Website Builder Website Design Website Transfer Domain Register
WEBSITE
https://www.websitebuilder.nz/
ADDRESS
14/386 Richmond Road, Grey Lynn, Auckland, New Zealand
CONTACT DETAILS
Toll Free: 0800-894-122
Phone: (09) 974-4301
Website World is a wholly New-Zealand-owned and operated website builder provider that's been in the industry since 2000. It helps individuals build eCommerce websites to sell their products.
Headquartered in Auckland, their software was created entirely in-house by their CEO, and they claim it's always in a constant state of creation and updating. This puts them in a unique position to modify or customize their interface to suit their client's needs.
Website Builder is their flagship product, which has integrated all their services in a single easy-to-use product. Whether it's accessing customer databases or managing paid memberships, you don't have to jump across different dashboards to manage them all.
Moreover, they've included a point of sale (POS) and inventory management system so you can deal with both the front-end and back-end of your business in one fell swoop. Having your checkout process and inventory management system connected securely is vital to any online operation.
While their main focus is their website builder, they also have basic hosting services that offer free SSL certificates with each plan. No matter which hosting plan you choose, the website building tool comes free of charge.
With an intuitive drag-and-drop interface, the Website Builder includes gallery pages, blog templates, and intricate e-commerce options. While it's highly encouraged that you use their content management system (CMS) and website tool, they support other platforms as well such as WordPress and MySQL databases.
They offer 8 different hosting plans and while most of the differences between the subscriptions make sense, there are some unusual limitations.
For example, they put a cap on how many orders from customers your site can process, ranging from 200 orders to 2400 orders, depending on the plan.
Website World also puts a cap on the number of visitors your site can receive per month, which is essentially a limit on the resources your site consumes.
They calculate this based on the assumption that each visit to your site consumes 1MB of data, which can be confusing for the average client.
So, for the regular consumer that wants to set up a site quickly and wants to understand what that subscription entails, Website World may not be the easiest to grasp.
Moreover, their pricing plans are quite expensive, which doesn't make them very competitive in a saturated market. This is also considering that domain name hosting and other basic features are not even included in their paid plans.
For example, their Starter SSL plan only provides limited support and advice – while they can provide basic guides on how to use their CMS and website builder, they will not give you step-by-step instructions.
If you need detailed directions, these come at an additional cost, especially for queries related to HTML, CSS, or other advanced features.
Not all is lost, since they do provide comprehensive video tutorials of how to use the entire platform, which you can view at any time. You also have a 30-day free trial to see whether their platform is a good fit for you and your business.
If you prefer service that's customisable and can be controlled with ease, you should consider their services for your website builder in NZ.
Ratings at a Glance

● Features – 4/5
● Ease of Use – 3/5
● Cost – 3/5
● Support – 2/5
Website builder can be customized per client
Free SSL certificates with each plan
30-day free trial
Offers support for other website builders and web hosting platforms
Limited customer service
Must pay extra for detailed support
Pricing isn't competitive
Customer Reviews
Jason Sammut, migrated to Website World from a different platform, and hasn't looked back since. He shares his experience:
"Best decision I made was to switch from my previous web host over to Website World. So many reasons why I recommend these guys. The process to switch over was super easy, fantastic communication and I didn't have to do a thing. I had the option of sticking with my wordpress site or to use one of their templates. They transferred it over on to both so I could choose which one to use. In the end I chose to use their cms as it was extremely easy to use and it was basically a copy of my old site (just no longer wordpress) My website went from a slow loading website to an extremely fast loading page speed. They respond really quickly if I have any queries and are always a pleasure to deal with. To top it off I'm supporting a NZ business too. Couldn't be happier."
6. Freeparking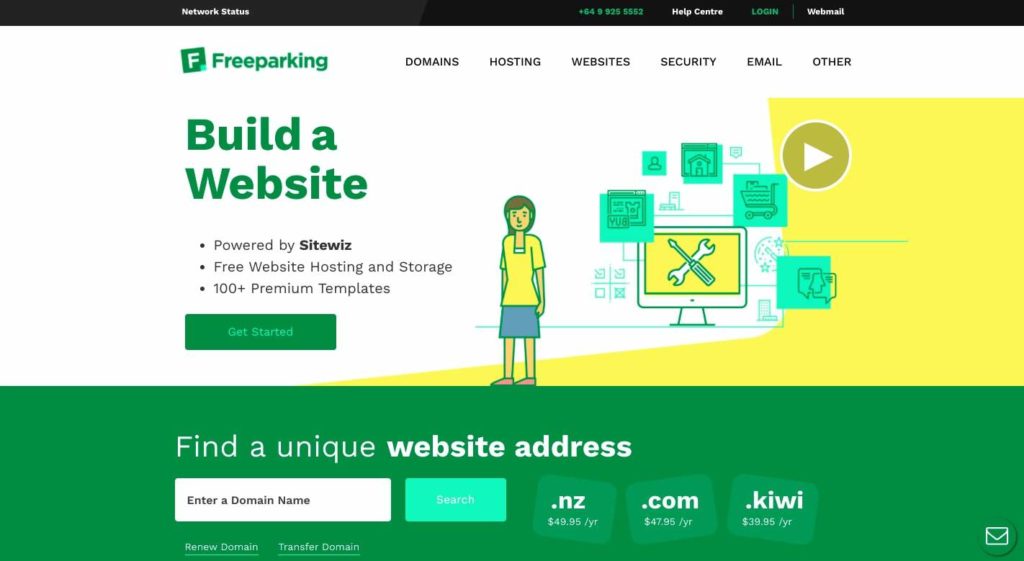 SERVICES
Responsive & Mobile-Ready Website Free Images Library Web Hosting &
WEBSITE
https://www.freeparking.co.nz/website-builder
ADDRESS
Level 2/2 Devon Street East, New Plymouth 4310
CONTACT DETAILS
Phone: (09) 925-5552
Email:

[email protected]

OPERATING HOURS
Monday to Friday: 8:30am – 5:30pm
Saturday: 10:00am – 2:00pm
Freeparking is a website builder in NZ that was launched in 2000 in New Zealand and still keeps its data centers in Auckland today. The company was created as a division of WebFarm, a website hosting provider that's been operating since 1997.
First things first: unlike other web host providers, Freeparking charges for its website builder, which is powered by Sitewiz. It comes in three plans, namely Starter, Starter Plus, and Business. So if you're looking for the best free website builder in NZ, this is something you need to consider.
If you need an online store, you'll need to get the Starter Plus or Business plan, but we recommend going for the latter because it offers unlimited web traffic and email storage. Although it's the premium paid plan, the catch is that you only get up to 1000 products, 1 online store, and only 1GB of digital products.
Now, you can try Sitewiz for free for 1-month, but it limits you to a 2-page website and will expire in 28 days. While a couple of pages definitely isn't much, it's enough to give you an idea of how the platform works.
That said, Sitewiz is a breeze to use. It comes with a simple user interface that lets you quickly build, update and manage all your content from one solid management portal.
You get a drag-and-drop website builder dashboard with over 100 templates and a free assigned subdomain. When you purchase a plan, you will also have access to curated fully licensed images to use for your website.
Freeparking web hosting solutions also offer VPS, VDS, WordPress, and eCommerce hosting, but don't have any dedicated server solutions.
The starter packages have 5GB online storage, 10GB web traffic, 1 hosted website, and ten MySQL databases. The premium packages offer you five hosted websites along with unlimited web storage, web traffic MySQL databases.
Freeparking's hosting solutions are moderately priced, but unfortunately, SSL certificates are an optional add-on for an extra fee. While their individual services seem affordable, when you combine them with the add-ons you'll likely need, they cease to be competitively priced and may have you looking at other options.
As for support, you can contact the team via email, phone, live chat, or by submitting a ticket. However, assistance is not 24/7 so you may end up browsing through their fairly comprehensive and detailed knowledge base, which may offer the answer you're looking for.
With that said, Freeparking is still a fantastic option as a website builder in NZ if you're up for supporting a business that operates out of New Zealand. With an affordable starter plan and an intuitive website builder, Freeparking is well worth considering as an option for your business.
Ratings at a Glance

● Features – 3/5
● Ease of Use – 5/5
● Cost – 4/5
● Support – 3/5
Responsive and mobile-ready website
Offers web hosting and domain name in all their plans
Over 100+ premium templates to choose from
Easy to use user interface
Offers customers a free domain for life
Reasonably priced introductory hosting prices
No 24/7 support
SSl Certificates must be purchased as an add-on
The Best Non-DIY Website Builders in NZ
Here we enter the non-DIY solutions as website builders in NZ if you decide the previous options just aren't for you. These are still builders, just non-DIY ones: that's why we're continuing the count instead of starting at entry 1 all over again, by the way.
Anyway, these services are more about building your actual website on your behalf. They do nearly all of the work, albeit still with your input, which explains why they cost more than the previous options.
On the other hand, they also offer convenience and actual expertise in website construction. As that they may be more to some business owners' tastes, we had to include them!
7. Web Revolution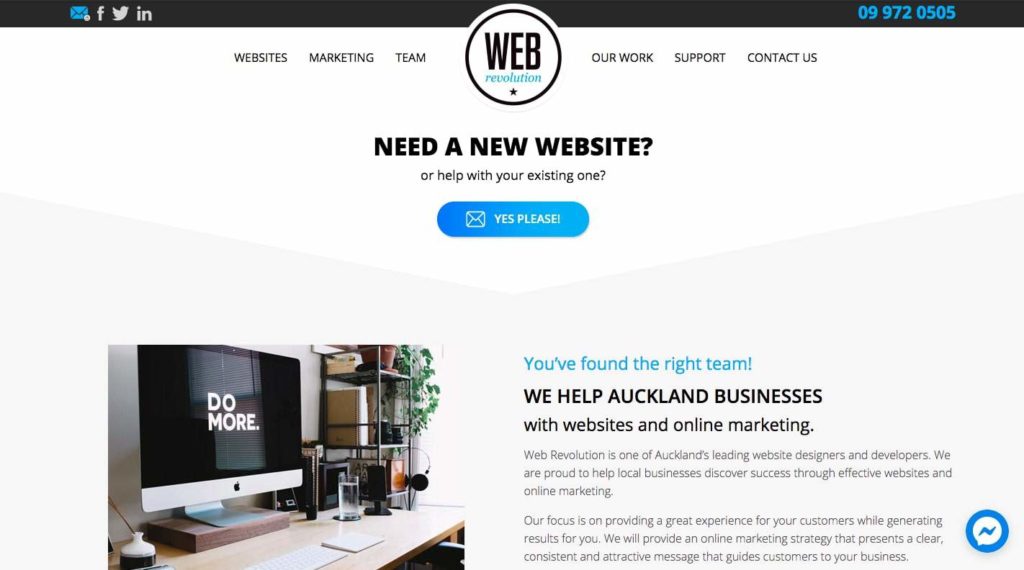 SERVICES
Website Design, Website Care Plans, Website Hosting, Content Writing, Search Engine Optimisation, Google Adwords, Social Media Marketing, Online Marketing Plans, Branding & Logo Design, Graphic Design
WEBSITE
https://www.webrevolution.co.nz/websites/
ADDRESS
597 Rosebank Road, Avondale, Auckland 1026
CONTACT DETAILS
Phone: (09) 972-0505
Email:

[email protected]

OPERATING HOURS
Monday to Friday: 9:00am – 5:00pm
Web Revolution is a website builder that's based out in Auckland and is led by Daniel Handcock, who has a background in marketing, sales, and search engine optimization. The company's aim is to help local businesses get their site up and running and provide them with marketing campaigns.
Now, Web Revolution doesn't have their own website builder per se – what their service entails is that they create a website for you on WordPress, and then train you how to update its content later on.
Moreover, creating your website with Web Revolution is a highly collaborative affair. This means that if you prefer to design your business website yourself in the wee hours of the morning, then this arrangement isn't for you.
What you do get with Web Revolution is a small team of dedicated professionals that will discuss every single aspect of your business and how you want it represented online. They'll take care of all back-end coding or layout issues for you – you just have to provide them some direction.
Now since your content management system is WordPress, you can pretty much rest assured that it is going to be intuitive, despite the initial learning curve. Your site will be hosted on Web Revolution's local servers, which provides faster loading times, at least for New Zealand residents.
They have four tiers of WebCare plans to choose from, namely Bronze, Silver, Gold, and Platinum. These different subscriptions essentially take care of your site's online security, image optimization, updates, and basic maintenance.
What makes Web Revolution shine is a combination of their marketing prowess and their customer support. This small team is hands-on with creating personalized marketing goals and customized websites for your business.
While they can't guarantee customers, part of what they offer includes local search engine optimization and seasonal AdWords campaigns to keep inquiries coming in.
Each ad campaign that you undertake will be constantly updated or tweaked to make sure that promotions are seen and heard.
If you do need help in the form of traditional customer support, you can contact any of the staff during office hours via phone or through their website at any time of the day. However, you'll only get free support of up to 20 minutes per month, and you'll be charged after you exceed the limit.
However, they are known for their prompt responses, so you'll get a response in less than a day. Moreover, since they're headquartered in West Auckland, they might even be able to come to your place of business to handle any problems personally.
This personalised service is something that's definitely a bonus when choosing the best website builder in NZ for you.
Ratings at a Glance

● Features – 3/5
● Ease of Use – 4/5
● Cost – 3/5
● Support – 4/5
Cost-effective marketing edge
Personalized strategies
Provides web development advice
Only 20 minutes of free support per month
No in-house website building tool
Customer Reviews
Web Revolution has received nothing but praise and recommendations from their previous clientele. Andy Evans is one of these clients, and shares:
"Web revolution continue to do amazing work with our website, SEO and Adwords. Thanks heaps! If you want to grow your business and consistently receive great leads – look no further!!"
Karmela Flint, another client, also shares her thoughts:
"Daniel and the team at Web Revolution have done a great job at redeveloping our site. Within a couple of weeks our website have moved onto the first page of Google, and as a result we are seeing a lot more sales enquiries coming through from our site."
8. SPF Websites & Multimedia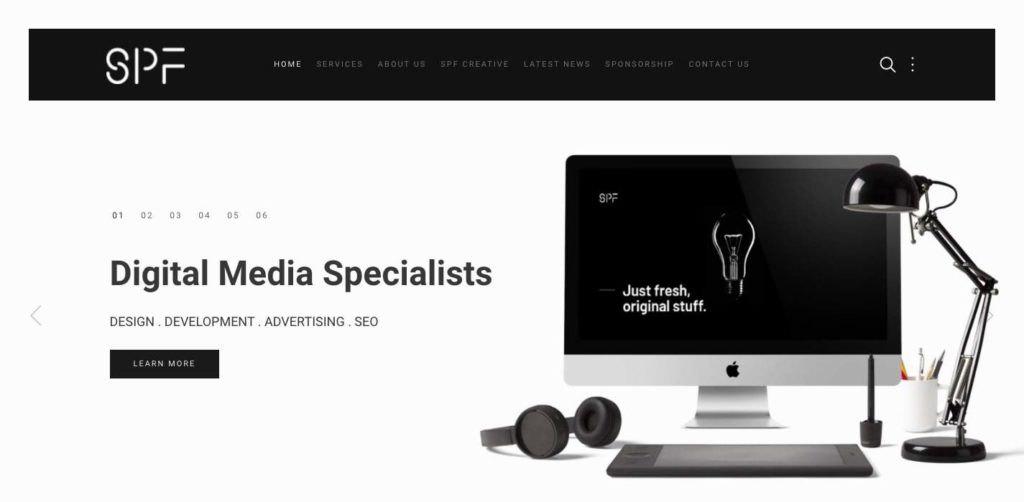 SERVICES
eCommerce, Online Shop, Online Marketing, Mobile Websites, Business Websites, Multimedia, Product Photography, Corporate Identity, Social Media & SEO, Corporate Identity
WEBSITE
https://www.spfwebsites.co.nz/
ADDRESS
The Railway Station 22 Station Street, Timaru 7910, New Zealand
CONTACT DETAILS
Phone: (03) 688-4068
Toll Free: 0800-773-932
Email:

[email protected]


Support:

[email protected]

OPERATING HOURS
Monday to Friday: 9:00am – 5:00pm
SPF Websites & Multimedia are website builders in NZ that have a wide portfolio, ranging from eCommerce to large locally based companies. They offer to upscale your business with tailor-made systems that include SEO and social media management.
More than just multimedia specialists, they also serve as a business's springboard for launching creative solutions and ad campaigns. They'll help strengthen your brand to position you at the forefront of the digital market and your industry.
SPF can help you build your brand from the ground up or tweak your existing framework, including building visually pleasing functional websites.
They primarily serve local businesses and excel in eCommerce, providing you with tools such as event and appointment booking systems to help customers reach you.
As an authorized Shopify partner, they can also help optimize your online store to ensure that it's user-friendly and engaging at the same time. They can provide various marketing packages in the form of social media, and even video promotions, all in-house.
Their extra services and add-ons definitely make us think that if you have an established business up and running and want that extra oomph in services, then they are the best website builders in NZ for you.
We like SPF because of their creative backgrounds that are fused neatly with their knowledge of backend code needed to make a website functional. Their varied specializations provide a diverse array of skills to help your business flourish.
They'll build your website for you from the ground up using WordPress as their content management system and web host, so you don't have to worry about spending endless nights in front of your computer. After your site is up and running, they'll train you how to update any text or other content if needed.
While they have a dedicated support service, it's done via an online help desk and not over the phone. Their searchable database of FAQS is not exactly comprehensive, so you'll most likely end up sending a ticket and waiting for a response.
However, they have some basic tutorials on how to manage your Shopify account, which should suffice for most users. While this isn't an ideal arrangement, SPF has a great track record among its clients because their projects are well-executed and rarely require after-service support.
In short, what you get with SPF Websites & Multimedia is a creative team at your disposal – they'll take care of the back-end, front-end, and market your business to increase your customer base. This is why they've earned their spot on our list of the best website builders in New Zealand.
Ratings at a Glance

● Features – 5/5
● Ease of Use – 4/5
● Cost – 4/5
● Support – 3/5
Decades of proven experience
Diverse portfolio
Insightful and clever digital solutions
Team of creatives, designers, developers, and marketing specialists
Website building not primary focus
Poor knowledgbase of FAQS
After-service customer support can be slow
Customer Reviews
SPF Websites & Multimedia has a great reputation among local businesses. One such business is Diecast Masters America, who shares their experience with the company:
"I can't recommend SPF enough for anyone who has the perfect website in their head but not the knowledge or experience to build it themselves. Our website came out better than we could have imagined, and they are an absolute pleasure to deal with! If we could give more than 5 stars, we would."
9. Web Digital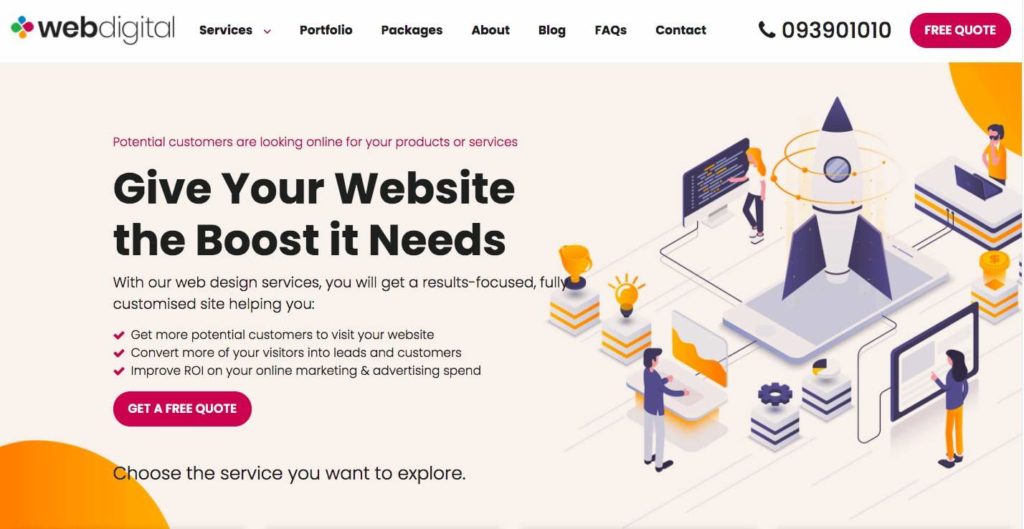 SERVICES
Website Design, eCommerce Website, Landing Page Design, Logo & Branding, Web Hosting
WEBSITE
https://www.webdigitalauckland.co.nz
ADDRESS
Level 1, 3 Anzac Street, Takapuna, Auckland, New Zealand 0622
CONTACT DETAILS
Phone: (09) 390-1010
Email:

[email protected]

OPERATING HOURS
Open 24/7
Founded in 2014, Web Digital is a relatively new website builder company that specialises in building and designing WordPress sites for businesses. Having worked with a diverse range of industries, they can help improve your online presence and gain customers through SEO marketing.
Based in New Zealand, they also offer to develop your eCommerce platform and likewise design your logo. With Web Digital, you get a complete all-in-one package to enhance your digital presence.
Web Digital is very upfront about what they do and who they aren't for – they aren't cheap at $2500 for a Starter Package, for instance. However, they deliver results they claim are worth their value.
So, if you're looking to build and design the website yourself or have a very tight budget, you should go shopping elsewhere.
Their premium option, the eCommerce package, is priced at $4900. With almost a $2400 difference from the Starter option, you get a shopping cart, up to 10 product categories, tax options, and a checkout payment gateway.
Web Digital will work with you to conceptualize the basic theme of your brand and build your WordPress site accordingly. Whether it's from the ground up or tweaking the design on an existing site, they've got it covered.
Now, this company requires a 50% down payment upfront before starting to work on any project. After their proposed designs are approved, you'll need to pay 25% of the balance with the remaining to be paid upon completion or 6 weeks thereafter, whichever comes first.
However, they offer unlimited design revisions during the initial stage of the building process, as long as there are no major changes in the original concept as discussed. This means they can offer to do minor things like adjust colors or move content around, but they won't completely redo the entire design.
Speaking of which, their designs are set up to look great on mobile devices, and they'll provide full support in helping you to understand the content management system of WordPress if you want to update text and images.
Web Digital also offers to add optional extras such as a rewards points program, membership subscriptions, and content writing to your site, just to name a few. However, these come at further additional costs to an already expensive package offering.
In short, while Web Digital may seem like it costs a lot, you do get a comprehensive website built from the ground up in as little as one week for the Starter plans. With quick turnaround time and beautiful results, this company is definitely an option worth looking into.
Overall, Web Digital may not be the cheapest website builders in NZ, but the premium service that they offer definitely make the rates worth it.
Ratings at a Glance

● Features – 4/5
● Ease of Use – 5/5
● Cost – 3/5
● Support – 4/5
Works with businesses in various industries
Unlimited revisions in initial stages
Offers free training to use CMS
Free quote available
No DIY website builder
Only offers Managed WordPress hosting
Requires 50% down payment before project starts
Customer Reviews
If you want to have your site up and running with minimal stress on actually building it, Web Digital is the website builder in NZ to go to. Terri Ratay, a client, shares his experience:
"Web Digital has been my go-to for everything website related for the past three years and I am extremely satisfied. Superfast response time whenever I have a question, helpful recommendations, reasonable quotes, and fees, accommodating, etc. Ahmed and team redesigned our entire website and it has worked like a dream ever since AND our online sales have doubled – it is just that much more streamlined and efficient! I am so thankful to have them as a resource as I continue to enhance our site. Thank you!"
10. The Digital Marketing Consultants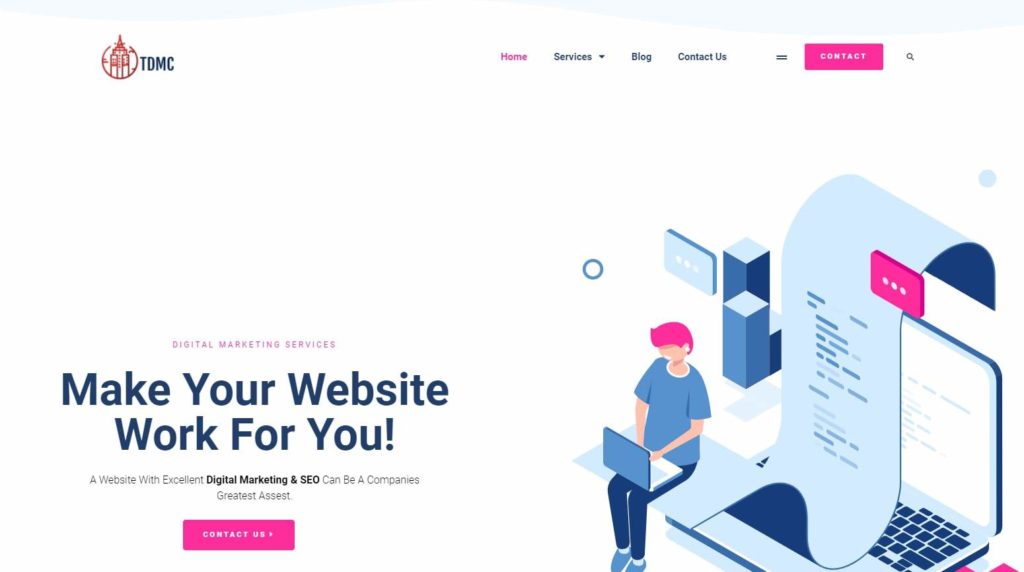 When it comes to digital marketing, The Digital Marketing Consultants offer a wide range of services beyond website building in NZ: from social media marketing to website design, and everything in between.
What makes their website builds unique is the particular attention they give to SEO and Google Ads management. Their main goal is to leave long-lasting impressions on visitors and allow them to access and explore websites easily.
The Digital Marketing Consultants also provides a more cost-effective option for companies by offering the use of structured template designs. These are essentially websites that are, for lack of a better term, "ready to go" as soon as the necessary content is filled in.
However, they also offer custom-made websites via their team of creatives, designers, and programmers. All of these will do their best to deliver a website that can provide you with more leads and what they claim to be less time.
Whether it's built from the ground up or just to give your website a more modern look, they offer packages that center on SEO and digital marketing. They even offer 3 packages with optional extras so you can choose which one suits your needs.
You'll be given a dedicated project manager to walk you through the entire process, along with assistance in content creation.
Given their comprehensive services and pursuit of the best, The Digital Marketing Consultants is a digital marketing company you can feel comfortable hiring when it comes to website design. With their help, your website can actually become a site that attracts your intended audience and transforms them into loyal customers.
In a nutshell, if you want to build a website and also have SEO and digital marketing taken cared of, then The Digital Marketing Consultants are the best website builders in NZ for you.
Ratings at a Glance

● Features – 4/5
● Ease of Use – 4/5
● Cost – N/A (depends on the project)
● Support – 3/5
Custom made and structured websites available
Wide range of web design services
Interactive designs
Free quote available
No website builder
Doesn't offer 24/7 customer support
11. FWeb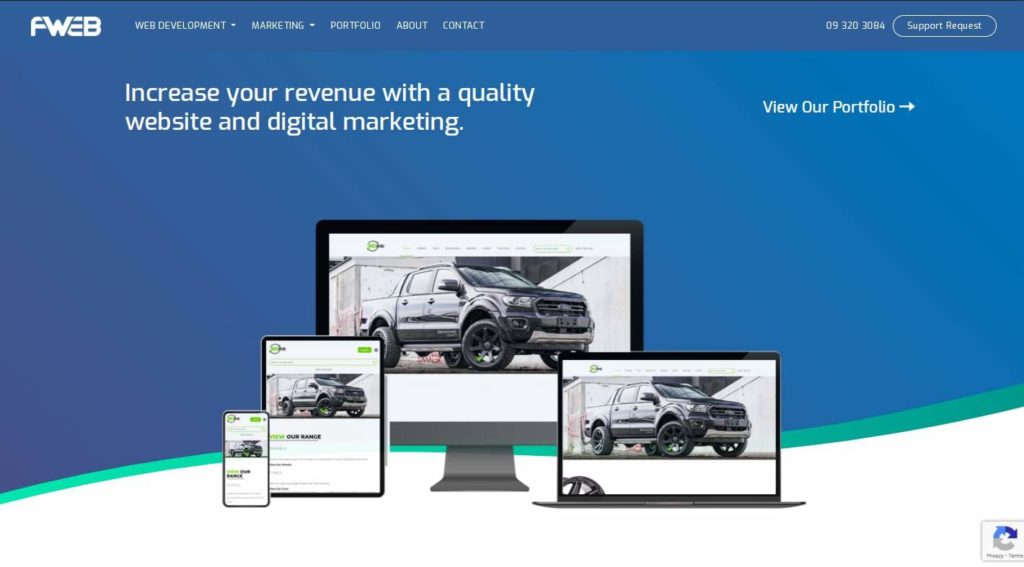 SERVICES
Business Websites, Ecommerce Solutions, Website & Email Hosting, Content Writing, Search Engine Optimisation, Adwords, Identity & Branding, Content Creation
WEBSITE
https://www.fweb.co.nz/
ADDRESS
6/6 Loft Place, Kumeu, Auckland
CONTACT DETAILS
Phone: (09) 320-3084
Email:

[email protected]
FWeb is a web design, website builder and development agency with a combined experience of over 30 years. Based in West Auckland, they offer a wide array of services to help local businesses expand their online presence.
Some of their services include eCommerce solutions, web hosting, search engine optimisation, and content creation. They offer a free initial consultation so that you can openly discuss the scope of your project.
These consultations also allow FWeb to learn more about your brand identity, target market, and products. This highly collaborative effort ensures that each aspect of your business is faithfully represented online.
The final website will be optimized to provide a pleasant experience across almost any kind of device, whether it's viewed through a desktop or on mobile. FWeb can also develop a customized content management system for you so that you can have an equally satisfying experience updating your website.
This customized solution doesn't only apply to managing your content, but can be translated into your online store as well. FWeb can create an eCommerce page that fulfills your requirements instead of just providing you a ready-made, off-the-shelf product.
They also offer four web hosting packages that will place your website on a local New Zealand server. These plans are the Basic, Pro,Business + Hosting (ecom), and Bespoke Hosting.
All hosting plans include SSL certificates, unlimited monthly bandwidth, FTP & Cpanel access, and email integration with Microsoft 365. The only difference between the plans is the disk space, starting at 2GB for Basic until 1000GB for the Bespoke plan.
Now, when it comes to support, you'll need to submit a ticket via their website. When filling up the webform, we like that you can indicate the urgency of the matter, so that FWeb can prioritize your needs if your problem is hindering your business.
These small things can in the customer service can definitely make a difference when choosing the best website builder in NZ for you.
Ratings at a Glance

● Features – 3/5
● Ease of Use – 4/5
● Cost – 4/5
● Support – 3/5
Free consultation
Can provide a customized CMS
SSL and unlimited bandwidth on all web hosting plans
Doesn't have a website builder
Limited third party integration
12. Quentosity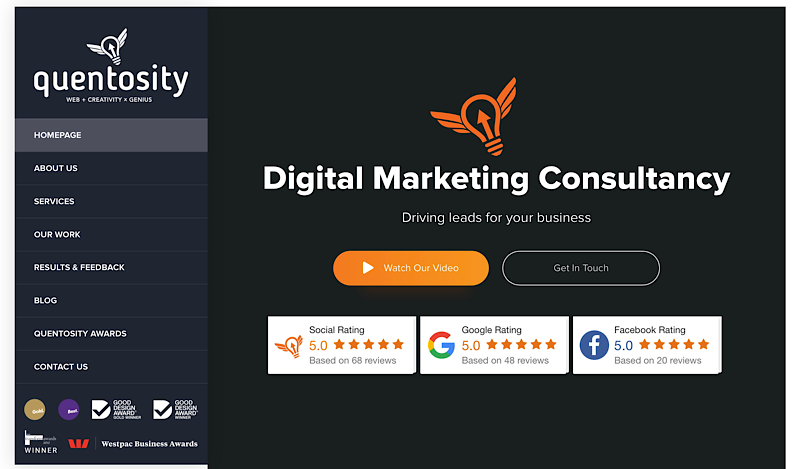 SERVICES
Strategy & Lead Generation, Brand Development, Design & UX, and Media & Marketing Services
WEBSITE
http://quentosity.co.nz/
ADDRESS
88 Coast Boulevard, Papamoa Beach, Tauranga 3118, New Zealand
CONTACT DETAILS

[email protected]


0800 467 8932
+64 21 025 23809
Quentosity is a digital marketing agency based in the Bay of Plenty founded in 2012. They actually offer various services aside from website building.
Since they do not have a DIY website builder, they provide website solutions such as strategy & lead generation, brand development, design & ux, and media & marketing to their clients.
Their team is fully-equipped in dealing with projects because they consist of a data analyst, front end web developer, full stack developer, and a lot more specialists.
For those who look for visible results, Quentosity has results and feedback available on their website. These include videos and case studies of their previous clients.
Quentosity has already received various awards such as the Good Design Award Winner for Digital Design Interface and Transform Awards ANZ Winner for the Best Use of Packaging. This adds to their credibility as a DIY website builder in NZ.
Ratings at a Glance

● Features – 4/5
● Ease of Use – 4/5
● Cost – 3/5
● Support – 5/5
Over 10 years of experience
Has a team of specialists
Wide range of services
Excellent customer service
No website builder 
Pricing is not available for viewing
Customer Reviews
Here are some reviews from their clients:
"Their attention to detail and team work are second to none. When you are a client of Quentosity, you know that you're in the best hands to do the job, because everyone in Quentosity will be involved beyond their call of duty." – Eric Chuah, The Cookie Project

"Quentosity delivered a website for MotorCo that is easy to navigate, high-quality and provides an outstanding user experience for our customers, all with a focus on increasing conversion rates" – Simi Kaur, MotorCo
13. Web Widgets Ltd

Web Widgets Ltd is a website hosting company that accommodates a wide variety of brands worldwide. Other than this, they also have numerous resellers so that clients can get an adequate amount of attention all throughout.
Their website lacks comprehensive information regarding their services and the approach of their company which could be thoroughly improved.
Clients are given access to various links that enable them to get services from various domains and website hosting sites that may be to their liking.
Unfortunately, the format of how their information is presented could use some improvement since it may pass off as less credible to new clients.
Overall, due to the lack of information, clients may need to contact them first before investing in their services in the long run.
Ratings At a Glance

● Features – 4/5
● Ease of Use – 5/5
● Cost – 4/5
● Support – 4/5
Various DIY websites offered
Professional services available
Technical and coding work covered
Website could be improved
Pricing:
DIY Website Builder – Free
Website Design Option 1 – $500
Website Design Option 2 – $500 – $1000
Website Design Option 3 – $1500+
FAQs about Website Builders in NZ
---
And that's it for our list of the best website builders in NZ. As you can see, building a website is not as hard as you think when you use the builders we listed!
Think we missed anything on our list? If you think so, let us know by sending us a comment, and we'll see if we can include them here.
And if you need more options for non-DIY builders in your specific area, check out some of our other lists on the topic. We've done several for specific locations if you'd prefer to hire someone in your vicinity, like our list of the best web design Wellington firms.