14 Agencies for the Best Website Design in Christchurch
A seamless and vibrant website design makes your business stand out. If you're at a loss on where to start, here are the agencies that will give you the best website design in Christchurch!
Your home page is where you are able to present your company online. And that has to not only be good in design but in the marketing elements and calls to action too.
Pulling off a good website is hard work. But a website designer has the technical knowhow and the skills to smooth out the edges.
That's why we're helping you out here. Let's now see the companies capable of giving you the best website design in Christchurch!
1) Mint Design

BEST FOR
Digital Marketing
SERVICES
Digital Marketing, Google Ads, SEO, Social Media, Website Design, Logo Design, 360° Virtual Tours
WEBSITE
https://mintdesign.co.nz/
ADDRESS
21 Humphreys Drive, Ferrymead, Christchurch
CONTACT DETAILS
[email protected]
03 967 9505
OPERATING HOURS
Monday-Friday: 8:30 PM-5 PM
Closed on Saturdays and Sundays
Mint Design is where digital marketing meets growth. They're motivated to give the best services to their clients, which is why they continuously improve their methods and techniques.
One of their core values is to treat their clients well. That's why if you decide to work with Mint Design, you can rest assured that your business will soar.
Highlights
Skilled team of creative designers
Customer-oriented services
2) Meta Digital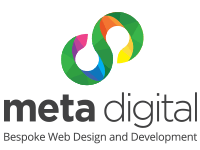 | | |
| --- | --- |
| BEST FOR | Creative and Stunning Website |
| SERVICES | WordPress Hosting and Support, eCommerce Development, Web Development, Digital Strategy, UX and Design |
| WEBSITE | https://www.metadigital.co.nz/ |
| ADDRESS | Manchester Street, Christchurch NZ |
| CONTACT DETAILS | +64 3-963 3739 |
| OPERATING HOURS | Monday to Friday: 8.30am – 5pm |
No matter if you are improving your sales turnover, membership signups, or brand awareness, Meta Digital is here to help you achieve those.
The small expert team develops custom web designs that are creative and stunning according to your needs. They are also friendly individuals that are able to find the humour in every day.
Mobile versions, copywriting, and hosting are provided by them. You can even edit your pages as you like thanks to their platform being a user-friendly content management system (CMS).
Your clients will have a breeze looking around your site. With them, you'll get a well-organised, secured, and phenomenal design you will be proud of that is useful to your online store or business.
Highlights
Creative and stunning website
Helps to improve your business
Content management system
Friendly to deal with
Customer Reviews
One customer's comment is posted on the Meta Digital website:
"The team at Meta is world-class! Their responses are fast & efficient, their work is precise & accurate and their customer service & care is second to none. Keep up the good work team… no pressure… :-)"
3)  Velocity Websites

| | |
| --- | --- |
| BEST FOR | Low, Affordable Price |
| SERVICES | Design & Development, SEO, Digital |
| WEBSITE | https://www.velocitywebsites.co.nz/ |
| ADDRESS | Christchurch Central NZ |
| CONTACT DETAILS | 03-926-5272 |
| OPERATING HOURS | Monday to Friday: 9am – 10.30pm |
If you need a dynamic marketing website, let Velocity do the designing for you! From scoring high on Google search to SEO, content, social media marketing, and PPCs, they have it all sorted out.
That's why it's one of the agencies with the best website design in Christchurch. It not only creates a wonderful design, but also grants you value through increasing your conversion rates and online presence.
For a low affordable price, you can get the best of both worlds — and to your advantage! Your site will even be regularly updated, fixed, and maintained, letting your business run smoothly.
More impressively, they will assist you in increasing your audience through content and video marketing on Facebook, YouTube, Instagram, and so on. You get a really great value from them.
Highlights
Grants value through company profitability
Low, affordable price
Customer Reviews
One client, Lucie Masselink said on Google Business:
"Awesome service, and great advice. Website traffic has trebled, and Vaughan will help us get to the next level. Recommend to everyone. A++++++++
Complete Asbestos Solutions Ltd."
4)  Wired Internet Group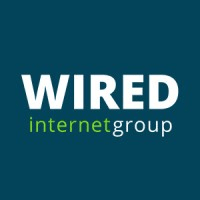 BEST FOR
Small and Medium Enterprises
SERVICES
Web Design, Web Development, WordPress and WooCommerce
WEBSITE
https://www.wired.co.nz/
ADDRESS
56 Carlton Mill Road, Merivale, Christchurch 8014, New Zealand
CONTACT DETAILS
03 377 8460

0800 243 894

OPERATING HOURS
Monday to Friday: 9am – 5.30pm
Wired Internet Group is a web design agency that uses WordPress and WooCommerce as their main platform. They can either repair existing websites or develop a newer and better one for you.
Since 1996, they have built over 300 websites with 30 of them from WooCommerce or online stores. These businesses differ from all facets of the industry including healthcare and law firms.
Besides the fantastic design, their developers and designers strive to give you the best user experience possible, as they know this is vital to building and retaining a loyal following.
So raise your visibility on the radar and get your business better than ever before with Wired! They make some of the best website design in Christchurch for small and medium enterprises.
Highlights
Utilises WordPress and WooCommerce
User experience focussed
Abundant experience
Customer Reviews
Here's Lisa Pitt commenting on Google Business:
"Thanks for our amazing new Website! Micheal and his team listened to our needs and came up with a great design. It took us a couple of goes to get it right, as it was all new to us, and they were patient, understanding and happy to re-work it with us so that we were 100% happy. I would highly recommend Wired."
5)  Jade Web Design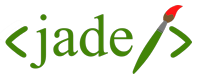 | | |
| --- | --- |
| BEST FOR | Engaging, Bug-Free Website |
| SERVICES | Business Websites, School Websites, Portfolio Websites, Blogging Websites, Organisation Websites |
| WEBSITE | https://jadewebdesign.co.nz/ |
| ADDRESS | Christchurch, New Zealand |
| CONTACT DETAILS | +64 274 638 828 |
| OPERATING HOURS | Monday to Friday: 9am – 5pm |
With Jade Web Design, your webpage is crafted with pleasant simplicity, a harmonic user experience, and a wonderful design that imparts the message to your audience effectively.
Jade is friendly, knowledgeable and highly practised in coding and websites. She will listen to your needs and is full of many great ideas to help your company stand out.
If you already paid for the service, it doesn't stop there. Your website will be regularly updated, maintained, and supported so that you may focus on your business with no hassle or stress.
Highlights
Knowledgeable and highly practised
Harmonic user experience
Creates stunning website design
Customer Reviews
Julie Thompson, one client, described her experience on Google Reviews:
"Jade is very friendly, professional and skilled. She has great ideas to share with her clients to enhance their business. I would thoroughly recommend Jade Web Design."
6)  Fatweb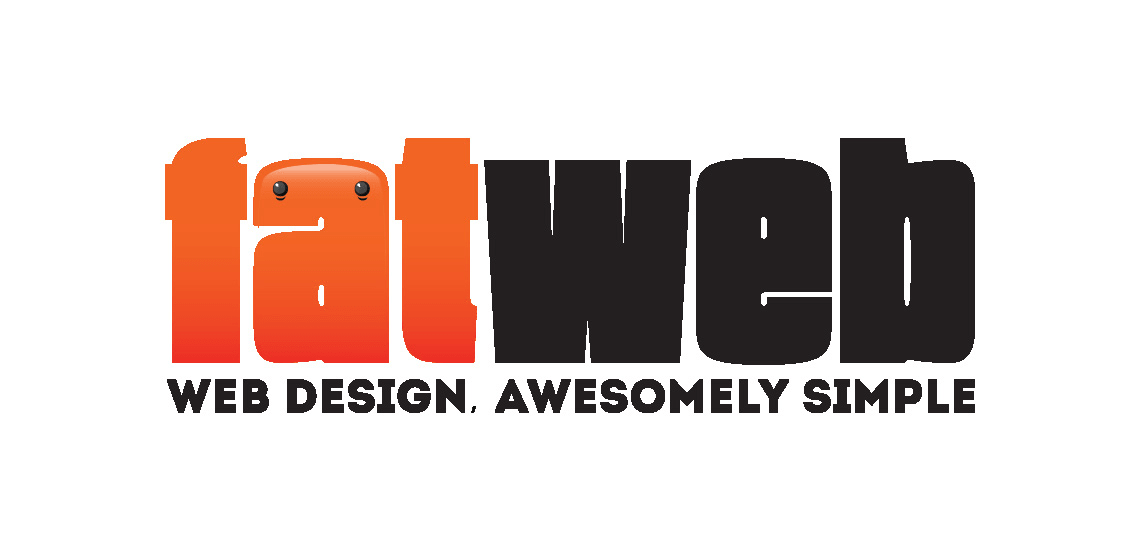 | | |
| --- | --- |
| BEST FOR | All-Around Digital Company |
| SERVICES | Website Design & Development, Mobile App Development, Brand Creation & Management, Strategy, Digital Marketing Services,Data Analysis, Creative |
| WEBSITE | https://www.fatweb.co.nz/ |
| ADDRESS | 38 Lowe St, Addington, Christchurch 8011, New Zealand |
| CONTACT DETAILS | 0800 328 932 |
| OPERATING HOURS | Monday to Friday: 9am – 5pm |
Having accomplished more than 2000 website feats for clients, FatWeb has been rocking the digital marketing world since 2001. It is trusted by customers to produce some of the best website design in Christchurch.
From content to web design, and advertising to Google analytics and sales, they can provide help from their knowledge and experience that will immediately drive your company forward.
Here, you will get a responsive and super-rad website. Full-time support is likewise on your side to help you modify your marketing as needed.
Furthermore, prices are reasonable and affordable, so you will get the most bang for your buck. It's an all-around digital company bringing web solutions for all businesses.
Highlights
Responsive and super-rad website
Full-time support
Knowledgeable and experienced web designers
7)  Plain Sailing Web Design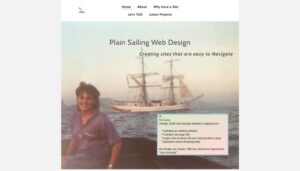 BEST FOR
Affordable rates
SERVICES
Website creation services
WEBSITE
https://www.plainsailingwebdesign.co.nz/
ADDRESS
N/A
CONTACT DETAILS
022 584 7817
[email protected]
OPERATING HOURS
N/A
Websites are essential to a business if they want to boost their online presence. However, not all businesses can afford website design services.
Plain Sailing Web Design offers website design services that are both affordable and high quality. Contact them now if you want to create or upgrade your website.
Highlights
Affordable prices
Creates websites that are easy to navigate
8) Cloud Media

BEST FOR
Digital Marketing and Website Design
SERVICES
Brand Development, Product Design, Website Design, SEO, Videography, Copywriting

Website Design and Development

Google and Facebook Advertisement

WEBSITE
https://cloudmedia.co.nz
ADDRESS
Dinsdale, Hamilton, 3204, New Zealand
CONTACT DETAILS
0800 425 683

support@cloudmedia.co.nz

OPERATING HOURS
Monday to Friday: 9:30am – 5pm
Cloud
Media can help you design a website, engage with customers through digital marketing, and help grow your business. Their services include web design, web development, Social media marketing, SEO & more.
Their experienced team of professionals helps businesses like yours design a website that is both unique and brings more enquiries and sales to your business. They help every business field including B2B – B2C, E-Commerce, Startup Businesses, Non-Profit Organizations, Health & Care, Hospitality, and Many More.
Cloud
Media is a customer-orientated business founded by Raj Singh Sandhu in July 2012. 
Cloud
Media was developed to help the small to medium-sized local businesses of New Zealand that are struggling to compete in the competitive environment of the online world. They are also very dedicated to implementing valuable approaches in carefully designing the websites and marketing online in a professional manner, which strengthens customer satisfaction and promoting more consistent services.
At 
Cloud
media, they embrace advising local businesses of New Zealand on how to market their product/services in the online world that will benefit their business into generating more revenue in the long run.
Highlights
Website designing
SEO (Search Engine Optimisation)
PPC (Pay Per Click)

Google advertisements and Facebook Marketing Services.
Customer Reviews
On Google Business,  Anne Jacobs mentioned:
An efficient, no-nonsense approach to every task. Abreast of the fast-changing world of IT and Web Design. Rates are reasonable and fair, and we found Raj and his team friendly and courteous. Adriana's Caffe & Ristorante.
On Google Business,  Dan Tairaki mentioned:
Fast and friendly service. Quality Web design. I highly recommend the team at 
Cloud
 Media for your next website or redesign.
9) BC Media

Extending our reach online typically requires the help of digital solution professionals. That is, if we aren't professionals ourselves.
If you're in the same boat as us, you may want to consider BC Web Design. This firm is known for its personalised digital solutions, which they come up with after thorough and lengthy consultations with their clients.
After the consultation comes the crucial parts: Coming up with solutions that will propel the clients' businesses forward. These solutions may come in the form of a functional, aesthetically pleasing website or marketing tools like SEO.
Regardless of the service chosen, BC Media endeavours to provide the best customer service and experience possible. The firm does so with the help of its professional, diverse team, whose members are personable, friendly, and skilled in their respective fields.
Highlights
Custom-fit digital solutions
Prompt and professional service
Hosts websites and offers domain names
10) Electric Escape

Sometimes, having to approach several firms to acquire the digital solutions that we need is too time consuming, resulting in many businesses moving forth with shodily established brands.
Now, we don't want that do we? Fortunately, that doesn't need to be the case for us if we work with Electric Escape.
Why, one may ask. Well, it's because Electric Escape is known for offering a wide array of digital solutions for businesses of all sizes.
These solutions include website design and development, hosting, graphic design, and many more. They can offer these services thanks to diverse and talented team, which consists of developers, designers, and content creators.
So, if you're looking to boost your visibility online, why not consider Electric Escape? The company is not only known for its long list of services, but professionalism and promptness as well.
Clients that get in touch will only need to wait a short while before the company gets back to them.
Highlights
Personalised website design and development services
Comprehensive digital solutions available
Professional and prompt team
11. Big Boy Websites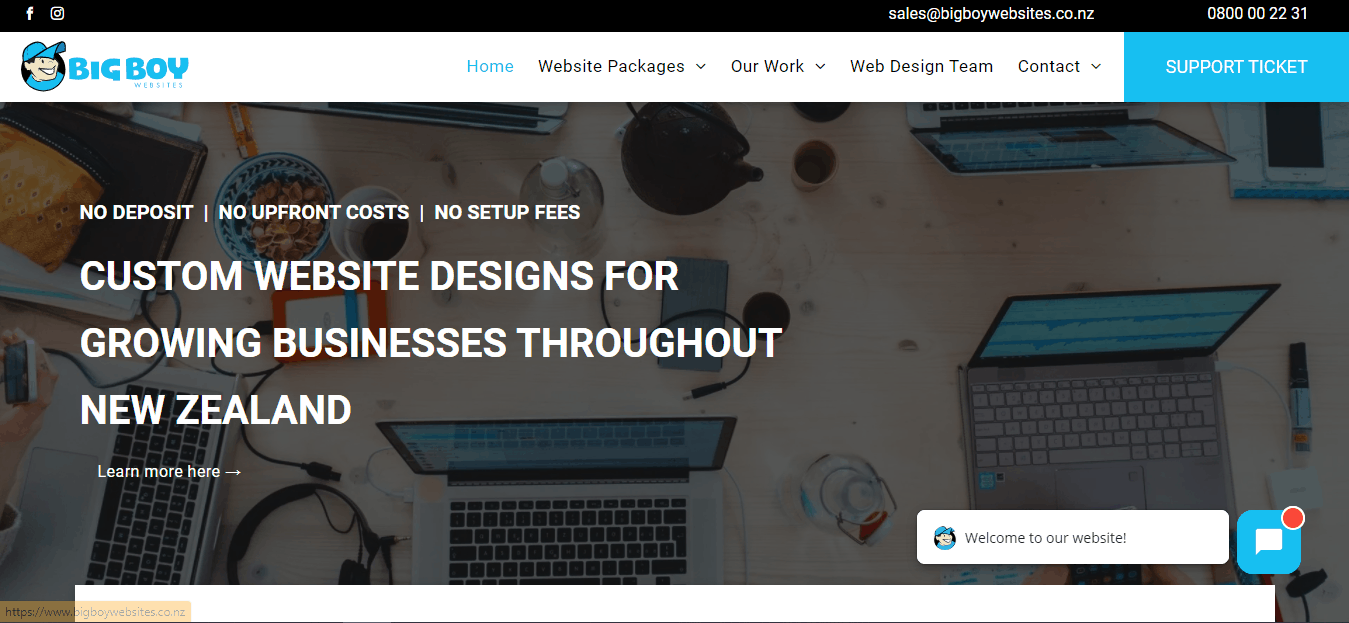 | | |
| --- | --- |
| BEST FOR  | Trade Service Businesses in Christchurch |
| SERVICES  | Digital Marketing, Google Ads, SEO, Website Design & Development, Logo Design, Review Gathering, Case Studies, Web-Ready Copywriting, Photography and Digital Strategy Development |
| WEBSITE  | bigboydigital.co.nz |
| ADDRESS  | 34 Allen Street, Christchurch |
| CONTACT DETAILS  | 0800 00 22 31, Alex Mann, [email protected] |
| OPERATING HOURS General Blurb  | 9am – 5pm Mon-Fri  |
Now, if you're planning on growing your business, then Big Boy Websites may interest you with their services. This website designing company delivers mobile-friendly website prototypes, all of which are carefully tweaked to suit the clients' needs.
At Big Boy Digital Marketing, the 'no money upfront' approach allows clients to use their budget for the important stuff, like web-ready copies, testimonials, case studies, and photographies. These elements help in making clients look impressive as they highly the key aspects of their business.
Additionally, Big Boy Websites also offers web hosting to take the stress away from its clients.
Aside from not requiring any downpayments, Big Boy Websites also offers relatively affordable website design packages. Its lowest package features 6 SEO pages, strategic planning, and options to change content monthly for a fee of $51 per month.
It has three other packages, namely Enquire, Engage, and Engross, each with more SEO pages and additional web development training. What makes its Engross package special is that it comes with numerous marketing tactics.. 
Highlights
No money upfront and no lock-in contracts

Being found online by the ideal clients you want

Compelling, easily scannable content with strong calls to action

Customised web design at a fraction of the cost of other agencies

Full service support for clients with ongoing requirements
Customer Reviews
Read these customer reviews to know what to expect should you choose Big Boy Websites to design your website:
"We decided to bring a new product that we had finished prototyping to the market under a new business. We found a medium sized Home and Lifestyle Show to showcase our new Hot Tubs but the issue was that it was only two weeks away and we hadn't yet engaged a company to design a website, let alone compile the content! 
Mary from Clarity Consulting set up a meeting with Big Boy Websites. Alex was enthusiastic from the first meeting and agreed to work within our stupidly short time frame and have our website up and online before our product release. 
Alex's team prompted us throughout the build for content and did a fantastic job at editing it and putting it where it needed to be. We're looking forward to working again with Alex, Mary and the rest of the team on our other business and adding another awesome website."
– Dwayne Dunn | Degree 43 Hot Tubs
"Straight forward and easy to deal with Alex popped in and planned out a website and tailored it to suit us financially was great as the previous designer from another company was hopeless.
Tailored a website to suit business and check in every 6 months and I think I am due for a rebuild this winter
Easy to arrange and was up and running quickly. They are an easy company to deal with and if there are any fixes, changes or adds that need being done They're quick about it."
– Dan Vann | Evolution Sports
12) Intermart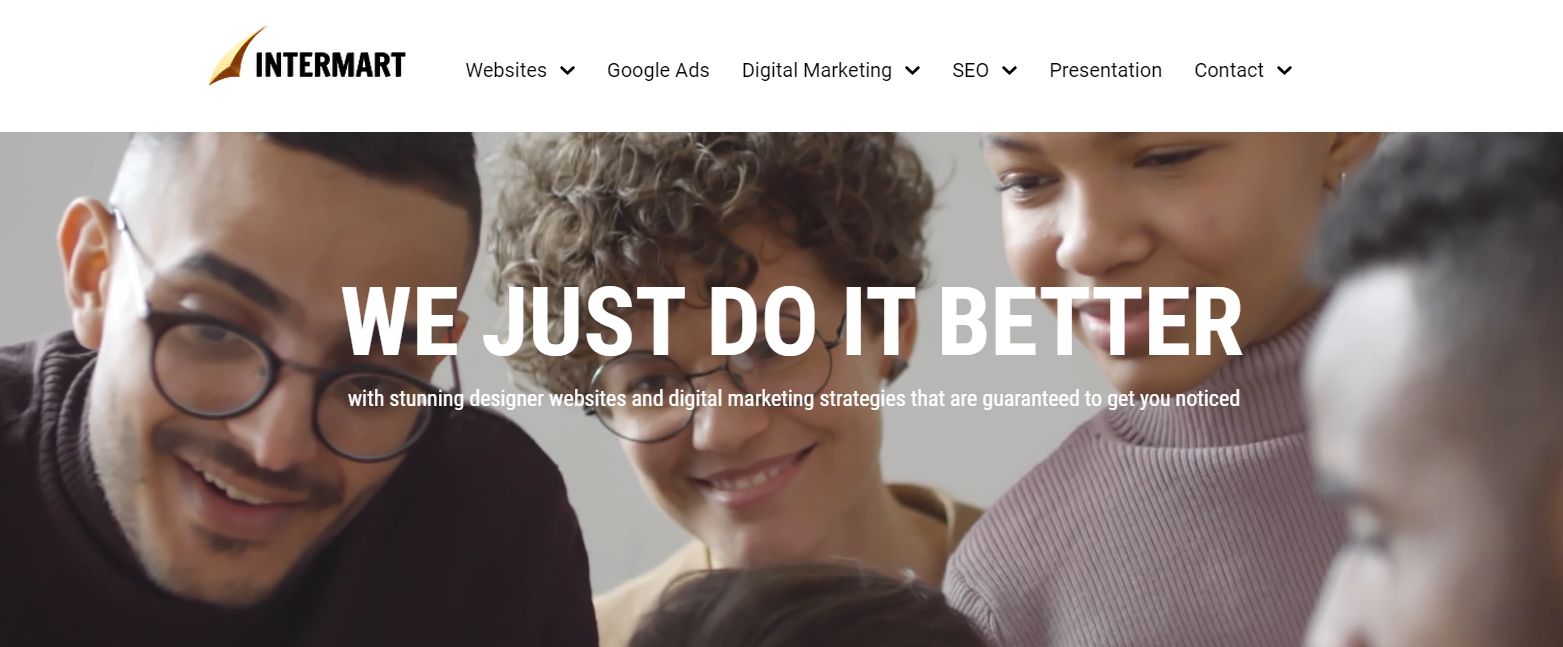 | | |
| --- | --- |
| SERVICES | Website Design, Google Ads, Digital Marketing, SEO |
| WEBSITE | https://www.intermart.co.nz |
| ADDRESS | Christchurch, New Zealand |
| CONTACT DETAILS | 0800 003 062 |
| OPERATING HOURS | 24/7 |
Next on our list is a web marketing agency that has been recognised for its work in the field.
Based in Christchurch, Intermart has received awards for exemplary services in website design, Google adds, digital marketing, and SEO. Website designs from Intermart are tailored to fit the clients' needs, and are also as functional as they are eye-catching.
Now, it's worth noting that Intermart is made up of skilled and experienced individuals whose years working in digital marketing allows the firm to confidently and competently provide tailor-fit solutions.
These individuals endeavour to help small businesses grow, and will never consider using a one-size-fits-all approach to any problem that has to do with the digital space.
Aside from their commitment to quality and individuality, Intermart is also known for its excellent customer service. The team at Intermart is highly professional, and provides top-notch post-service care to all clients.
Highlights
Offers free SEO audits
Mainly caters to small businesses
Primarily a lead generation factory
13) The Digital Marketing Consultants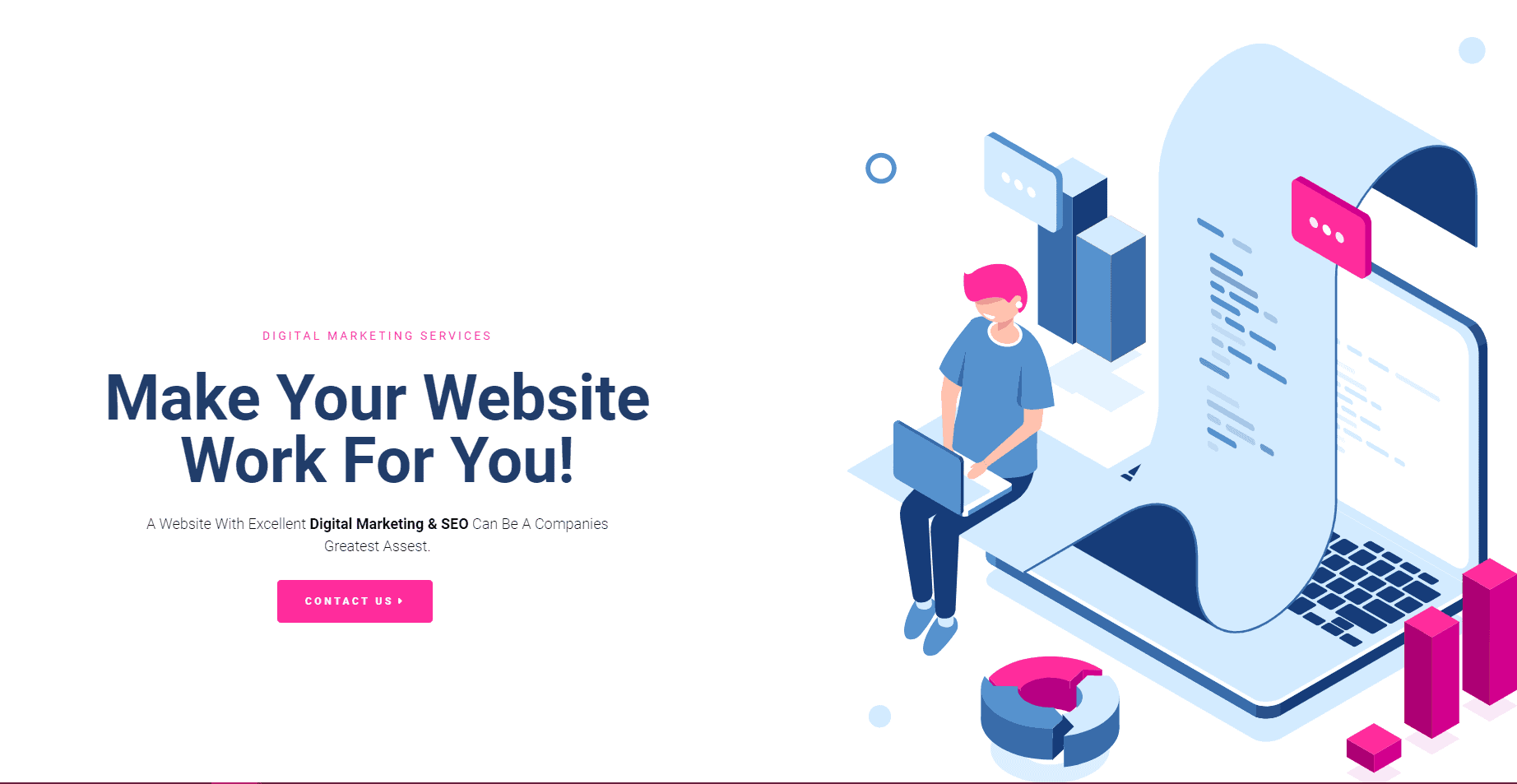 BEST FOR
Interactive Website Design
SERVICES
Social Media Marketing
SEO Services
Google Ads
LinkedIn Marketing
Website Design
WEBSITE
digitalmarketingconsultants.co.nz/
ADDRESS
Newmarket, Auckland
CONTACT DETAILS
Phone: 0211328686
Email: [email protected]
OPERATING HOURS
Contact for more information
When it comes to digital marketing, The Digital Marketing Consultants are one of the best options to consider. They offer a wide range of services, from social media marketing to website design, and everything in between.
Their website designs are praised by many for its wide degree of interactivity. This not only leaves a longer lasting impression on visitors, but also allows its users to access and explore the website more easily.
While their custom made websites are top-notch, companies that want to keep it simple can also have a traditional website made based on their structed template designs. No matter what you choose, their team of creatives, designers, and programmers will do their utmost to deliver a website that can provide you with positive results.
Given their comprehensive services and pursuit of the best, The Digital Marketing Consultants is a digital marketing company you should hire when it comes to website design. With their help, your website can actually become a site that attracts your intended audience and transforms them into loyal customers.
Highlights
Custom made and structured websites available
Wide range of web design services
Interactive designs
Free quote available
14) Webmad Christchurch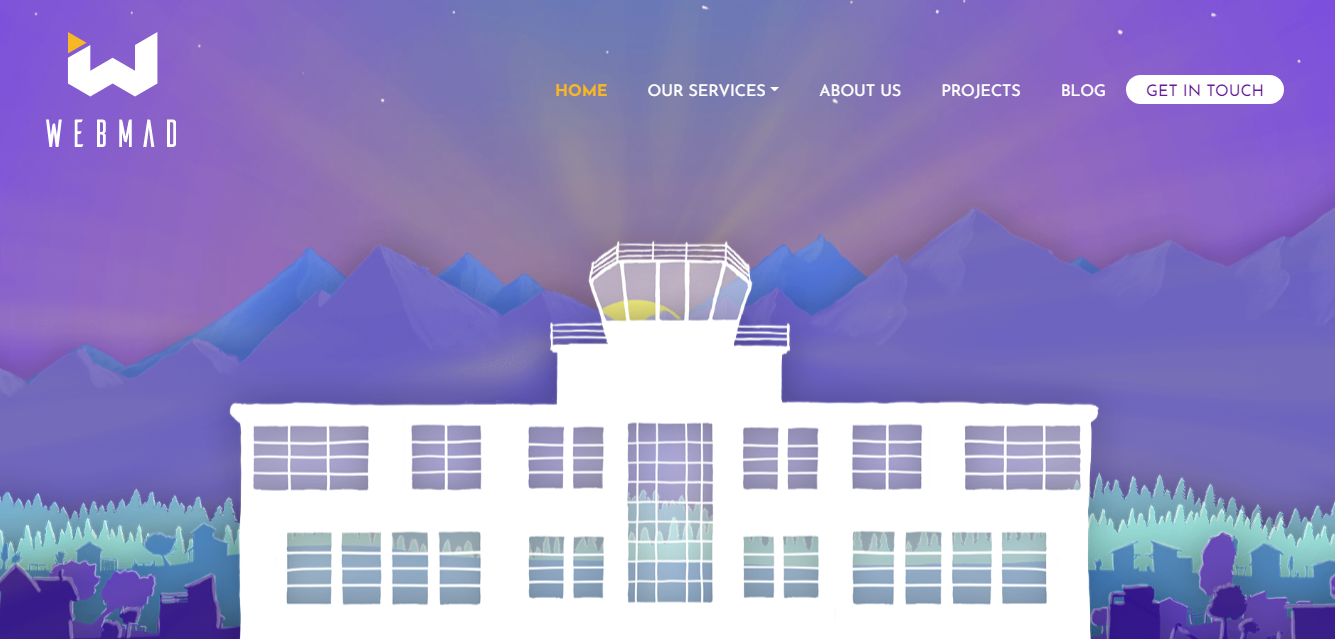 BEST FOR
Website Design
SERVICES
Web Development, Website Design, Digital Marketing, Hosting & Security
WEBSITE
https://www.webmad.co.nz/
ADDRESS
69 Corsair Drive, Christchurch
CONTACT DETAILS
0800 932 623
[email protected]
OPERATING HOURS
24/7
Webmad Christchurch is a company that offers a wide range of website development services in New Zealand for more than 10 years. With hundreds of successful projects, they are considered to be veterans in the industry and sport a 90% referral rate from their past clients.
They are able to craft just about any website from financial trading systems, quote generators and online booking systems – these are but some features they can include in each website.
Aside from this, they have over 40 actively managed servers so clients don't need to worry should there be in any traffic in accessing a site managed by the company.
The team is both multi-disciplinary and honest which makes them pleasant to work with and their diversified experience only makes the process easier.
Clients also have the liberty to choose if they want to work with them on-site or online since they offer the same quality expertise and customer service all the same.
Highlights
Prompt response and feedback system
Effective strategies employed
Professional team
---
That's all for the top companies offering the best website design in Christchurch. Managing your site takes a lot of time and effort, but through them, it will be done quickly and efficiently.
Is everything crystal clear or do you have any question to ask us? We'd love to hear it — you can let us know by sending us a message and we'll be right with you.
And if worrying about your new site has occupied too much of your time lately, go out for some fresh air to relax and reload! You can also go to a cafe and for this, you can read about the best cafes in Christchurch.