The 7 Best Wedding Venues in Tauranga
Image from Old Forest School
Choosing a venue for your wedding can be complicated, but not in Tauranga. It has many awesome places where you can marry the person of your dreams.
Whether it's a cool beach or vintage farmhouse wedding, we have them. These places have mesmerising views and delightful meals that will surely put a smile on your face.
The experienced staff will even assist you in the lead up to your wedding. That means you can enjoy every single moment with your love at the venue.
Scroll down to know more about these wedding paradise locations.
The Best Wedding Venues in Tauranga
Without further ado, here are the downright best wedding venues in Tauranga!
1) Bluebiyou
| | |
| --- | --- |
| BEST FOR | Beach weddings |
| SERVICES | Cafe Bistro Bar Function |
| WEBSITE | https://www.bluebiyou.co.nz/ |
| ADDRESS | 559 Papamoa Beach Road, Papamoa Beach 3118, Bay of Plenty |
| CONTACT DETAILS | +64 7-572 2099 |
| OPERATING HOURS | Breakfast: Sunday: 9.00 AM – 2.00 PM Lunch: Tuesday to Sunday: 11.30 AM – 3.00 PM Dinner:Tuesday to Sunday: from 6.00 PM |
| PRICES | Function room: $9,500 minimum spend for the whole day Whole venue: $15,500 minimum spend for the whole day Small wedding room hire: please enquire Low season rates (May – October): please enquire |
Bluebiyou is a charming beachside bistro and wedding venue. Located in Papamoa Beach Road, it's only a short distance drive from the laidback metro of Tauranga.
At the venue, you can enjoy the breathtaking views of the Pacific Ocean, the sweeping winds, and soft sand under your feet.
For your wedding reception, they have the space to seat up to 70 guests. The menu is seasonal and tailored, offering mouthwatering seafood and salad.
This includes fresh Pacific oysters, pork and scallop, and vegan mozzarella & tomato Bruschetta salad. They also serve Barista coffee and traditional tea of your choice.
Your favourite songs can be played after dinner so you can dance with your partner under the relaxing quaint lights of the place.
Pros
Beachfront location
Offers seasonal menus
Choose Canape or Sit Down Style
Up to 70 guests capacity
Short distance from Tauranga City
Cons
Customer Reviews
Except for the price complaints, those that rented the venue appreciated the stunning views, great atmosphere and food, and the service of this beachside venue.
One client, Nigel, shared his experience on Trip Advisor:
"We chose bluebiyou for our wedding reception and couldn't have been more impressed and totally satisfied. The food was excellent and the service was 100% professional and exceptional. Nothing was a problem. A genuine example of excellent service and food. I strongly recommend."
Furthermore, here's a comment from another client:
"We went to a wedding on the beach where The Blue served outstanding canapes the following a reception in the restaurant. Great food lovely venue. Staff was exceptional."
2) L'Orangerie
BEST FOR
Vintage and rustic style wedding
SERVICES
Wedding events Accommodation
WEBSITE
http://www.lorangerie.co.nz/
ADDRESS
218 Rowe Road, Ohauti, Tauranga
CONTACT DETAILS

[email protected]

PRICES
For wedding rates, please contact the company
Bride and maid's room: $650 (exclusive of GST)
Bride and groom after-wedding stay: $750 (exclusive of GST)
Have you always dreamt of going to France and getting married there? L'Orangerie is a love letter to that, inspired by the rustic magic and vintage life of France.
Your wedding can be held in a beautiful old barn, complete with classic church pews, tables, cutlery, and gracefully aged doors and wooden beams.
Couples can stroll through the garden with fragrant orange trees and lovely jasmine bushes. Up ahead in the pasture, you'll see the incredible view of Tauranga and the ocean.
The perfect wedding story is the goal of the owners of this venue. The staff is on hand to set up the entire place and make it into something out of your dreams and wishes.
There's a room where the bride can get ready for the wedding. Also, newlyweds can stay in for the night, and have breakfast and continue to enjoy the iconic place the next day.
Thus, it's one of the best wedding venues in Tauranga that couples will certainly fall in love with.
Pros
Rural French countryside theme
Personal communication with the owner
Multiple ceremony locations
Exceptional catering
Large parking area
Cons
Expensive hire fee of $8,500 + GST
3) The Elms
BEST FOR
Boutique weddings
SERVICES
Wedding venue hire Function hire
WEBSITE
https://theelms.org.nz/
ADDRESS
15 Mission Street Tauranga, New Zealand 3110
CONTACT DETAILS
+64 7-577 9772

[email protected]

OPERATING HOURS
Open 7 days a week from 10.00 AM – 4.00 PM
Just a stone throw's away from Tauranga CBD, The Elms is a heritage landmark that can host your wedding with a mix of romance and tradition.
It is notably the place where Maori and Pakeha first convened with each other. The house has stunning grounds, a quaint chapel, a front lawn, and blooming flora.
You can tie the knot wherever you want. The place is picture-perfect from every angle—inside the vintage rooms, in front of the immaculate house, or even right beside your wedding car.
Your photographer will only be too happy to snap pictures of you and your partner around this remarkable site. Also, drinks and snacks can be prepared for your guests.
Pros
One of NZ's oldest historical sites
Multiple ceremony locations
Photoshoot-friendly nature-rich venue
Cons
Customer Reviews
The venue has provided clients with a complete and amazing wedding experience. It has a traditional chapel, intimate library, verdant gardens, and more.
Here's what Kristin and Brad have to say about The Elms:
"When we were looking for the perfect place to get married, as soon as we found The Elms we knew it was the perfect place for us. Every question I had was answered, we were shown around in our time, the staff were perfect and so very helpful. I would definitely recommend The Elms. Perfect place, perfect location, amazing wedding, very happy bride."
Rebekah shared her experience during her wedding as well:
"We had our wedding ceremony at The Elms on the weekend. Romani and Andrew are such neat people who helped us in every way possible. The guests raved about the cute chapel and about the lovely grounds. We had afternoon tea on the front lawn where guests could relax and mingle. It was an amazing day, thank you.'
4) Charlemagne Lodge
BEST FOR
Luxury wedding & accommodation
SERVICES
Weddings Corporate Functions Accommodation
WEBSITE
https://www.charlemagne.co.nz/
ADDRESS
2 Loop Road, Te Puna, Tauranga, New Zealand
CONTACT DETAILS
+64 7 552 5775 +64 027 255 2073

[email protected]

OPERATING HOURS
24/7
PRICES
Weddings $5,200 a day (only available for Friday, Saturday, Sunday; incl. one-night stay for eight people)
Accommodation Whole house (sleeps 8-9 max) – $600 to $1,000 (night peak); $450 (night off-peak) Extra costs per stay: Cleaning fee – $150 Linen fee – $50
A more secluded, private wedding spot would be Charlemagne Lodge. It's nestled within wonderfully-manicured gardens with an adjoining pond and spacious patio.
It fronts a picturesque rural scene and the breathtaking Kaimai ranges lining the horizon. You and your beloved can also watch the romantic sunset before nightfall.
The patio can seat up to 120 guests for your wedding reception. A broad range of catering is available to you and they will tailor-make it to fit your preferences.
You can stay in for the night which will cost from $450 to $1,000. Just 10-minutes away from Tauranga, the lodge is conveniently located for your big day.
Pros
Victorian lodge theme
Large patio seating up to 120 guests
10 minutes away from the city centre
Cons
Expensive fees from $5,200
Smaller space than other wedding estates
Customer Reviews
Charlemagne Lodge will blow your mind when you get there. Customers are raving about it, citing the stunning and well-maintained venue and outstanding service.
On Facebook, one bride named Kimberley wrote:
"This venue is absolutely amazing! The grounds are so beautiful and well kept and the lodge is stunning, but what really makes Charlamagne Lodge the ideal wedding venue is Faith the owner/coordinator. Faith goes above and beyond – she is so lovely and approachable that you forget that she is not a family member! She has the ability to just blend into your day but is actually working tirelessly in the background making sure everything goes perfectly. This is a special kind of service that only a special kind of person can pull off. Even the next day (if you stay in the beautiful lodge) you wake up to the lovely Faith making you breakfast! I give this venue 6 out of 5 – absolutely no complaints."
Furthermore, Vanessa commented about the venue:
"Faith at Charlemagne Lodge is an absolute star…from the moment we visited to the day of the wedding, nothing was too much trouble. Our daughter's wedding was the best day ever….such a beautiful day in a stunning venue."
5) The Olive Tree Cottage
BEST FOR
Bespoke wedding packages
SERVICES
Wedding venue hire Catering
WEBSITE
https://www.olivetreecottage.nz/
ADDRESS
247 Joyce Road, Pyes Pa 3173, New Zealand
CONTACT DETAILS
+64 7-543 0380

[email protected]

OPERATING HOURS
Monday – Sunday: 8.00 AM – 12.00 AM
PRICES
Wedding Venue November – March Monday to Thursday – $4,800 Friday – $5,850 Saturday – $6,250 October – April Monday to Saturday – $5,200 May – September Monday to Saturday – $4,000
Brunch Weddings Venue hire: $3,500 (Sunday only from 9.00 AM – 5.00 PM)
Dusk Weddings Additional: $850 (only avail May-September)
The Olive Tree Cottage is open to weddings and receptions regardless of the weather. They have different wedding packages to suit your budget and wedding intention.
They have an outdoor garden wedding setup with various-shaped trees, a marquee for throwing a big reception, and a lounge bar for you to unwind and have a drink in.
Here, you're away from the hustle and bustle of the city and instead, in the midst of a wonderful garden and an amazing view of Mount Maunganui in the far distance.
Their experienced staff will handle everything on the sidelines for you. They'll make sure your most important event goes just as you want it.
Among the bespoke packages offered include Winter Wedding, Brunch Wedding, and Dusk Wedding.
Pros
Bespoke wedding packages
Wide range of facilities
Centrally located
Cons
No accommodation available
Customer Reviews
No doubt, they're one of the best wedding venues in Tauranga. In addition to the aesthetic country garden and building, the staff are there for you 110%.
Kylie wrote her feedback on the website:
"We had our wedding at the Olive Tree on Monday. Thanks so much to Lisa and her team for making our day magical. All the finer touches that come and go without you even noticing umbrellas for the sun to blankets as the sun went down. I can not speak more highly of the friendly nature of the Olive Tree Team nothing is a hassle and they walk around all day with a smile on their face.
Thank you for making our wedding a fairytale. Xxxx"
And another satisfied client Monique posted this review:
"I don't think there are enough words to describe how fantastic this venue is….having our wedding at Olive Tree meant that we had the absolute best day of our lives, and that came down to their phenomenal staff making our dreams come true. Lisa and Jo – Kelly and I, as well as my Dad, want to thank you for all that you did for us.
If you're reading this and wondering if Olive Tree is the right venue for you, Kelly and I can say from the bottom of our hearts – go for it. You won't ever regret it and you will have the time of your life."
6) Waverly On Wairoa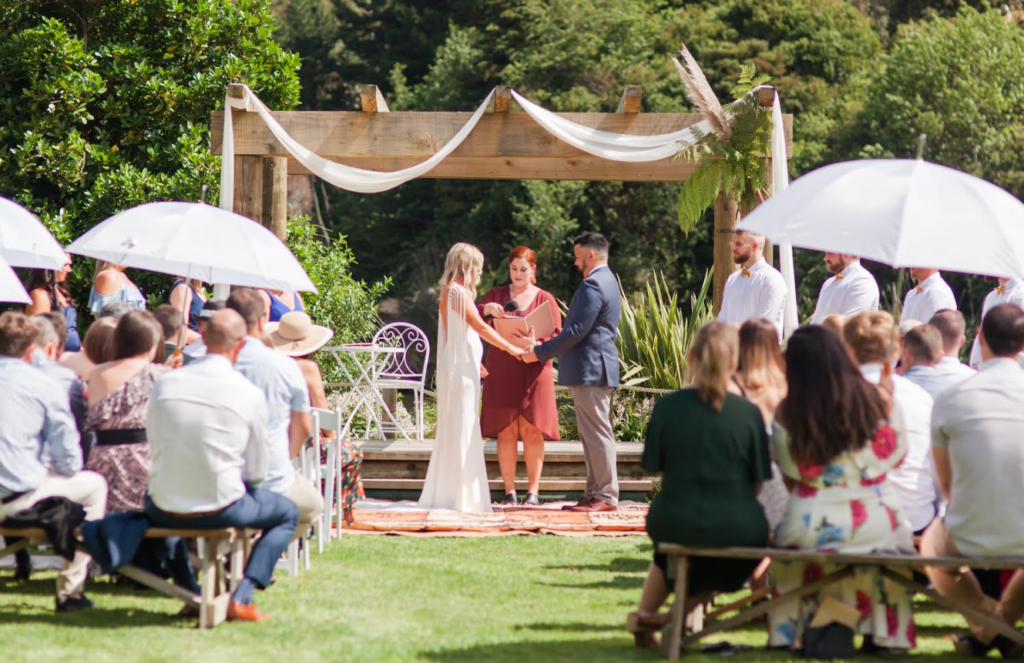 | | |
| --- | --- |
| BEST FOR | Wedding Venue |
| SERVICES | Weddings, Functions, Conferences, Team Building |
| WEBSITE | https://www.waverly.co.nz |
| ADDRESS | 36 TANIWHA PLACE, BETHLEHEM TAURANGA 3172 |
| CONTACT DETAILS | +64 7-576 4233 [email protected] |
| OPERATING HOURS | Monday – Sunday: 9 AM – 12 AM |
Whether you're hosting a large or small wedding, Waverly on Wairoa will be able to accommodate it comfortably. They boast a large, open-space venue, as well as a strong and experienced team that is ready to assist you.
The view and location can't be beat either. Soon to be wed couples dreaming of riverside weddings should definitely check out what they have to offer.
Pros
Can host up to 150 people
Generous deck space
Accommodates a wide variety of events
Good location
Cons
Booked fairly frequently, scheduling might be difficult
7) Tauranga Club
BEST FOR
Wedding Venue
SERVICES
Corporate venue, wedding venue, bar, restaurant
WEBSITE
https://taurangaclub.co.nz
ADDRESS
Level 5, 72 Devonport Road Tauranga
CONTACT DETAILS
Phone: 07 571 0585
Email: [email protected]
OPERATING HOURS
Monday – Friday 9am – 9pm
Sat – Closed for private functions
Sun – Closed
The Tauranga Club is a function venue suited for corporate events and weddings. They boast a wide range of facilities in their estate.
The ambience in the premises can't be beat. Their 3 function venues overlook a scenic view of the harbour, perfect for setting a romantic view.
You'll be able to accommodate up to 300 people in the venue, perfect for small weddings. If you decide to make use of their space, their staff will do their best to assist you in managing your event.
Pros
Corporate function venue and restaurant
Wide range of facilities
Panoramic harbour view
Partnered with other major city clubs in New Zealand
Cons
FAQS about the best wedding venues in Tauranga
---
And there you have it for our list of the best wedding venues in Tauranga. Now you know where you should book for a great wedding experience that will stay with you forever.
Do you have any questions or comments about our list? If you have one, kindly write it in the comments below and we'll get right back to you.
Also, you could have your reception at a premier hotel, instead of at the wedding venue. For this, feel free to check out the best Tauranga hotels.