The 7 Best Weighted Blankets in NZ New Zealand Reviewed
Featured Image Source from Sommio Weighted Blankets
Weighted blankets are becoming more common in New Zealand nowadays, having been shown to relieve tension, stress, and insomnia. But there are so many available, you may be at a loss in what to pick when buying one.
That's what we're here for—as we'll look into how much weighted blankets cost first, after which we'll present our best options for weighted blankets in NZ New Zealand. And later, we'll tackle the basics of buying one that will fit your lifestyle and budget.
You can scroll down to our buying guide first, start with our top product picks, or do them in the given order. Either way, let's begin!
How Much Do Weighted Blankets Cost in NZ New Zealand?
Weighted blankets usually cost from $30 to $360 depending on the design and weight that you select.
The combination and quality of fabrics used will influence how much you have to pay. For instance, all-natural cotton is priced higher than regular polyester.
In terms of fill material, weighted blankets with glass beads are more expensive than those with plastic pellets, although both of them provide almost the same degree of comfort.
The shipping price will also add to the total cost, including for ones that you send back to be replaced or refunded to use the product's warranty.
Now here's a price overview of the products we've featured for this article. Those with price ranges mean that the product has various sizes that you can pick.
| | |
| --- | --- |
| Weighted Blanket | Price |
| Sleep Heavy Mink Weighted Blanket | $195.99 – $399.99 (including shipping) |
| Groundd Weighted Blanket | $280 – $360 |
| DreamZ Knitted Weighted Blanket | $164.38 – $176.38 |
| TSB Living Weighted Blanket | $49 – $135 |
| Bambury Weighted Blanket | $199 – $307.99 |
| Kids Weighted Blanket | $145.98 |
The Best Weighted Blankets in NZ Reviewed
With that in mind, let's now proceed to our best options for weighted blankets in NZ!
1) Groundd Weighted Blanket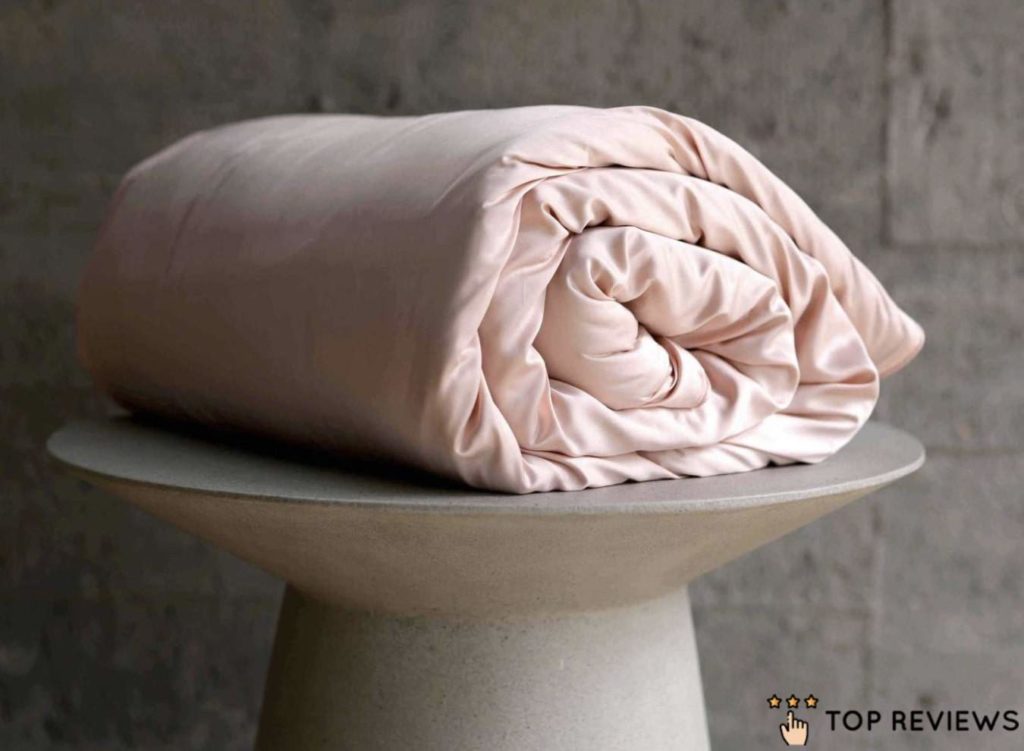 | | |
| --- | --- |
| Fill material | BPA and lead-free glass beads |
| Inner fabric | Polyester microfibre |
| Outer fabric | 100% organic cotton |
| Weight | 7, 9, and 11 kg |
| Size | Regular (7 and 9 kg) – 142 x 200 cm Large (11 kg) – 178 x 203 cm |
| Colour options | Blush (as pictured), pearl, moonlight, and glacier |
| Warranty and/or trial period | 14-night trial |
| Price | $280 – $360 |
The Groundd Weighted Blanket delivers tremendous comfort and breathability to sleepers overnight, thanks to its pure cotton fabric with health-safe glass beads for a soothing sensation, making it one of the best weighted blankets in NZ.
All the materials used for this blanket are environmentally friendly. The outer blanket fabric uses OEKO-TEX certified cotton, making it safe for adults and kids to use, and its eco-silk removable cover is derived from chemical-free Bamboo Lyocell.
The weighted blanket features a classy square pattern all across, whose other function is to distribute the weight evenly while you sleep or take a nap beneath it.
Unlike other blankets with synthetic bead fillers, this particular weighted blanket feels a lot more relaxing, natural, and luxurious. For people who are struggling with anxiety, stress, or insomnia, this may alleviate those conditions to help you sleep better.
Ground's weighted blanket comes in three sizes of 7, 9, and 11 kilograms and chic colours like blush (pink), moonlight (cerulean blue), glacier (space grey), and pearl (white).
As many buyers can attest, the price tag is excellent for this product's calibre. And, while the product's 14-night trial can be quite short, it is long enough to decide whether the blanket is suited to you or not.
This product is available at Groundd's online store and can ship approximately 1 to 4 days across NZ. If you live in Auckland, you can also Click and Collect your weighted blanket in their physical store.
Made from 100% organic cotton
Soft and breathable eco-silk cover
Offers a 14-night trial
Hand-washable weighted blanket
Relatively short trial period
Pearl colour is often unavailable
Customer Reviews
The Groundd weighted blanket earned a 4.8/5-star average from many buyers. Despite some complaints about its weight and price, most people loved the cool outer silk cover and super comfortable blanket.
Here's the comment of one buyer named Jess on the website:
"Super comfy, love the silky cover, which is cool to the touch. Great quality product. Sleeping better already, thanks!"
Also, Alex left this review of the weighted blanket:
"I'd already purchased a Groundd blanket before, but I loved it so much I simply had to get one that could be shared by both my partner and I! So we purchased the 11kg large size blanket and waited for it to show up.
We've only had it a few days, but it's already totally worth it. The quality on all Groundd products has been excellent, and we've found the size of the large blanket to be perfect for covering two people on a queen sized bed. Given the weight of it, my partner even steals my blankets less than usual!
Overall, extremely comfortable and quality. Our 'old' single size blanket will now be perfect for taking around the house, on trips, etc. Still plenty of places to use a smaller one even if you have a larger bed!"
2) DreamZ Knitted Weighted Blanket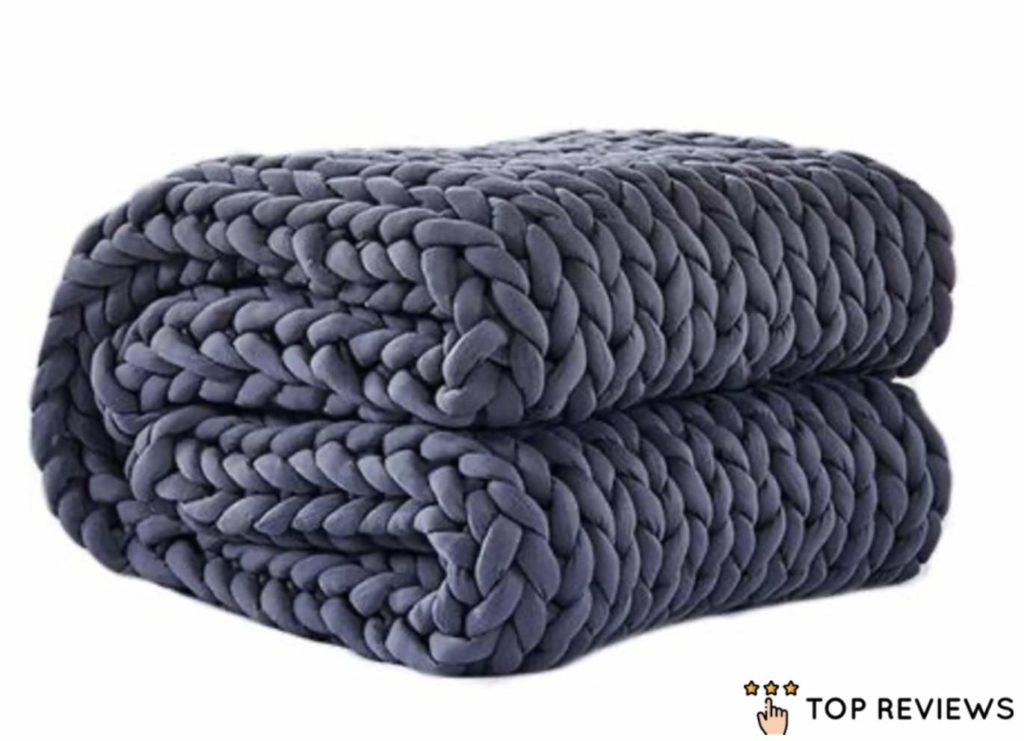 | | |
| --- | --- |
| Fill Material | Microfibre |
| Inner and outer fabric | Polyester |
| Weight | 6.5 kg |
| Size | 198 cm x 122 cm |
| Colour options | Dark grey and pink |
| Warranty and/or trial period | 1-year standard warranty |
| Price | $176.38 (dark grey), $164.38 (pink) |
For the pink variant, here's the link
Deviating from regular weighted blankets, DreamZ Knitted Weighted Blanket in NZ is knitted by hand to give a striking texture and comfortable heft that promotes relaxed and undisturbed sleep.
The unique weighted blanket can be used as a shared blanket with your partner, a throw blanket when dozing off on the couch, or even a rug due to its incredible resistance to everyday wear and tear.
Its fill material is microfibre, which is soft, water-resistant, and durable, while its outer covering is made of polyester, which as we mentioned, adds to its resilient nature.
The way it has been knitted together allows it to be breathable whether in drafty afternoons or sweaty summer nights. Hence, it's perfect for both hot and cold sleepers alike.
There is no removable cover with this blanket but you can throw the whole thing in the washer when it gets stained or dirty. Also, given its dark grey colour, stains won't be noticeable.
It only comes in a single size of 6.5 kilograms on The Market right now – that's suitable for people weighing 65 kilograms or slightly less. But you can get it from other New Zealand online retailers.
The size limitation is something one may need to consider when looking for the best weighted blanket in nz.
Furthermore, there are two colours to this: dark grey and pink to match the style and colour scheme of your room.
As for the warranty, you get one whole year to test out the blanket to see if you are comfortable with it. If not, you can return it to the sender and the staff will get you a replacement or refund.
Knitted and beadless design
Great for hot and cool sleepers alike
Machine-wash-friendly
1-year product warranty
Large size isn't available on The Market
Not as comfortable as natural cotton
3) TSB Living Weighted Blanket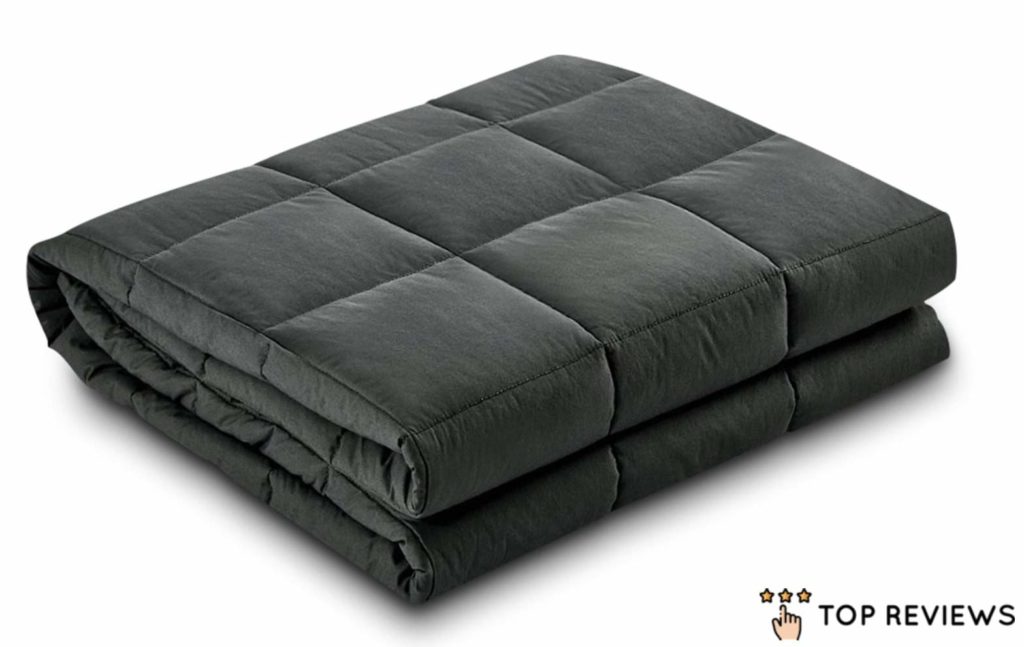 | | |
| --- | --- |
| Fill Material | Polyester and glass beads |
| Inner fabric | 100% microfibre, Minky Dot |
| Outer fabric | 100% cotton |
| Weight | 3.2, 5, 7, and 9 kg |
| Size | 102 x 152 cm (3.2 kg) 198 x 122 cm (5 kg) 198 x 122 cm (7 kg) 152 x 203 cm (9 kg) |
| Colour options | Grey |
| Warranty and/or trial period | 12-month warranty |
| Price | $49 – $135 |
A weighted blanket in NZ doesn't have to be expensive. This statement is proven by the soft and skin-gentle velvet blanket from TSB Living Ltd.
It's composed of an outer velvet removal cover, microfibre and Minky Dot inner blanket.
Because of cotton and polyester materials, the blanket can absorb moisture from your sweat and dry out by itself. With its breathable nature, you will feel cool in the harsh summer and cool in snowy weather.
The sleek weighted blanket is filled with glass beads in square pockets across the length of it. These have a 4-banded edge stitching that safeguards against accidental tears and filling leakages.
Although only a dark grey colour is available, it has many size options that can fit both kids and adults. In particular, they have 3.2, 5, 7, and 9-kilogram blankets for you to choose from.
Additionally, they offer a 1-year warranty. So, you can simply return this product to the store if it doesn't meet your expectations.
It's also quite amazing that no one on the TSB Living website has complained about the blanket's price or quality. One user said that the glass beads are so evenly placed that he couldn't tell where they are.
Hence, this, including other reasons we mentioned, led us to the conclusion that TSB's weighted blanket offers great value for money.
Silky soft Minky Dot inner fabric
Breathable and absorbent weighted blanket
Removable and washer-friendly zipped cover
1-year warranty
Sides are not reversible
Only one colour available
Customer Reviews
Buyers at TSB Living's website praised the blanket for its quality and comfort. Check out some of their reviews below.
One buyer named Chanelle gave this feedback:
"This weighted blanket seems like such good quality. It sits evenly and you can hardly tell where the beads are. More than satisfied with my purchase."
Also, another consumer, Caz, said this:
"This weighted blanket was exactly what i needed. It keeps you feeling very secure."
4) Chunky Knit Weighted Blanket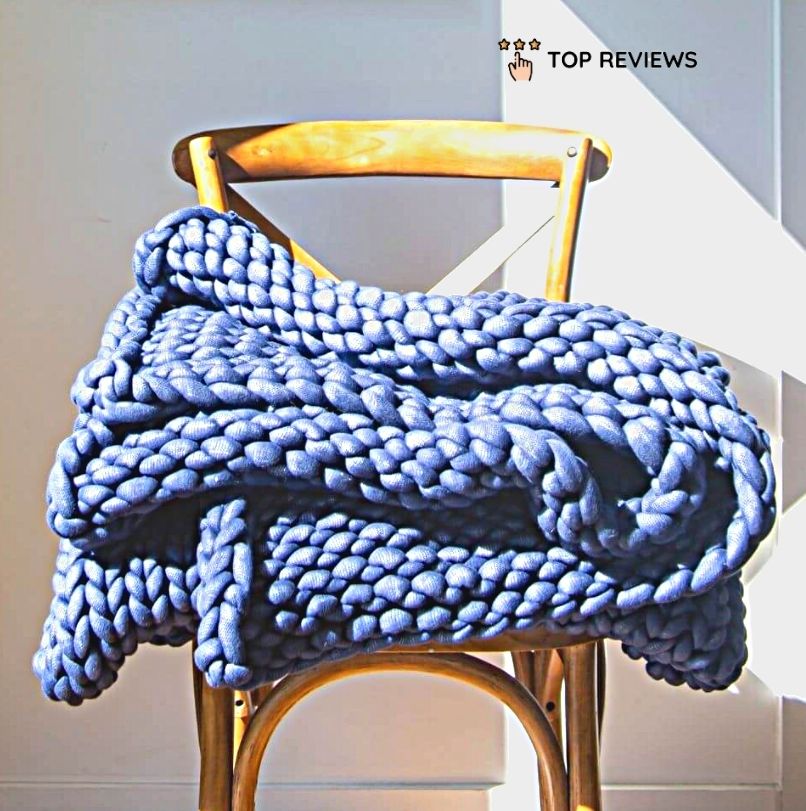 | | |
| --- | --- |
| Fill material | Polyester |
| Inner fabric | Polyester |
| Outer fabric | Cotton |
| Weight | 6.8kg |
| Size | Single |
| Colour options | Grey, Forest Green, Rose Pink, Blue |
| Warranty and/or trial period | 30-day refund policy |
| Price | From $379.99 |
If you're looking for a unique weighted blanket to gift yourself or someone else with, then you may want to consider SleepHeavy's Chunky Knit Weighted Blanket for your next purchase.
The Chunky Knit Weighted Blanket is more stylish than most weighted blanket, with it's distinctive knitted style that comes in four colours: grey, forest green, rose pink, and blue. The outside material of the blanket is made from high-quality cotton while the interior is durable polyester.
It doesn't matter if the weather is cool or hot, the breathable, woven fabric that the Chunky Knit Weighted Blanket showcases makes it easy to use.
Aside from the style and flexibility of the blanket, it also comes highly recommended for the health benefits it has to offer. After all, like most weighted blankets, the Chunky Knit Weighted Blanket makes an excellent companion for those who are experiencing sleep difficulties, stress, and anxiety.
By using the Chunky Knit Weighted Blanket, one boosts the chances of having a good night's sleep with one of the best weighted blankets in NZ.
Trusted by healthcare professionals

Offers 30-night risk-free trial
Free and fast delivery
OEKO-TEX certified
5) Bambury Weighted Blanket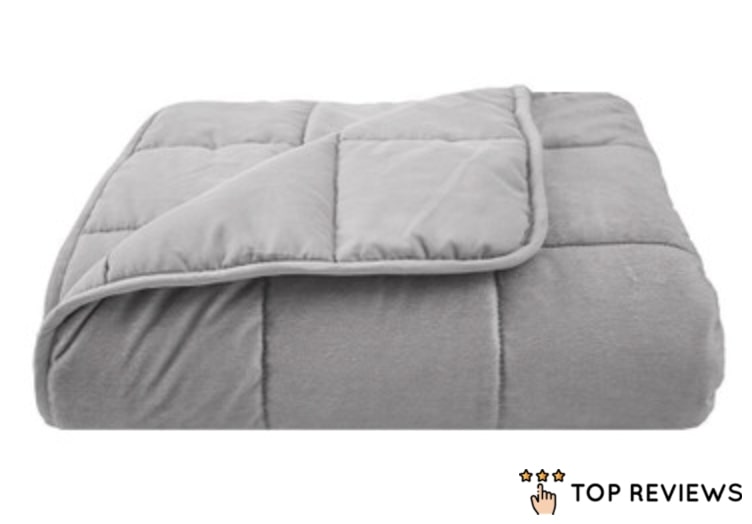 | | |
| --- | --- |
| Fill material | Glass beads |
| Inner fabric | Cotton |
| Outer fabric | Polyester |
| Weight | 4.5, 6.8, and 9 kg |
| Size | 140 x 210 cm |
| Colour options | Grey |
| Warranty and/or trial period | 30-day warranty |
| Price | $199 – $307.99 |
Bambury Weighted Blanket is an Australian-made weighted blanket that's fashionable, soft, and comfortable. It has a simple grey design with rich plush fabric on the outside and cotton on the inside, and glass beads in between.
It's designed to press down on the sleeper to stimulate pressure points throughout his body. This encourages sleep hormone production that can give you restful sleep and reduce worry, trauma, melancholia, among other emotional pains.
However, this weighted blanket is probably not as durable as the others on the list. Allow us to tell you why.
Firstly, it doesn't have a removable cover that can prevent it from getting dirty out of everyday use. And secondly, it isn't machine-washable and has the risk of glass bead leakage – these will be harmful if accidentally swallowed or inhaled.
That means that it's excellent only for one person's use and should be nowhere near infants and children. To make matters worse, the price is a little high.
But, if you're a careful person and can take care of the blanket, this might be a great product. Because it will relax you totally – it feels like one big group hug!
Its weight options are slightly unconventional, offering 4.5, 6.8, and 9-kilogram blankets. It has only one colour, but absolutely one of the best weighted blankets in NZ!
The Bambury Weighted Blanket is backed up by a 30-day warranty for your peace of mind. If something goes wrong, you can get a replacement and refund, but we suggest that you read their returns policy on their website first before ordering.
Soothing and groovy plush blanket
Lightweight product
Has a 30-day warranty period
Expensive
No removable cover
Not machine-washable
6) Kids Weighted Blanket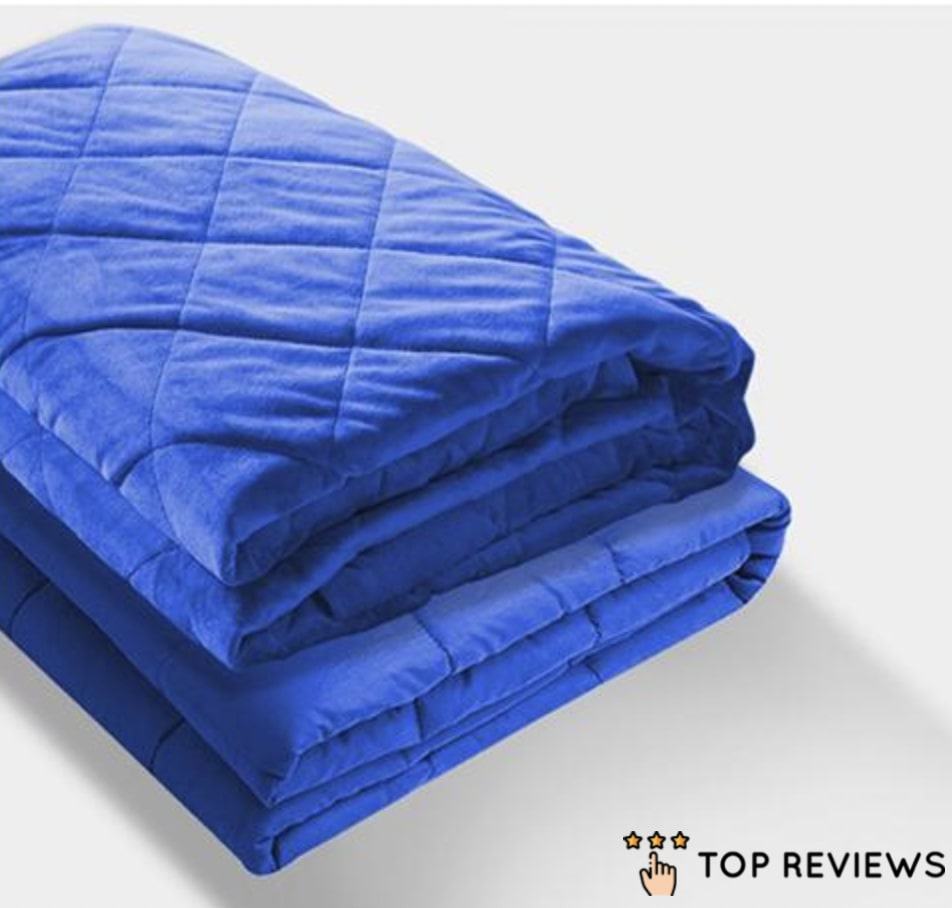 | | |
| --- | --- |
| Fill material | 96% glass bead & 4% polyester |
| Inner fabric | 100% cotton |
| Outer fabric | 100% polyester |
| Weight | 2.2 kg |
| Size | 121 x 91 cm |
| Colour options | Blue |
| Warranty and/or trial period | 30-day warranty |
| Price | $145.98 |
Getting a weighted blanket for your little one? If so, this electric blue kids weighted blanket is a brilliant choice!
Here are several reasons why we recommended it as one of the best weighted blankets in NZ:
Consisting of 96% glass beads and 4% polyester filling, the throw blanket is not only light but also comfortable. Plus, it's safe as well as these materials are sealed and secure thanks to the blanket's internal clasps.
Furthermore, the blanket's inner fabric is made from pure cotton fabric while its outer removable cover is constructed of polyester, both of which makes the blanket breathable so that your kid will have a relaxing, dreamy sleep regardless of the seasons.
Even if your kid often plays or sleeps with a pet, the outer cover will shield the inner textile from allergens and pet fur. You can easily take out the removable cover and put it in the washer to keep it clean for another round of use.
Although this blanket is great in terms of comfort and design, it can be pricey for those on a tight budget. What's more, there's only one size and colour for the product, however, the blue colour can be used by both lads and lasses.
The Kids Weighted Blanket can be returned or replaced within 30 days from your purchase on The Market for free—in case a defect has been found or your kid doesn't like it.
Lastly, we'd like to add that the blanket uses Deep Touch Pressure Stimulation for a calming effect. This could help children with anxiety, ADHD, trauma, autism, stress, aggressive behaviour, and so forth.
Made from breathable natural cotton
Lightweight blanket
Secure blanket stitching
Removable zipped cover
Machine washable
Pricey
Only one colour and size available
7) Weighted Blanket in Arcade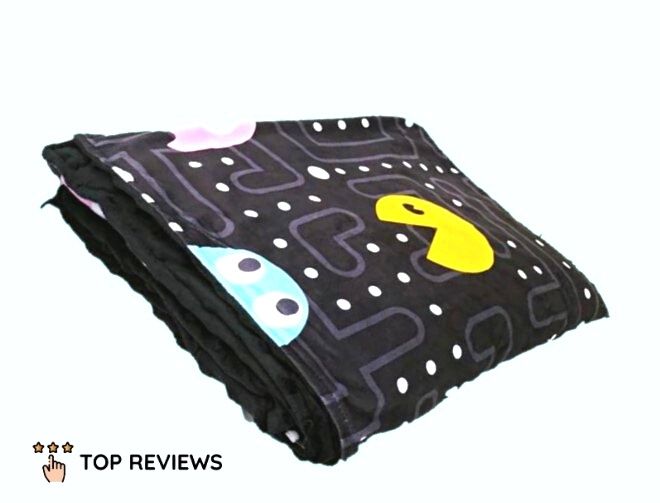 | | |
| --- | --- |
| Fill material | Non-toxic glass pellets |
| Inner fabric | Cotton and Polyester |
| Outer fabric | Soft minky fabric |
| Weight | 2.2kg, 4.5kg, 6.8 kg, 8kg and 9kg |
| Size | 150 cm x 200 cm (6.8kg featured) |
| Colour options | 10 original pattern designs |
| Warranty and/or trial period | 14-day refund policy |
| Price | $309.00 |
Sensory Sam's Weighted Blanket Arcade is the perfect weighted blanket for kids, or kids-at-heart. It features a dark coloured blanket with bold designs of Pacman, a game popular in the 80s, it's one of 10 eye-catching original patterned weighted blankets, appealing to kids and adults.
It's separated into two parts, the cover and the inner, both of which are made with 100% breathable cotton and polyester. Meanwhile, the print side is made of soft, minky cloth that's smooth to the feel– perfect for sensory seeking sleepers.
The filling comprises glass pellets that are hypoallergenic, odourless, and eco-friendly. You won't need to worry about uneven weights either, as the blanket is composed of 18 x 15 quilted rectangles that distribute the glass pellets evenly.
This blanket comes in four sizes, so there's a suitable size for children, teens, and adults. Moreover, it's machine-washable, making cleaning easier compared to handwashing it frequently.
This item may be a bit pricier than most, but given its quality materials and design, is definitely worth every penny.
Many bold patterned design options
Comes in sizes Small – Extra Large
Machine-washable
Hypoallergenic, odourless, and eco friendly filling
Even weight distribution
Inner and outer cover
Customer Reviews
Here are some comments left by very happy customers of Sensory Sam:
"My son just loves his blanket and very fast to be sent out with in 3 days very happy"
"Beautiful product – well made. Fast efficient service too!"
What to Consider When Buying a Weighted Blanket in NZ New Zealand
Here are the essential factors you need to consider when buying a weighted blanket:
1) Weight
Weighted blankets mostly come in standard sizes of 7, 9, and 11 kilograms. However, you'll also find ones with smaller sizes at 3.2 and 5 kilograms that suit children from around 10 to 15 years old.
The general rule is to buy a blanket that's 10 to 15 per cent of your body weight. Say, for a 70 kg person, a 7 kg blanket will be ideal and for a 90 kg person, a 9 kg blanket will be perfect.
But if you aren't sure of the size, it's always better to pick the larger size. Buying a smaller size won't usually be enough to cover your entire body, but with a larger size, you'll feel comfortable even though you are a size smaller.
2) Fill material
The fill material of weighted blankets is commonly glass beads or plastic pellets. Both of these add weight to the blanket and have the effect of making you feel comfy and relaxed.
The difference between these materials lies in their size. Since plastic pellets are larger than glass beads, the weighted blankets feel bulkier in nature compared to ones with glass beads.
Glass beads are the same or smaller size as sand particles but are heavier. Because of this, blankets made of glass beads are thinner in size but weigh more.
If you want to feel warm while you're sleeping, a microfibre filling will be a great choice. But if you are a hot sleeper or you often sweat while sleeping, pick one without it.
3) Comfort
Another important thing to consider is comfort. You'd want to feel comfortable with the weighted blanket over you—perhaps one that makes you feel cool and makes you sleep easily and soundly.
You may want to get a blanket with an organic cotton fabric for luxurious comfort and softness. Cotton is also breathable and helps you feel warm in winter and cool in summer.
Picking a weighted blanket with a bamboo outer fabric provides increased comfort and breathability. What's more, it feels silky smooth and soft to the touch, unlike other fabrics.
Besides that, knitted blankets add stylishness to your room. They also do the job of relaxing you to sleep and regulating your body temperature throughout the night.
4) Removable Cover
It can be heavy to carry your weighted blanket all the way to the laundry for washing. But you won't have to do that if your blanket has a removable cover that can quickly be taken out.
Also, like bedsheets, a removable cover for your weighted blanket protects the fabric from stains, spills, and pet dander. This ensures that your blanket looks neat and elegant in your room.
The most common materials used for removable covers are cotton and Mink Dot. The first keeps you warm or cool in different seasons, while Minky Dot blankets feel super soft and warm.
5) Trial period or warranty
You won't know how comfortable a weighted blanket is until you've tried it yourself. This is where a trial period or warranty comes in handy.
A trial period can go from about 14 days to 120 days depending on the product manufacturer. This gives you time enough to decide whether your purchased weighted blanket is for you or not.
If it's not, then you can have it replaced for a different kind or refunded. In the case of a refund, note that you may have to pay to send it back to the seller.
6) Price
In New Zealand, weighted blankets can cost from $30 to $360 but not all of them are of good quality.
Once you've considered the other factors that we've discussed in this section—comfort, weight, fill material, removable cover, and warranty—it's very easy to get the price right.
FAQs about the Top Weighted Blankets in NZ New Zealand
---
And that concludes our list of the best weighted blankets in New Zealand! Given their comfort and softness, you'll certainly sleep a lot better and wake up feeling refreshed with them!
Do you have any questions or comments about our picks? If you have one, kindly send us a message, and we'll get back to you promptly.
If you want to keep your bed protected from dirt, spills, and bed bugs, you may also want to check out the best mattress protectors in New Zealand. This will go hand in hand with your weighted blanket so sleeping will be a truly relaxing and worry-free experience.