The 5 Best Welders in Christchurch
Welding plays an integral role in the design and architectural industry, as it's used in everything from building handrails to factories. If you are in search of a welder, we can help you out — here, we've listed the best welders in Christchurch!
We chose the ones who have the ability and professionalism to carry out their services to the highest standards. Additionally, we based our choices on those who can finish the task on time and within a budget.
Furthermore, we looked at the customer testimonials. This proved that we were actually right in having curated this list.
Each of the welders below has diverse offerings to offer you a solution to what you need. In any case, without any more delay, here are the best welders in Christchurch!
1) Onsite Welding Ltd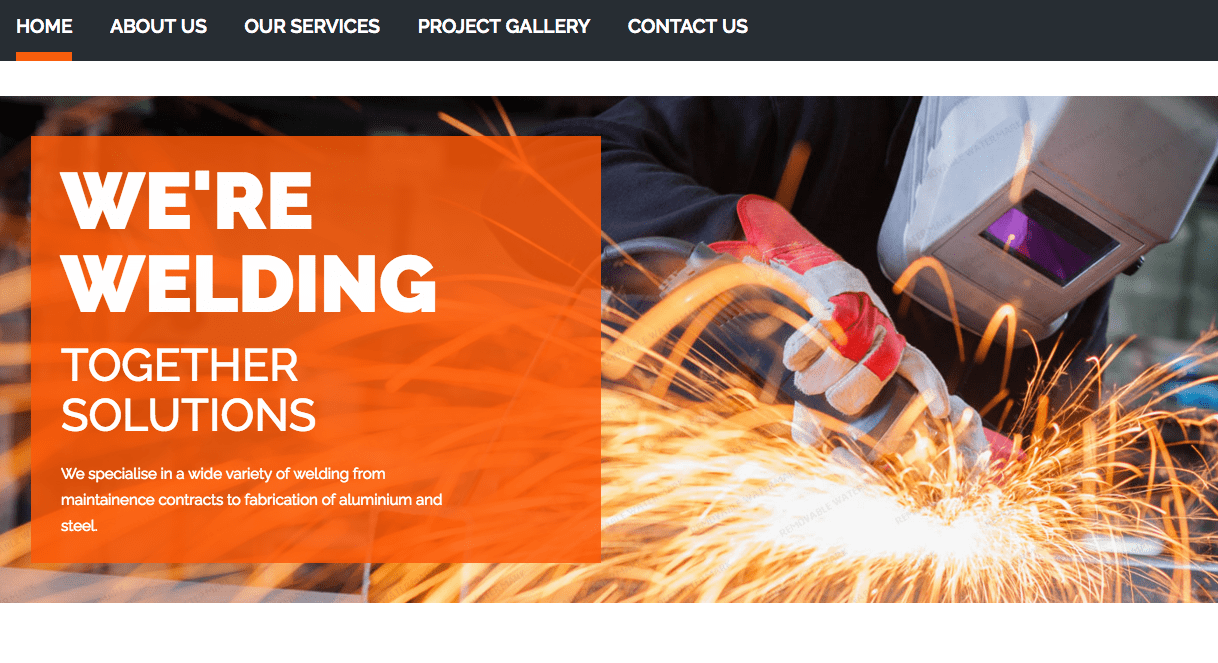 BEST FOR
Higher Quality & Fast Turnaround Times
SERVICES
Marine & Shipping

Steel Construction

Dairy & Refrigeration

Heavy Transport & Installations

WEBSITE
https://www.onsitewelding.co.nz/
ADDRESS
Christchurch, New Zealand
CONTACT DETAILS
027-656-8921
OPERATING HOURS
Mon-Fri: 8am-5pm

Sat-Sun: Closed
Onsite Welding Limited is a steel and aluminium welding specialist for the marine, heavy transport, and construction sectors.
They are composed of fully qualified welders and fabricators with complete safety certifications, having almost a decade of experience since the Christchurch earthquakes.
They can do almost anything imaginable in the fabrication of steel and aluminium. Their categories include: Marine & Shipping, Steel Construction, Dairy & Refrigeration and Heavy Transport & Installations.
Setting them apart from other engineering solution providers is their quick turnaround times and excellent welding workmanship.
Highlights
Specialising in steel and aluminium welding
Fully qualified and safety-trained team
Higher quality and fast turnaround
Over a decade of experience
Offers a full suite of services
Customer Reviews
One customer, carlsherwood, comments on Facebook:
"Brilliant work and service, amazing customer care, thank you Adam :)"
2) Weld-Tec Canterbury Ltd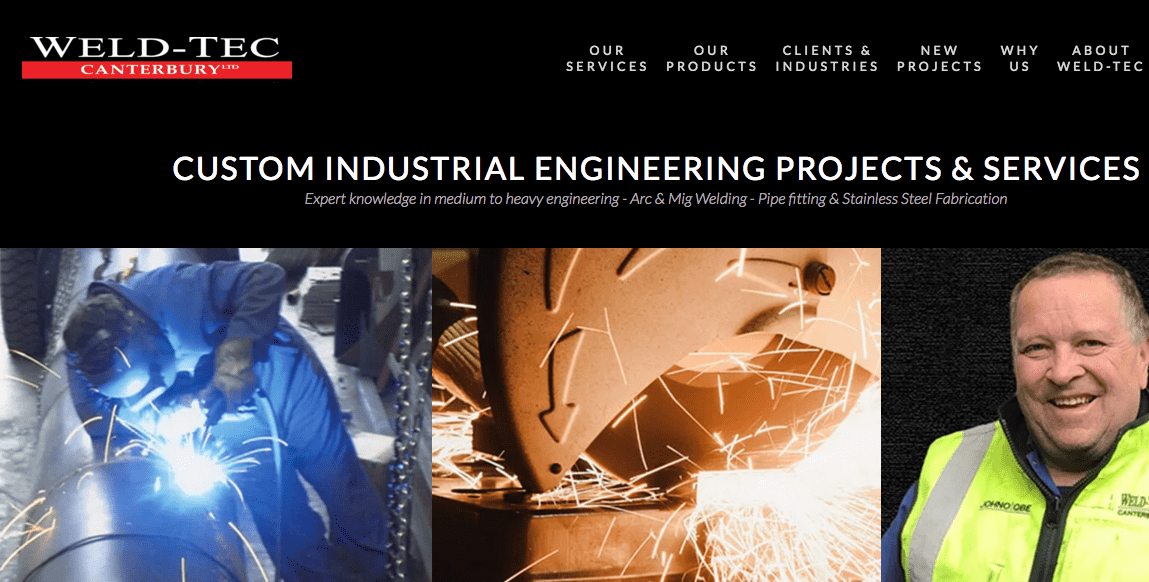 BEST FOR
Medium to Heavy Engineering Projects
SERVICES
Arc & Mig Welding

Stainless Steel (SS) Fabrication

Cutting, Drilling & Sawing

Metal & Steel Repairs & Modifications

Lathe Work – Industrial

WEBSITE
https://www.weldtec.nz/
ADDRESS
4/20 Parkhouse Road, Wigram, Christchurch 8042, New Zealand
CONTACT DETAILS
027 431 4103
OPERATING HOURS
Monday to Friday: 8.30am – 5pm
For medium-to-heavy industrial and commercial welding, Weld-Tec Canterbury is a great choice! They bring over 25 years of experience to the table, with a broad array of services.
These include stainless steel fabrication, industrial engineering and maintenance, compressed air pneumatics, pipe fabrication and installation, generators and fuel tanks, as well as conveyors and augers.
Despite the heavy-duty work and complexity, the highly trained Weld-Tec team unfailingly offers personal service, care and attention in serving their clients. That's a bit part of why they're so popular.
They are also committed to providing you a top quality workmanship at a reasonable price! And they serve clients all across Christchurch.
Highlights
Specialises in medium-to-heavy industrial engineering projects
Top quality workmanship
Over 25 years of experience
Broad array of services
Cost-effective rates
Customer Reviews
One of their clients from Reclaim, Steven Dudley, writes on the website:
"Weld-Tec has for the past 5 years provided their services to Reclaim ltd Christchurch.
As we are part of a large recycling company, we have had many varied projects for Weld Tec to complete. The install of conveyor units, fabrication of baler parts, truck repairs, guarding and most of all general advice for future projects.
They have proven to be 100% reliable & cost effective solution to our needs.
I have no hesitation in recommending them to any of my clients, as the dedication & workmanship on these projects has been outstanding."
3) Welding & Engineering Ltd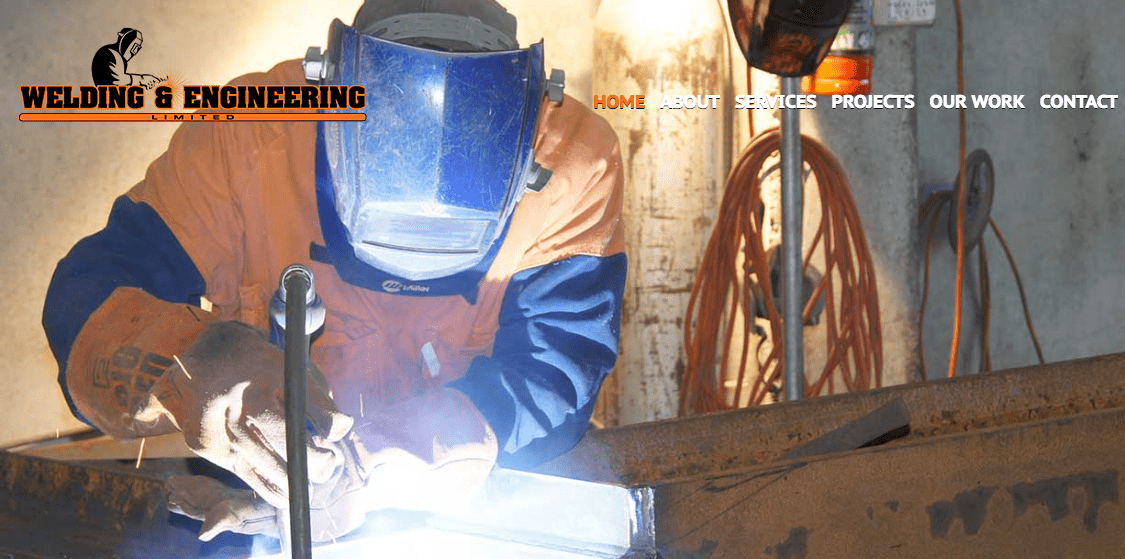 BEST FOR
Earthquake Strengthening
SERVICES
Earthquake Strengthening

Structural & Architectural Welding

Steel Frames & Trusses

Structural Steel

WEBSITE
https://weldingandengineering.co.nz/
ADDRESS
34 Broad Street, Woolston, Christchurch 8023, New Zealand
CONTACT DETAILS
03 377 7063
OPERATING HOURS
Monday to Friday: 8am – 5pm
It's no question that this is another company that was born to help rebuild the city after the devastating earthquake in 2011 — just have a look at their specialisation.
Welding and Engineering supplies and installs steel materials for everything from basic connections to large structural frames for earthquake-strengthening and new home builds.
Although the company is fairly new, they have consistently shown clients through their superior workmanship and prompt service that they rank amongst the best welders in Christchurch!
They have an elite, hardworking and passionate team that will offer you the best experience possible every time you work with them.
Highlights
Elite, hardworking and passionate team
Superior workmanship and prompt service
Best for earthquake strengthening
Can also supply steel frames and trusses for construction
4) B H Raitt Ltd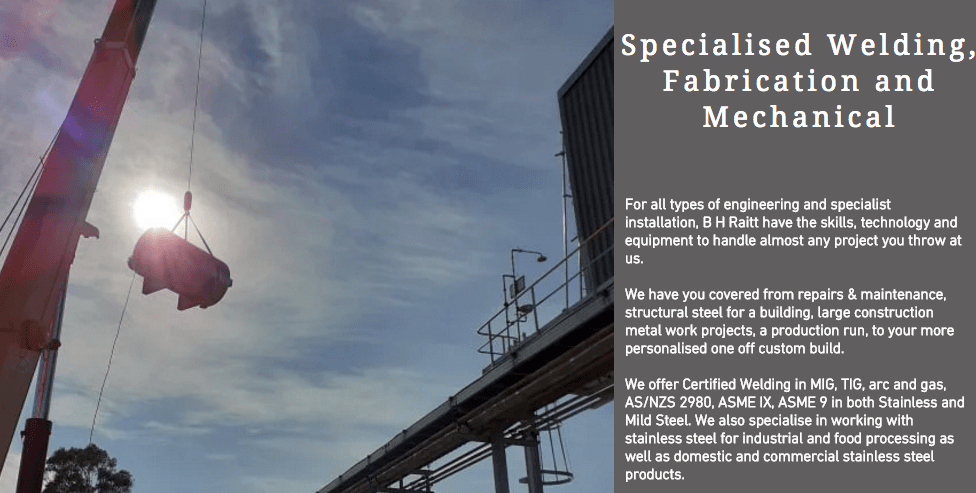 BEST FOR
Stainless Steel for Industrial and Food Processing Sector
SERVICES
Asme IX Certified Welding

Pipework Solutions

Structural Solutions

Machinery Repairs

Industrial Plant Maintenance

Insulation and Cladding

Transport Repairs

Projects Small & Large

Architectural Steel Work

WEBSITE
https://www.bhraitt.co.nz/
ADDRESS
Canterbury, New Zealand
CONTACT DETAILS
+64 21 299 6220
OPERATING HOURS
Monday to Friday: 6am – 6pm
Another of the best welders in Christchurch is B H Raitt. They are certified stainless steel and mild steel fabricators and welders capable of taking on a wide range of applications, whether for large or small projects.
The team mainly specialises in supplying and installing steel products for the food processing industry.
But they are just as proficient and experienced to work in hazardous sites for high pressure gas and liquid pipelines, as they are highly trained in safety and health practices.
They are based in the Canterbury Region, though their service extends across New Zealand!
Highlights
Certified stainless steel and mild steel welders
Specialises in producing steel products for the food processing industry
Proficient and experienced team
Highly trained in safety and health practices
Customer Reviews
Let's see the review of Luke John Wittemanon on Facebook:
"Very happy with service and quality of work! highly recommend to all A+++"
5) Bromley Steel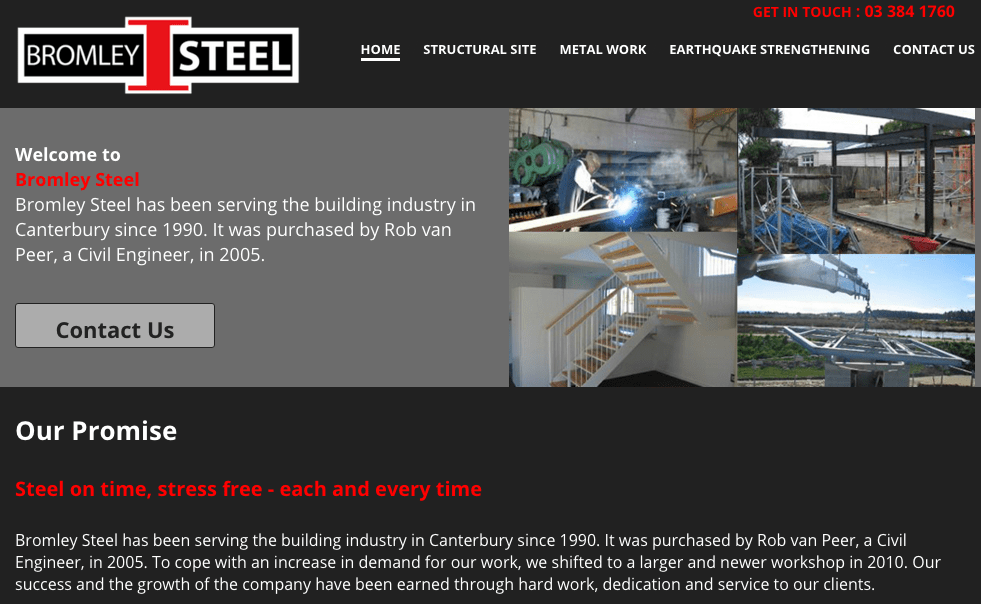 BEST FOR
Timely and Stress-Free Service
SERVICES
● Structural beams, portals and posts.

● Architectural steel work, pergolas and stair frames.

● Earthquake strengthening

● Handrails and balustrades (stainless included)

● Fences and gates for security and pool fencing

● Galvanised shelf angles

● Site welding

● Installation of steel work

● Welding repairs

● Supply of short lengths of steel

WEBSITE
http://www.bromleysteel.co.nz/
ADDRESS
60 Wickham Street, Bromley, Christchurch 8062, New Zealand
CONTACT DETAILS
03 384 1760
OPERATING HOURS
Monday to Friday: 8am – 4.30pm
If you need steel fabrication for residential and light commercial spaces in Canterbury, then leave that task to Bromley Steel!
They are honest, reliable and professional fabricators whose belief is that they're only as good as the last job. Hence, they make it a point to ensure their clients are more than satisfied with their service.
Bromley Steel offers a wide range of steel and metal materials ranging from structural beams to earthquake strengthening — and they can also install it for you.
They can even custom-design balustrades to your liking: say, with regular vertical rods or high-tension steel wire. Of course, these are designed to be durable, strong, and safe.
Highlights
Great workmanship
Work on residential and light commercial buildings
Honest, reliable and professional fabricators
Offer supply and install of steel and metal parts
Customer Reviews
Bromley Steel is one of the best welders in Christchurch. Here's Ron Neale, one client, who said on Google Business:
"Great service and very helpful, boys went the extra mile and would certainly recommend this company."
And that's all for the best welders in Christchurch! With these metalsmiths, one thing is for sure: you're going to get excellent workmanship that can stand the test of time!
Do you agree with the companies we featured in this list? Tell us what you think of them, just drop us a line and we'll get back to you as soon as we can.
Other than that, you may also be interested in the best metal fabrication in Christchurch. You can let them craft metal parts or items for your kitchen, shop, restaurant, office or others.