The 9 Best Welding Auckland Specialists
Need to repair your factory's machinery or construct a stainless steel cabinet for your office? If you answered yes to either of those, perfect timing, as we've listed here the best welding Auckland specialists.
We handpicked the ones who are skilled and experienced at advanced welding work, capable of providing an excellent quality of workmanship.
In addition, we looked at what customers had to say about them — only those whose clients were overwhelmingly positive in rating them made this list!
You can take a look at each of them below to see what they can do for you. So without any further ado, here are the best welding Auckland specialists!
1)  Mobile Welding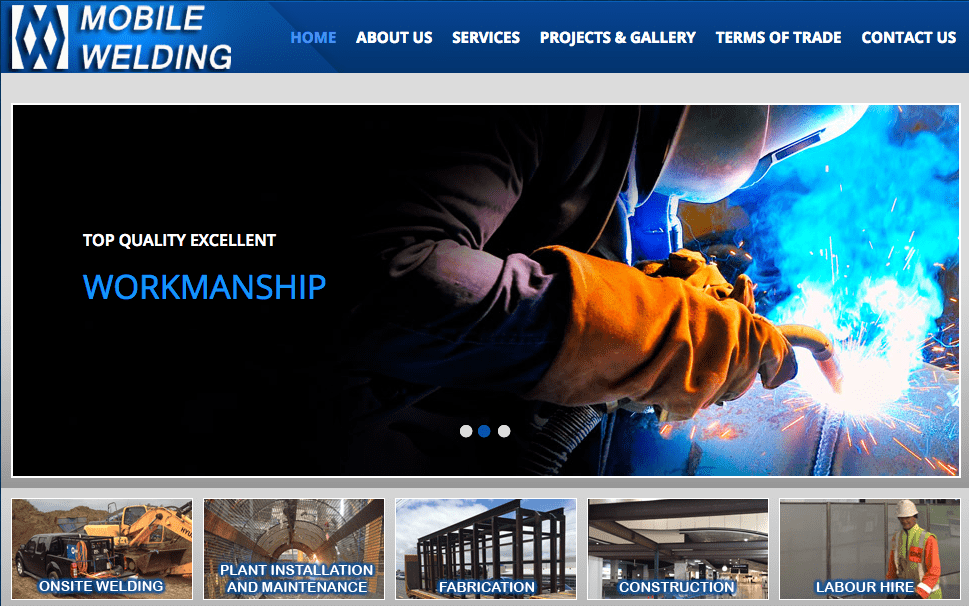 BEST FOR
Remarkable Workmanship
SERVICES
Onsite Welding

Plant Installation & Maintenance

Fabrication

Construction

Labour Hire

WEBSITE
http://www.mobilewelding.co.nz/
ADDRESS
6 Malvern Road, Onehunga, Auckland 1061, New Zealand
CONTACT DETAILS
+64 9-634 2479
OPERATING HOURS
Monday to Friday: 7am – 9pm

Saturday & Sunday: 8am – 5pm
Mobile Welding is a fully mobile and on-site welding specialist based in Onehunga Auckland. They weld or fabricate all grades of steel, stainless steel, cast iron and aluminium.
They are some of the best welding Auckland specialists, given their 30 years' experience and high level of workmanship — which you can see in the gallery on their website.
Using the latest gear, they can craft high-quality metal and components, such as handrails, pipes and structural beams. Also, they can repair or maintain plant machineries and equipment.
What's more, they are available 24/7, 365 days a year, serving clients throughout Greater Auckland. 
Highlights 
Top-quality workmanship
Qualified and safety-trained tradesmen
Use state-of-the-art equipment
Over 30 years' industry experience
Available 24/7, 365 days a year
2)  Machine Part Welding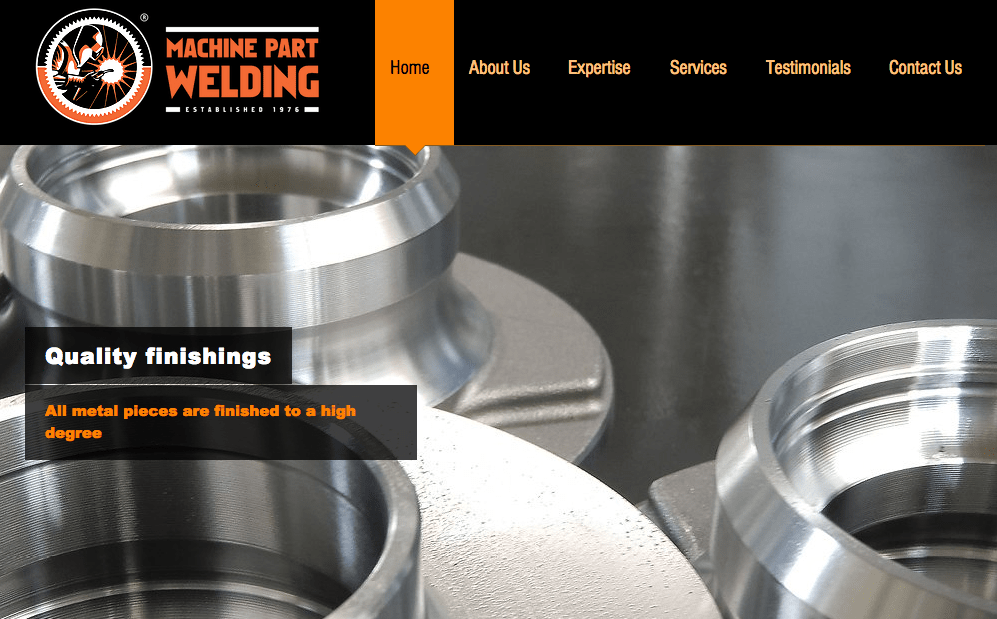 BEST FOR
Cost-Effective, Tailored Welding
SERVICES
Hydraulic Cylinder Repair

Fabrication, Production

Repairs and Restoration

Tool and Die Welding

Alloy and Mag Wheel Repairs

WEBSITE
https://www.mpw.co.nz/
ADDRESS
960 Great South Road, Penrose, Auckland, New Zealand
CONTACT DETAILS
+64 9 579-1599
OPERATING HOURS
Monday to Thursday: 8am – 4.30pm

Friday: 7.30am – 4pm
For metal repair and fabrication, you should talk to the team at Machine Part Welding. They have a fully-appointed workshop and a team of professional and expert welders here.
From short to large production runs, the Machine Part Welding crew offers custom fabrication to meet your design and specifications while minimising your downtime.
Their almost 50 years of experience is a guarantee you'll get exceptional workmanship from them. Also, they offer a collection and delivery service for the defective equipment, making it convenient for you.
Highlights
Exceptional workmanship
Specialises in machinery and parts repairs
Professional and expert welders
Offers a range of welding & fabrication services
Fully-appointed workshop
Customer Reviews 
One client, John, writes on the website: 
"Thank you for the outstanding service you provided for me this week.
I really appreciated the fact that you made the time available to tend to the matters that I needed so quickly. 
As time is very valuable to all of us, your willingness to accommodate me saved a return trip to your office thus allowing me to receive my fireplace door ahead of time.
I really appreciate your excellent service and will strongly recommend you to anyone needing your expertise."
3)  Invil
BEST FOR
Aluminium & Stainless Steel Fabrication & Welding
SERVICES
Aluminium Fabrication & Welding

Stainless Steel Fabrication & Welding

Water Jet Cutter

WEBSITE
https://www.invilfab.co.nz/
ADDRESS
4 Ireland Road, Panmure, Auckland, New Zealand
CONTACT DETAILS
021 0251 0140
OPERATING HOURS
Tuesday – Friday: 7.30am – 6pm
For steel or aluminium welding and repairs, you can simply consult with Invil. Their workshop is situated at 4 Ireland Road, Panmure in Auckland East.
Their professional team can manufacture a myriad of products out of steel and aluminium, including handrails, bollards, staircases, benchtops, and lots more.
They possess industry knowledge and design expertise that has satisfied many of their clients. Their 3D CAD design allows you to see the design within the millimetre, which ensures you get the precise, envisioned result… and also saves time and effort.
Invil lends its specialty to both residential and commercial clients. And you can call or send them a message to get a competitive, no-obligation quote. 
Highlights
Steel and aluminium welding specialists
Offer a range of services
Talented and creative staff
Competitive, no-obligation quote 
Customer Reviews 
One customer, Sherwyn Titterton, on Google Business:
"Awesome welder  did more then i could  ask for fixed a part for my scooter  and it was perfect  I'm  more than happy  with his work i would recommend  him to anyone  that needs any form of welding a 10 start rating  from me if i could put one."
4)  LS Engineering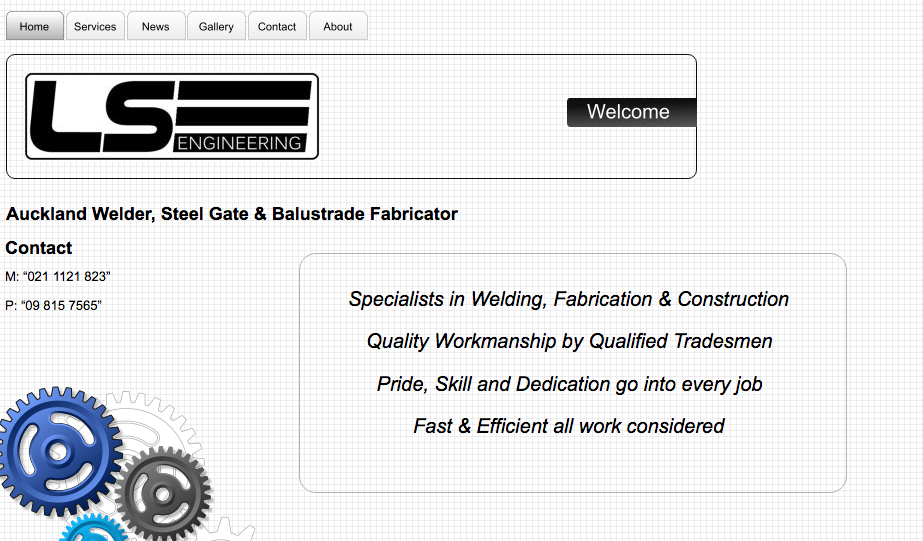 BEST FOR
Balustrades and Gates
SERVICES
On-Site Welding

Balustrade Fabrication

Gates

Fences

Stainless Steel, Aluminium and Steel Fabrications

Custom Fabrications

Residential Work

Cad Drawing Design

Free Quotations

WEBSITE
http://www.lsengineering.co.nz/
ADDRESS
20 Benfield Avenue, Mount Albert, Auckland 1025, New Zealand
CONTACT DETAILS
021 1121 823

09 815 7565

OPERATING HOURS
Monday to Sunday: 7am – 9pm
LS Engineering is an Auckland-based welder, fabricator and manufacturer of custom gates and balustrades. They can fabricate steel, stainless steel, aluminium, and wrought-iron items.
Here, they have a qualified team who pride themselves on their workmanship and deliver well beyond your expectations, previous clients have said.
They can make extremely ornate gates, just as an example of their expertise. And they can even make cantilever or automated gates too!
They're available Auckland-wide for commercial or residential work — and no work is too large or small for them. 
Highlights
Can weld and fabricate steel, stainless steel, aluminium and wrought-iron gates and balustrades
Qualified and experienced team
Have remarkable attention to detail
Auckland-wide service 
Customer Reviews
LS Engineering is one of the best welding Auckland specialists. Here's Maryam Mahanrad's comment on Google Business:
"Great service with pleasure ! very nice guy ,well experienced and skilled.Fair price for high quality job. Highly recommended."
5) Global Welding Supplies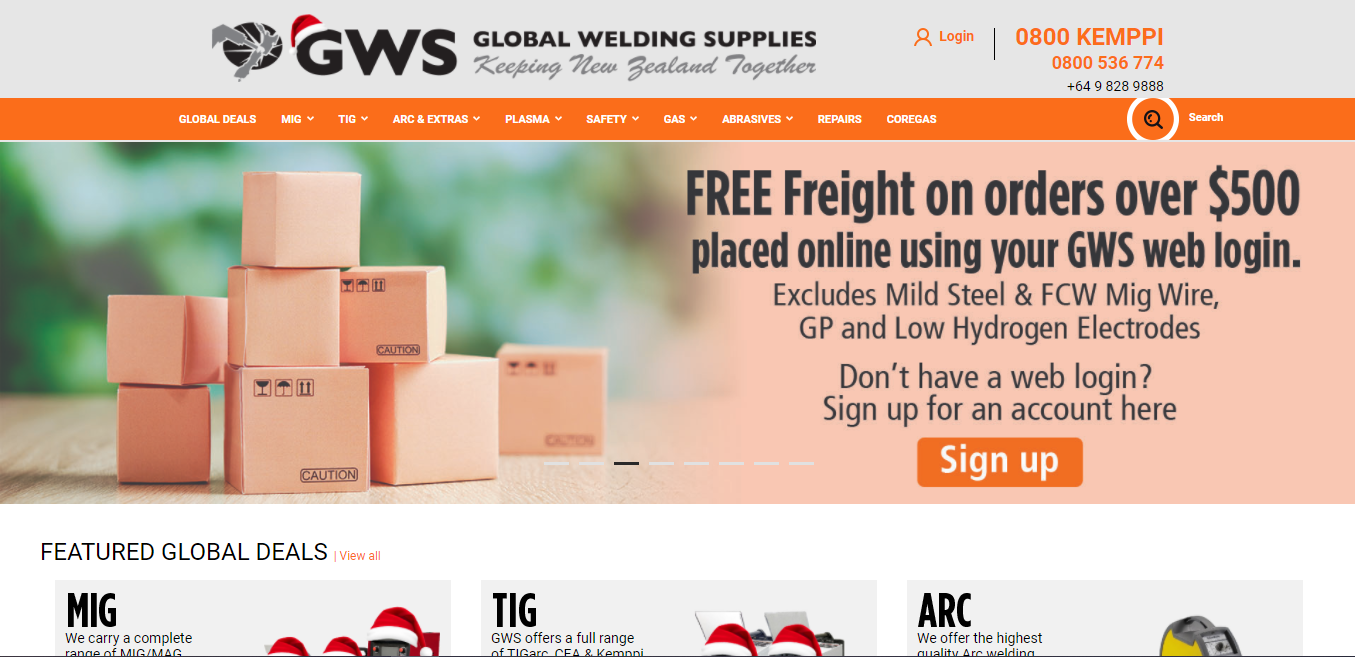 BEST FOR 

 

All types of welding supplies

SERVICES

Welding supplies

Welder repair

WEBSITE

https://www.globalweldingsupplies.co.nz/

ADDRESS

13 Patiki Road, Avondale, Auckland 1026, New Zealand

CONTACT DETAILS

+64 800 536 774

OPERATING HOURS

Monday to Friday: 8.00am – 5.00pm
Global Welding Supplies is the leading supplier of welding supplies not only in Auckland but also in the entire New Zealand.
All of Global Welding Supplies' products are guaranteed to be of the highest quality and best price. To add to their credibility, they are the trusted by major engineering companies in the country.
They have equipment for gas, arc, and plasma welding, as well as TIG and MIG equipment, safety gear, and other welding accessories. They can also teach you how to use your purchased equipment properly.
Besides their wide selection of products, Global Welding Supplies also have welder repair services. Their repair services are applicable for all makes and models.
Highlights
Official distributor of Kemppi, Hypertherm, CEA, Harris, Mosa & Superon

Free freight for orders above $500

Welder repair for all makes and models
Customer Reviews
Andre Van Wonderen, a satisfied customer, wrote this on Google Business:
"GWS has the most knowledgable, helpful, and honest blokes around – genuine all round good buggers who are an absolute pleasure to deal with."
6)  Certified Welding Ltd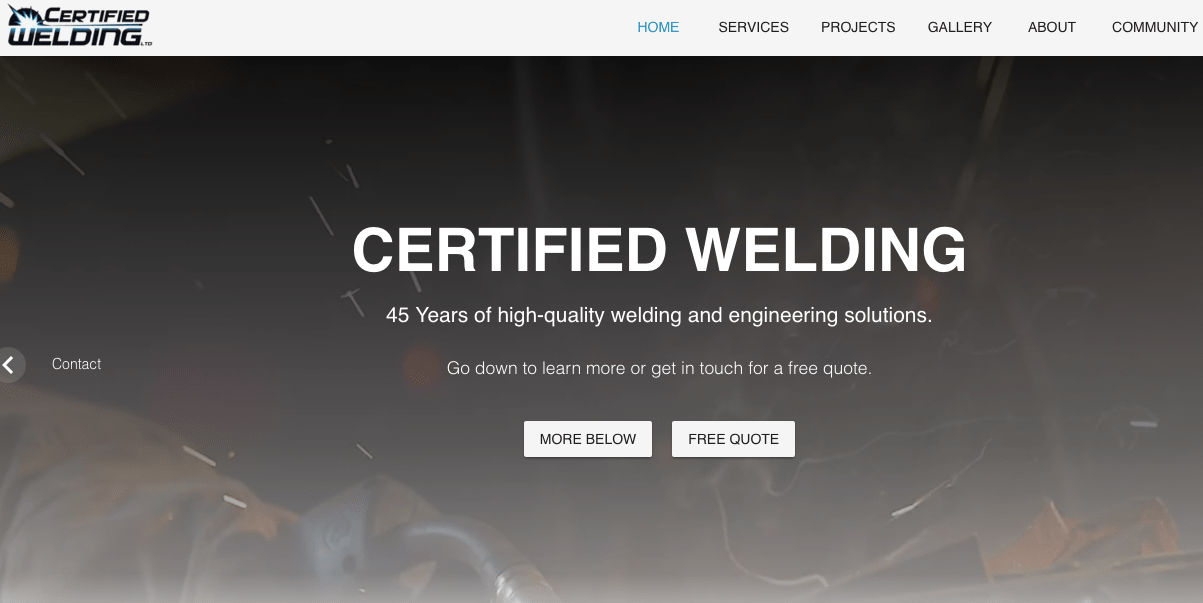 BEST FOR
Safe, Experienced and Efficient Welders
SERVICES
Transport

Structural Steel

Concrete Moulds

Architectural Metal Work

On-Site Welding and Installs

CAD

WEBSITE
http://www.certweld.co.nz/
ADDRESS
16 Ormiston Road, East Tamaki, Auckland, New Zealand
CONTACT DETAILS
092747154
OPERATING HOURS
Monday – Friday: 7:30am – 5:30pm

Saturday: 8:00am – 12:30pm
Moving forward in our list of the best welding Auckland specialists list, we come to none other than Certified Welding. Their certified team has over 45 years of expertise and skill to offer you.
That includes on-site welding and installation, transport, structural steel, architectural metalwork, and concrete moulds. These are custom-made according to your specific needs.
They take health and safety seriously, which is why they have a full-time safety manager to oversee the work process. More importantly, they are also Site Safe accredited.
Furthermore, all their top-quality work meets Australian and New Zealand standards. Part of that requires them to have their equipment certified constantly so they are sure it performs at its best.
Highlights
Top-quality workmanship
Offers a broad range of welding options
Site Safe accredited
Works in accordance in Australian and NZ standards
Over 45 years' experience 
Customer Reviews 
Check out the review from ICRAFT Web Design & Development on Google Business:
"These guys are a great business to work with! It's my hope to do more work with them going forward. Geoff really knows the ins and outs of welding and engineering and his company has a bright future."
7)  Ateck Steel Construction
BEST FOR
Steel Supplier
SERVICES
Workshop Fabrication

​Shop drawing workshop

​Transportation and Crane

​Site Erection

WEBSITE
https://www.ateck.co.nz/
ADDRESS
612 Swanson Road, Swanson, Auckland
CONTACT DETAILS
Phone: 09 – 832 0686
Email: [email protected]
OPERATING HOURS
N/A
Ateck Steel Construction is one of the best steel suppliers in New Zealand. Their services span far and wide, from paint solutions to steel construction.
Their team of professionals is committed to providing only the best quality services to their clients. If you choose them for your steel construction projects, you can count on them to get the job done.
Highlights
No-cost estimating service
Wide scope of services
8)  Welding Technology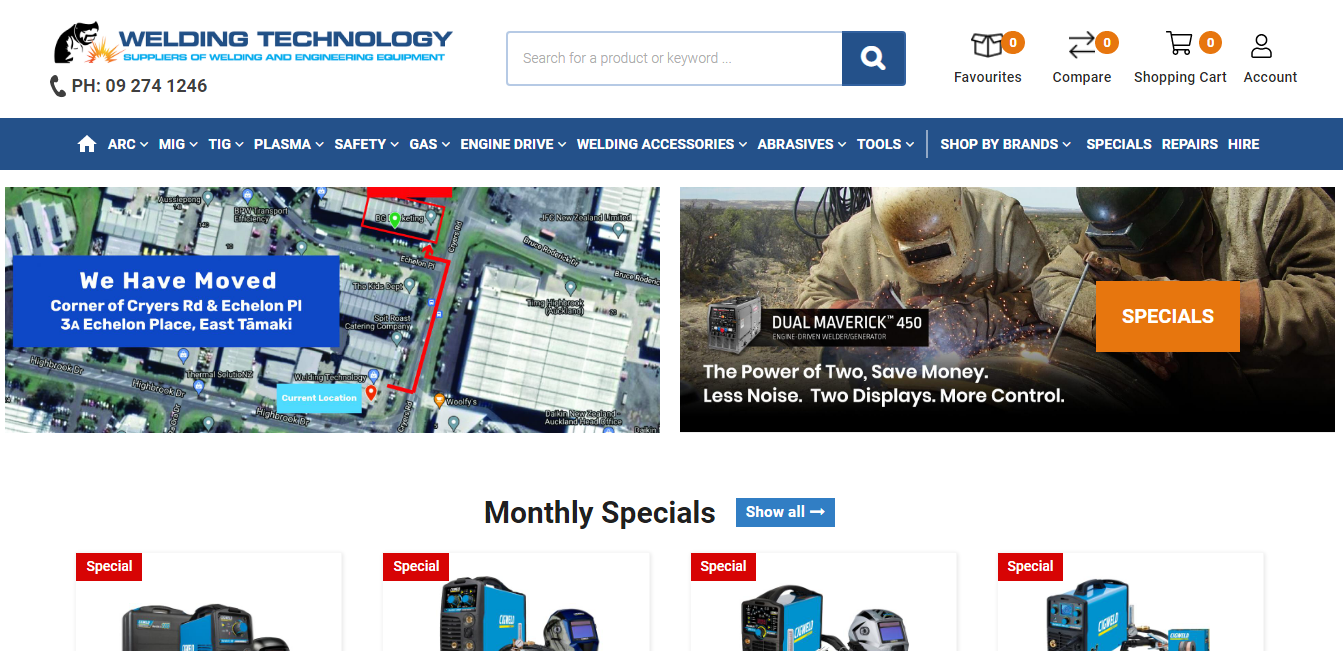 BEST FOR
Commercial Welding Services
SERVICES
Welding Machines Mig, Pulse Mig, Tig, Arc, Plasma Cutting, Mobile Welding Engine Drive Machines, Welding Equipment Consumables and Welding Supplies
WEBSITE
https://weldingtechnology.co.nz/
ADDRESS
3a Echelon Place, (Cnr Cryers Rd & Echelon Pl) East Tamaki, Auckland, New Zealand
CONTACT DETAILS
Telephone: +64 9 274 1246
Email: [email protected]
OPERATING HOURS
Monday – Thursday: 7:30am-5:00pm
Friday: 7:30am-4:30pm
Welding Technology Limited is an independent 100% New Zealand Family Owned business that was established in 1996. We like that they offer a comprehensive range of quality MIG welding, TIG welding, Pulse MIG, MMA welding, Plasma cutters, Mobile welding machines.
Another bonus is that their machines are manufactured to and comply with the latest Australian New Zealand Standards AS/NZS60974-1 and EN 50199, providing the operator assurance and certainty of safety, reliability, duty cycle performance and quality.
They're even distributors for the following: Lincoln Electric, Xcel-Arc, Unimig, Harris Gas Equipment, Speedglas, Pferd Abrasive Discs, 3M, StrongHand Tools, Teng Tools, Profax, Sumner, Chemtools, Weldwell Electrodes, Sandvik, Magmaweld Electrodes, Kemper Fume Extraction Units, Furick, Razor, Viper, and master agent for Air Liquide Gas.
Lastly, the fact that they have been importing their own brand, Xcel-Arc, for over 20 years shows how reliable they are.  Their products include a full range of Welding Machines, Plasma Cutters, and Engine Drive Machines, Safety Gear, Gas Equipment, and Consumables.
Highlights 
Large distribution warehouse for bulk supply
Welding equipment repairs and servicing
Hire machines available
9) Proline Industrial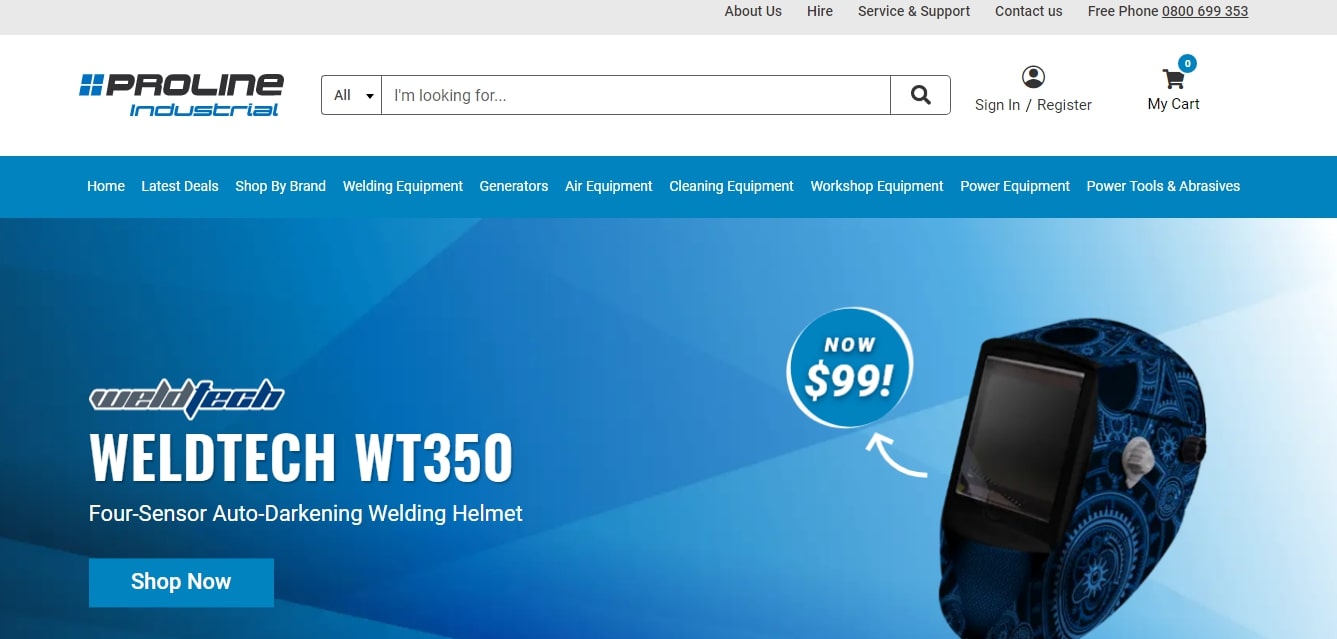 Proline Industrial is an industrial equipment shop that has been in the industry for over 30 years already. It is family-run and helps clients in New Zealand have access to the latest and most innovative welding brands internationally.
We find that their staff is highly equipped with the information needed on each piece of equipment in which clients can easily get professional support by simply calling them and inquiring about their products.
Another thing we find notable is their diverse set of connections to suppliers to such tools and equipment to help clients have access and provide a better range of products and hardware brands that best suits their usage.
Their delivery promo is also one to be looked out for since they offer free and secure deliveries nationwide with orders over $300 which is an amazing deal considering the various equipment that they offer.
Furthermore, the product information online is also complete of the features, manual, and information sheet so that clients are fully informed of what they are availing of before checking it out.
Highlights 
Wide selection of brands
Delivers nationwide
Professional customer support
And that's all for the best welding Auckland specialists! If you need excellent welders to build metal fittings or parts for you, just call the ones we've listed here.
So far, do you have any questions about our topic today? If you have one, feel free to drop us a message and we'll get back to you promptly.
Other than that, you can check out our other building or design lists. For instance, you can try the best carpenters in Auckland who will work on your new build or renovation project.