The 5 Best Wellington Funeral Homes
Image Credit: Dils
When a loved one has passed, it's important to have time to grieve and reflect upon his life story. Because this is the final memory of that person, you'd want to pay respect to him and you can do so through the best Wellington funeral homes.
We picked the funeral homes that have compassionate and helpful personnel. Apart from this, we chose those that have a great venue as well as favourable customer reviews indicating their professionalism.
You don't have to worry because their team will handle everything for you. Anyway, here is our roundup of the best Wellington funeral homes.
1) The Wilson Funeral Home

BEST FOR
Empathetic Funeral Service
SERVICES
Funeral

Burial

Cremation

Printing & Multimedia

Symbols, Music and Flowers

WEBSITE
https://wilsonfunerals.co.nz/
ADDRESS
375 Adelaide Road, Newtown, Wellington, New Zealand

142 Karori Road, Karori, Wellington, New Zealand

CONTACT DETAILS
Adelaide Road: 04 389 6069 |

[email protected]

Karori: 04 476 5292

OPERATING HOURS
24/7
The Wilson Funeral Home is a locally owned and operated funeral company dedicated to providing a remarkable service in paying respect to clients' loved ones or associates.
With over a century of experience, they are known for making each funeral service respectful and perfect. They put their effort into it as they know their clients are undergoing a difficult time.
You can safely let them handle everything, including the details like the flowers and music to enhance the funeral home's ambiance and reflect on what that person meant for others.
They have two offices operating 24/7: one is located in Newtown, while the other is situated in Karori, Wellington.
Highlights
Kiwi-owned funeral company
Remarkable service
A century of experience
24/7 operation
2) Lychgate Funerals

BEST FOR
Quality and Sincere Funeral Service
SERVICES
● Transfer into our Care

● Embalming / Mortuary Care

● Casket Choice

● Hearse Hire

● Celebrant / Minister / Priest

● Chapel / Venue Hire

● Reception Venue Hire & Catering

● Service Sheets

● Casket Floral Tribute

● Committal & Venue Flowers

● Newspaper Notices

● Cremation Fees

● Ash Urn

● Ash Interment

● Cemetery Fees

● Grave Marker

● Cremation Permit / and or Doctor's Fee

● New Zealand Death Certificate

● Headstones/ Plaques

● Memorial Books

● Funeral Service Recording

● Photographic memories on DVD

● Professional Services Fee

WEBSITE
https://lychgate.co.nz/
ADDRESS
306 Willis Street, Aro Valley, Wellington 6011, New Zealand
CONTACT DETAILS
(04) 385 0745
OPERATING HOURS
24/7
Established in 1876, Lychgate Funerals offers an array of compassionate bereavement services for clients in their Wellington, Johnsonville and Karori venues.
The team is very passionate about its work, doing it with great care and attention, say their previous clients. The funeral service is personalised based on your needs and budget.
Other services include funeral service recording, DVD-recorded photographs, venue flowers, newspaper notices and catering hire.
As such, Lychgate Funerals is included among the best Wellington funeral homes list.
Highlights
Quality funeral services
Long-standing experience
Passionate staff
Goes the extra mile for clients
Customer Reviews
Catherine, one client, shared this on the website:
"Keith was gracious, helpful and very considerate and attended to all the minor details with care and concern. My father was presented in his coffin beautifully. It is a lovely space and I would highly recommend."
3) Guardian Funeral Home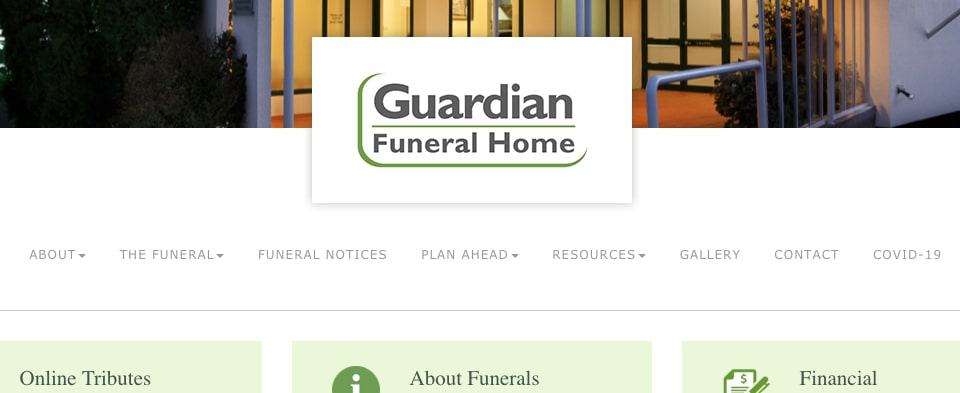 BEST FOR
Helpful, Reliable and Accommodating Staff
SERVICES
Funeral

Music

Readings

WEBSITE
https://gfh.co.nz/
ADDRESS
4 Moorefield Road, Johnsonville, Wellington, New Zealand

157 Main Road, Tawa, Wellington, New Zealand

CONTACT DETAILS
Johnsonville: 04 477 4025

Tawa: 04 232 1588

OPERATING HOURS
24/7
If you're near Tawa or Johnsonville and are looking for a nice funeral home, then Guardian Funeral Home should be your choice.
They are members of the Funeral Directors Association of New Zealand and serve to make the funeral service lighter and easier for the grieving families and attendees.
The team is available if you need them to fulfil your specific requests regarding the funeral. Also, customers said that they are considerate, reliable and professional.
Guardian Funeral Home isn't just a business either, as the staff try to understand the pain that you're feeling, which is why they go out of their way for their clients every time.
Highlights
Member of the Funeral Directors Association of New Zealand
Reliable, considerate and professional staff
Located in Tawa and Johnsonville
Customer Reviews
Here's the review of one client, Simone Morrison, on Google:
"I have had a very healing experience working with Guardian Funeral Home after my brother passed away suddenly. I had a different need to my parents with regards to my grief process. Guardian made available their Tawa office so my partner and I could spend 4 days with my brother while mum and dad could use the family home as their base to process. Friends were able to view for extended periods of time which was hugely helpful for them to make sense of this. Nothing was too much trouble. They moved quickly to secure an appropriate casket for us to customize. The staff at guardian are helpful, compassionate, respectful, present and available. I'm so grateful and highly recommend their services to anyone."
4) Broadbent & May

BEST FOR
Eco-Conscious Funeral Service
SERVICES
Eco

Evening Funeral

Home Funeral

Graveside Service

Private Service

Traditional Service

Family-Led Service

Full Service Funeral

Living Funeral

Simple Cremation or Burial

Memorial Service

WEBSITE
https://www.broadbentandmay.co.nz/
ADDRESS
22 Palmer Street, Aro Valley, Wellington 6011, New Zealand
CONTACT DETAILS
+64 4-974 5076
OPERATING HOURS
Monday to Friday: 8.30 – 5pm
For eco-friendly and affordable funeral service, Broadbent & May has you covered. They are a funeral company established in 2011 and offering a breadth of options.
They even have an eco funeral option that makes use of sustainably-sourced timber for both the coffins and urns. Moreover, these coffins have natural fibres for trimming — like cotton, wool or linen.
Here, they have a down-to-earth and caring team that will help you go through the loss of your loved one, according to past customers — that's why Broadbent & May is one of the best Wellington funeral homes.
Highlights
Eco-friendly and affordable funeral rites
Breadth of services
Down-to-earth and caring team
Formed in 2011
Customer Reviews
Check out Dion Howard's feedback on Google Business:
"I hope I never have to do business with Broadbent and May ever again, which, given the business they are in, is no sleight on them. But should the sadness of death ever visit our family again, I would definitely ask Fiona to help us. I have experienced their kind, professional and down to earth caring manner of assisting family through the death of a loved one, and I cannot possibly offer high enough praise."
5) Ninness Funeral Home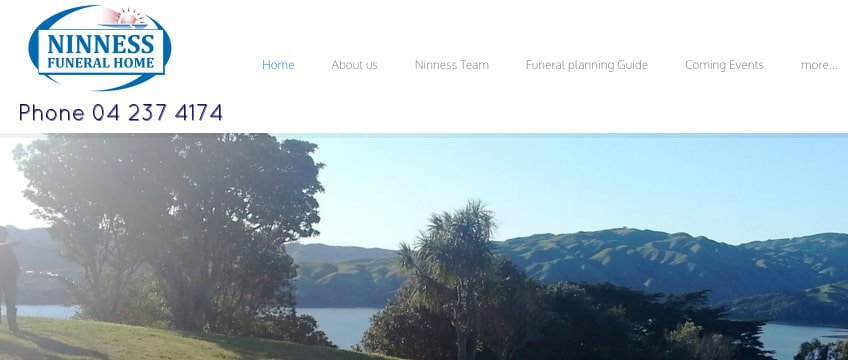 BEST FOR
Comforting, Healing Funeral Arrangements
SERVICES
Compassionate Funeral Service

Green Burials and Cremations

WEBSITE
https://www.ninness.co.nz/
ADDRESS
17 Kenepuru Drive, Kenepuru, Porirua, Wellington 5022, New Zealand
CONTACT DETAILS
+64 4-237 4174
OPERATING HOURS
24/7
Ninness Funeral Home is all about celebrating a life well-lived. They have locations in Tawa, Porirua, Wellington and Kapiti Coast.
They provide compassionate funeral services handling the planning, design and activities of the ceremony, leaving you open and free to reminisce about the person.
You can trust them given their 50 years of experience — they know how to bring you comfort and solace in this tremendously hard time. Ask their clients, who say that they are patient with whatever you need with the service.
Furthermore, they offer green burial and cremation services to give the person a special, heartfelt farewell whilst reducing your impact on the environment.
Highlights
Compassionate funeral services
Patient and supportive staff
50 years of experience
Environmentally-sound options offered
Customer Reviews
Here's a Google review of one client, Seikalameri Risati, about Ninness Funeral Home, which is one of the best Wellington funeral homes:
"Very grateful to an excellent professional team. Thank you for your support and care during a difficult time.
Wade, William, Brendan and Cheryl we are in awe of how you cared for us…you made every decision easy with every step and were very patient all whilst maintaining the integrity of our matriarch. Thank you <3"
And that's all for our list of the best Wellington funeral homes. With the great services that they give, they'll help you heal in this time of mourning.
Do you have any questions, thoughts or comments for us? If you have one, simply drop us a message and we'll get back to you promptly.
You might also like to get fresh blooms for the funeral service of a friend or loved one. If that's the case, you can check out the best flower delivery shops in Wellington.