The 5 Best Wellington Nursing Homes
We often get so busy that we lack the time to take care of our elderly relatives, especially if they're sick. Fortunately, they can be cared for in some of the best Wellington nursing homes, which we've featured here.
Our list includes only those with cordial, reliable and caring staff as well as clean and maintained facilities. Plus, we chose those that are conveniently located so that you can easily visit.
Anyway, if you're ready, here are the best Wellington nursing homes.
1)  Alexandra Rest Home

BEST FOR
Caring and Trained Staff
SERVICES
Rest Home

Day Care

Respite

Activities

WEBSITE
https://www.alexandra.org.nz/
ADDRESS
71 Rintoul Street, Newtown, Wellington 6021, New Zealand
CONTACT DETAILS
+64 4-389 1232
OPERATING HOURS
—
Alexandra Rest Home is a nursing home based in Newtown, Wellington. This is one of the best Wellington nursing homes.
It is in close proximity to Wellington, Southern Cross and Wakefield Hospitals. It's convenient if the resident has follow-up medical treatments or appointments.
Caring, kind and educated staff will attend to the new resident. Each resident also gets an assessment to know and accommodate his special needs and demands.
There are 45 resident rooms all in all, with both ensuite and shared spaces. So that your relative or family member can relax, they can walk around or hang out in the garden and conservatory.
The staff also organises fun and sociable activities such as housie games, parties, indoor bowls, arts and crafts, and golf.
Highlights
Close to prominent hospitals
Caring, kind and educated staff
Have great facilities
Fun and sociable activities
Customer Reviews
One family member, Diana, shared this on the website:
"I have been visiting my family member for ten years at Alexandra Rest home and have been so impressed with the standard of care and attention to my relative throughout the whole of this time. The staff are friendly and welcoming."
2)  Ultimate Care Maupuia

For a lovely nursing home with a hospital facility, Ultimate Care Maupuia is an excellent choice. It has cosy furniture inside and genuine, friendly staff.
Situated in Miramar, the rest home is two stories high and overlooks the majestic views of Cook Strait and Kaikoura mountain range.
There are registered nurses to take care of the residents round-the-clock. The meals are delicious and carefully chosen for the resident's dietary requirements and health.
Furthermore, general practitioners make regular visits to perform routine checkups to keep the seniors healthy and happy.
Services include rest home care, hospital care, respite care (depends upon certain conditions), palliative care and day care.
Ultimate Care Maupuia is close to malls, libraries, parks, groceries and local churches. Heading out to a trip or going out with a family member is therefore convenient.
Highlights
Hospital-level care
Cosy nursing home
Genuine, friendly staff
Nurse on duty 24 hours a day
Centrally located
3)  Huntleigh Home

Huntleigh Home is all about spontaneity, fun and purpose. Here, the residents are close-knit and they exchange stories, dine in the cafe, do tai chi, even volunteer in the shop.
The large nursing home has modern interiors. They have a lovely courtyard and delightful room decor and you feel like you're in a nice hotel.
Hospital and respite care are available as well as engaging day programmes. For health recovery care, you should check if they currently offer it.
Also, the Huntleigh Retirement Apartments (located beside the nursing home) offers affordable contemporary one- or two-bedroom spaces for retirees.
Highlights
Vibrant and family-oriented nursing home
Modern interior living
Has a delightful cafe and shop
Engaging day programmes
Customer Reviews
Here's the feedback of one resident, Margery, on the website:
"I'm very into music and they have people that come in and play piano or sing. They have painting classes, games, exercise programmes, and children come in to spend time with us."
4)  Vincentian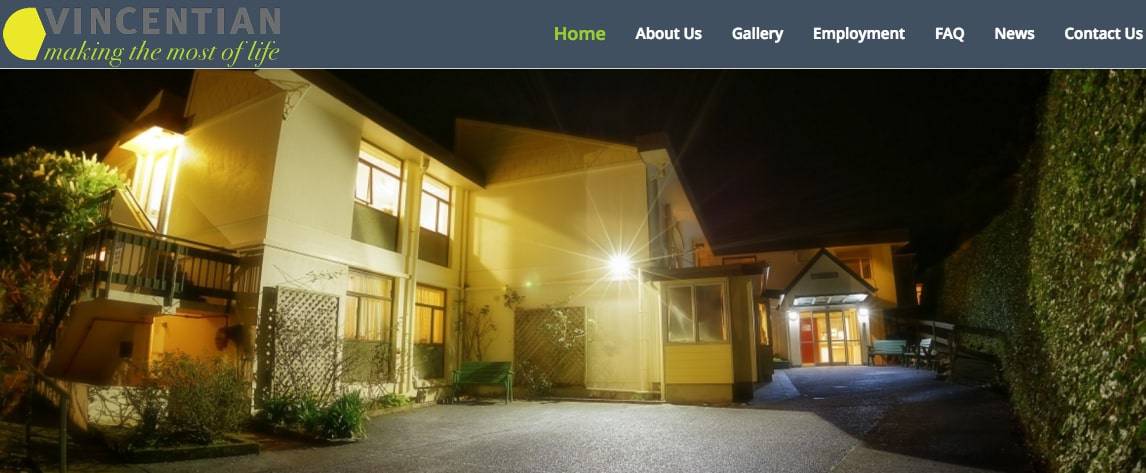 BEST FOR
Homely and Enjoyable Nursing Home
SERVICES
Rest Home

Hospital Care

WEBSITE
https://vincentianhome.co.nz/
ADDRESS
2 Stanley Street, Berhampore, Wellington 6023, New Zealand
CONTACT DETAILS
+64 4-380 0294
OPERATING HOURS
—
If you're looking for a feel-at-home nursing home, then we suggest Vincentian. Friends and families can visit the resident whenever they want — and bring a pet too.
They offer hospital, rest care and respite care at Vincentian. All of the nurses and caregivers are certified and experienced.
Furthermore, they have medical equipment including ceiling hoists, electrical beds, and wheelchairs. This makes everything easier for the sick and recuperating ones.
To provide residents with the most comfortable and best care, the staff holds regular in-house education sessions to ensure they perform above expectations.
With recreational activities everyday, they won't let your relative live a life of boredom — that's never going to happen in one of the best Wellington nursing homes.
Highlights
Homely atmosphere
Certified and experienced nurses
Have reliable hospital equipment
Organise recreational activities daily
Family and friends can visit anytime
Customer Reviews
Check out the review of one client, Michelle Curtis, on Google:
"The staff are lovely very kind and caring and you can tell they really love the residents. Nothing is too much trouble.  I would give it the highest rating."
5)  Selwyn Sprott Village

Selwyn Sprott Village, formerly Sprott House, is an excellent nursing home located in the residential heart of Karori. It has a long history dating back to 1898.
Situated in a large village, you can as easily interact with others as take long walks and explore the beautiful flora. Loved ones will be able to visit whenever they feel like it.
It accommodates 73 rooms for rest home and hospital care, while it has 24 spaces for dementia care.
Customers said that the nurses here are very caring and loving to the residents that they have. They always see to it that the person is comfortable and relaxed in the nursing home.
As you can see, Selwyn Sprott Village is one of the best Wellington nursing homes there are.
Highlights
Convenient location
Large nursing home/facility
Caring and loving nurses
Has dementia care units
Customer Reviews 
On Google, James Barron, wrote this:
"Caring and honestly & extremely well run care home that runs from independent living villas to hospital & high dependancy secure dementia & end life care.
Its reassuring that your loved ones can stay within the community rather than having the dislocations from retirement community to nursing home to hospital. Also reassuring is that Sprott is a charitable trust so the fees go into care not corporate profit."
And that concludes our list of the best Wellington nursing homes. You'll never go wrong with these nursing homes as they have staff who'll look after your family member.
Do you have any questions or comments about this topic? If you have one, feel free to send us a message and we'll get back to you shortly.
To help someone move to a nursing home, you might need a suitcase so you can pack the essentials for him. For that, you might like to check out the best suitcases in New Zealand.