The 10 Best Wi-Fi And Bluetooth Speakers In New Zealand
Looking for some wireless speakers for your computer or tunes? We can help you with that today, as we'll guide you through the best Wi-FI and Bluetooth Speakers in New Zealand.
There are a thousand options available for these right now, and they differ in their sound quality, portability, design, price, and features. We've already sifted through them to find the best ones on the island.
However, you'll still have to choose between Bluetooth and Wi-Fi variants. That's why we'll start you off with a little primer on wireless speaker technology and how to pick between the two.
If you don't think you need that, though, you can jump straight to our list of the best Wi-Fi and Bluetooth speakers in New Zealand. Either way, let's begin!
The Difference Between Bluetooth and Wi-Fi Speakers
Most speakers are divided into either Wi-Fi or Bluetooth models, although there are newer models that have both technologies, such as the Sonos Move.
Since not all can use their Wi-Fi on the go, Bluetooth speakers are better options in terms of using speakers outside. They operate via radio waves received by the speaker.
But even though they play a refined and clear audio, Wi-Fi speakers top them simply for the reason that the latter can play your tracks from a higher bandwidth.
Finally, multi-room audio involves access which only Wi-Fi can pull off perfectly. Wi-Fi tech can take control of those speakers simultaneously and let you adjust their volume with just a single smartphone or tablet.
In conclusion, both are great wireless technologies for speakers. Which one is best depends on your needs.
Now that we've compared them, let's now round up our best Wi-Fi or Bluetooth speakers in New Zealand.
The Best Wi-Fi and Bluetooth Speakers in New Zealand
1. Sonos One Smart Speaker
Best Overall Speaker
Price: NZ$298.99
Get this speaker and take your music everywhere through Google Assistant or Alexa. Give out commands by saying "Hey Google…(command)" and it creates your playlist, tells you about the artist you're listening to, sets your calendar, and more.
It gives out a sound with a rich clarity and fullness through its cylindrical speaker. The clock face panel on top is also sleek and comfortable to press.
Pair it with another Sonos One for balanced sound delivery or better yet, use a set for your very own home cinema for immersive sound.
It works with popular streaming services such as Spotify, YouTube Music, SiriusXM, and many more. And it can also be used through Google Airplay2 and the Sonos app.
Highlights
Wonderful sound quality
Play music through Google Assistant and Amazon Alexa
Works with popular streaming services
1 year warranty in Noel Leeming
Customer Reviews
An overwhelming number of the reviews for this paint a picture of a product that many think is stellar. You'll find a lot of praise for its sound quality, voice assistants, and quick setup.
But there have been issues too. For example, a few stated that Alexa occasionally drops its connection or never hears your commands.
Keith gave it 4 stars and wrote:
"Incredible sounding speaker for the size, does an incredible job in my 10sqm sleepout, really the only speaker I need. Easy to set up through the app, but can get a little complex once you start adding in Alexa and Spotify setup in the mix. Alexa is a brilliant feature. Recent Airplay 2 support makes it that much better. Definitely plan on adding more products to my Sonos collection in time.
Great sound, Relatively simple setup, Voice control"
RobLVT then talked about the setup of the Sonos One:
"Living in temporary quarters, this serves to provide very good sound without having to set up a more elaborate system. Just requiring a WiFi connection makes it very convenient and versatile."
2. Amazon Echo Studio
Second-Best Wi-Fi speaker
Price: NZ$359.99
What puts this among the best speakers in New Zealand? It's the fine-tuning of frequencies that results in clear, undisrupted music, coupled with the intelligent Alexa that does things for you.
In fact, this thing is so smart that it considers the space in your room during use. That way, it can deliver the best sound, giving you the perfect balance, depth, clarity, and space.
Take one home and go for multi-room audio or sync it with Zigbee smart home devices to control your garage, thermostat, lights, camera, TV, fan, and locks.
And if that wasn't impressive enough, Alexa Guard even calls your attention whenever it detects the sound of breaking glass or fire alarms, to keep you safe.
This features 3D playback, Spotify, Tidal, Pandora, Amazon Music HD, and more. We also love the sleek blue or red siege lighting atop the Echo Studio.
Highlights
Plays bass, treble and midrange sounds clearly
Alexa built in
Syncs with your Zigbee smart home devices
Multi-room audio
Stream 3D and HD music anytime
Customer Reviews
200 plus customers contributed for a total of 4.2 out of 5 scores on Amazon. As such, you can see that a lot of owners agree with us that this is one of the best speakers in New Zealand.
However, some of them were dissatisfied with the sound quality — although it's worth noting that most sound issues can be solved if you just turn the Echo's spatial enhancement off.
Charles Wegrzyn wrote:
"I don't have a clue why anyone would say it doesn't play music nor work. This thing plugged into my wireless network as easily as all the other Alexa devices.
Music playback is better – much better – than the other Echo devices (because of the speakers). It does very well with Amazon HD music giving me a sense of directionality! It is integrated with my HiFi system and TV all without a lot of extra effort.
Definitely worth it…."
Another mentioned:
"The Echo Studio is a quantum leap from any other speaker that Amazon has produced to date. Everything else sounds like a transistor radio in comparison. The sound separation is fantastic and you can actually feel the bass at higher volume levels."
3. Marshall Stanmore Wireless Bluetooth Speaker
Best in Vintage Style
Price: Nz$449
If you are in love with the 50's or 60's, check out these Marshall Stanmore speakers. From the classic logo to its vinyl covering, to its toggle on and off switch, knobs and 3.5mm coil double end plugs, you'll have the perfect speakers to play vintage or cool alternative rock at your home!
This speaker expresses a nicely dynamic sound range. Its vintage styling is well done too, elegant and luxurious instead of cheap-looking.
Plus, the sound-adjustment knobs are very easy to use. It also measures a portable 13.77 x 7.28 x 7.28 inches — so you can carry it around with you if you feel like impressing fellow 50's enthusiasts.
Highlights
Vintage outlook for logos, knobs, and grille fabric
Playback is rich, full, and textured
Custom analogue knobs
Includes a 3.5mm coiled cord
Customer Reviews
Marshall Stanmore's speakers have received a lot of admiration online. Owners loved the iconic design, powerful bass, and performance.
In fact, only one gave the item negative feedback for its customer service and said that it stopped working.
Mildred M. gives this a solid 5-star review:
"Pairs with iPhone. iPad easily. Terrific volume. Great feedback and response from younger crowd. They love the vintage look. Happy I bought it. Does exactly what I want. Sirius radio. Audible books. Portable. Kudos to you."
Next, XVINFAJTR expressed:
"Super happy with the speaker! I got a good deal on it and couldn't be happier! The sound is clear and loud and the bass is awesome!"
4. JBL Charge 4
Best for Travel and Price (Bluetooth)
Price: NZ$249.99
If you travel a lot and need the perfect speaker to accompany you on trips, look no further than the JBL Charge 4. Bring it on the go to your get-togethers, picnics, beaches, or celebrations.
It lets you listen to your favourite songs up to 20 hours non-stop. It also has IPX7 heavy splash-resistance and a unique design with soft embossed logo on the side.
Besides pairing with up to 2 smartphones at a time, it can even sync with a hundred other JBL Connect+ speakers for the ultimate soundfest!
Highlights
Travel-friendly and portable
Plays continuously up to 20 hours
Connect up to 2 smartphones at the same time
Multi-room audio with compatible speakers
IPX7 splash and water resistant
Customer Reviews
This has a lot of fantastic feedback from people who've bought it. You almost never hear a bad remark except for minor ones such as lacking a cable for one.
One buyer, Mils, said:
"Was a little bit smaller than I was expecting but don't let that put you off , brought this for around the house and it's perfect , really clear sound , just the right amount of base and is very loud , very easy to connect and use and the battery lasts for so long unlike other speakers I've owned, ,…"
A second one has this to say:
"I had a JBL 3 before this and I was really impressed with it but after 1 and half year a had some warranty issue. Then now I got this JBL 4 which have much better mid sound and clearer bass which make this much better sound experience! I love this product!"
5. Bose Home Speaker 500
Best High-End Speaker
Price: NZ$619.95
The Bose Home Speaker 500 gives you wall-to-wall stereo, an LCD screen up front, and multi-room audio. The sound quality is superb too in bass, treble, and midrange frequencies.
Once again, you have the trusty Alexa to talk to in 8 mic pickups to stream music by voice command. And preset modes let you access them at the touch of a button.
Whatever you are up to, it's going to show up in the cutting edge LCD screen with pictures. And you can pair it with your other Bose home speakers or Bluetooth speakers and listen to the radio at home.
It's light to lift and carry thanks to the aluminium material, which is anodised to last through time. That's how well-built it is, in addition to being neat and compact.
Highlights
Wall-to-wall audio to fill your room
Superb sound range and quality
Multi-room audio
New feature of LCD screen
Alexa built-in
Sleek and compact form
Pairable with other Bose speakers
Customer Reviews
The Bose Home Speaker 500 is solid, but as many of the people who've bought it said, that's to be expected from Bose. Customers gave it very good reviews for having great sound quality, being easy to set up, and having great mics that pick up even a whisper.
Here's one review by Stewy 090:
"I bought the Bose Home 500 three weeks ago and I am amazed at the great sound a Nd the classy look of this device. As a long time Bose owner this was a no brainier when I heard this in the store I was blown away with the stereo sound the great bass and pure clarity of sound. With the addition of Alexa and Google play it makes for easy navigation and of course having Spotify at your fingertips is great, I Overall I would with out doubt recommend this smart speaker, you will not be disappointed."
Further proving that it's one of the best speakers in New Zealand, Mark193 comments:
"The 500 series plays like a full size home stereo! I am a bit of an audiophile and this unit has a full sound stage, just the right amount of bass and treble. Using the app you can adjust the sound to your liking. I wasn't sure that the music I listen to would come through. I listen to Classical Concerts and this thing blew me away! The sound quality is spot on! Never harsh or lacking. I also listen to rock, country and christian music all play great! The smart features work as expected. I would recommend the BHS 500 to any audiophile because it's just that good!"
6. Ultimate Ears Wonderboom 2
Best Water Resistant Speaker (IP67)
Price: NZ$134.99
Like to crank up the volume even when you're out of doors? Turn on the Outdoor Boost with the barrel-shaped waterproof party speaker, Ultimate Ears Wonderboom 2.
It's louder than the first Wonderboom, if you've tried that other model. With this, you can jam with your friends, party and sing-along to your tunes for up to 13 hours.
Simply press the button at the top to play, pause, or skip songs while you're outside. Another highlight is its exquisite knitted fabric, which feels soft and comfortable to hold (although it does come with a convenient carry loop so you won't drop it).
And of course, there's a range of other colours available—such as bermuda blue (the one above), crushed ice gray, deep space black, just peach, and radical red.
Highlights
Louder sounds than Wonderboom 1
Outdoor boost to crank it up on your trip
Accessible buttons
Variety of colours to choose from
Customer Reviews
First off, customers have mentioned that they like its volume (very good despite its size), its waterproof design, and bass. However, the microUSB charging wasn't a winner with most users.
Anyway, let's hear what Lewis Leong, an expert from TechRadar UK, has to say:
"The UE Wonderboom 2 features a slightly tweaked design, better bass response, longer battery life and Outdoor Boost make it an even better companion when you're outdoors. Its ruggedness, sound quality, and features solidify the Wonderboom 2 as one of the best portable waterproof speakers you can…
Great sound for its size, IP67 dustproof/waterproof rating, 30% better battery life, Relatively cheap
Restrictive soundstage, No speakerphone, MicroUSB charging, No 'smart' features"
Now, let's see the opinion of Lily Katz from Sound Guys:
"If you're looking for a speaker to accompany you on every summer adventure, the UE Wonderboom 2 is a great option. The lack of an integrated microphone is annoying since it means you can't access a voice assistant, but it's a small price to pay for a speaker that floats.
IP67 dust- and water-resistant, Connect two devices simultaneously, Pair to another Wonderboom 2 for stereo sound, Two-year warranty, Portable and floats
No microphone, Distortion increases with volume, microUSB charging"
7. Sony SRS-XB12
Cheapest Bluetooth Speaker
Price: NZ$88
Sony's quality is consistent, from what we've seen over the years. That's why we weren't surprised by how much we liked the portable Sony SRS-XB12.
XB in the model name stands for extra bass. This comes from the monaural speaker, which supplies a deep yet beautiful tone.
It's also a nicely hardy speaker, we think — no rain showers or accidental splashes will bring it down thanks to the IP67 water rating. When mountain biking or rafting, you can carry it with you by its strap and never worry.
Furthermore, it comes with a smooth, sleek look you will be proud to sport wherever you go. Among the colours you can choose are gray, cobalt, orange, and black.
You can also pair it with a speaker of the same kind to enter stereo mode. That's always a nice feature if you plan to use this for your media room or setup.
Highlights
Extra bass for purer lower tones
Very portable
IP67 water resistant
3 vibrant colours to pick from
Customer Reviews
The review score of the Sony SRS-XB12 is 4.4 out of 5. It received pages of positive feedback citing the waterproofing and terrific sound.
However, one customer had the misfortune to find that it stopped working after one recharge and asserted that customer service didn't get back to him. This seemed to be a rare exception, though.
Other than that, easyjet_29 said:
Music is clear. Love the feature that you can hear & communicate when Bluetooth with a cell phone.
A second reviewer from United Kingdom, Lex, describes this model:
"Speaker looks smart, good design and most of all sounds awesome with the music pumped up to the max!! Also it's waterproof which is a great plus when I'm jamming in the tub x."
8. Sonos Beam
Best for Streaming Netflix or TV
Price: NZ$699
We've been discussing speakers that play music more than anything else. And although those models can be good for movies too, here's something that is more for movies and TV shows in particular—the Sonos Beam.
Setting it up is relatively easy — plug and play. In no time, you'll be watching your favourite movie on Netflix or Disney+ while bonding with your family on Sunday nights.
The Sonos Beam lets you immerse yourself completely in whatever you're watching. That means you hear every mumble, word, and sound clearer and fuller.
For instance, it has the speech enhancement option to sharpen the words said by the actors in the midst of sound effects where you can barely hear their words. That help you better enjoy the movie too!
Just call the Google Assistant or Alexa or even access it through your app to access its features. On the whole, this smart speaker is a fantastic choice for film and TV buffs!
Highlights
Home theatre speaker for living rooms or bedrooms
More immersive movie experience
Easy to set up
Speech enhancement
Alexa and Google Assistant built in
Customer Reviews
While this is a great speaker with a lot of fans, there have been critics. One customer said that the speaker didn't recognise different devices using the Spotify app, for example, although they got through that eventually
But good feedback was the norm, with it totalling 4.5 stars out of 5 from more than 1500 reviewers including experts. Sean P. comments:
"A good piece of kit except it is clunky to use if you have a Spotify family account. It tends to lock onto one phone and when the other users want to access it gets confused. I can figure out how it aligns to the intended users phone but it gets there eventually. So a great product but the software needs fine tuning."
And ringiho shares us his/her experience:
"I'll admit, I do like Sonos speakers. They aren't the cheapest but the quality is great and the setup is really easy.
I added the Beam to my collection recently and I'm really happy with it. Sound from the TV is greatly improved and with two Play 1s at the back the surround experience is great."
9. Sony SRS-XB41
Best in Battery for Bluetooth Speakers
Price: NZ$299
Get the party started with the Sony SRS-XB41! With this one, you have an incredible soundstage complete with gradient-coloured lights, water- and dust-proofing, and a day's worth of battery and app connectivity.
Use it to play your new downloads from Spotify, and hear the fine and crisp notes with extra bass. Get wild and get loud with the Live Sound mode and dance to the beat and rhythm of the lights.
Another definite selling point for this Bluetooth speaker is that it's dust-proof and waterproof. It won't care about sand, splashes at the beach, and the like, so it's the perfect speaker for those in search of a party speaker that's rough and ready.
Highlights
Great for upbeat music
Live Sound gives better bass
Line and speaker lights
24-hour battery
Waterproof and dustproof
Ultra-durable
App to change light settings
Customer Reviews
That Audio quality of the Sony SRS-XB41 is no problem at all as reviewed by Amazon customers. However there's one problem that a few people complained about.
One reviewer, J.C., explains it in this review:
"I was drawn to this speaker because it is water and dust proof, but there is a major drawback that probably would have changed my mind on purchasing. While I really like the sound quality when it is charged, the volume will automatically lower when the battery starts to get low. I get it's preserving what's left of the battery, but what annoys me is that the volume won't go back up when you plug it in to charge. The volume will stay low while it's charging, until is is fully charged again. It takes a while to charge, so it renders it pretty useless in my space for hours at a time. Nothing worse than having to work out to no music! Trying to get in the habit of plugging it in after every time I use it, but it's annoying that I have to do that. My JBL kicked the bucket, so I thought I would try something new. Kinda wished I hadn't."
Here's a more optimistic review by Lamar Doss:
"This speaker has a really fantastic sound. I love that. It sort of pulls you towards the music while it's playing. I just didn't expect it to sound so full when needed and bass heavy when needed. It truly does sound remarkable."
10. MIFA A10+
Best in Dustproof and Waterproof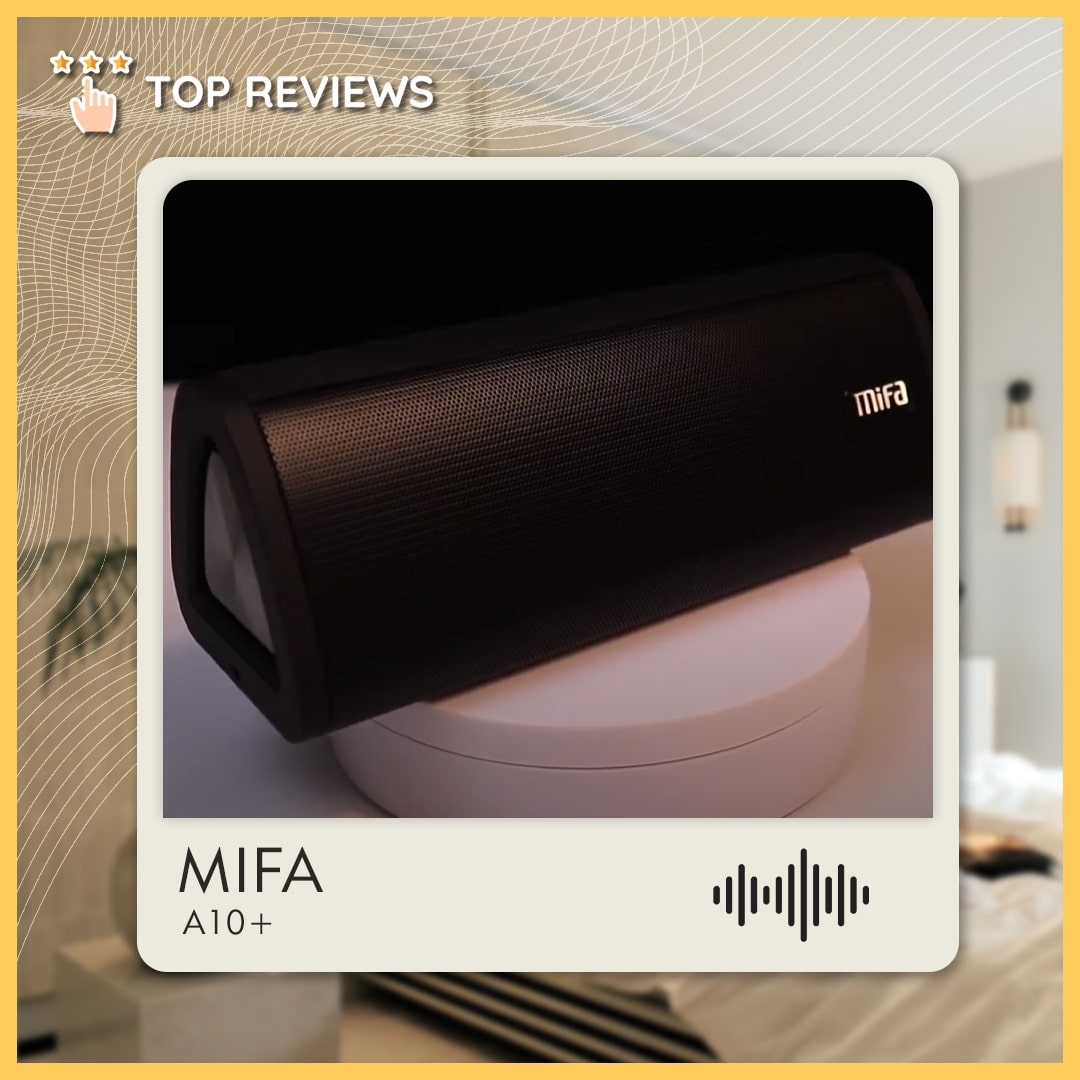 Price: $102.35
Want to listen to music outdoors? Do not fret bcause we introduce you to MIFA A10+.
In comparison other typical speakers, this one has a 360 stereo sound. Wherever you are seated, you will most likely hear your tunes clearly!
If you are going on an adventure, this may also be the perfect one for you since it is completely waterproof and dustproof, which you cannot find in other products.
Aside from the speaker itself, you will also be getting a detachable strap. This will allow you to hold onto it easily and hang it somewhere like your bag.
With good music, comes great memories. Enjoy your time with your loved ones dancing to good tunes with this speaker!
Highlights
Has an active-noise cancellation
Supports memory card
Has a built in microphone
24 hours
Charging time is approximately 2 hours
Customer Reviews
Here is a review from their website:
"Super buy. Great speaker, amazing sound, fast delivery!" – Jenna
—
Anyhow, that's it for the best Wi-Fi and Bluetooth speakers in New Zealand. Now you have a fair grasp on what to get so that you can bring your music with you wherever you go.
Do you have any questions or suggestions about speakers we mentioned? Please tell us if you have one and we'll try to address it as soon as we can.
By the way, just a friendly reminder that you should use your speakers only when you're certain you won't trouble others. For example, pumping heavy metal on your speaker might wake the neighbours at night.
If you'd still like a way to enjoy your tunes in such situations, feel free to check out our article for the best headphones in New Zealand. Those headphones will give you audio thrills without having to irk the people around you!