The 12 Best WiFi Extenders in New Zealand
Annoyed that your Internet connection keeps dropping at home? A WiFi extender may be all that you need, so we've put together the best WiFi extenders in New Zealand.
A WiFi extender is precisely as its name suggests — it extends your WiFi network by reaching your router via radio bands. These produce a stronger signal, reaching even the furthest rooms in your home… even the ones your router's waves could barely reach before.
There are a lot of WiFi extenders in retail stores and they differ in their speed, features, and connectivity. But there are also different types you can pick, so which of them should you get?
To address that question, we'll go over the types of WiFi extenders and some of their features first. This is so that you'll have an idea what range extender is best for you when going through our list.
3 Types of WiFi Extenders
A WiFi extender has three basic types to start with:
1. Desktop
The standard model of wireless range extenders, desktop models look just like your router or ISP Gateway. There are excellent to place anywhere as long as they can communicate with the router.
Newer models have more modern designs. You could find a squarish model like the Netgear Nighthawk X6 or even one like the vertical speaker-esque D-Link AC1200, for example.
2. Plug-In
This type of WiFi extender is extra-convenient as all you have to do is plug it in an electrical outlet, set it up accordingly, and connect to the Internet.
But then again, occupying the entire outlet might not let you plug in other devices… unless the extender has an outlet on it (like the pass-through types do).
3. AC Pass-Through
Just like the plug-in models, pass-through models work by plugging into an electrical socket. The only difference is that a pass-through model has an AC outlet in front to compensate for the port that it's using.
What to Look for When Buying a WiFi Extender
Here are the key things you should look for when buying a WiFi Extender:
1. Speed
Like we mentioned in the introduction, your WiFi extender connects to your router through radio bands. You will see it in the specifications of the product you are viewing online or on the product packaging.
Of course, the higher the megabytes per second (mbps), the faster the connection you can have. You will also encounter the Ghz symbol — that indicates the rate of the bandwidth.
Some others have dual bands that allow a user more flexibility and choice of which of them to connect to.
They tend to have simultaneous dual band too. This is when both bands can transmit and receive data at the same time, resulting in a faster Internet connection.
2. Features
Every router is equipped with unique features. Important are the security features — say for example, WPS or WiFi protected access, as it keeps your Internet safe from people who try to access your router.
LED lights let you know that your extender is switched on or are used to indicate other statuses. They never fail to add a stylish, techy look to your room or living room too, if that matters to you.
Beside these, you can also find extenders with a switch, parental control, internal antennae, app setup, and so on.
3. Connectivity
For connectivity, see if you would need extra Ethernet ports. This wired connection is very useful in the office setting where the Internet should stay fast and consistent throughout the day.
By the way, some plug-in models, don't feature an Ethernet or LAN port (usually the smaller models). Because of this, they typically have a lower price than others.
The Best WiFi Extenders in New Zealand
We've discussed the types and features you need to look for when buying a WiFi extender. Now that you're ready, let's round up the best WiFi extenders in New Zealand.
1) Netgear Nighthawk AX8 WiFi Mesh Extender (EAX80)
Best WiFi Extender for Number of Devices Supported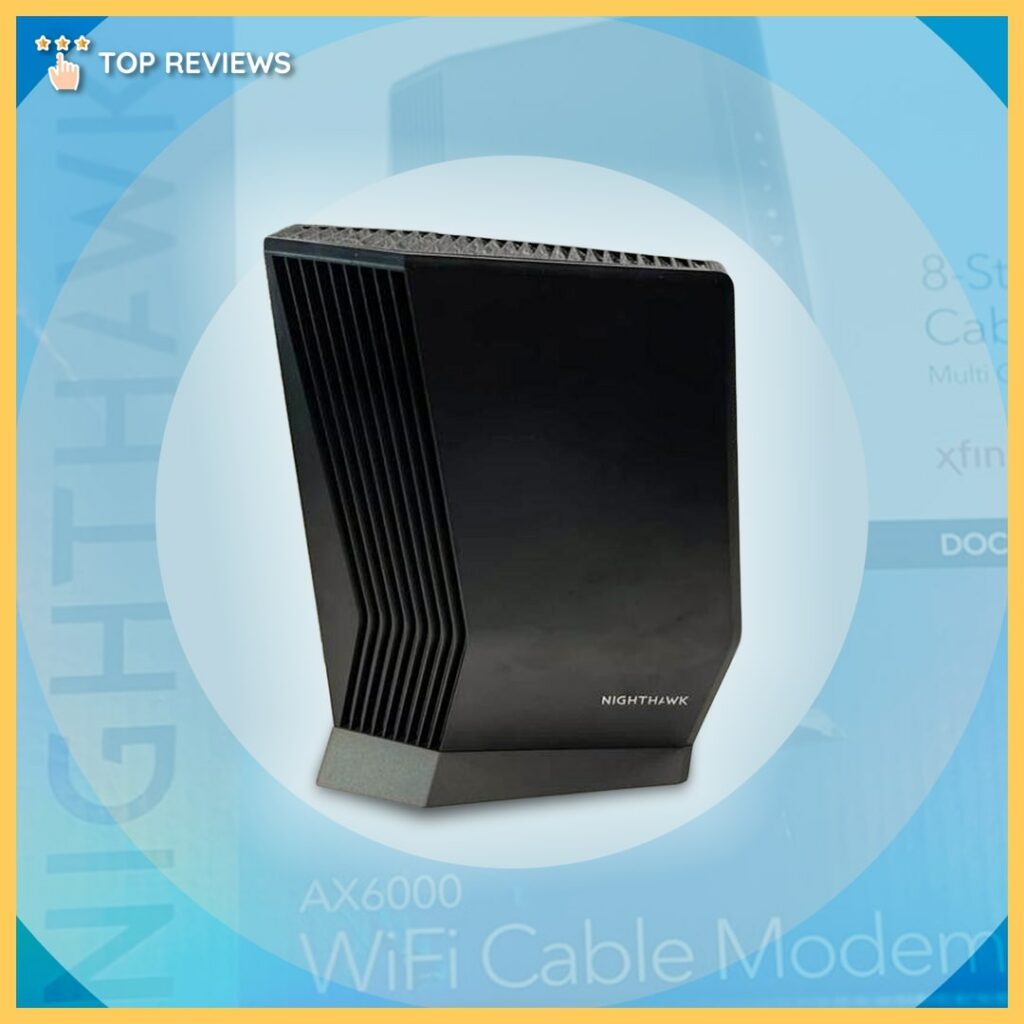 Price: $599
Bandwidth: 4.8GBps, 5GHz and 1.2GBps, 2.4GHz | Connectivity: 1 Gigabit Ethernet Port with Auto-Sensing Technology | Features: Dual Core Processor, One WiFi Name, Smart Roaming, NIGHTHAWK APP
Amplify your internet home coverage by getting the NETGEAR 8-Stream WiFi Mesh Extender! It goes up to a total speed of 6GBps with a 1.2GBps and 4.8GBps network.
Its 8-stream WiFi also provides a free-flowing bandwidth that connects more devices to the Internet, allowing you and your family to have access to the Web at the same time.
Supporting the latest version of WiFi 6, it offers optimised router speed, efficiency and coverage. While it's ideal when connecting to WiFi 6 routers, it can work too with other routers.
Also, the premium mesh extender uses the same network name that you currently have. Therefore, you won't need to go to the trouble of setting up a new one.
Furthermore, it has 4 Ethernet ports you can use for uninterrupted 4K streaming and gaming. With it, you can move around your house without the Internet ever dropping out.
Highlights
Whips up to a total blazing speed of 6GBps
Brings optimised speed, efficiency and coverage
Supports more devices
Uses one Wi-Fi name
4 Gigabit Ethernet ports
Compatible with any router
2-year warranty
Customer Reviews
The EAX80 averages 4.1/5 stars on the NETGEAR website. They stated it was extremely easy to set up, supported many devices, and eliminated all dead spots.
However, some fretted about their slowing connection once it was installed. Another had a frustrating experience with the company's customer support.
Here's one customer's experience and feedback:
"So easy to install. We have a RAX80 in our house and needed an extender in our outside office. App was easy to use and we were up and running in a few minutes. Added benefit are the additional ethernet ports we now have in the office as well as the shared storage. About to get EAX20 for a section of our home."
And here's something to clear out about the slowing down part. Jorge Jesus Alfonso, one customer stated:
"having a large home or garage office and upstairs bedrooms this product is a grate add to you new wifi6 network. plug it in, thru my nighthawk app and there it goes. no more issues with lags of frequency hopping of wireless cameras and peripherals. Just smooth connections all over the place."
2) Netgear AC1750 WiFi Mesh Extender (EX6250-100AU)
Best for High Definition Streaming or Gaming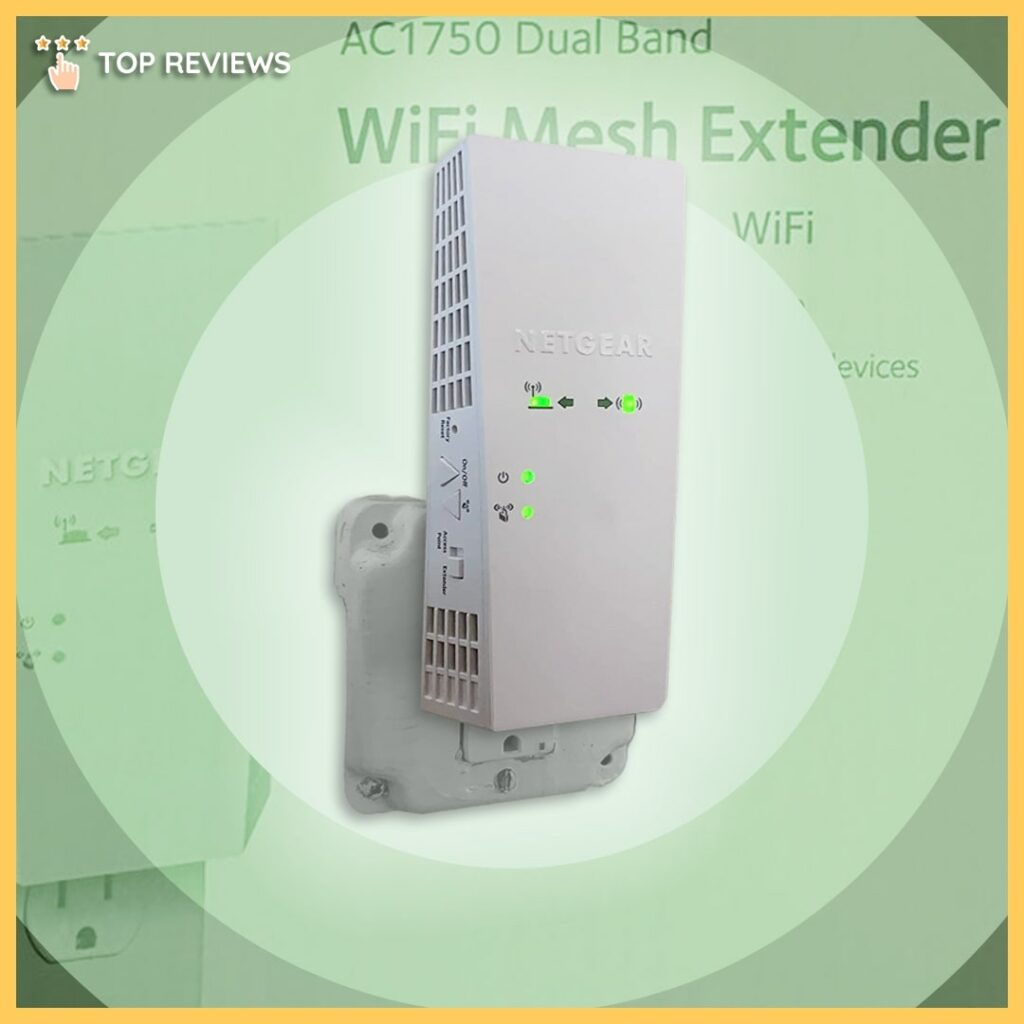 Price: $239.99
Bandwidth: Up to 1750 MBps, 2.4 and 5GHz | Connectivity: 1 Gigabit Ethernet Port | Features: FastLane Technology, Smart Roaming, Same WiFi Name
Need a pick-me-up on your Wi-Fi range at home? With Netgear AC1750, you have it! With your current router, it will significantly boost your Wi-Fi range throughout the house!
There are 2 bandwidths reaching up to 1750MBps in speed. Meanwhile, FastLane Technology combines the bands for one super fast WiFi connection!
This makes it perfect for non-stop HD streaming and gaming! Speaking of that, the Ethernet port allows you to plug in your Xbox One X, PlayStation 4, Blu-ray player, Apple TV, etc.
Also, Smart Roaming automatically scans and connects to the Wi-Fi extender. And you won't need to use a different name and password as your router.
From the unboxing to the installation, it's very simple to set up and will take just a few minutes! Before you know it, you'll be enjoying the Internet like never before!
Highlights
Amazing Wi-Fi mesh extender for HD streaming and gaming
Has a max speed of 1750MBps
Affordable price
FastLane technology
Smart Roaming
Very simple to set up
Customer Reviews
Reviews are mostly favourable for the NETGEAR AC1750. Buyers noted the improvement of Wi-Fi in their house and that it's hassle-free to set up.
One buyer used the mesh extender as an access point for his Smart TV. He also mentioned that its app had simple controls and constantly updated.
Unfortunately for some people, they received a defective product, which explains why others couldn't stay connected or had issues with the WiFi extender.
Anyway, here's feedback from one customer on the Netgear website:
"NETGEAR AC1750 WiFi Mesh Extender was purchase to help with WiFi dead spots I had in my house which is a very large rancher with multiple rooms. Centrally placed extender, now the whole house, every room has very good coverage. WIFI speed test shows my data through put has greatly increased. Even my basement now has a good WIFI signal. Easy setup. Would definitely recommend."
Another reviewer, majesticdreams, said:
"but the speed test reads it like that. WRONG my speeds are WELL above 95 and no drops, no disconnects nothing. Two MacBooks, a bunch of smart devices, wireless printer,l etc. it's well worth money and Super easy install. I've bought hergest. For years but this takes the cake. Bravo guys❤️"
3) TP-Link AC1200 (RE350)
Small but Powerful WiFi Extender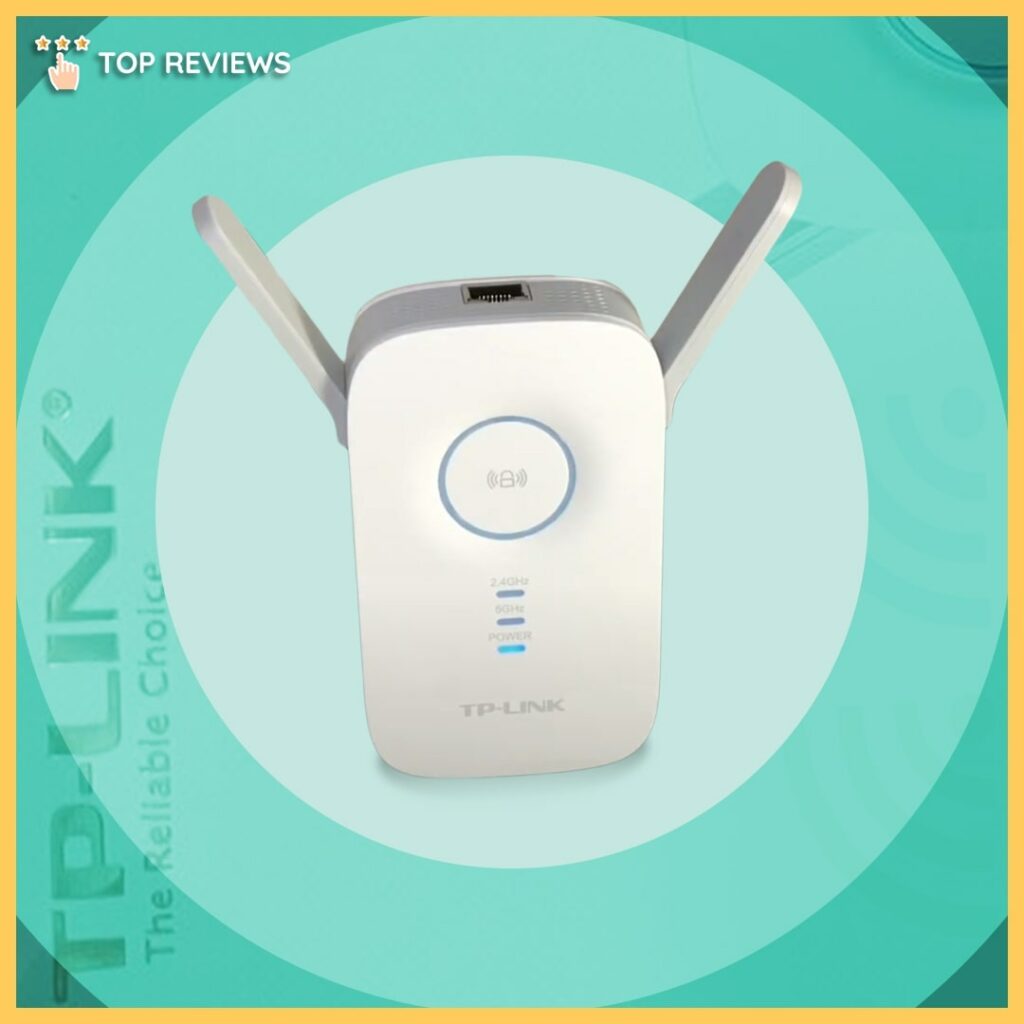 Price: NZ$119.99
Bandwidth: 300Mbps 2.4GHz, 867Mbps 5 GHz | Connectivity: 1 Gigabit Ethernet port | Features: LED signal indicator, Seamless dual band connection, Signal-enhancing antennas, Tether app accessible
A charming plug-in extender, TP-Link AC1200 has dual bands of 2.4GHz and 5GHz and provides a stronger signal to your devices across the house or office.
It lets you have Internet on a lot of devices simultaneously. It provides a total speed of almost 1.2Gbps for streaming 4K or doing your projects on Cloud.
The best place to set it up is between your main router and devices like your laptop, tablet, or smart TV. There's also a light indicator that turns blue if the signal is excellent (it turns red when it's out of range).
Setup is extremely easy with a simple log-in and password. It can have different SSID name for each bandwidth if desired, as well as serve as either an Ethernet port or instant wireless access point.
Highlights
Dual bands of 5GHz or 2.4Ghz
Nice and pleasing design
Connects to many devices at once
Capable of streaming 4K and high speed downloads
4) Netgear Nighthawk X6 (EX7700)
Best Overall Performance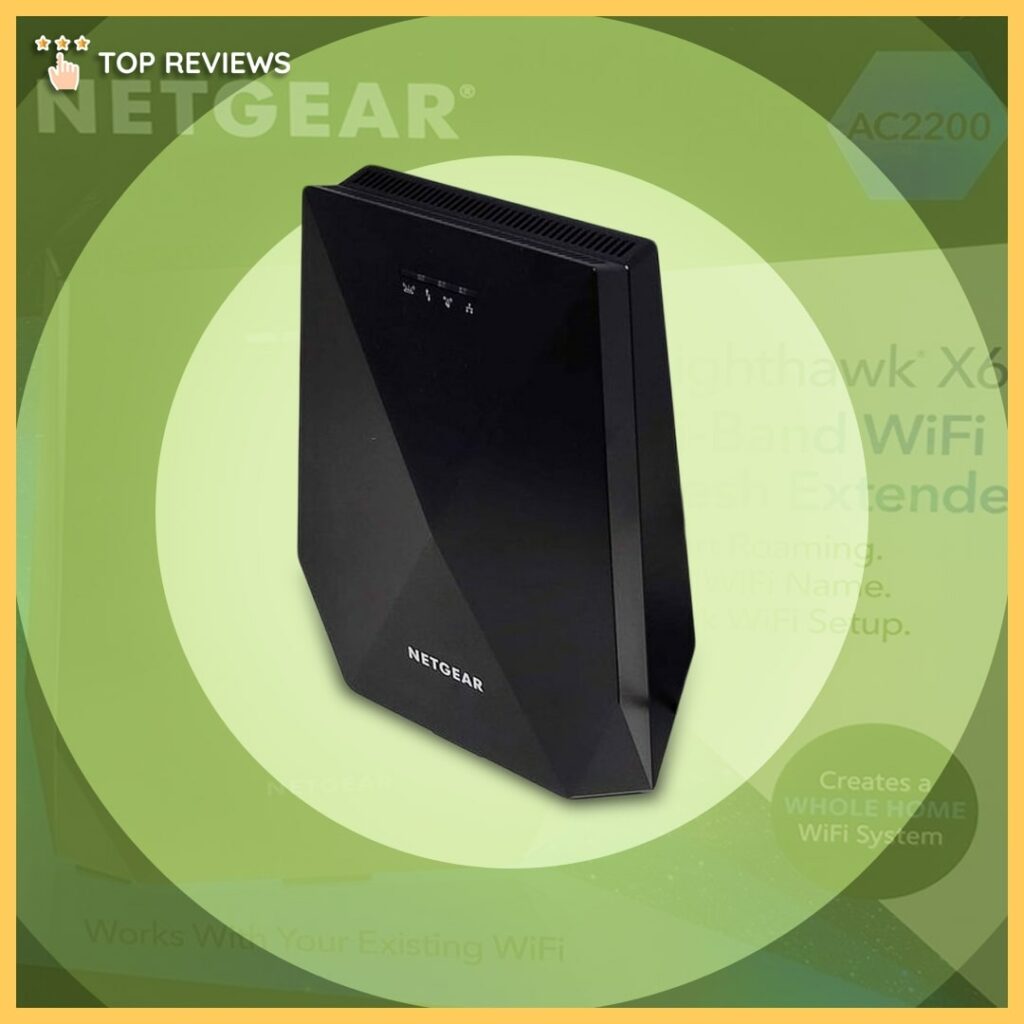 Price: NZ$319
Bandwidth: 866Mbps 5GHz | Connectivity: 2 Gigabit Ethernet ports | Features: Quick Setup from Nighthawk app, Power button switch, LED lights, FastLane3 dedicated pairing with your router, up to 2.2 Gbps WiFi speed for gaming and streaming
If your Internet connection is that a big deal to you, the Nighthawk X6 is an extremely hot mesh extender. For its price, it offers several premium features that you will agree as being epic.
First it has a turbo speed of 866Mbps and 5GHz, extending your WiFi range with FastLane3. That way, you won't experience any drops or even slight quivers on the Internet of your devices such as smartphones or tablets.
Another reason the Nighthawk is one of the best WiFi extenders in New Zealand is that it uses the same SSID or WiFi network name as your router. It's easy to connect to it instantly.
There are LED lights that let you know if it's connected or not. It is compatible with Nighthawk routers that would allow you to customise the bandwidth whether you opt for 2.4 or 5GHz.
And the design's polygon look is pretty attractive. With its space-saving feature, you can place it anywhere and it can even make your desktop or room cooler because of its sleek appearance.
Highlights
Patented FastLane3 tech connects to your router without sacrificing speed for your devices
2 Gigabit Ethernet cords to tap into the network
Uses only a single SSID (Network name)
Cool, stylish, and space-saving design
Customer Reviews
Where do you even find a product with all 5 stars from 114 ratings? Yet this thing has a perfect score of 5 in its overall rating, as shown from the Netgear website.
Let's see what some of these people are saying. Bwsim9640 writes:
"I have used 2 other netgear extenders this one is the best I have seen. It really delivers what they advertise. It has great coverage, was easy to setup and uses the same SSID so it is seamless in operation."
Phil24783 also shares his experience:
"The EX7700 is the perfect companion to my Nighthawk X6 Router. It reaches to the other end of my home (53ft) and one level down achieving 89MBs download speeds. Works great!"
5) D-Link AC1200 (DAP-1650)
Easiest to Set Up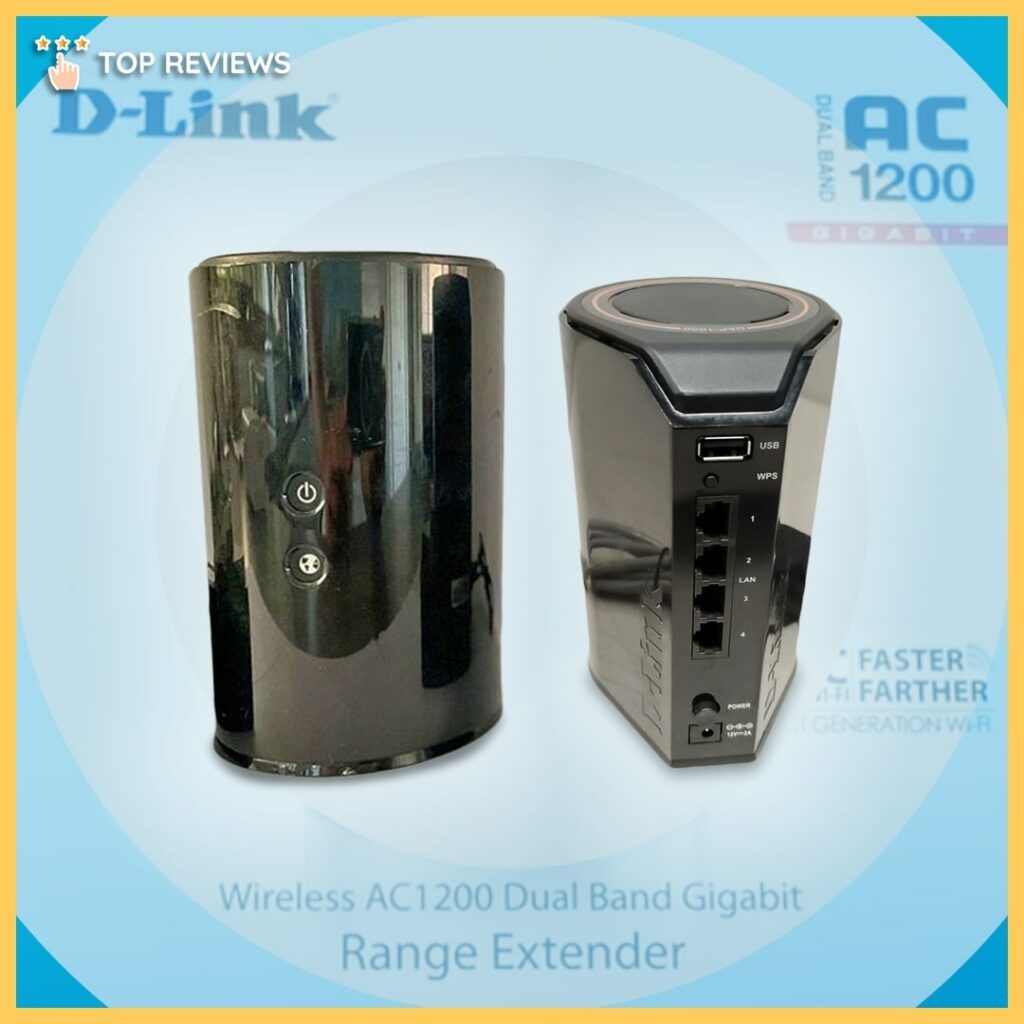 Price: NZ$159
Bandwidth: 300Mbps 2.4GHz, 867Mbps for 5GHz | Connectivity: 4 Gigabit Ethernet port, 1 USB Port | Features: WiFi Protected Setup (WPS), Simultaneous Dual Band, Easy Setup Wizard
Increase the range of your WiFi and capture the so-called dead zone areas. With the cylinder-shaped D-Link DAP-1650, lags and buffering will seem like a thing of the past.
It has double bands at 2.4GHz providing a speed of 300Mbps paired with 5GHz for a speed up to 867Mbps. In addition, those dual bands also cancel out interference for a clearer picture and media quality.
With just a press of a button, you can catch up on 4K video gaming, new chats, Spotify, or access your smart thermostat, camera, or lights, and etc.
You also have gigabit ethernet ports (4 of them!) for super-fast surfing on the spot. There's also a USB port where you can transfer files or save documents and content.
Since security is of value too, the D-Link DAP-1650 has that too with WPS. This makes sure only you and your family in the house can access the WiFi extender through encrypted passwords.
Highlights
Dual Bands at 2.4GHz and 5GHz
WPS-secured log-ins
Fast speeds for video calls, watching 3D movies, Youtubing, surfing
4 Gigabit ethernet ports, plus 1 USB port
Customer Reviews
The D-Link DAP-1650 is also compatible with any wireless router and the wizard takes you through the setup process. These are just 2 of the things most of the people who own it love about the extender.
In PBTech, though, a customer observed that the vertical style of this extender seems to be unstable if the Ethernet cords are used. With a lot of signals at home, he had to manually adjust his network settings to fix that.
Other than that, feedback for this model is overwhelmingly positive. Grahame N. comments about the no-sweat setup:
"This is awesome.. we can now use our wifi from one end of the house to the other with no drop outs and no slowing down .. I highly recommend this product.. easy set up and installation too .. cheers."
Then Paulkfc sums it up in a short sentence:
"Set it up all by myself without help from children! Proud to have done this for the first time. Having better range and faster speed now! Worth it!"
6) AmpliFi HD Mesh Point 1750Mbps AFi-P-HD Repeater
Highest Wireless Output Power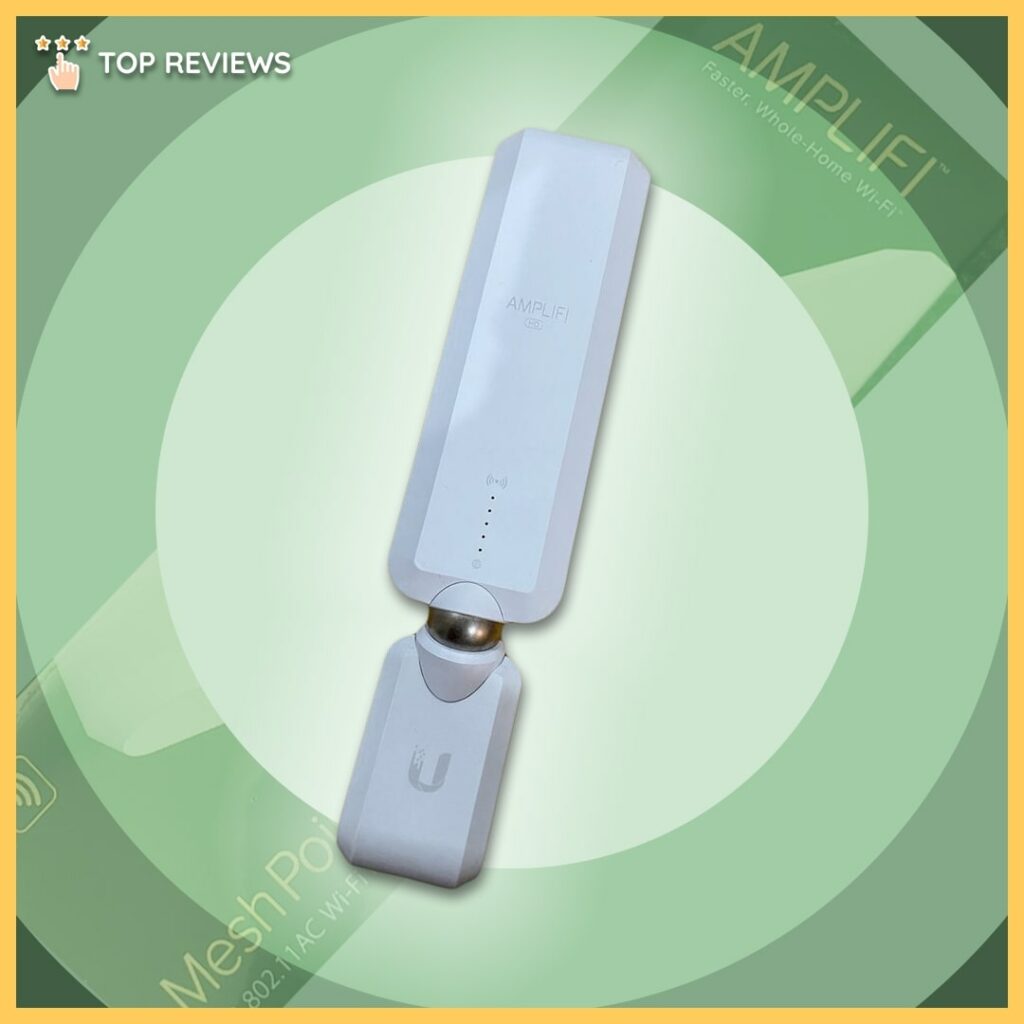 Price: NZ$229.00 + GST
Bandwidth: 2.4GHz,5.0GHz | Connectivity: 1 Ethernet Port | Features: Ethernet Speed of 1Gbps, Wireless Standards of
802.11a,802.11b,802.11g,802.11n,802.11ac
The AFi-P-HD offers the highest wireless output power (26dBm or 398mW) out of any of the devices on the list. It can can link to the main wireless device on either the 5GHz or 2.4GHz frequency. 5GHz will allow for more throughput whereas 2.4GHz will provide greater coverage and better penetration of objects. It has 3×3 antenna on both 2.4GHz and 5GHz frequencies and will be capable of providing the highest possible throughput to single device along with the RE650.
AmpliFi's multi-radio 802.11ac Wi-Fi system also eliminates dead spots utilising mesh point technology to provide premium, ubiquitous Wi-Fi coverage throughout your home or office.
The AmpliFi HD (High Density) MeshPoint also features an adjustable super antenna. You can pair the MeshPoint with the AmpliFi Router to expand the coverage of an AmpliFi network or turn an existing router into a powerful mesh network.
Highlights
Seamlessly plugs into any power outlet: no wires, no fuss
A mobile app is available for iOS and Android platforms for instant setup and easy management
Will repeat Wi-Fi signal from any access point or wireless router brands
Customer Reviews
No reviews yet
7) TP-Link AC2600 (RE650)
Best for Streaming Movies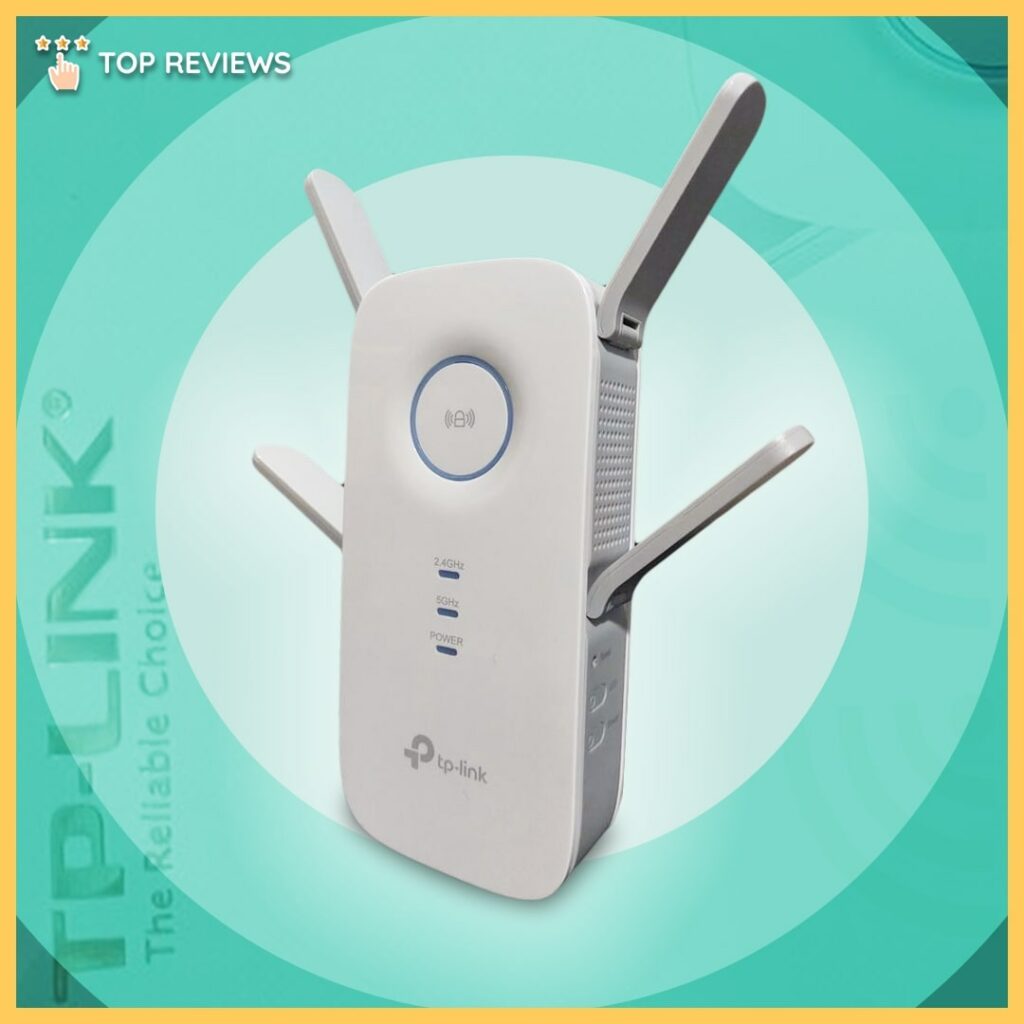 Price: NZ$269
Bandwidth: 800Mbps 2.4GHz, 1733Mbps for 5GHz | Connectivity: Gigabit Ethernet Port | Features: MU-MIMO data transfer, Beamforming, 880MHz Dual Core Processor, 4 External Antennas
Bring on the ultimate speed and range with the TP-Link RE650. With dual channels of 2.4GHz and 5GHz that can reach up a whopping 2600Mbps, you can work, study, research, and blog all you want.
The MU-MIMO feature lets you have that same speed for up to 4 devices without any slowdowns or lags. As it covers an area with a 14,000 sqm radius, you can even stay outside and check for new notifications with ease.
4 quad antennas come with the TP-Link RE650 for the best coverage. Monitor its status, change your network settings, and select other functions with the TP Tether app available for Android and iOS users.
This range extender even comes equipped with powerful dual-core processors, making it possible to see 4K videos or enjoy online gaming in crisp, fully immersive graphics with it.
Super-fast, reliable, and easy to set up, TP-Link RE650 is definitely one of the best WiFi extenders in New Zealand!
Highlights
Two radio bandwidths combine for a speed of up to 2600Mbps
Equipped with 880MHz processor
4 external antennas
Comes with MU-MIMO and Beamforming technology
Customer Reviews
Customers commended the long range-Internet and easy setup, saying it was a breeze, although some have complained that they had trouble with the 5GHz.
TeamMom writes a review at Best Buy:
"I purchased this for my son who just bought a house. The house is built like 2 houses connected by a breezeway and Internet wasn't consistent. He loves the long range of this wi fi extender and is very happy with it. It works well and does exactly as he anticipated and reaches all over his very long house."
Then RedPier talked about how the access point was:
"I'm using this as a wireless access point upstairs in my house and it has definitely helped with wifi coverage. It was easy to set up and I've had no problems with it."
8) Netgear AC750 (EX3700)
Best for Budget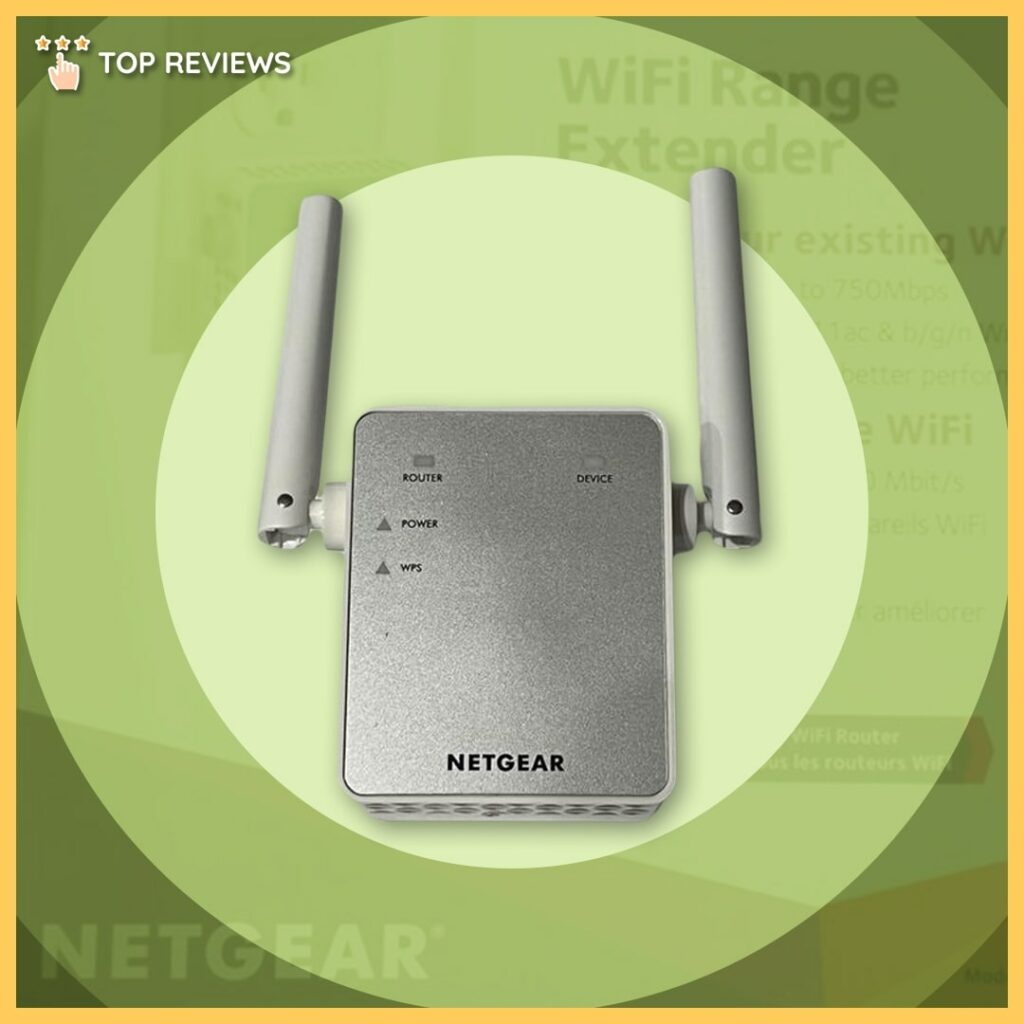 Price: NZ$98.99
Bandwidth: 2.4GHz and 5GHz | Connectivity: 1 Ethernet Port | Features: External Antennas, Simultaneous Dual Band
For those tight in budget but looking for a good WiFi extender, this is it! The Netgear AC750 can fuel your Internet connections with dual bands of 2.4GHz and 5GHz capable of fusing as one connection for a no-lag and zero-interference surfing experience.
The two external antennas are responsible for widening the coverage around your house. You have one Ethernet port to connect your device to others in the area to too.
The Netgear AC750 is also compatible with your WiFi devices with 802.11ac and b/g/n technology. This results in a seamless choice of networks to give you the utmost convenience at home or office.
With this extender at your home, stay connected with your friends, play non-stop video games, tweet your recent adventure, or binge-watch the newest season of Stranger Things on Netflix!
Highlights
Affordable and reliable
Dual bands of 2.4 GHz and 5GHz
Simultaneous dual band reaches up to 750Mbps
Plug-in design
Customer Reviews
The Netgear AC750 scored a rating of 4.6 out of 5 stars from 599 reviews on the Netgear website. People have been mostly pleased with this product and said it brought new life and signal to the dead zones in the house.
There had been complaints though about the customer service, though, and one had a problem of not being able to connect wirelessly.
But one reviewer named Sara said recently:
"After struggling with connection on the opposite side of the house as the router was located, the Netgear WiFi Extender has changed my life. I no longer have to worry about my phone disconnecting, freezing up or going in and out. I highly recommend this device!"
And to add to that, Jethro commented, this time about Smart TVs:
"Big smart TV was having problems streaming Netflix due to a weak WiFi signal. There's a brick wall between the TV and my wireless router. 10 minute setup and now the TV has a full signal and streams like a champ. Bonus: now I have a useable WiFi signal in the garage too! Excellent value. I can use WiFi everywhere I need and saved the big coin I was going to spend on a new mesh system to cover the whole house."
9) Linksys AC1200 AMPLIFY (RE6700)
Most Versatile WiFi Extender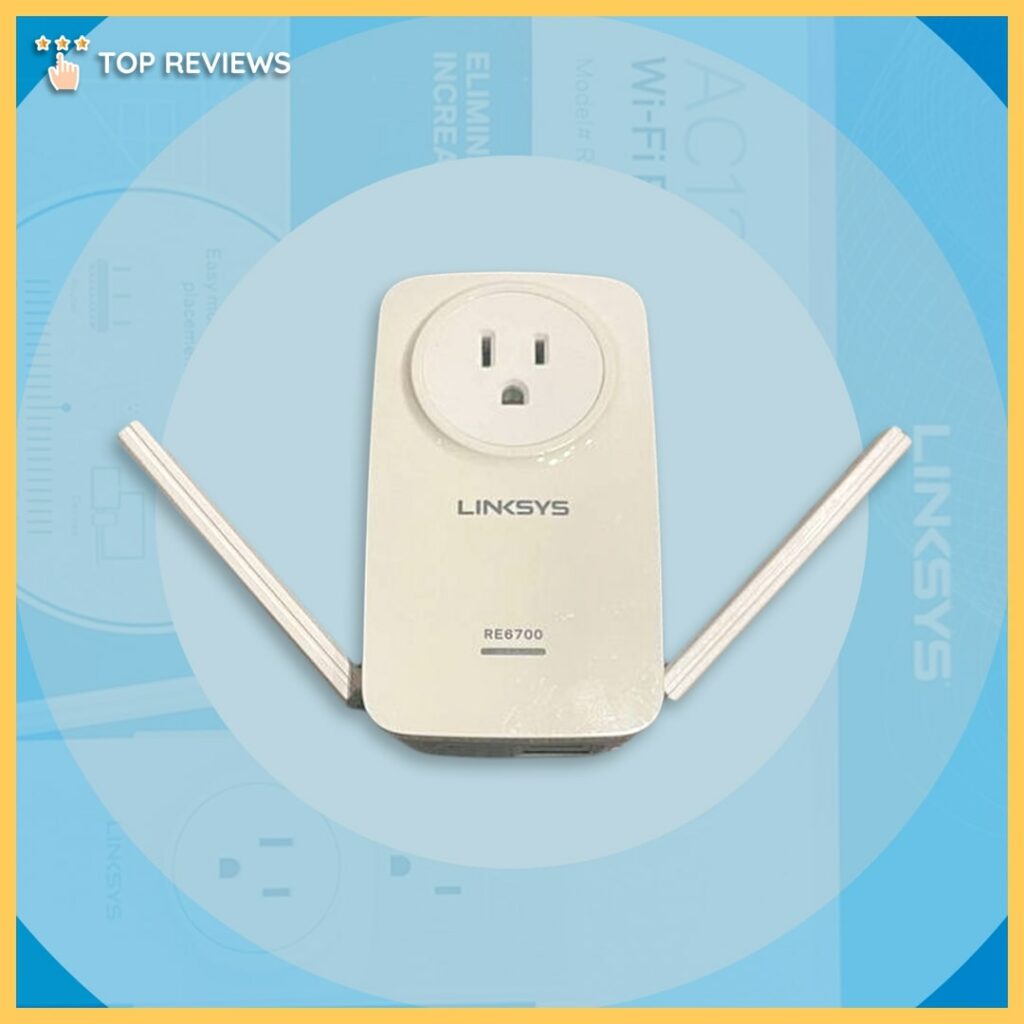 Price: NZ$148.99
Bandwidth: 300Mbps 2.4GHz, 867Mbps for 5GHz | Connectivity: 1 Ethernet Port | Features: Beamforming Technology, Spot Finder, Simultaneous Dual Band, WiFi Audio, Audio Output Jack
The Linksys AC1200 AMPLIFY is a little more than your average range extender. It can even act as a broker between your smartphone and speakers to let you play your music wirelessly.
Again, it has reliable dual bands of 2.4GHz and 5GHz for fast surfing speeds, thanks to the beamforming technology that also keeps it consistent and running.
Unlike single-band WiFi extenders, simultaneous dual-band ones like the Linksys AC1200 AMPLIFY can work together to deliver lightning speed for your data transfers, downloads, and uploads.
Plus, no more guesswork on where the best place to plug in your extender will be, thanks to the Spot Finder. This is an app that helps you find the area that would have the best coverage and strongest Internet signal.
Last but not the least, if you're curious what the outlet does at the front, it's so you can still plug in your charger or night light when the range extender is on your wall outlet.
Highlights
Dual bands with Beamforming technology
Can stream your music wirelessly to your speakers
Spot Finder lets you set it up at the best location
Convenient unit outlet lets you plug your charger or others
Customer Reviews
Basically very simple to set up and good Internet coverage, according to owners. It scored 4.2 out of 5 stars from 230 reviewers at Linksys.com.
Taken from Linksys website, Tesla tried testing the product and reported:
"The devices that I connected to the switch was the new apple TV, Playstation 4, and computer. I started streaming and playing content all at once and not once did I have a bandwidth issue or packet loss. My second scenario was to connect the devices via WiFi connected to the extender and start streaming content on all devices. Once again I didn't experience any issues."
For video game fanatics who needs a boost of their Wifi range, here's Seamus from PBTech:
"We've been using our one for 2-3 weeks now with no issues. It usually has a couple of phones and a PS4 connected and seems to cope pretty well. Set up was easy. The range is quite surprising too; we can now pick up reliable wifi at the back of our property 30ish meters away."
10) AC1200 Wireless Dual Band Gigabit Ceiling Mount Access Point
Most Versatile WiFi Extender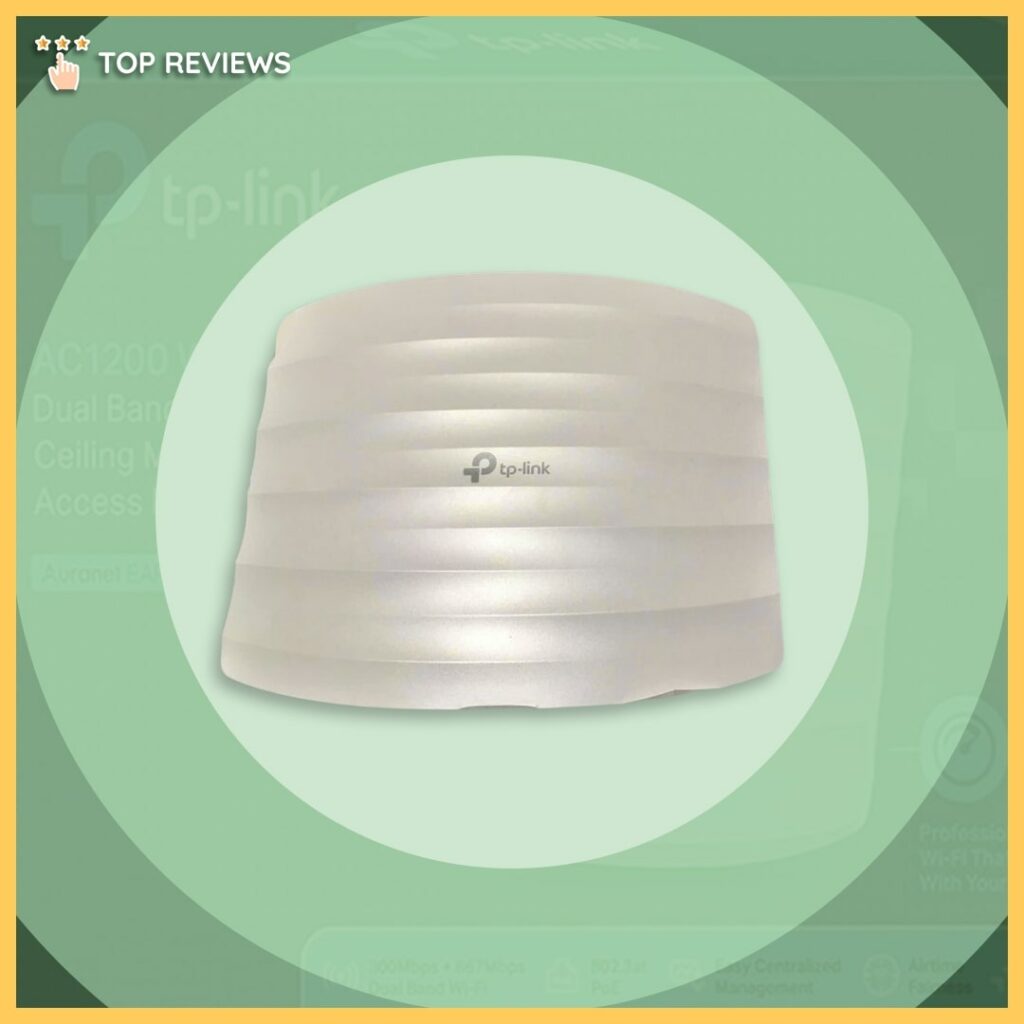 Price: $244
Bandwidth: 300Mbps 2.4GHz, 867Mbps for 5GHz | Connectivity: 1 Ethernet Port | Features: Captive Portal, Airtime Fairness, Beamforming, Band Steering, Load Balance
The Internet has become the backbone of technological endeavours in this age. It is especially of great importance in the business field, as it supports and speeds up majority of gadget-based operations. The AC1200 Wireless Dual Band Gigabit Ceiling Mount Access Point was created as an answer to the rising need for swift, reliable Internet connection.
AC1200 maintains a wireless data rate of about 1167 mbps, paving the way for uninterrupted connection. It comes with a free controller software, enabling it to manage hundreds of EAP's without any hassle. It also features a captive portal which makes authentication much more convenient.
The AC1200 Access Point can be easily installed on any wall or ceiling. It is guaranteed to significantly help agencies and companies in carrying out all their Internet-based services.
Highlights
Free Controller Software
Adapts Low Smoke Zero Halogen
Ceiling or Wall Mount Location
5GHZ Wider for Fast Connections
11) Cisco – Cisco Catalyst 9130AX Series
Best for high-speed internet and IoT Ready Extender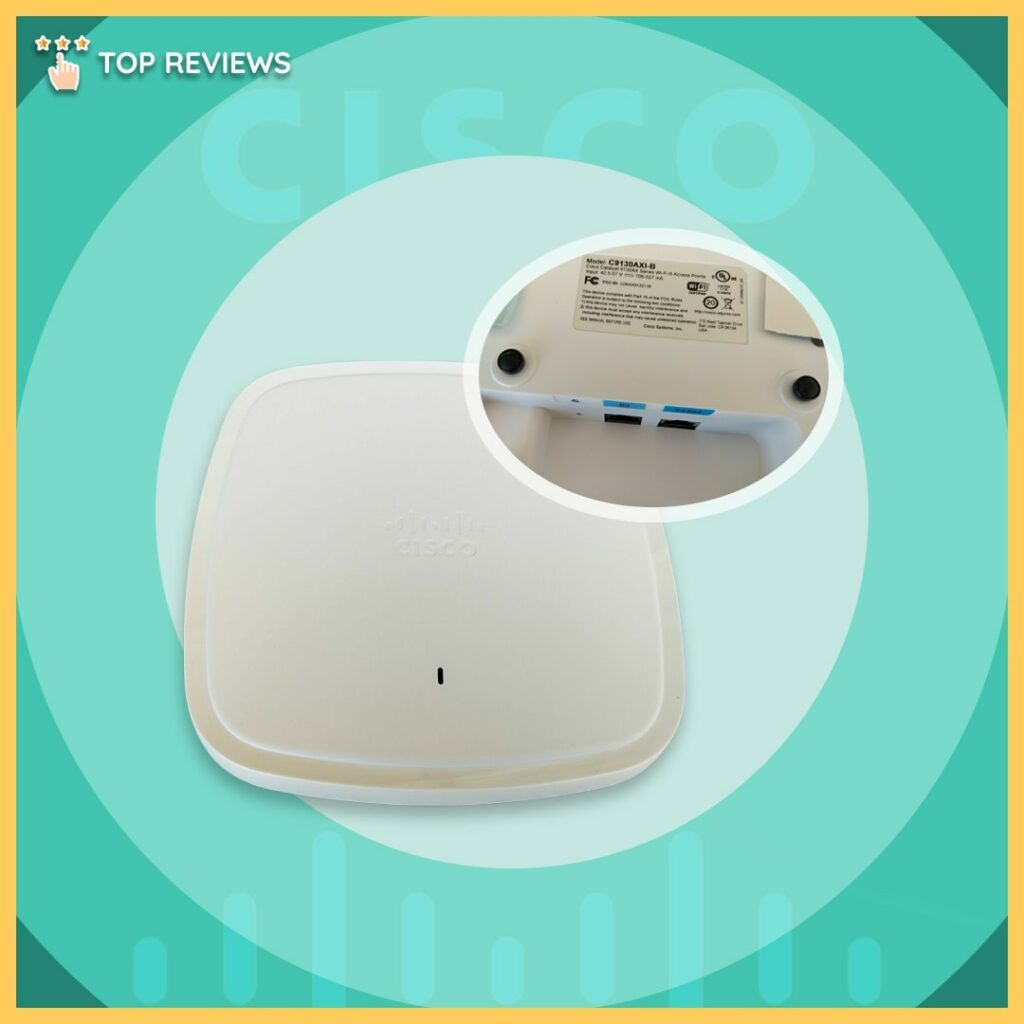 Bandwidth: Wi-Fi 6 certified, supporting 802.11ax on both 2.4-GHz and 5-GHz bands | Connectivity: 5GHz flexible radio (single 8×8 or dual 4×4), 2.4GHz (4×4) and Cisco RF ASIC | Features: OFDMA and MU-MIMO, Multigigabit support, Internal and external antenna, IoT ready (BLE, other 802.15.4 protocols** like Zigbee)
Cisco offers one of the best wifi extenders you can get, especially for larger locations. Their approach to quality is unmatched, ensuring customer satisfaction in every transaction.
Their new Cisco features comprehensive security even for wireless networks, supports WIFI 6 for a faster connection, and builts in intelligence to help boost efficiency. The Catalyst 9130AX Series offers great connection and high-speed internet. Its highlights of resiliency and operational flexibility is also a plus.
Aside from wifi extenders, you can also get network switches, firewall protection, IT assistance, and more! Get all the best deals with Cisco's bundles; receive better services at a fraction of the usual price.
Highlights
Fast Ethernet (10/100 Mbps) port to connect wired devices
Extended range with multiple antennas
Broad compatibility with b/g/n Wi-Fi devices
Flexible wall or desktop placement options (Includes both plugs)
12) Wifi Ultraboost
Best for lightning-fast wifi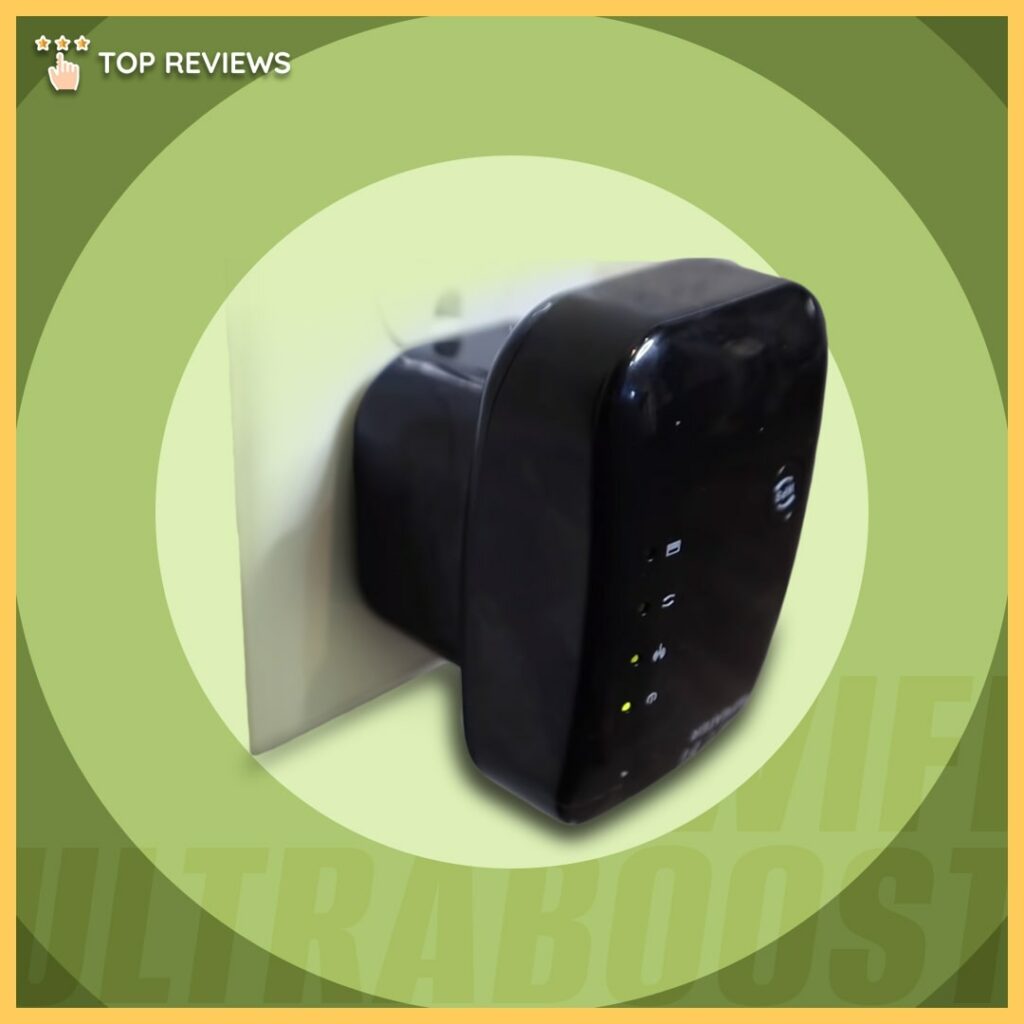 PRICE: $49
SPECS: 300Mbps Wireless Repeater | 2.4G Internet Signal Booster | Superboost Amplifier Supports Repeater/AP, 2.4G Network with Integrated Antennas LAN Port
If you're looking for a device that can actually help you get faster internet instead of just extending its range, then WiFi Ultraboost is surely the one for you.
Considered to be the world's first WiFi boosting device, it allows you to bypass your supposed data cap legally. Owner of WiFi Ultraboost knows that internet service providers most of the intentionally slow down your internet, so they made this breakthrough for you to receive the internet you pay for.
Aside from its high tech qualities, its easy instalment is also something you'd definitely be thankful for. WiFi Ultraboost can be set-up as easy as just plugging it in, and with one push of a button, you're good to go!
Get your hands on one of these beauty and experience high-speed internet like never before.
Highlights
WLAN Security
Plug and Play
Large Wireless Coverage
Customer Reviews
WiFi Ultraboost has received nothing but good reviews from customers who have decided to purchase it. It's definitely worth its price, of not better. Check out some of the feedbacks below:
"Great device if you have a bad internet connection or slow wifi. I had a terrible wifi signal, especially upstairs and in the basement. I installed two of these boosters and now my wifi signal is super strong! Browsing, gaming and streaming goes superfast on all devices. And I can finally watch movies and series in my bedroom."
Here's another one:
"I bought it and I'm just amazed by this device! I've put it in my living room because my router is upstairs, and the signal was weak. I now have a strong signal and faster internet speed as ever before, highly recommended!"
---
And with that, we conclude our lineup of the best WiFi extenders in New Zealand. They're a great help if you need to raise your Internet bars or have high speed connection without coming closer to the main router.
Did we miss anything with our product suggestions, though? Let us know and we'll get back to you shortly.
Oh, and if you're looking for other wireless connectivity devices for your home, you might like to read our list of the best WiFi and Bluetooth speakers in New Zealand to stream and sing along to your favourite songs or playlists.