The 10 Best Window Tinting Specialists in Auckland
You've already paid a fortune to get your car, be it a mini, Toyota or Range Rover. The last thing you would want is tinting that disappoints, which is why we've got the best window tinting specialists in Auckland for you.
Tinted windows protect you and the passengers from the brunt of dangerous UV rays. At the same time, tint reduces the glare along with the heat to keep your driving safe.
Furthermore, your car interior can be faded or affected by the heat, especially in a country like New Zealand. So, for your safety and privacy, your best call would be to have your windows tinted.
Just make sure you get it done by reliable specialists or your tint may as well not be there! Anyway, here's our roundup of the best window tinting specialists in Auckland!
1)  A1 Window Tinting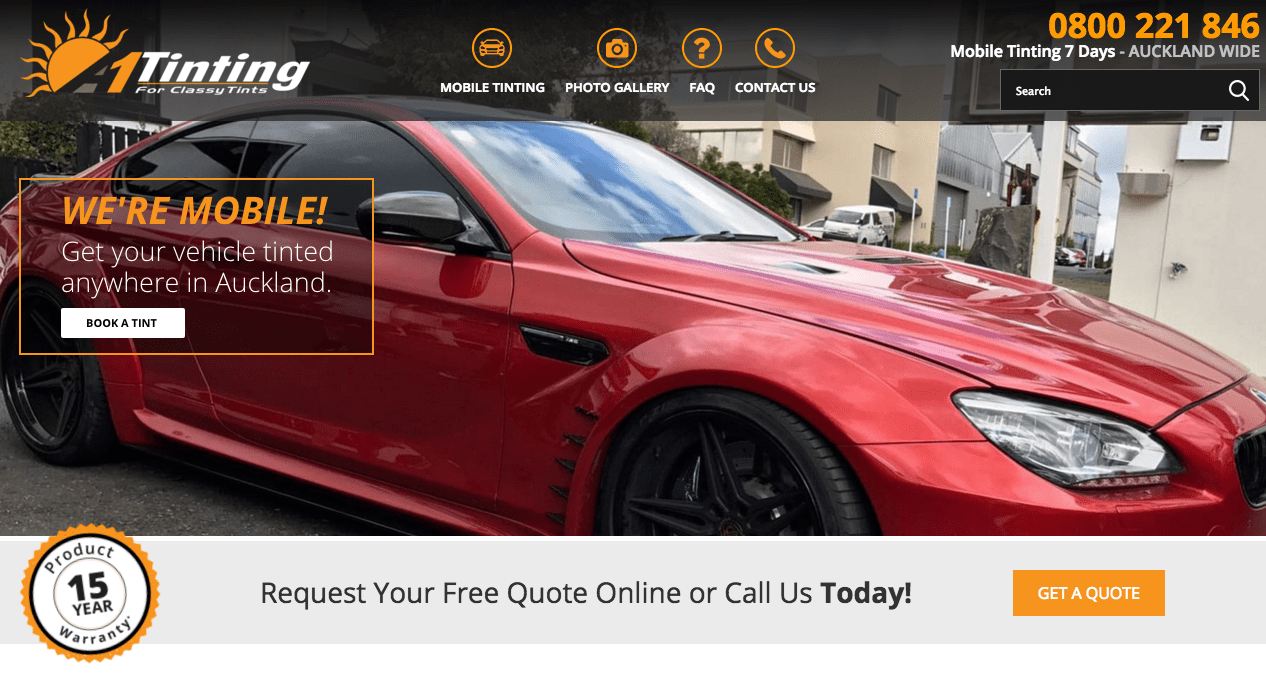 | | |
| --- | --- |
| Areas covered | Auckland-wide |
| Services | Car Tinting, Commercial Tinting, and Marine Tinting |
| Address | Auckland, New Zealand |
| Contact no | 0800 221 846 |
| Website | https://a1tinting.co.nz/ |
Protect your car interior and belongings by calling A1 Window Tinting. Their film products come from top-quality brands like 3M, Hüper Optik, and Johnson Window Films.
Whether it's your sedan, bulldozer, or yacht, they can come to you anywhere in and around the Greater Auckland area. They have it all, no matter the shade you want or the window size.
Also, they provide a 15-year product warranty wherein they can replace your tint at once if the tinting falters or underperforms. As the name suggests, A1 is one of the best window tinting specialists in Auckland!
Highlights
Tints for private, commercial and marine vehicles
Leading window film suppliers
Protects from UV and glare
Provides 15-year product warranty
Customer Reviews
A1 Window Tinting has swept the competition clean with a 5-star rating from 284 reviewers. Hitesh Asarpota states:
"A1 Tints always deliver a quality service experience using high grade products. I've used A1 for all my vehicles and have always received a friendly and positive experience. Just had my Grand Jeep Cherokee done and it looks fantastic. Thank you!"
2)  FM7 Window Tinting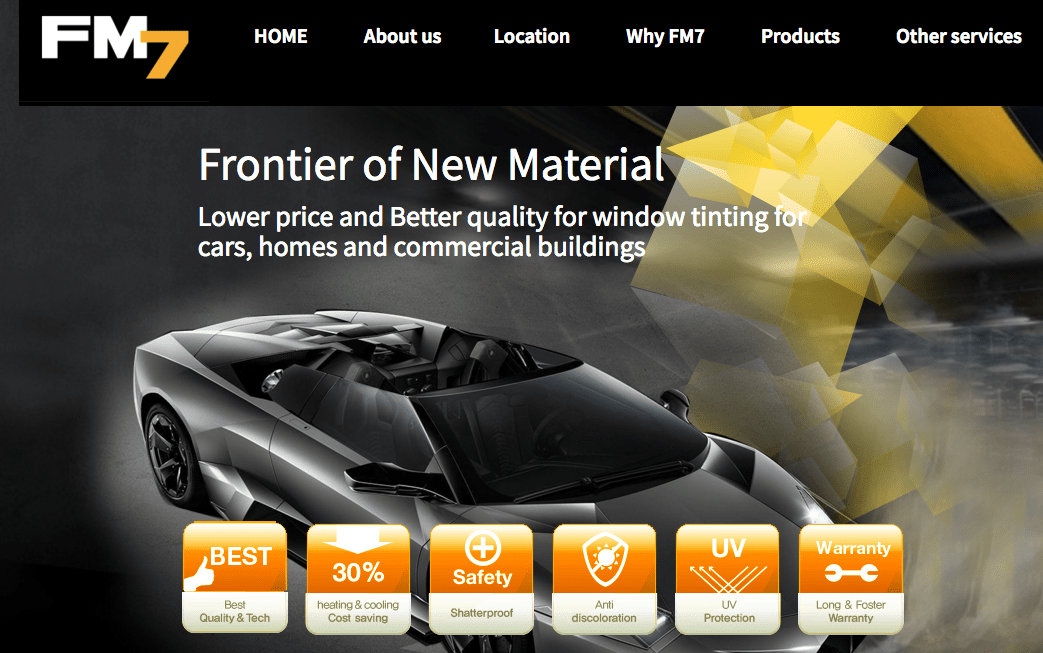 | | |
| --- | --- |
| Areas covered | Auckland-wide |
| Services | Car Tinting, Home Tinting, Commercial Tinting |
| Address | 20 Newton Road Grey Lynn |
| Contact no | 09-360-2151 / 021986477 |
| Website | https://www.fm7.co.nz/ |
FM7 offers window tinting for automobiles, homes and offices across the wider Auckland region. Their window films are made from inorganic nano-ceramic material that blocks out the harmful UV and infrared rays from the outside.
Due to the protective coating, FM7 windows are resistant to light scratches and damage. This tint also allows you to save fuel expenses owing to having a cooler or warmer environment in your car, making you feel comfortable during any season.
They have a variety of window film classes and densities catering to all budgets or car models. So what are you waiting for? If you have a new car, get yours tinted now at FM7!
Highlights
Uses nano-ceramic material
Tough, durable, visible, and stylish
Protects from UV and IR rays
3)  Kiwi Tint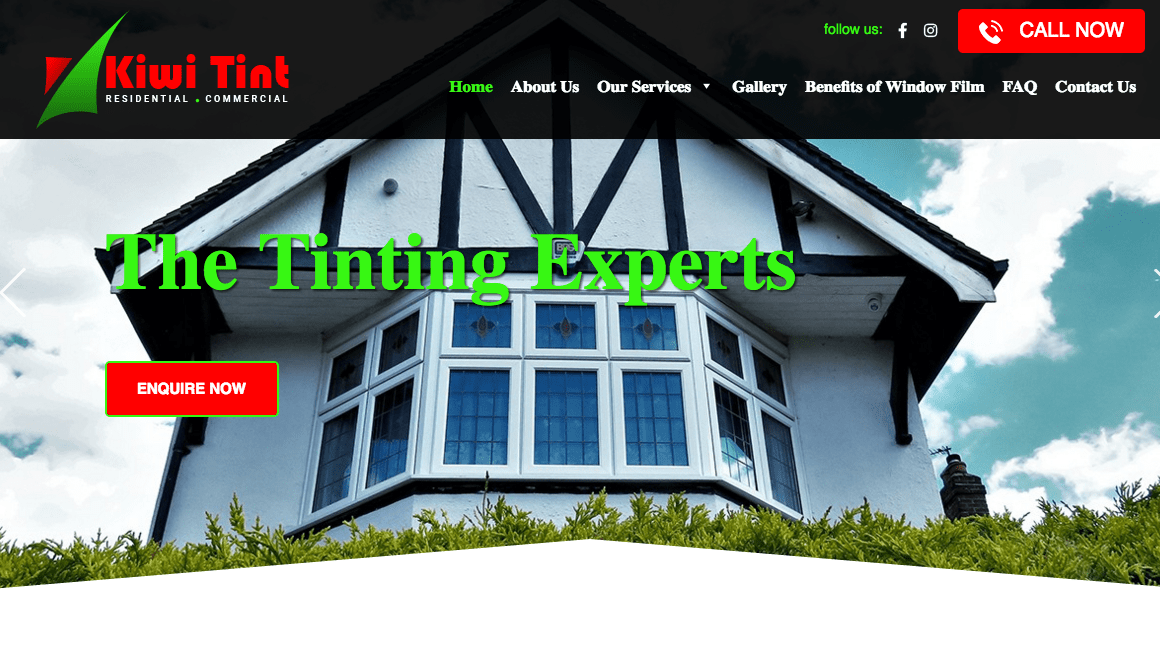 | | |
| --- | --- |
| Areas covered | Auckland-wide |
| Services | Car Tinting, Residential Tinting, Commercial Tinting |
| Address | 5, 7a Vernon street papakura, Auckland 2110, New Zealand |
| Contact no | 0225344202 |
| Website | https://kiwitint.co.nz/ |
If you are looking for a trustworthy and experienced team, look no further than Kiwi Tint. They specialise in private and commercial window tinting all over in Auckland.
Whether it's just a little frosting at home or large window tinting in the office, they always bring the highest standards for you. Honesty and efficiency make up their core values as a whole.
Most of the tinting that they do is to fix cases where the sun is directly disrupting an employee's work. They tint those windows in a way that can recover the productivity of the team.
Highlights
Experienced tinters
Honest to clients
Offers residential and commercial units
Customer Reviews
From Facebook, Faletaogo Pine said just after having Kiwi Tint service their windows:
"… Firstly I was very impressed with their customer service Kiwi Tint allowed me the opportunity to complete my windows in segments to accomodate my budget. Kiwi Tint standard of work is of high professional standard,very efficent, cleaned, sharp elegant tint. My windows look amazing very private and sleek. I highly recommend their service you will not be disappointed. Appreciate your work KT."
4)  Tint-It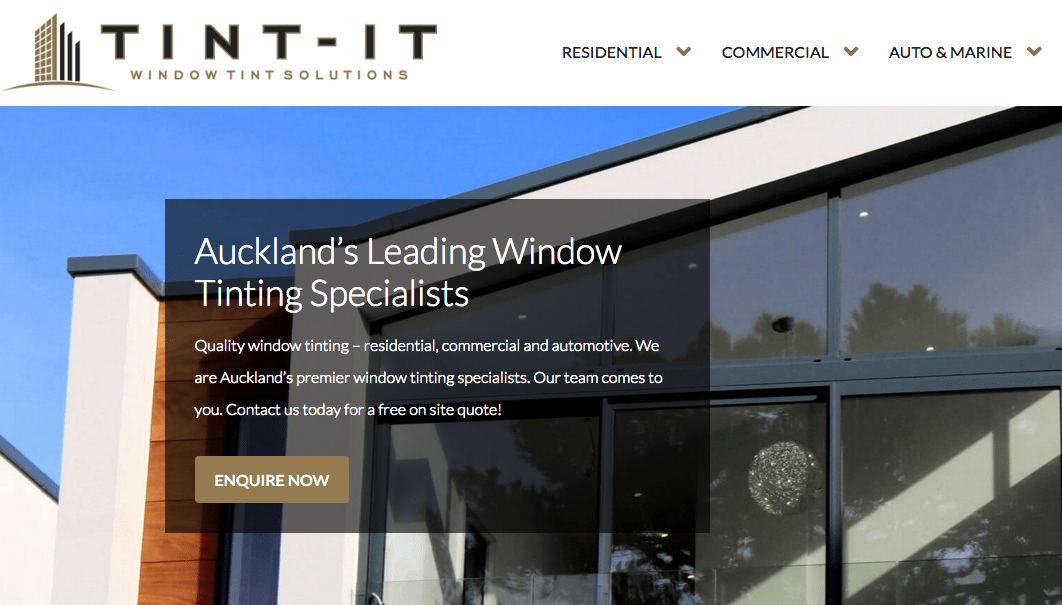 | | |
| --- | --- |
| Areas covered | Greater Auckland area |
| Services | Residential, Commercial, Automotive, and Marine Tinting |
| Address | Auckland, New Zealand |
| Contact no | 0800 636 654 |
| Website | https://tintit.nz/ |
Tint-It is your one-stop solution to providing excellent workmanship and affordable rates. They offer a complete range of services for automobiles, boats, homes, and offices.
Your vehicle can be tinted with a special UV-resistant material or break-resistant security glass protection. For your home, they offer frosted glass, safety glass protection, and heat-resistant tinting.
How are they one of the best window tinting specialists in Auckland? It's because they have a decade of experience and their products have superior function, versatility, and competitive rates.
Highlights
One-stop tinting solution
Full range of services
Affordable rates
Functional window tints
5)  Unique Tints & Wraps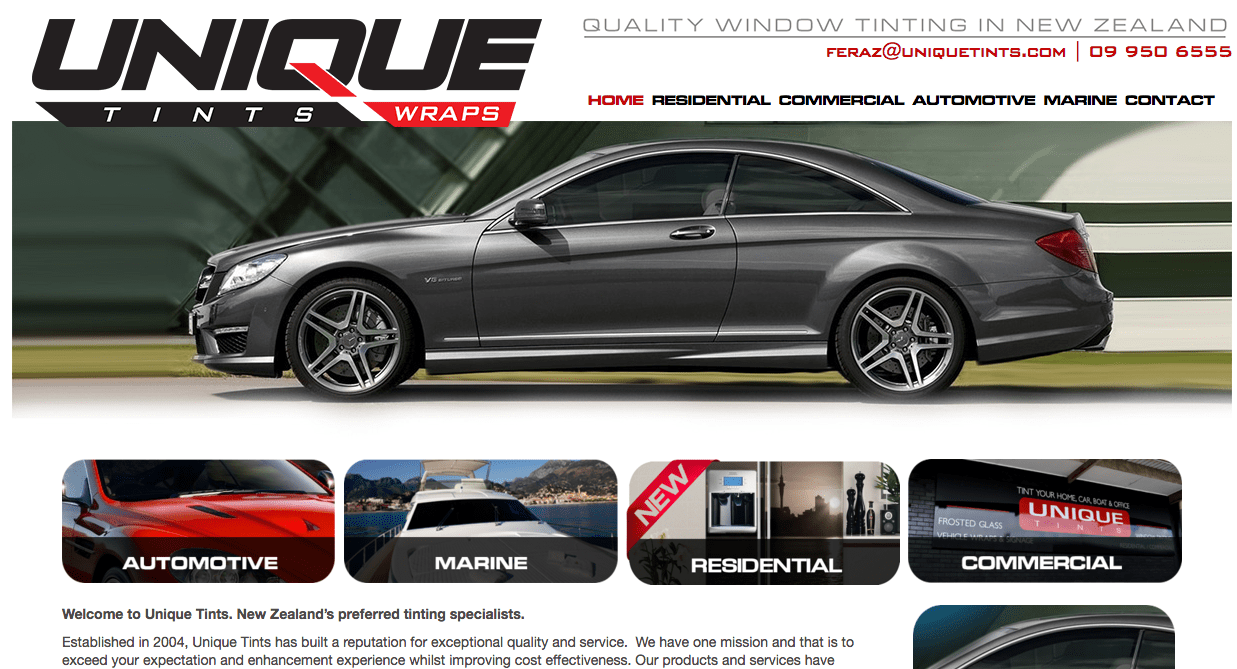 | | |
| --- | --- |
| Areas covered | Throughout New Zealand |
| Services | Residential, Commercial, Automotive, and Marine Tinting |
| Address | 155a Wairau Road, Glenfield, Auckland 0627, New Zealand |
| Contact no | 09 950 6555 |
| Website | http://www.uniquetints.co.nz/ |
Unique Tints and Wraps is focused on giving you an amazing experience. It was formed in 2004 by Feraz Nakash who has a passion for handsome vehicles and additions that make any car even more stylish.
They install window films that block UV rays (be it for cars, yachts, or buildings), make it cooler or warmer inside, let you be safer while driving or steering, and offer privacy.
Aside from windows, they can tint the head and tail lights of a car and also wrap it with decals. Its remarkable products, workmanship, and competitive pricing have made this company one of the best window tinting specialists in Auckland.
Highlights
Experience-centred
Outstanding quality and workmanship
Comprehensive range of services
UV and glare protection
Customer Reviews 
Rina Waaka was amazed by the service and wrote a Google Review:
"I totally recommend these guys for your tints l got my Holden Barina done on Friday they definitely know their stuff great bunch of guys quick & efficient Thanks guys l absolutely  ? my tints. It cuts the glare from the sun ☀ down heaps And it is not expensive either. So get in touch with Feraz & he will hook you up with his awesome team."
6)  Auto Expert

Areas covered
Auckland-wide
Services
Car Window Tinting, House Window Tinting, Commercial Window Tinting, Marine Window Tinting
Address
198 Richardson Road, Mount Roskill,

Auckland 1041

Contact no
64 21 216 3492
Website
https://autoexpert.co.nz/
Window Tinting Auckland provides professional tinting services with the promise of one-hundred percent satisfaction and a ten-year warranty on all products. Whatever package or service you choose, you can be sure its team will be quick to provide.
Their seven years of experience guarantee nothing but swift and excellent performance. Whether it is your car, your home, or your office that needs its windows tinted, the Window Tinting Auckland team will handle everything without making you worry about time or quality.
Contact them today to achieve a sense of style and protection for your windows. Neither you nor your pockets will be disappointed!
Highlights
7 years of experience in the industry
Products have 10 years warranty
Wide array of services
5 star rating
Affordable price
Customer Reviews 
Here's a review of a satisfied client on Facebook:
"Romi did a great job on my Nissan Skyline Sedan!! Great price, quality tints, very professional and friendly guy!! He uses only the highest grade product. No cutting corners, he took his time and made sure the tints were perfect! My windows look very sleek and private Very satisfied and highly recommended!!!"
7)  Suntrol

Suntrol takes pride in their professional workmanship. Their aim is to continuously pursue customer satisfaction.
As a proud member of the Window Film Association of Australia and New Zealand, there's no doubt that they're one of the best in the industry. Don't hesitate to contact Suntrol for any of your window tinting needs.
Highlights
Lifetime Warranty Residential
12years Warranty Commercial
Customer Reviews
Here is a review left by Sarina Clark:
"Fast efficient service, they did a top job tinting our home, it looks great! reasonable pricing, we looked around for the best deals before we chose to go with Sunstrol and we're very happy we did. I didn't expect it to look so good !! Highly recommend these guys. Thank you for your service"
8) Kellan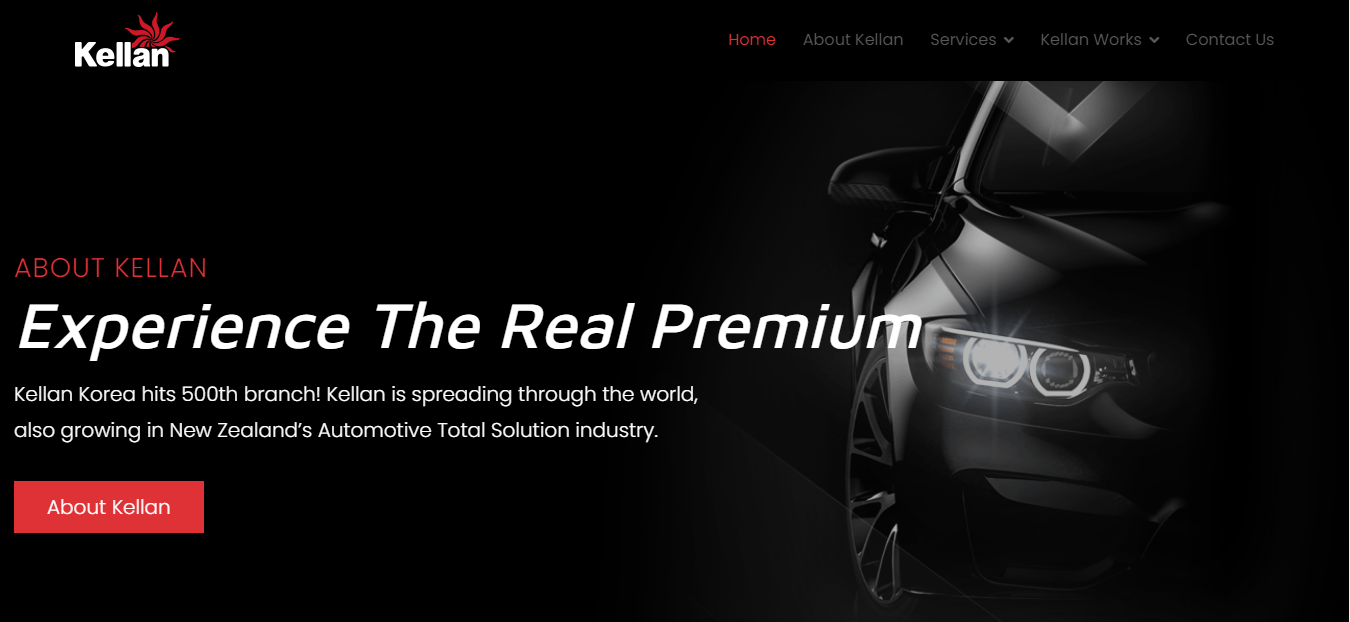 Areas Covered

New Zealand

Website

http://www.kellantinting.co.nz/

Address

5/15 Ashfield Road, Wairau Valley, Auckland 0627

Contact Details

+64 21 791 008

Operating Hours

Monday – Friday: 9:00 AM – 5:00 PM

Saturday: 9:00 AM – 3:00 PM
Kellan is a South Korean brand that has catapulted its signature products to the whole world. It now has 500 branches worldwide, four of which are scattered around New Zealand. 
Kellan offers four signature films that are each made from 100% nano ceramic. With this material, Kellan's home and car window tints provide aesthetics and privacy as well as UV protection, energy efficiency, and high visibility.
Its four different products are named Kellan Bronze, Silver, Gold, and Diamond. These four have the same 99% UV protection but have varying levels of heat rejection and glare reduction.
Aside from these specification differences, these four products also have different warranty periods. The bronze only has a 7-year warranty while the three others have a limited lifetime warranty. 
With these many options, Kiwis can choose just what they need for a price they can afford.
Highlights
Four different levels of tinting

Nano-ceramic made

Energy-efficient and glare-reducing

Up to a lifetime warranty

Globally-recognised product
Customer Reviews
Here are some customer reviews that praise Kellan for its products and services:
"Great place for window tinting. Boss show me all the different type of film and explain the function. He took good care did a great job on my Porsche Panamera. Clean and tidy. Highly recommend to everyone."—Francis Chan
"A+++ service. Very professional and knowledgable. The owner took me through the entire process before starting work. Showed me the different films available and demonstrated the differences. Pricing was clear and no pressure. Highly recommended for all your tinting needs."—Marko Fogl
9) Xpert Window Tinting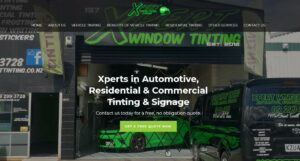 Areas Covered

Auckland

Website

https://xperttinting.co.nz/

Address

197a Great South Road, Takanini
Auckland 2112

Contact Details

09 299 3728

Operating Hours

Monday – Friday 8.30am – 5.00pm
Saturday 9.00am -12.00pm
Sunday by arrangement
If you're from the Takanini area, you've likely come across numerous window tinting companies. However, the next one on our list is known for serving not only Takanini but the entirety of Auckland for several years now.
Xpert Window Tinting & Signage, as the name suggests, works with various window tints and signages. The company is known for its prompt, professional, and reliable services, having proven itself by constantly providing quality work since the time it first opened its doors to the public.
Now, Xpert Window Tinting & Signage may be based in Takanini, but the company has mobile services that can serve Auckland at large. In fact, it offers its services from Whangarei to Hamilton, as well as every area in between.
It's worth noting that the service area isn't the only reason why Xpert Window Tinting & Signage comes highly recommended.
We also enjoy the fact that the company caters to all brands, makes, and car models. Plus, it takes into consideration if the vehicle has previous tints, and does its best to accommodate all customers.
Highlights
Caters to the entirety of Auckland
Excellent tint durability and scratch resistance
Low reflectivity
Works with different tint brands
10) CAR TINTING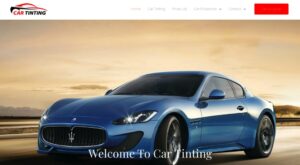 | | |
| --- | --- |
| Areas Covered | Auckland |
| Website | https://cartinting.nz |
| Address | New Zealand |
| Contact Details | 027 213 4651 |
| Operating Hours | Contact for more information |
When it comes to car tinting, or any car services for that matter, it's best to work with professionals who will treat our vehicles as if its theirs. Fortunately, that's no trouble for the next company on our list.
CAR TINTING, as its name suggests, is a car tinting company that can offer various shades of tints, up to the legal darkest shade in New Zealand. Typically, getting one's car tinted at CAR TINTING will take around an hour and a half, although some complications, like old tints, may run the clock longer.
It's worth noting, however, that the wait is absolutely worth it. Tints from CAR TINTING offers exceptional heat rejection and increased privacy while reducing dangerous glare. It also provides a high level of fade resistance to help keep your car interior looking new for years to come.
Clients looking to have numerous cars tinted at the same time or for the same invoice will be happy to know that CAR TINTING also offers discounts for large orders.
All in all, the quality of work that CAR TINTING has to offer makes it a viable option for those in the Auckland area.
Highlights
Caters to the entirety of Auckland
Quality tint that lasts for years
Discounts offered for multiple car tints
And that's all for the best window tinting specialists in Auckland. You can keep out the harmful ultraviolet rays and get privacy in your car, home, and office by letting these experts install tints.
Do you have any questions so far about this topic? Ask us anytime by sending us a message and we'll get back to you soon.
And while you're letting them tint your residence, a little refresh of your property might not be so bad. For this you may want to read about the best house painters in Auckland.