Best Car Finance Companies in NZ (Auckland): Deals Reviewed
Image Credit: NZCU South
Looking for the best car finance companies in NZ for fantastic deals to get the car of your dreams? Well, you're just in time, as we are featuring reliable companies for car finance in Auckland!
We selected the car finance dealers in Auckland that offer great interest rates and flexible finance options. Furthermore, we picked those who employ experienced car financial experts and have lots of positive customer reviews.
Without further ado, here are the companies that offer motor vehicle finance in Auckland.
The Best Car Finance Companies in NZ (Auckland) Reviewed:
1)  Go Car Finance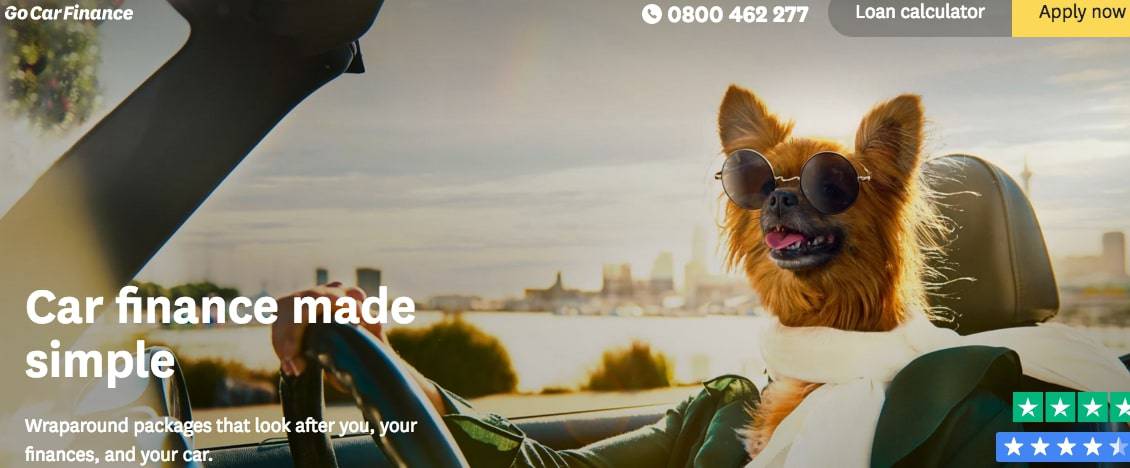 BEST FOR
Fantastic communication
SERVICES
Prebuilt & Tailored Car Ownership Plans
WEBSITE
https://www.gocar.co.nz/
ADDRESS
Level 2/135 Broadway, Newmarket, Auckland 1023, New Zealand
CONTACT DETAILS
0800 462 277
OPERATING HOURS
Monday – Friday: 7.30 AM – 7.00 PM

Saturday: 8.00 AM – 4.00 PM
Go Car Finance helps finance your way behind the wheel in a simple and convenient way. They offer prebuilt and customised car finance plans in NZ (Auckland) for their clients.
They'd rather not think of themselves as a car finance company, but as a car ownership company because they promise a long-term commitment to their clients.
This includes things like managing car repairs and maintenance, licences, insurance, and more. With Go Car Finance, you can expect a full service from their super-friendly team of professionals.
Besides this, their customer service is one for the books. Based on customer reviews, they listen attentively to their clients' needs, treat them with the utmost respect, and go beyond the line of duty.
This made us consider them in our list of best motor vehicle finance companies in Auckland.
Highlights 
Offer prebuilt and tailored car financing
Super-friendly team
Comprehensive car service
Outstanding customer service
Customer Reviews 
Listen to this positive review written by Tesha M., one of Go Car Finance's satisfied clients:
"The call team were very helpful and spoken to me in a very kindly matter, they called me back if I couldn't get through on the busy lines. Well done team and keep safe.???"
2)  Motor Vehicle Finance

One of the most reliable companies to call for the best car finance in Auckland has to be Motor Vehicle Finance. They offer end-to-end solutions and flexible repayment plans.
They offer great interest rates and even go as far as deducting $500 from your loan repayment if you find a company that offers a better rate than theirs.
A lot of clients praise the ease of service they've had with MVF. According to customer reviews, they were updated promptly and accommodated throughout the entire service.
With Motor Vehicle Finance, getting your dream car for your holiday trip in the country may be closer to reality than you think.
Highlights 
Great interest rates
Ease of service
Flexible repayment plans
Accommodating staff
Customer Reviews 
Check out this feedback from one of Motor Vehicle Finance's happy customers: 
"The whole process was made so easy and pain free
Samuel Pickering was plain and simply brilliant he made the whole application from start to finish so simple and went above and beyond to get my loan sorted as quickly and easy as possible."
3)  Kiwi Car Loans

BEST FOR
Smooth and efficient loan application process
SERVICES
Car Loans

Jet Ski Loans

Caravan Loans

Motorbike Loans

Boat Loans

Insurance

WEBSITE
https://www.kiwicarloans.co.nz/car-loans
ADDRESS
692 Great South Road, Penrose, Auckland 1061, New Zealand
CONTACT DETAILS
+64 800 008 888
OPERATING HOURS
Monday – Sunday: 8.30 AM – 5.45 PM
For easy processing with quick turnarounds, choose Kiwi Car Loans. They have a variety of cost-effective finance options for both used and new vehicles that can suit the needs of different clients.
Some of the loaning options they offer are secured and unsecured, business, self-employed, and private sale loans. They work in partnership with respected lenders to speed up your loan approval.
The process is smooth and totally stress-free, according to clients. A personable and helpful team is ready to assist you from consultation to getting you your car, including insurance and warranties.
Hands down one of the best car finance deals in Auckland if you want hassle-free financing.
Highlights
Quick turnaround
Works with respected NZ lenders
Cost-effective finance options
Personable and helpful team
Customer Reviews 
Find out what one client, Art M., wrote in his review on Kiwi Car Loans's services:
"Hi there. I would like to say thank you for the great service, I have been dealing with Kiwi Car Loans since 2018. They help me to buy few cars and motorcycle.Great company to deal with, also I would love to emphasize how they professionally approach all customers' s cases. In addition, I can not forget to mention the best manager there (based on my opinion) who is Rachael Tillart."
4)  Rides2Go Ltd

BEST FOR
Used car finance
SERVICES
Auto Sales

Finance

WEBSITE
https://www.rides2go.co.nz/
ADDRESS
24 Dalgety Drive Wiri, Auckland, New Zealand
CONTACT DETAILS
+64 9-266 3333
OPERATING HOURS
Monday – Saturday: 9.30 AM – 6.00 PM
If you're looking for finance options for used cars, Rides2Go is the company to call!
Some finance companies in NZ and around Auckland decline car loan applications from people who only have a learner's licence or a bad credit history. But with Rides2Go, you don't have to worry as they can provide you financing solutions that are fit for your needs.
The dealers are very kind and friendly and will help you find a suitable car for you. Also, Rides2Go promises a quick and seamless car loan application process.
As one of the most reliable companies for car finance in Auckland, they will surprise you with how easy it is to have your desired car!
Highlights 
Used car finance options
Kind and friendly dealers
Doesn't matter if you have good or bad credit history
Quick turnaround 
Customer Reviews 
Felisha H. shared this review of her experience with Rides2Go on Google Business:
"The team has made my 1st time experience buying my own car as smooth as it can be! It was simple, straight forward and I absolutely Loved the communication and customer service, they know how to do their research and found the best finance company that is suitable for me regarding my income, I highly recommend rides2go for any 1st time buyer or anyone trying to buy a car! Big ups to the team! Keep up the mean as work!"
5)  Max Loans
BEST FOR
Maximum service with minimum fuss
SERVICES
Fixing Bad Credit Loans

Business Loans

Car Finance

Classic Car Loans

Debt Consolidation Loans

Emergency Loans

Holiday Loans

Home Improvement Loans

Mortgages and Home Loans

Secured Personal Loans

Unsecured Personal Loans

Wedding Loans

WEBSITE
https://www.maxloans.co.nz/car-finance
ADDRESS
27/27-29 William Pickering Drive, Rosedale, Auckland 0632, New Zealand
CONTACT DETAILS
+64 508 629 5626
OPERATING HOURS
Monday – Friday: 8.30 AM – 5.00 PM
Since 2012, Max Loans has been helping Kiwis throughout New Zealand to secure personal loans. They make it a point to understand and listen to their clients' needs and provide the best finance options for them.
Promoting strong lender-borrower relationships, their car loan brokers can find you the best option with low interest rates. In addition, they provide higher rates for loan approval.
Repayment plans can be spread out for up to seven years, so you can opt for more flexibility when it comes to repayment amounts. Just keep in mind your budget limit in order for you to settle the loan without issues.
Best of all, they'll give you maximum service with minimum fuss. And because of that, they're one of the most trustworthy companies for car finance in Auckland! 
Highlights
Fast and simple loan approvals
Strong lender-borrower relationships
Competitive interest rates
Customer Reviews 
Naia-Jayne B, a Max Loans client, shares her positive experience in dealing with the company: 
"The team have been awesome excellent service great communication very helpful and a pleasure to deal with.A massive thankyou to Madhav."
6)  Logic Finance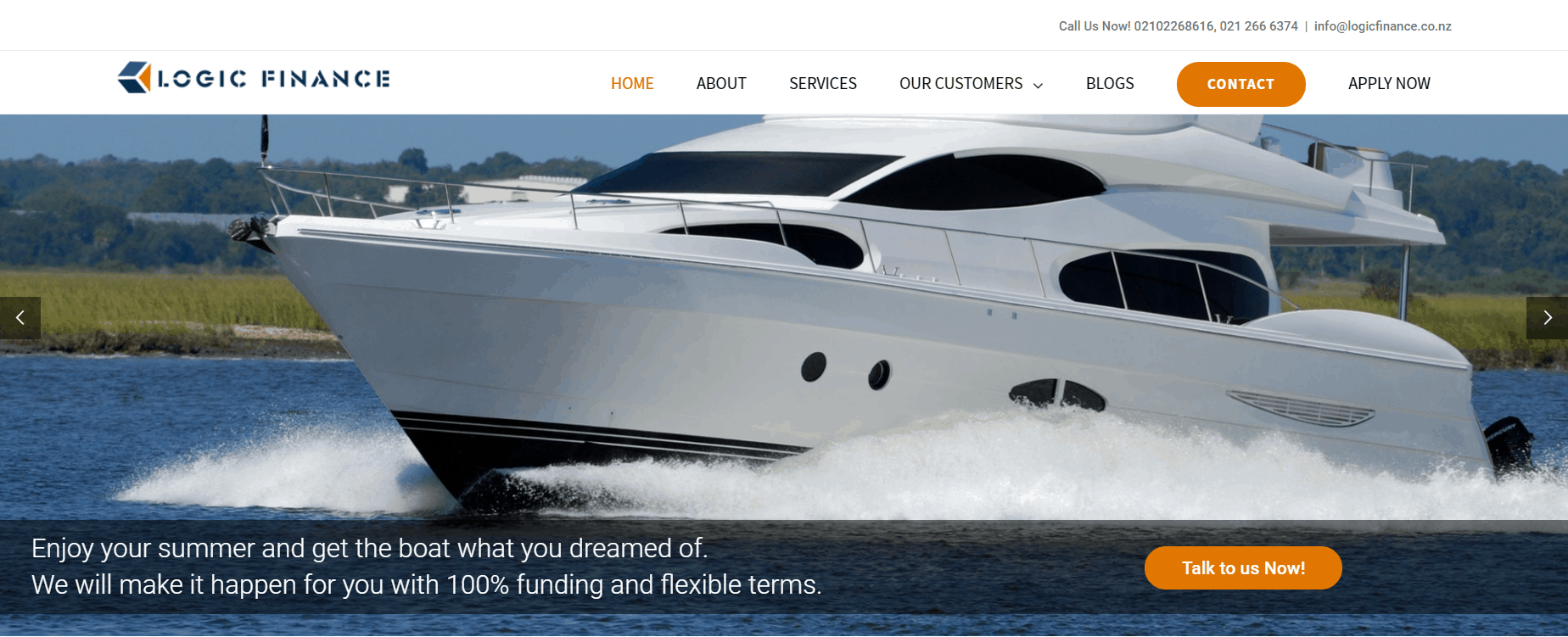 BEST FOR
Wide Range of Financing Services
SERVICES
Residential Property Finance, Commercial Property Finance, Motor Vehicle Finance, Boat and Jetski Finance, Business Working Capital Funding, Insurance Funding
WEBSITE
https://www.logicfinance.co.nz
ADDRESS
2/208 Great South Road, Papatoetoe
CONTACT DETAILS
02102268616
021 266 6374
[email protected]
OPERATING HOURS
9 AM – 9 PM daily
Logic Finance offers a diverse set of financing services, from home loans to business financing and everything in between. For vehicle financing, they can accommodate not only cars, but also boats, yachts, and jetskis.
Their team of expert professionals aren't focused on maximising their profits, but instead prioritise providing the best funding solutions for their clients. This means your car financing comes with the most suitable rates for your situation– no risk and no catch included.
They have a large and continuously growing network of lenders around the country to choose from. They aren't linked to any specific lenders either, which means they can provide financing options that are objectively evaluated with their clients in mind.
Finally, these solutions come with flexible terms that can be adjusted in case of sudden changes in your finances. Given their client-oriented solutions and excellent team, Logic Finance can serve as a reliable car financing partner in Auckland for any client that approaches them.
Highlights 
Client-oriented funding solutions
Extensive financial services
Flexible terms
Not linked to a specific lender
And that's it for our list of companies for car finance in Auckland. With flexible repayment plans and excellent rates, they can help you get closer to getting the car of your dreams.
Did we miss out on other great car finance companies? If you have any suggestions or comments for our list, comment down below and we'll get back to you.
And if you want to get more financially savvy, you may want to check our list of the best finance advisors in Auckland.
Alternatively, you can just rent a car to travel around NZ instead of actually buying one. If you're interested, check out our list of the best car rental services in New Zealand.