Our 6 Picks for Car Insurance in NZ
Image credit: Stuff.co.nz
Cars cost a fortune to be repaired or replaced, whether it be due to accident, theft, or other unforeseen circumstances. Therefore, to protect your vehicle, we've featured car insurance in NZ you can get.
Policy prices vary a lot between insurance companies, as well as the features and perks. That being said, you might be at a loss on which policy you should get.
To help you out, we prepared a guide below containing all the criteria you should consider when looking for car insurance. This will help you pick out the car insurance that's right for you.
After that, we'll be listing car insurance in NZ. So let's begin!
How to Choose a Car Insurance Policy
Choosing the right car policy helps protect your car from particular situations. It will give you peace of mind whenever you are driving.
However, before buying a car insurance policy, there are several things to consider.
1. Type
Below are the three types of car insurance policies you can get:
This plan fully protects your car from all sorts of damage, including accidents, fires, weather damages, and crime. This can also help you if you've accidentally damaged someone else's vehicle.
Depending on the insurer's policy, you can get courtesy car covers, roadside assistance, vehicle removal, keys and locks, windscreen covers, and others.
Third Party, Fire, & Theft
With this type of insurance policy, you are limited only to fire and theft cover, with no cover for accidents. Also, the policy leaves out the less important extra options.
Less costly than a comprehensive plan, this is excellent for those who are careful drivers with mid-priced cars who want protection against fire or theft.
This is the least cover that you're going to get of the three. A third party plan only covers the damage you cause to another person's car and property.
For instance, if you accidentally run into your neighbour's car and damage his fence, all of these are covered. However, damages to your car won't be covered.
Hence, third party insurance is a good option for cheap cars that can easily be replaced.
2. Prices
Insurance prices differ around New Zealand. For example, Auckland and Christchurch have higher car policy rates compared to Invercargill and New Plymouth.
Your car make, model, and specifications, as well as your age, gender, and car accident record, play a big part in determining a higher or lower premium.
Where your car is parked or stored and whether your car is for personal or business use will also be considered.
As such, don't forget to shop around for car insurance before buying one.
3. Benefits
General benefits that you're going to get are already shown on the insurer's website, including excess fees and discounts.
You should also read the Terms and Conditions to ensure that you're covered in things that are important to you. Also, these let you know your limitations and exclusions.
As a result, you can prevent unwanted, stressful problems in the future.
While most insurers offer higher excess for their comprehensive plans, some have lower. Lower excess comes with a higher premium fee but it still depends on your choice.
4. Customer Service
In buying insurance, we naturally have questions or need to clarify something about our policy.
It helps to have your questions answered promptly without waiting for more than a few days. The process should be easy and seamless too, whether done in-office or online.
5. Discounts
Some insurance firms give you special discounts if you own multiple policies from them or are a member. These will lower the premium for each month.
You might also have heard about no-claim bonuses in car insurance terms. This simply means that if you don't make a claim for a set period, you'll get sweet discounts.
Car Insurance in NZ
Now that you know how to select a car policy, allow us to show you car insurance in NZ.
1) AA Car Insurance
For Car Insurance with a Simple Process

Based on the results of moneyhub.co.nz's survey, AA Insurance has some of the most impressive car insurance in NZ in terms of price.
They have cost-effective comprehensive; third party, fire & theft; and third party options.
Their comprehensive plan protects your car against accidental, theft, and fire damage. Likewise, towing, storage, and transport and damage caused by an uninsured party or to someone else's property are included.
You can choose whether or not to avail additional options such as excess-free glass cover or rental cover. Rental Cover lets you drive a temporary car in the meantime while your personal car is being repaired.
Plus, if you decide to make a claim, their dedicated team will guide you through the process, making it simple and pain-free.
Pros
Cheap rates for premium cars
Simple and pain-free process
Great-value plans
Dedicated customer service
AA member discounts
Cons
Customer Reviews
AA Insurance policyholders say that the team is prompt and always ready to assist them. In addition, the policy has excellent, competitive prices.
Ruth, one client, said this:
"Am currently looking to insure house, car and contents, have to say AA Insurance have been superb so far in terms of responding quickly, delivering highly competitive pricing and an assurance that they live up to their high ranking for all insurances…"
Moreover, Karl wrote this review of AA Insurance. Note the nice no-claims benefit:
"So when I signed up with AA Insurance, I was stunned and impressed before I was even fully covered. The staff were friendly, very helpful, keen to go the extra mile, and even offered to give me the same no-claims bonus I had enjoyed due to nearly 8 years with my previous insurer… now that's gotta be good."
2) Cove Car Insurance
For Overall Car Insurance

With Cove Car Insurance, you can get an accurate quote within minutes and manage your policies online round-the-clock. No phone calls necessary.
Innovative and well-designed, Cove's car insurance policy offers plenty of useful benefits. These include covers against fire, accident, and theft; no fault-no excess; emergency accommodation; new car cover; and keys and locks.
In the event that your car can't be repaired or recovered, you will be paid the vehicle value agreed upon.
You can also select the add-ons that you want. Among them are courtesy car hire, excess-free windscreen, and roadside assistance.
One tip for a cheaper policy is to get a higher excess from them. Although your excess will be higher, the monthly premiums you'll have to pay will be less.
Finally, there is no long-term commitment as payments are by the month. Therefore, you won't be stuck with a policy that you're dissatisfied with.
Pros
Affordable comprehensive insurance plan
Manage your policies online 24/7 through My Cove
Refreshingly simple process
No fault, no excess
Pay by the month
Attentive and customer-focused staff
Cons
Some clients complained of denied claims
Customer Reviews
Cove Insurance is highly acclaimed by reviewers for their cost-effective prices and extraordinarily simple process.
One client wrote this feedback:
"It is very easy to apply the car insurance through the web site. And it 40% cost down as compare to previous company."
Here's one more from another policyholder:
"Buying car insurance is a real grudge purchase… but like a good dentist, Cove made the process completely painless… and at a good price."
3) Ami Car Insurance
For Car Insurance for Reliable Service

Enjoy amazing car insurance benefits with Ami Car Insurance. Some of the benefits include a no-claims bonus for drivers under 25 years of age and $100 excess options.
Ami offers three plans to cover your car: comprehensive insurance (full cover); third party, fire, & theft; and third party.
Full car coverage consists of theft, collision, storm, and fire damage; $20,000,000 legal liability to pay for the repair or replacement of your vehicle; a transport home; no-claims bonus; and a replacement car.
You can pick an excess that fits your budget—higher ones will lower your premium. Plus, if you've bought multiple policies from AMI, you get greater discounts.
Pros
$100 excess option
Online purchase takes less than 5 minutes
Competitive rates
50% no-claims bonus for drivers under 25
Multi-policy discount
Cons
Slightly higher price as opposed to others
Customer Reviews
Aside from having a competitive insurance product, clients say that AMI provides friendly, reliable, and polite service.
Wenyu, one customer, stated:
"The service from the staff is very well-recommended and the staff is very friendly, effective and helpful. Also, the rate for insurance is pretty good."
4) Trade Me Car Insurance
For Car Insurance for Easy Claims

Trade Me Insurance provides three levels of cover for private or business cars. You get an additional 15% discount if you are a Trade Me member.
They have comprehensive; third party, fire, and theft; and third party insurance plans. You can also opt for windscreen excess buyout, giving you cover for damaged windows.
For the comprehensive policy, your car will be appraised. The amount agreed on by you and the insurance company will be the total cover, should anything happen.
Depending on driver age and experience, you could get additional excesses. These can lighten your monthly premiums.
Furthermore, you will find it very simple to make a claim with them. All you have to do is complete the online claim form, and they'll handle the rest to get your car back in one piece.
Pros
Agreed value cover
15% discount for Trade Me members
Simple to make a claim
Could have additional excess
Cons
5) Tower Car Insurance
For Car Insurance for Value

If you compare car insurances in NZ, it's likely that Tower Car Insurance will shine. The company has lots of discount opportunities so make sure not to miss them!
For instance, two or more Tower policies will get you up to 20% less in your premiums. Type in the promo code you see on their site, and you might get Airpoints Dollars.
Not only that, their comprehensive insurance plan has a no-claims bonus and one-event one-excess. Add-ons include windscreen excess buyout and RoadWise Assistance, which gives you three callouts per year if your vehicle breaks down.
As good as their insurance plans sound, they also have things that they don't cover. They don't cover business vehicles particularly those used for taxis, deliveries, and ride sharing; as well as drivers with restricted or student licences.
Overall, they offer great policies and pricing that will secure your car against possible risks on the road.
Pros
Top-quality policies
Save up to 20% if you get 2 or more policies
Earn Airpoints Dollars on eligible policies
No-claims bonus
Optional RoadWise roadside assistance
Cons
Doesn't cover business vehicles
Customer Reviews
Tower Car Insurance offers fast and easy claim settlements and great service, according to clients. What more could you ask for with Tower's car insurance policy?
One client who made a claim for collision said this:
"Exceptional speed at which the claim was handled and settled."
Another claimant commented:
"I couldn't fault the service that you provided for me. Everyone I spoke to was very helpful."
6) Lifestyle Cover NZ 
For Car Insurance for Full Insurance Coverage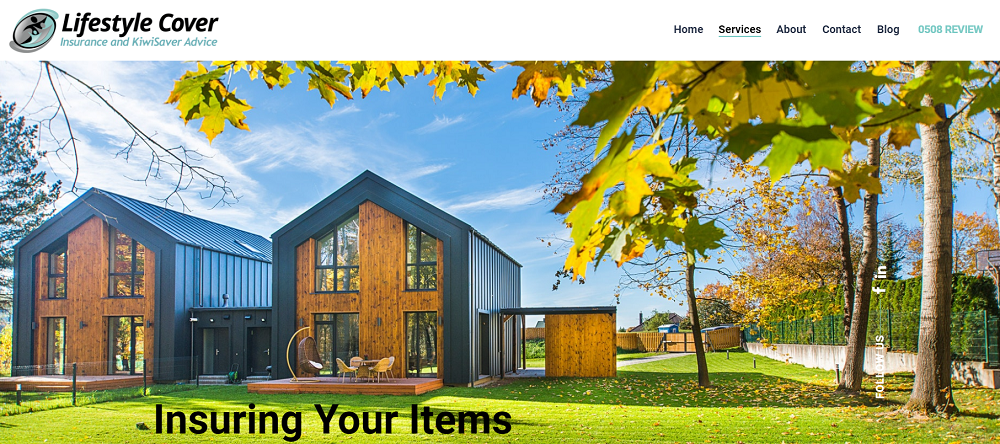 Lifestyle Cover NZ offers a comprehensive range of insurances that benefits you and your whole family. From private medical covers and life insurances, to mortgage protection and item insurances, the company is a one-stop solution to have you set for life.
For the item insurance, it includes any contents of the house like furniture, and any vehicle, may it be a car or a boat. This type covers fire accidents and theft.
Aside from this, they also offer assistance with maximizing your kiwisaver.
Lifestyle Cover NZ ensures that you won't have to worry about anything else in case there are unforeseen events. They'll help you set-up, grow, and protect your assets with only a few consultations. Make sure to contact them for any other inquiry.
Pros
Vast knowledge on different types of insurances
Professional team
Explains things simpler
Cons
Rates are higher compared to others
Customer Reviews
Lifestyle Cover NZ has received nothing but high praises from all of their clients. Their amazing guidance is surely one to take up on. Read the review left for Lifestyle Cover NZ:
"Thanks for your help with my Kiwi Saver and getting my Booster application done, it certainly makes life easier having you and your team there for advise & guidance. Would happily recommend your services to anyone." – Alastair Parker
And that's all for car insurance in NZ. Though the prices differ, you are certainly going to get value for money with them with your car coverage.
Do you have any questions, thoughts, or reactions about our list? If you've got one, please leave a comment below, and we'll get back to you as soon as we can.
Also, you may want to read about panel beaters in Auckland. They work with NZ insurance companies, including the ones we have here, to repair the wicked impacts on your car.