Our 5 Picks for Cashback Credit Cards in NZ
Intend to reap the rewards or cashback from your credit card spending? If so, we have your six, as we've listed impressive credit card rewards in NZ for you here.
You can find a lot of cashback and reward cards out there. That's why it can become a complex task to pick one, as the credit cards cater to different needs and spending levels.
Below, we wrote a short guide to help you find the right card for you so you get value. But you can freely skip to the main list of cards we picked out as commendable options, if you want.
How to Choose a Reward or Cashback Credit Card
Most credit cards are both reward and cashback cards, while others are either cashback or reward cards.
Knowing how much you spend per year and what sort of reward you want to get will give you a general idea of what card you should apply for.
Moving on, here are some things you should know about a reward or cashback credit card:
1. Spend Amount
Before you apply for these cards, a great rule of thumb is that you should be spending $5,000 a year, or earning at least $35,000 per year to get value from the credit card.
If you don't spend a lot, you don't get rewards, not to mention you have to deal with the high card rates and fees. In this case, a debit or store card might be better for you.
Furthermore, if you're struggling to repay your monthly balance, a low-interest card may be more suitable instead… and besides, it has a great zero-interest deal.
2. Reward Points / Cash Rewards
Reward points are different from one card to another. A reward card can offer True Rewards, hotpoints, Purple Dollars, or Flybuys.
It's ideal to pick a reward card that of course lets you earn points or cashback faster. For example, 1 True Rewards Dollars = $100 spend or $1 Cash Reward = $150 spend.
You can redeem the points in partner stores, fuel stations, groceries, and eateries, as well as online. Some reward cards even let you fund your KiwiSaver scheme, or donate to charity.
The advantage of True Reward Dollars over hotpoints is that they never expire. Hotpoints expire in a matter of 3 years after they are earned.
3. Interest Rate
Contrary to low-interest or free (annual fee free) credit cards, the interest rates for reward or cashback cards have an average of 20% p.a. or above.
That's because you get benefits or cash rewards. Since low-rate cards mostly have no rewards, the savings are transferred to you.
For any credit card, the lower the interest rate, the better—especially when you use it for purchases.
4. Annual Fee
Coupled with the interest rate is the annual fee of the card. This is higher for cashback or reward cards for the simple reason that you get a variety of benefits.
The average annual fee amongst reward cards is $40 to $50 p.a. You should be wary of those that offer $0 annual fee but then make it $60 the following year.
5. Repayment
Your monthly balance should be settled consistently to avoid any interest charges or the possibility of sabotaging the rewards you've earned.
6. Security Features
You should find a card that gives you the ability to temporarily block your card, if your card is lost or stolen.
It's also best if you get a card for which the customer service team can contact you and notify you of any unauthorised charges made. Most such cards also allow such teams to block it for you.
Cashback Credit Cards in NZ
Now that you know the fundamentals, here are cashback credit cards in NZ.
1) Westpac Hotpoints Mastercard Reward Card
For Reward Card for Luxury Rewards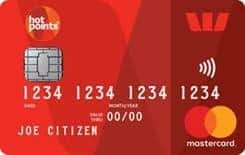 There are a myriad of rewards that you can redeem with the Westpac Hotpoints Mastercard. Whether you're a light or extravagant spender, you will enjoy this reward card.
A $1 spend earns you 1 hotpoint. Having 4800 points allows you to redeem Avanti stainless steel straws and TacklePRO premium fishing hooks, while 60,000 lets you avail of a MGX P1 Pro Scooter and KitchenAid4 Toaster with the colour of your choice.
They even let you redeem headphones and Samsung tablets, though they seem to be impossibly expensive. You can also redeem travel vouchers from them, by the way.
Aside from the hot points craze, the card has a low annual fee of $44 per year. It also has a nice 5.95% interest rate, already for the life of the balance transferred.
Pros
You can spend hotpoints on vouchers, merchandise, and more
Low annual fee
55 days interest-free purchases
CardGuard fraud protection
24-hour emergency card assistance
Cons
High purchase rate
Although the rate is 5.95% for the life of the balance transferred, it's still relatively high
Customer Reviews
As per the Point Hacks website, the Westpac Hotpoints Mastercard has a 0.5% cashback rate based on 200 hotpoints worth $1 value.
The hotpoints are spent on helloworld, House of Travel, Flight Centre, and YOU Travel. Most customers were pleased by these options.
Also, Point Hacks reviewer Daniel concluded this about the credit card:
"The Westpac hotpoints Mastercard is a no-frills entry-level credit card that offers the ability to earn hotpoints from everyday spend, with no earnings cap.
All things being equal, the hotpoints programme is competitive with Air New Zealand Airpoints, as the points are flexible and can be redeemed for seats on any airline via either credit for direct purchases, or using gift cards with a range of travel agents."
2) ANZ Cashback Visa Card
For Cashback Card for Ordinary and Elite Spenders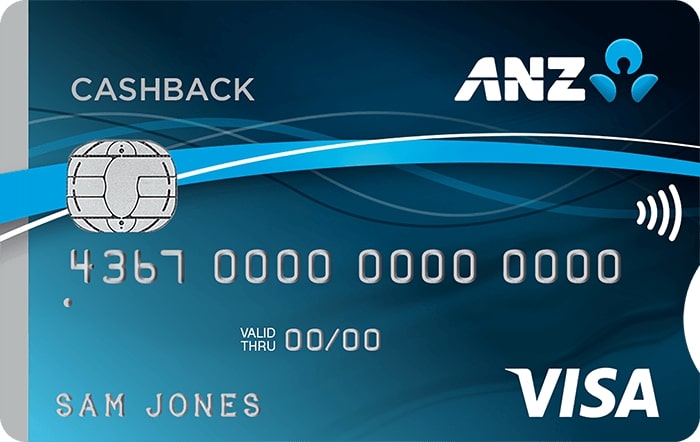 ANZ Cashback Visa offers a value 0.5% cashback between $5,000 to $9,999 and 1% for $10,000 to $30,000. You can spend only up to $30,000 in a year.
For $9,999 you get $49.99, while for $30,000 you receive $300 cashback. This is a reasonable offer for getting your cashback, based on our review of the market.
These funds will automatically be credited to your ANZ Cashback card account, by the way. That will be following the anniversary of getting your card.
With contactless payment, you can rest assured of a secure transaction. The card won't leave your hands — you only have to point the card towards the terminal.
What's more, the interest rate is 19.95% slightly lower than that of the Westpac Hotpoints Mastercard. However, note that the annual fee is $60 per annum.
Pros
Up to 1% cashback on eligible purchases
19.95% interest rate
Apple Pay and Google Pay enabled
Visa Zero Liability
Contactless payments
Auto-credits the cash to your card
Cons
Annual fee is a bit higher than the others on our list
3) ASB Visa Rewards Card
For Reward Card for User-Friendliness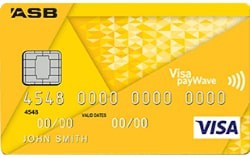 Whether you want reward points or fuel discounts, the ASB Visa Rewards Card is an excellent option. It opens up a whole new world of savings and discounts.
Every $1 spend is equivalent to 1 True Rewards Dollar. For every $75 spend, you receive 1c off per litre in gas stations.
If you are a traveller, you can cash in your reward points at the House of Travel. You can book a flight, rent a campervan, stay in a lovely hotel, and more.
You can even be flexible with how you use the points. For instance, you can donate to a charity, transfer to your friend's account, or fund your KiwiSaver scheme.
Apart from that, you can temporarily lock or block your card in case it has been lost or stolen. You can also view your purchases in real-time via the FastNet Classic internet banking or ASB mobile app.
Pros
You can choose between True Rewards and AA Smartfuel discounts
Lock or block your card as needed
Manage your account via internet banking or app
Allows you to spend your reward points on travel, KiwiSaver scheme, in-store, or online
Can redeem rewards in an array of partner stores
0% fixed balance transfer for 6 months
Cons
High cash advance rate of 22.95% p.a.
4) Purple Visa Card
For Shopping Reward Card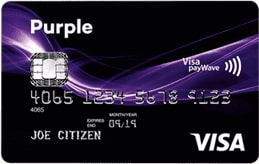 If you're a regular The Warehouse shopper, you might like to apply for a Purple Visa Card. It's a reward and cashback card with a fast-earning Purple Dollar system.
It awards you 1 Purple Dollar for every $150 spent on everyday purchases, or for every $75 spent at the Warehouse. You can accumulate a lot of savings this way.
Topping that would be 55 interest-free days for short-term buys, and zero-interest offers for long-term finances at participating retail shops.
Since it's a Visa card, it's accepted throughout New Zealand and abroad. Plus, when you pay, you can just wave and go with the card — it's truly effortless!
You should remember though that you have to make the monthly payment, or your hard-earned rewards will be affected.
Pros
Easy-to-earn Purple Dollars
Interest-free finance at participating retailers
55 days interest-free on purchases
Lets you wave and go with Visa Paywave
Accepted everywhere
24/7 online servicing
You can receive monthly special offers
Cons
Higher interest rate of 22.90% p.a.
Costly annual fee of $55
5) BNZ Advantage Classic Cashback Card
Most Versatile Cashback Card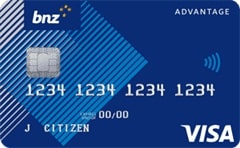 The BNZ Advantage Classic Cashback Card gives you the choice of being rewarded with Flybuys or cash. With low rates and fees, this card is quite handy.
The reward conversion is 1 Flybuy for every $40 spend and $1 Cash Reward for every $150 spend. Compared to others, the BNZ Advantage Classic gives you the most flexibility.
For instance, you can use the cash reward and contribute it to your KiwiSaver scheme, to put in your savings account, or lower your credit balance in the month.
Additionally, the Flybuys can be used to redeem from over 3,000 rewards at flybuys.co.nz, buy products at Flybuy retailers, and also for your KiwiSaver account.
There is an interest-free period of 55 days to settle your balance or buy more of what you want. The cashback card is also Google and Apple Pay ready for a contactless payment.
Pros
You can choose how you'd like to be rewarded: by flybuys or cash
Fair reward rate
$75 cashback or 500 Flybuys for $500 spend within the first 3 months
Light annual fee of $40
Up to 55 days interest-free
Google Pay and Apple Pay ready
Cons
High cash advance rate of 22.95% p.a.
Anyway, that concludes our list of credit cards with rewards in NZ! As you've seen, our featured credit cards will give you awesome value in every purchase.
Do you have any questions or opinions about the topic? If you have one, you can leave us a comment below, and we'll check it out as soon as we can.
And if you want to save more when buying things, a low-rate credit card will be perfect. In this case, you can read about low-interest credit cards in NZ.