Our 5 Preferred Credit Cards for Bad Credit in NZ
It's hard to apply for a credit card if you have a bad credit record. But if you're in need of a credit card because of an emergency, we've listed here credit cards for bad credit in NZ.
There is a great range of credit cards out there with varying deals, repayment terms, and prices. But how do you know which card you should apply for?
To help you with this, we've prepared a guide where we'll tackle the basics of bad credit credit cards and what you have to do to be approved. If you prefer, you can skip through this part to see our main list.
Anyway, we'll be presenting to you credit cards for bad credit in NZ. Let's start!
What to Consider in a Credit Card If You Have a Bad Credit Record
Your outstanding debts have to be settled before you apply for a new credit card. You should have a stable job and a decent income to have higher odds of being approved.
If you are in debt, chances are the low-interest credit cards are out of the equation. Thus, the card interests you can realistically get would be from 20% p.a.
In addition, here are the things you should consider before applying for a new credit card, given your bad credit history:
1. Zero-Interest Period
The first thing you should look for is if the card has a zero-interest period. This is so that you can repay your balance easier and purchase items without the interest.
The promotions are different for each card. Some require a minimum spend condition, whilst others give you 0% p.a. interest with no strings attached.
Aside from that, most cards give you interest-free days for 44 or 55 days. Note that this is distinct from 6 months zero-interest. So in a way, you have both perks to use.
2. Repayment Terms
You should pay your full month's balance or the monthly minimum by the due date. Besides, the earlier you clear your balance, the less you will have to pay for your credit card.
If not, your credit rating will be affected and you'll get a late payment charge. Hence, you have to make sure you can afford your repayments each month.
3. Interest Rate
Like we said, if you had bad credit before, chances are that the cards you can apply for are those with 20% p.a. interest rate or above.
Credit card issuers wouldn't want to take a risk on offering a low-interest card to people who have a history of not being able to pay on time.
However, you can improve on this. As long as you settle your payments every month, whether by full or the minimum, your credit rating will go up.
4. Annual Fee
Usually, the annual fee is high for high-interest credit cards. And so, you have to make the most out of your credit card every year to get the best value.
For a high-interest card, the annual fees can cost from $25 to more than $50. The annual fee payments have to be paid either half-yearly or yearly.
5. Application
There is no such thing as 'bad credit' credit cards with instant approval in NZ.
Before you apply, you can ask for credit information to know where you stand. You can also check for any mistakes that can be fixed so that your credit rating will improve.
It helps to have ironed out your current debts, borrowed amounts, and credit or store card bills too. This will show the credit card company that you can pay your credit on the card.
In case you are rejected, you have to wait for a few months before re-applying again. Applying hastily will only make you look desperate and will lessen your chances of approval.
6. Alternate options
Considering your situation, you should think about whether a credit card is actually right for you.
You can also apply for balance transfer cards. Or if you can't afford living costs or need financial assistance, you can enquire with Work and Income NZ.
Credit Cards for Bad Credit in NZ
Now that we've covered the basics, here are some of the credit cards for bad credit in NZ!
1) Q Mastercard Credit Card
For Zero-Interest Credit Card for Bad Credit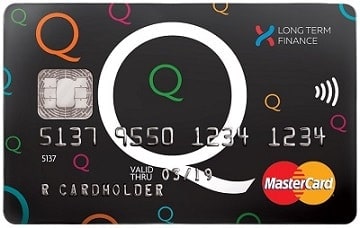 The Q Mastercard gives card members a solid 3-month zero interest, zero payments with no minimum spend. It has a number of benefits including long-term finance and Apple Pay.
Repayments have to be made by the end of 3 months to avoid the high-interest rate of 25.99% p.a. Minimum payments can be 3% or $10 of the statement balance, whichever is more.
The annual fee is $50 which is divided into two semi-annual payments of $25.
Another great feature is the card's interest-free deals and payment holidays. For example, if you're redecorating your house or buying a laptop, these long-term finance options will come in handy.
You can also use Mastercard both in-store and online, wherever it is accepted. Plus, with Apple Pay, you can make shop payments through your mobile phone.
Pros
3 months zero repayments and purchases
Can be used anywhere Mastercard is accepted
New and easy-to-use app
Payment holiday deals
Apple pay ready
Cons
Above-market interest rate
2) Westpac Low Rate Mastercard Credit Card
For Lowest-Interest Credit Card for Bad Credit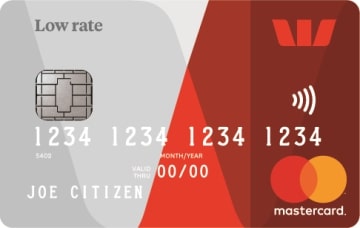 If you have been approved for this card given your bad credit history, then all the better. Westpac Low Rate Mastercard has an attractively low purchase rate and annual fee.
You get 55 interest-free days to settle your repayments before the interest rate kicks in. Otherwise, you would need to pay above the minimum of 2% or $5 of your monthly bill, whichever is higher.
The low-rate card has a Card Blocker feature that temporarily blocks your card if it has been lost or stolen. You can view your card transactions in real-time through the CashNav app.
Finally, as much as you can, you should refrain from withdrawing cash. The interest for this is quite high at 22.95% p.a., which can add more to your current ongoing balance.
Pros
Low purchase rate
Low half-yearly fee of $12.50
55 days interest-free
Accepted all over the world
Card Blocker feature
24/7 emergency card assistance
Cons
3) GEM Visa By Latitude Credit Card
For Credit Card for Bad Credit with Lots of Deals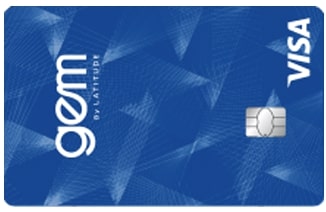 With a hefty interest rate, establishment fee, and annual fee, GEM Visa by Latitude may well be one of the bad credit credit cards with "guaranteed approval" in NZ.
To balance those, you get a variety of zero-interest deals for 6 months with purchases of $250 and up, 55 days for spending under $250, and long-term with leading brands.
It's wise to take advantage of them before the killer interest rate of 25.99% applies. Also, your repayments have to be in order to avoid the penalty charge of $15.
You can keep track of your purchases, spending habits, and the remaining balance via the Latitude app—24 hours, 7 days a week.
Furthermore, you can shop with ease by just tapping your card on the payment terminal. The limit of contactless card payment is currently no more than $80.
Pros
6 months interest-free on purchases of $250 and above
55-day interest-free on spending under $250
Cardless payment
Gem Visa deals
Latitude app keeps you updated 24/7
Cons
Costly interest charges
Minimum spend
Expensive account and establishment fees of $52 and $55 respectively
Customer Reviews
The GEM Visa Card is a versatile option, whether you need interest-free deals for the short term, the middle term for over 6 months, or the long term with partner retailers.
Roland Bleyer, a creditcard.co.nz reviewer, gave some tips about repaying your balance using this card:
"However, to make the most of those interest savings, you will need to be smart with your repayments, making sure your purchases are all paid off before interest starts accruing. This card has one of the highest purchase rates in the market, so it's not one you want to carry a balance on while it is attracting interest."
4) TSB Visa Classic Credit Card
For Balance Transfer Card for Bad Credit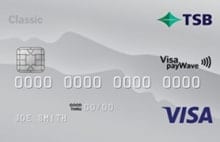 TSB Visa Classic Credit Card enables you to consolidate multiple debt balances into one credit card with zero-interest for 6 months.
When that term ends, a standard interest rate of 18.50% p.a. will apply. You also benefit from 55 days interest-free purchases.
Half-yearly, you only need to pay a $15 fee. That's very affordable and gives you plenty of savings left.
With Visa payWave, you won't have to wait a long time to pay for your item. You can simply 'pay and wave' at the card device—no pin is necessary unless the price is over $200.
Moreover, the Visa card covers you with a Zero Liability policy. TSB Visa Classic Credit Card can be used in-store, online, and worldwide.
Pros
0% balance transfer from other credit cards
Up to 55 days interest-free
Visa payWave
Low account fee
Visa Zero Liability policy
Usable in-store, online, and worldwide
Cons
High-interest rate on purchases and cash advances
Customer Reviews
If you want a straightforward and basic card, then the TSB Visa Classic Credit Card might be for you. If you're looking for one with rewards, there are better options.
Creditcard.co.nz independent reviewer, Roland Bleyer, stated:
"There's no hiding it, the TSB Visa Classic Credit Card is a basic card with absolutely no frills. So, why would you want this card in your wallet? A card such as this can benefit many types of cardholder, as long as they want a simple card that works to keep costs down. With its low account fee, it could appeal to money savers – as long as they pay off their balance before it starts accruing interest. It may also appeal to cardholders who simply don't need an excess of features, who just want access to credit in an easy, low cost package."
5) Kiwibank Zero Visa Credit Card
For Free Credit Card for Bad Credit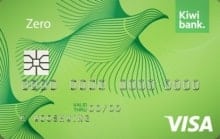 It's unlikely that you'll find bad credit credit cards for instant approval. Besides, it's risky since your credit record can be more negatively affected if you are rejected.
Nevertheless, if there's one card that is easy to use and has low-interest rates and zero annual fees, it's the Kiwibank Zero Visa.
Monthly payment requires you to pay 5% or $10 of your statement balance. However, you'd have to settle the entire balance to qualify for the 55-day interest-free period.
Additionally, the balance transfer offer is amazing at 1.99% interest for 6 months. You can transfer your balance from another credit card and pay it off with the lower rate of Kiwibank's Zero Visa card.
Pros
Great for everyday use
Zero annual fee
Low interest and cash advance rates
1.99% p.a. balance transfer rate for 6 months
Interest-free up to 55 days
Cons
No other rewards and perks
And that's all for our list of credit cards for bad credit in NZ. Before applying, you have to provide evidence that you can afford these credit cards and can repay on time.
Do you have any questions or opinions about this topic? If you have one, kindly leave us a comment below, and we'll get back to you as soon as we can.
Also, you could check out debt consolidation loans in NZ. These loans can help close your current multiple debts, in effect, making it easier to apply for a new credit card.