Our 6 Picks for Debt Consolidation Loans in NZ
Image Credit: Finance Talk
It's very stressful to have debts here and there, each with different interest rates and terms. Fortunately, we've outlined debt consolidation loans in NZ here, so you only have to pay one regular payment.
There are plenty of lenders that offer varied personal loans. How do you know the ideal option you should pick while also considering your financial situation?
To help you out, we're going to tackle how to choose a debt consolidation loan first. This will greatly help you in deciding from our list later on.
However, you're free to skip this part, and go directly to debt consolidation loans in NZ!
How to Choose a Debt Consolidation Loan
There are a number of benefits in consolidating your debts. Your interest rates won't be confusing, your credit rating will be lower, and your stress will be reduced.
Before applying for a loan, however, you have to make sure that you can afford the regular repayments until the full balance is paid. Otherwise, you'll be stuck in debt and find it harder to loan next time.
Going further, here are the things that you should consider before getting a debt consolidation loan:
1. Interest Rates
Interest rates should be the first thing you have to know when you apply for a loan. Of course, the lower the rate, the better.
Each bank or lender offers different interest rates. These are also based on the debtor's credit score and affordability.
Although secured loans have low interest rates, you have to pledge your assets. This means that if you fail to pay, your car or house will be seized away by the creditor.
On the other hand, unsecured loans don't require you to put your assets on the line. This is the more common, safer option in personal or debt consolidation loans.
2. Loan Amount
This is the amount you can loan from the creditor. Depending on the bank or lender, you can usually loan between $2,000 and $50,000.
Others may let you borrow lower amounts starting from $1,000, provided that you're eligible through a particular membership or promotion.
3. Repayment Terms
Look for debt consolidation loans that give you more leeway to pay back what you owe. This will allow you to complete your repayments without difficulty.
You can mostly find terms of 6 months up to 5 years. Some can even bump it up further to 7 years.
If you can settle the debts within a shorter time, go for it. The calculated total amount will be less than if you were to spread out the loan over a longer period.
4. Loan Approval
Simply put, this refers to how long you have to wait until you get the loan amount. A fast loan approval takes about 48 hours or less.
With this, you'll be able to use the money to pay off outstanding debts right away.
5. Different Options
Whether you want to apply online, in the bank, or through internet banking, it's up to you. Today, things have gotten easier and definitely more hassle-free with the variety of options available.
A word of caution: some charge an early repayment fee when you loan using internet banking. While it's only a small amount, it can instead be used to pay your debts.
Debt Consolidation Loans in NZ
Now that you know how to pick from our list, here's our roundup of debt consolidation loans in NZ!
1) Westpac NZ Debt Consolidation Loan
For Debt Consolidation Loan

Combine your multiple outstanding debts into one easy-to-manage loan. That can include debts for your credit card, store card, hire purchases, and others.
You can borrow up to $50,000 payable for a standard period of 6 months to 5 years. That said, if the amount or term is not sufficient for you, talk to their loan specialist.
They offer a 13.90% interest rate per annum with no early repayment fee. There's also no need to worry, as their loans are unsecured, meaning you won't have to risk your assets as collateral.
You can apply for a personal or debt consolidation loan through Westpac, Westpac One online banking, or online.
Pros
Fair interest rates
No early repayment fee
Unsecured loans
Different options to apply for a loan
Fast approval within 48 hours
Cons
2) ANZ Debt Consolidation Loan
For Flexible Debt Consolidation Loan

For a higher loan amount and a longer repayment period, apply for a personal loan at ANZ. Cut the confusion and provoking deadlines by unifying your remaining debts.
ANZ loans carry an interest rate of 12.90% p.a., lower than Westpac's. In addition, you can loan $3,000 to $40,000, which you can pay monthly, fortnightly, or weekly.
Repayment terms run from 6 months to 7 years, dividing the loan balance into smaller payments. There are no additional charges or fees when you're repaying your loan.
Once your loan is approved, the money will be transferred to your bank account by the next business day.
Pros
Sensible interest rates
Flexible repayment plan
Fast loan approval
No additional charges and fees
No application fee for a limited time
Cons
Early repayment fee if you use internet banking
3) NZCU Baywide Debt Consolidation Loan
For Overall Debt Consolidation Loan

NZCU Baywide boasts some of the most comprehensive debt consolidation loans in NZ. Their secured and unsecured loans have competitive interest rates starting from 8.9% per annum.
That's the good news, but the bad news is that they will need to assess your credit rating and affordability.
They follow a risk matrix that takes into account your past loan records, the amount you will loan, and income, as well as other financial information.
The result will correspond to what interest rate you're going to get. So it could be from 8.90% to 28.90% per year, which might end up being more expensive to repay.
Provided you've gone through that part, you can borrow amounts of $2,000 to $50,000. The loan term is from 6 months to 7 years, spreading out the cost of your payments.
Positively, if you get the lowest interest rates of 8.9% or 10.9% for secured and unsecured loans respectively, you'll be able to save more, have lower repayments, and pay off your debts quicker.
Pros
Low interest rates
Flexible repayment plan
Choose from secured or unsecured loans
Gives you more savings
Lets you pay off your debts quicker
Cons
$250 approval fee
Credit score and affordability applies
Customer Reviews
Most clients said that they had been professionally guided through the loan approval process, and that having the loan made their lives so much easier.
Ardie M. wrote a review of NZCUB's debt consolidation loan:
"Hi there, thank you very much NZCU baywide for helping us on our debts consolidation loan. Thanks Rhona and team for helping us and assisting us to complete our loan application to be approved. I am very happy to recommend to other people your company for helping, listening and understanding the situations like us. Continue your good work guys."
4) ASB Debt Consolidation Loan
For Debt Consolidation Loan for an Effortless Process

No need for a lengthy process to get a debt consolidation loan. For this, you can apply at your closest ASB branch, or online.
It only takes three steps for you to get approved online—Calculate, Apply, and Get Approved.
ASB's unsecured loans have interest rates of 12.95% to 19.95% per annum. This is fixed throughout your payback period with no additional fees whatsoever.
The approval of your loan is a breeze and only takes 24 hours or less. Moreover, after you sign the documents, the money will be sent to you on the very same day.
Another thing, you can choose to pay off your debts with 6 months to 7 years.
Note that the loan processing fee costs $99, while the secured loan fee is $25.
Pros
Make repayments online at any time for free
Effortless process
Speedy approval
Prompt replies within 24 hours
Fixed interest rates
Cons
5) Squirrel Debt Consolidation Loan
For High-Quality Borrowers

Take control of your finances once again by borrowing from Squirrel.
Its debt consolidation loan doesn't come from the bank; it comes from their investors. Hence, you get a sweet combination of hard-to-beat interest rates and flexible terms.
They follow a risk grade criteria to determine your interest rate. The lowest is 8.95% p.a. over a 2 to 3 year repayment period and 9.95% p.a. for a 5-year stretch.
Through a strict set of criteria, the team will consider your credit history, employment history, and bank account conduct, as well as repayment capacity.
The application process is simple, fast, and secure, as customers will attest to. Thanks to digital technology, everything is done online, without any paperwork or meetings.
With Squirrel's debt consolidation loan, you'll know exactly how much you have to pay, and when you'll be debt-free!
Pros
Hard-to-beat interest rates
Fast, easy, and secure loan application
Peer-to-peer lending
Flexible terms
Excellent service
Cons
Customer Reviews
Interest rates, same-day loans, and super-easy application processes are what you will hear most from customers about the Squirrel debt consolidation loan.
One borrower, Emily, wrote this feedback:
"Such an easy & efficient process. Very happy with the interest rate offered & money was in my account by the end of the day."
Also, John from Sefton, NZ said:
"Despite not fully understanding some things answers were always easily available and explained. patience, understanding and a feeling that we actually worked together to achieved things made the experience a pleasant one."
6)   Pronto Finance
For Fast and Fair Debt Consolidation Loans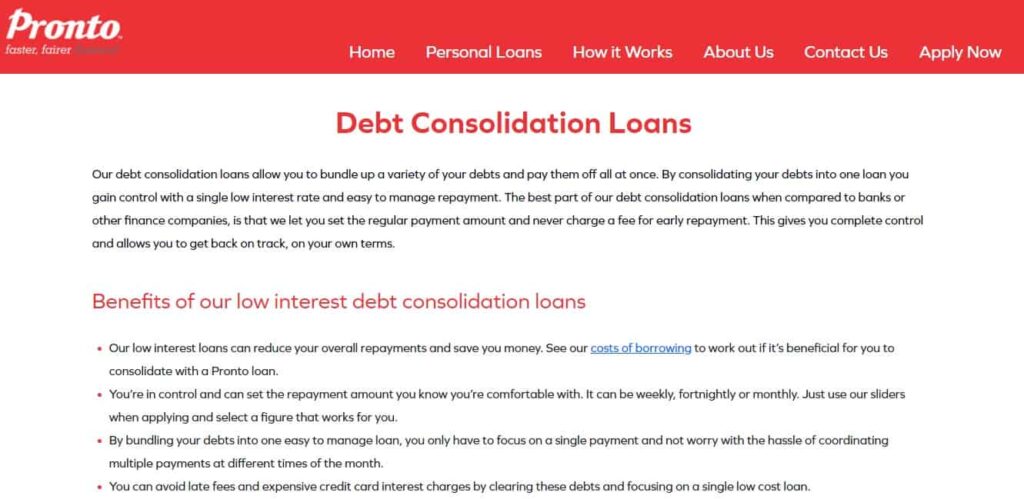 Pronto Finance is a company that provides its clients with full guidance and services when it comes to all sorts of personal loans and debt consolidation services. They are a digital finance company that helps clients to be able to borrow money and establish loans easily on their website for a more convenient and faster finish.
We like that they employ innovative technologies so that clients can have access to lower interest rates as well as a 9-minute guarantee upon applying for a loan with them on any device.
They also have a team of experts who are both accommodating and knowledgeable on the whole process to help clients through the whole process and let them have a better and smoother experience.
Another innovation with their technology is that they make use of a unique system that sets interest rates according to the client rating of each borrower to ensure long-lasting relationships with their clients and fairer loans as well.
Overall, with their easy-to-navigate system wherein clients can have more control over what they lend and borrow, clients can be assured that all transactions are secured and up to their payment ability to avoid unwanted and unpaid loans.
Pros
Fast approval rates
Easy to navigate the system
9-minute guarantee available
Cons
New members experience higher interest rates
Customer Reviews
Here are some reviews from their clients:
"Just all around an exceptional service, from the IT staff to the admin. Very fast and honest, have been using this company for some time and am quite happy to pay for the convenience when I'm in a pinch. Absolutely impressed with the security minded approach to business integrity."
"I have used pronto finance 3 times now honestly outstanding service really happy."
And that completes debt consolidation loans in NZ list! With their debt consolidation loans, you can easily pay off your debts and be financially cleared.
Do you have any questions or comments regarding our list? If you have one, just leave a comment below and we'll get back to you in a jiffy.
Furthermore, you may be interested in mortgage brokers in Auckland. They will help finance the build of your dream house for you and your family.