BUDGET-FRIENDLY DATE: 10 Free Couple Activities in Auckland
We are firm believers that you don't have to spend too much for the perfect date. After all, it's all about the memories you create and not about how expensive your dinner is!
If you're a couple in Auckland looking for fun and creative date ideas that won't cost a lot, we got you covered. In this article, we scoured the city for the best activities you and your significant other can enjoy.
We listed the necessary details so all the information you need will be in one place. Hope you find your next adventure here!
1. Enjoy a romantic picnic at Victoria Park.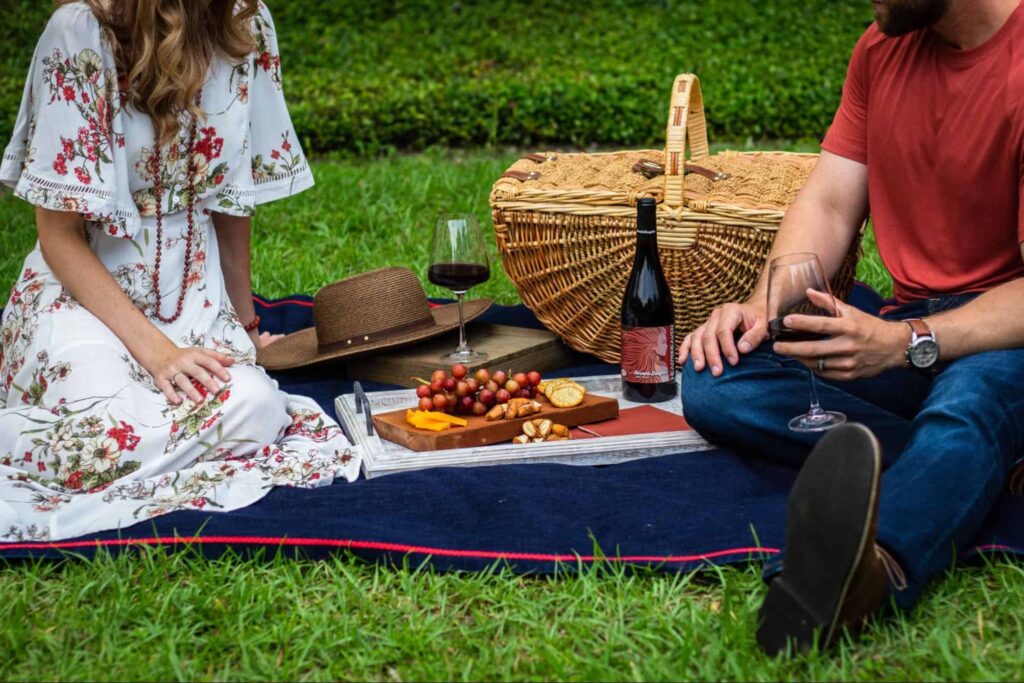 | | |
| --- | --- |
| ADDRESS | 203-271 Victoria Street West, Auckland CBD, Auckland 1010, New Zealand |
| CONTACT DETAILS | +64 9 301 0101 |
| OPERATING HOURS | 24/7 |
| COST | Entrance is FREE |
A picnic is always a date idea that doesn't cost much but gives a lot of opportunity for you and your significant other to talk and get to know each other more. You can pack a few sandwiches and your favorite drink so you don't have to buy food at the park.
You can then bring your trusty picnic blanket and find a nice spot under the shade of your favorite tree.
Victoria Park is a beautiful park that was opened in 1905. Its lush green grass and foliage make it a popular picnic area.
Plus, we like that there are a lot of accessible toilets and drinking fountains here. The park has a playground, basketball court, skate park, and sports fields as well.
It's definitely a far cry from a night in the club, but we think that if you're looking for a slower pace and an activity that can relax you, this will be a good fit. 
2. Watch the sunrise together at Takapuna Beach.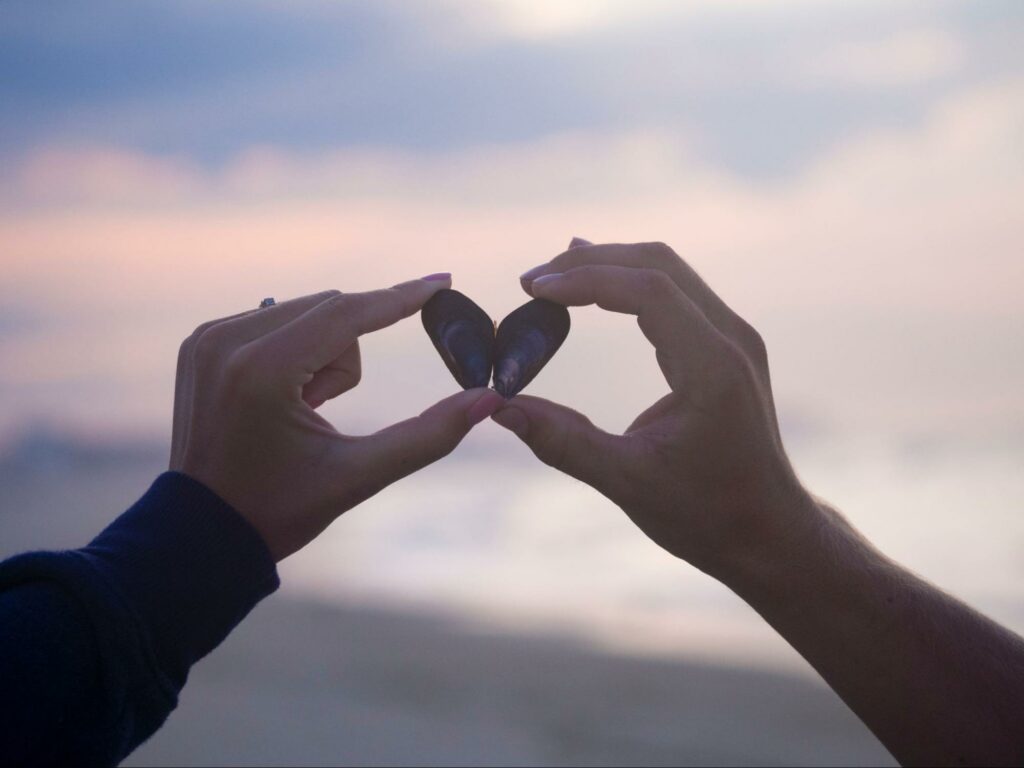 | | |
| --- | --- |
| ADDRESS | The Strand, Takapuna, Auckland 0622, New Zealand |
| CONTACT DETAILS | +64 9 301 0101 |
| OPERATING HOURS | 24/7 |
| COST | FREE |
Make sure to set your alarm clocks so you can catch the sunrise together at Takapuna beach, which is arguably one of the best beaches in the city. It's a beautiful sandy beach that will give you a good view of Rangitoto Island. 
There's nothing like having a great conversation while sharing a beautiful view. It's romantic and totally free.
It's a popular spot for locals. You'd catch a lot of people walking along the shore, jogging, sailing, and even paddling away on paddle boards.
We love that they have a designated car park here so it's very convenient. There is also a toilet and changing room facilities.
When you get hungry, there are also a lot of bars and restaurants where you can enjoy scrumptious food while admiring the picturesque view. 
3. Ride a bike, scooter, or even your hoverboard at the Pink Cycle Trail (Nelson Street Cycleway).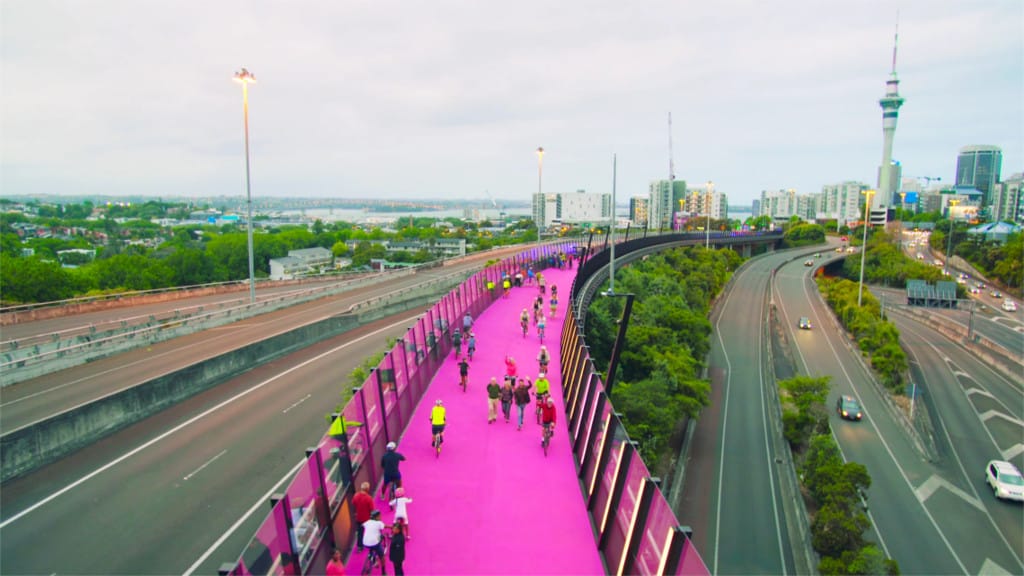 Image from Lifegate
| | |
| --- | --- |
| ADDRESS | Auckland CBD, Auckland 1010, New Zealand |
| OPERATING HOURS | 24/7 |
| COST | FREE |
Romantic bike ride, anyone? Couples who enjoy outdoor physical activity will like this date idea.
The pink cycling lane is actually called Nelson Street Cycleway. However, you'll also hear it referred to as "the light path".
We found out that this lane is actually built from a disused off-ramp leading to Auckland's State highway. Pretty cool, right?
It also connects Upper Queen Street to Quay Street. You can't miss it because it's in a shade telemagenta, which is a bold color choice.
The developers of this lane actually chose this color on purpose because they want it "to stand out against the urban landscape", which we think it does perfectly.
So bring your partner and ride along this beautiful lane together. 
4. Volunteer together at different non-profit organizations in Auckland.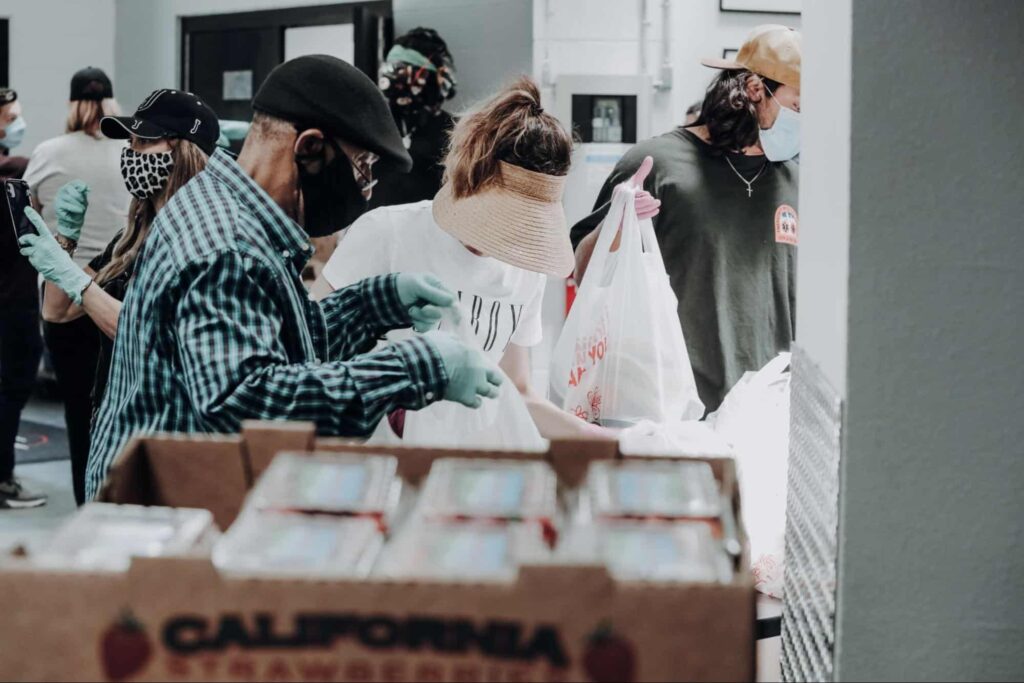 If you want a meaningful date where you get to do something for a cause, you can volunteer together at different organizations in Auckland. If you want some ideas on the organizations, you can check out our article here. 
It's all about finding a cause you truly believe in and giving what you can to help the community. Plus, you get to do it together.
It's definitely a humbling and heart-warming date idea and we hope you give it a go. Check out this list below of some organizations in the city where you can help out:
Volunteering Auckland
SEEK Volunteer
Auckland Zoo
Auckland City Mission
New Zealand Red Cross
Auckland Irish Society
New Zealand Nepal Society
It's Accessible
Age Concern Auckland Inc
5. Soak up some culture and art at the Auckland Art Gallery Toi o Tāmaki.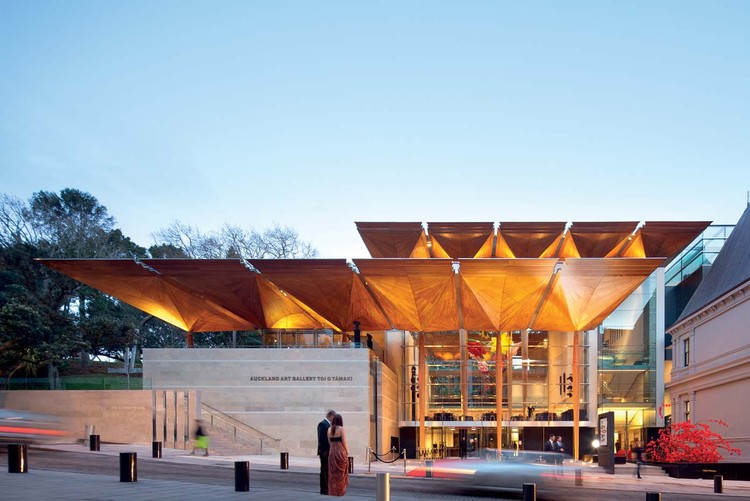 Image from Arch Daily
| | |
| --- | --- |
| ADDRESS | Wellesley Street East, Auckland CBD, Auckland 1010, New Zealand |
| CONTACT DETAILS | +64 9 379 1349 |
| OPERATING HOURS | Monday-Sunday (10 AM-5 PM) |
| COST | FREE (for both NZ residents and international visitors) – international admission charges are suspended until further notice. |
When you walk in the Auckland Art Gallery Toi o Tāmaki, you'll automatically feel a sense of calm. You're surrounded by beautiful architecture and fascinating art, it's definitely a great place to bring a date.
They have a collection of over 15,000 works and regularly changing exhibitions so there's always something new to see here. We love the range and diversity of the art here.
We love how the art here is thought-provoking and would induce a lot of really great conversations between you and your partner.
It's a great chance to just kick back, be inspired by art, and get to know your significant other's thoughts about the paintings and masterpieces around you.
Plus, we love how entrance is now free for both New Zealand residents and international visitors until further notice. It makes art more accessible to many.
You can also visit the cafe for some great eats when you get hungry. Gentle reminder that smoking or vaping are not allowed anywhere in the gallery.
You will also be asked to check in umbrellas and large bags in their cloak room. So it's best not to bring too many things when you visit the gallery. 
6. Go hiking with your significant other at Hunua Falls Path.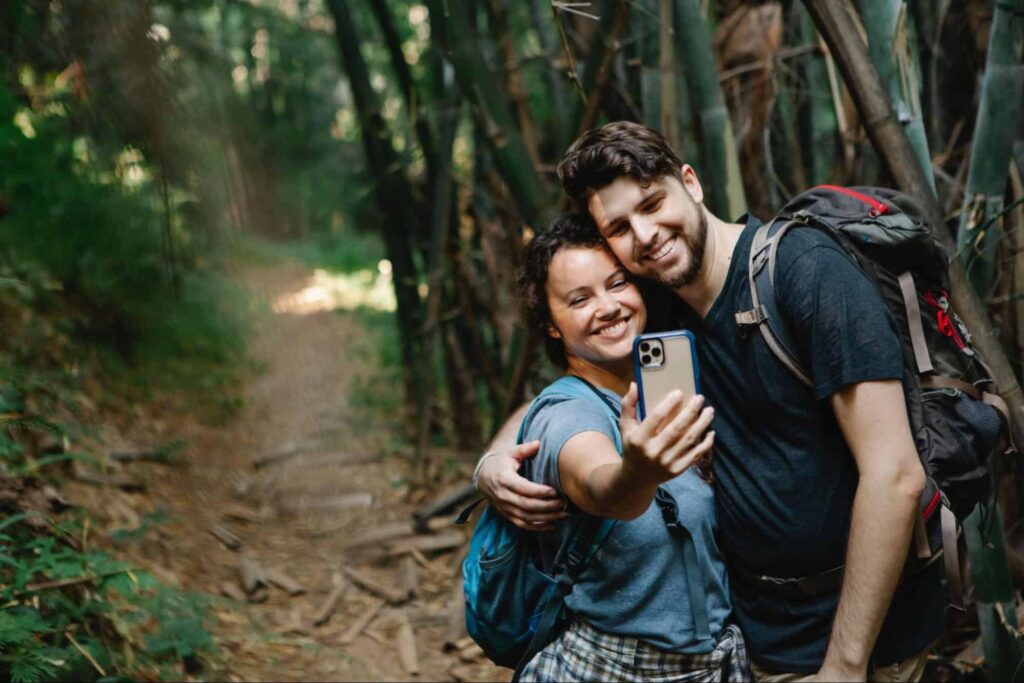 | | |
| --- | --- |
| ADDRESS | Hunua Ranges Regional Park Falls Road, Hunua 2583, New Zealand |
| CONTACT DETAILS | +64 9 301 0101 |
| OPERATING HOURS | 24/7 |
| COST | FREE |
If you want to see the famous Hunua Falls, going hiking along the falls path is the perfect way to see it from all angles. Couples who enjoy long walks and hiking will enjoy this activity.
At the same time, we think that the hike is not too difficult so that couples who don't normally do this can also partake in the activity. Plus, it's a great way to get exercise outside of the gym. 
You'll see the Wairoa River and climb through this gorgeous forest that follows along a shady stream and arrives at a lookout platform that definitely deserves a spot on your Instagram feed.
Do know that for your safety, swimming at the Hunua Falls is not recommended. Also, dogs are not allowed on this walking track.
Note: Make sure that your phones are charged and bring a trusty power bank with you to ensure your phones are up and running. 
7. Enjoy the view and the hike at Mt. Eden.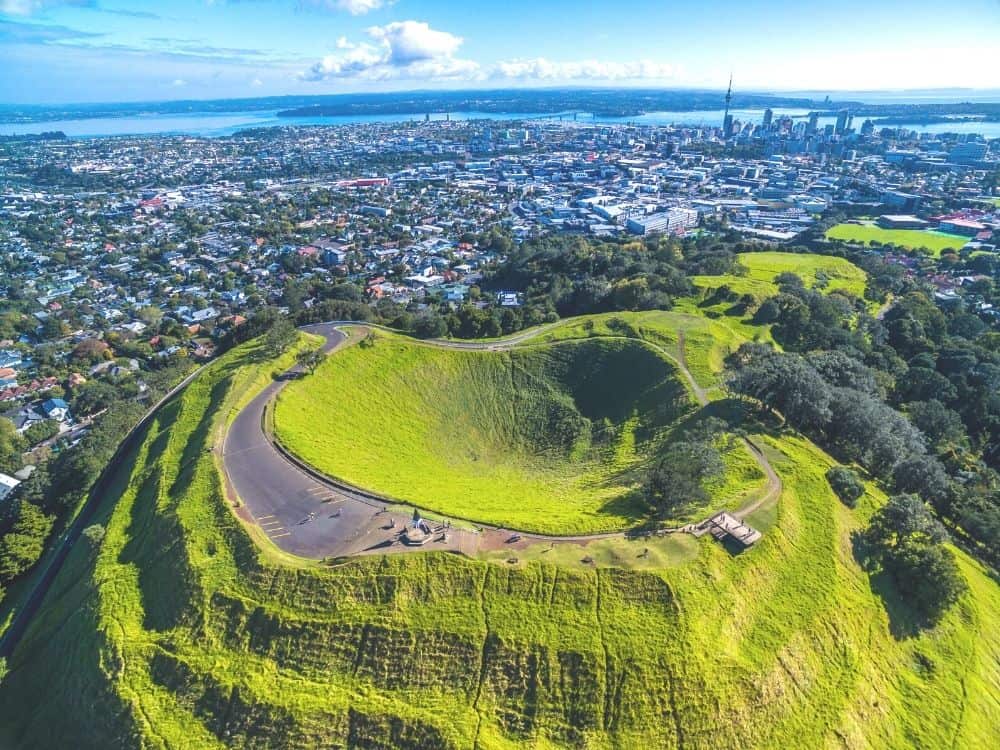 Image from Free Walks
It's amazing that you can climb dormant volcanoes in the city for free. This is a great activity for couples who like adventure and physical activity because you will be walking quite a lot.
Mt. Eden is the highest volcano in Auckland standing at 196 meters tall. From the summit, you can see the amazing view of the city and its harbors.
Contained within the summit cone is a large crater about 50 meters deep. You can download the map of Mt. Eden here. 
You can climb the mountain from six directions and the walk takes around 15 minutes depending on how physically fit you and your partner are.
While you're up there, don't forget to visit the new visitor boardwalk around the crater and summit of Mt. Eden. The viewing deck is amazing and offers a panoramic view of the city. 
8. Visit the New Zealand Maritime Museum.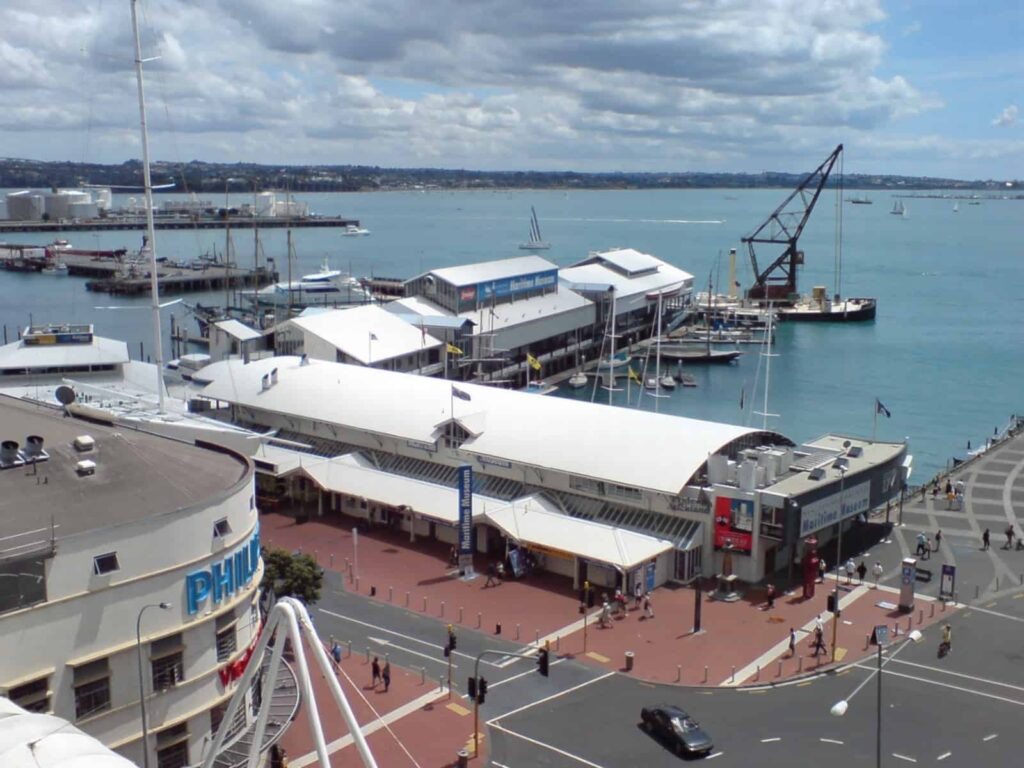 Image from Wikipedia
| | |
| --- | --- |
| ADDRESS | Corner of Quay and Hobson Street, Auckland 1140, New Zealand |
| CONTACT DETAILS | +64 9 373 0800 |
| OPERATING HOURS | Monday-Sunday (10 AM-5 PM) |
| COST | Museum entry is FREE for all Auckland residents with proof of address. |
If you're looking for a museum date then you can go to the New Zealand Maritime Museum together. Going there is free for Auckland residents.
For international visitors, you have to pay $20 for each ticket. So that's something to consider.
Still, we love the museum because as they say, this is the place "where the stories of people and the sea are preserved, shared and explored" with their visitors.
Because the country is one of the most maritime nations in the world, we can see how everyone is affected by the sea through immigration, design, innovation, trade, and even leisure. The museum expresses these in their galleries, events, exhibitions, and many more.
You'll definitely connect with the collections here. It covers the Great Pacific Migration and even modern technology and design in modern yachting.
 You'll definitely find something fascinating to talk about in this museum. 
9. Bring your snorkel gear and see the fishes at Goat Island.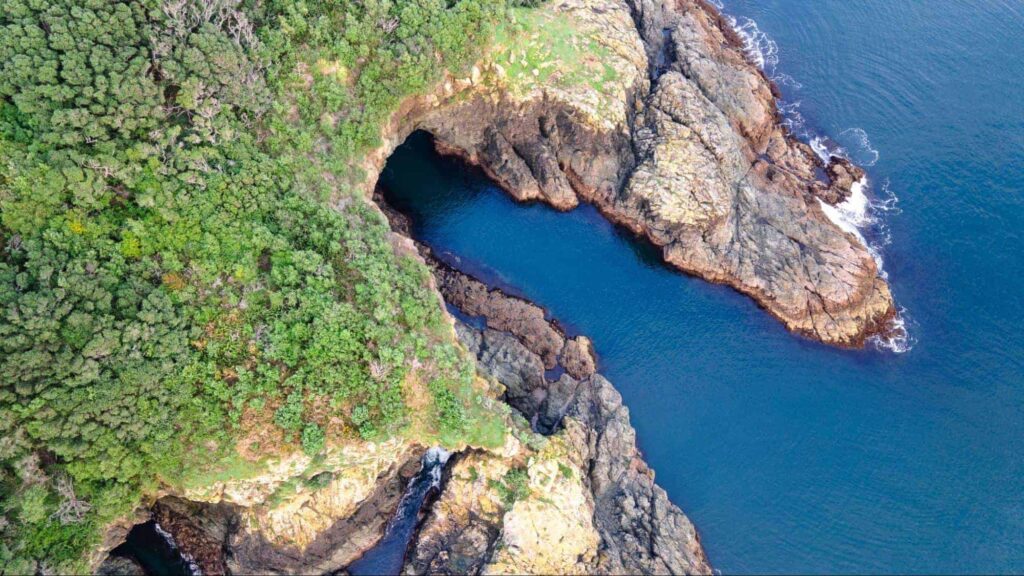 | | |
| --- | --- |
| Address | Auckland 0985, New Zealand |
| Operating Hours | 24/7 |
| Contact details | +64 9 923 3645 |
| Cost | Entrance is FREE |
Popularly known as "Goat Island", Cape Rodney-Okakari Point Marine Reserve is a must-visit. Whether you're visiting Auckland or you're a local, this is a place you must make time to see.
Adventurous couples would love the thrill of adventure and snorkeling to see beautiful aquatic wildlife together. This is New Zealand's first marine reserve.
The reserve was established in 1975 and since then, it has become a rich ecological area. The best way to explore is to really get into the water with a mask and a snorkel.
Licensed scuba divers can also explore the deeper areas. If you want to get formal diving training, check out this website. 
Even though entrance to the reserve is free, if you want to rent snorkeling equipment, you'll have to pay a small fee.
There are different combos available but if you want to rent a mask, snorkel, and fins, for example, you'll have to shell out $30.00.
Check out this website for the full prices. 
10. Check out the Arataki Visitor Centre together.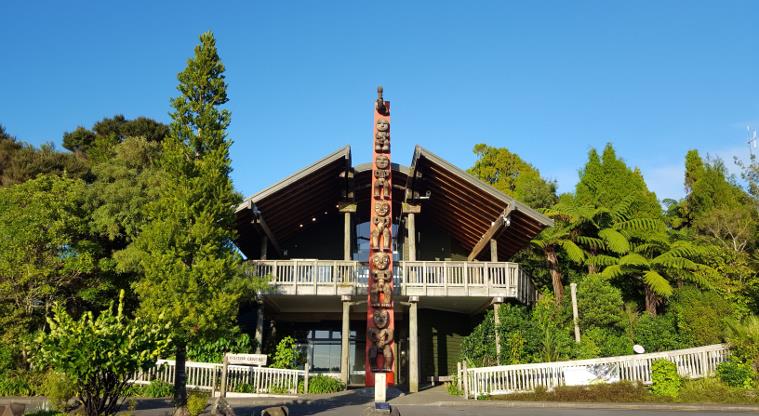 Image from Auckland Council
| | |
| --- | --- |
| Address | 300 Scenic Drive, Oratia, Waitakere 0604, New Zealand |
| Operating Hours | Monday-Sunday (9 AM- 5PM) |
| Contact details | +64 9 817 0077 |
| Cost | FREE |
The Arataki Visitor Centre is famously known as the gateway to the Waitākere Ranges Regional Park. You can visit the centre to learn about different hiking tracks and cultural and ecological landscapes.
It's also a great place to enjoy some nature activities together and look at some nice exhibitions. The views are magnificent and the staff are very friendly and welcoming.
The Arataki Visitor Centre actually opened in the early 1990's to welcome visitors to the Waitākere Ranges which is around 16,000 hectares. The mountains are home to more than 500 species of plants and native birds.
This is a popular travel destination for hikers and nature lovers in general. If you and your partner love nature, you're in for a real treat.
The visitor center presents different displays showing the history and geography of the area. It's definitely worth a visit. 
---
That concludes our list of free date ideas in Auckland for couples. We hope we were able to help you decide on your next romantic adventure.
Did we miss out on any good places in the city? Make sure to let us know!
By the way, check out some related articles here: