6 Best Funeral Insurance Cover in NZ Compared and Reviewed
Featured Image Source: MaxPixel
Death is uncertain and it can be burdensome for your family to have to pay for your funeral. If you'd like to prepare ahead of time, we've listed some options for funeral cover in New Zealand so you won't have to worry.
Funeral insurance policies can be confusing and vary from one company to the next. Luckily for you, we've put together this list of best funeral insurance in NZ to guide you through some of our choices based on their policies, premiums, and payout schedules.
Before we start discussing our selections, we'll talk a little about how much you should expect to spend. If you're ready, let's take a look at our picks for funeral cover in NZ.
How Much Does Funeral Insurance Cost in New Zealand?
Before we tackle how much funeral insurance costs, it's best to first understand how much an actual funeral in NZ will cost.
There are several factors that influence the total expenses in a funeral. These include the type of service, the number of guests, location, and personal requests or preferences.
On average, you can expect to pay a total of around $8,000 – $10,000, which already includes legal fees, a burial plot, and any special accommodations for guests. To help you better understand the breakdown of these expenses, we've summarised it in the table below.
Average Cost of a Funeral in NZ
| | |
| --- | --- |
| Burial plot | $2,740 (Christchurch) – $6,000+ (Auckland) |
| Cremation and Interment | $695 |
| Coffin/Casket | $2,500 |
| Headstone | $1,000 |
| Embalming | $700 |
| Digging fees | $1,500 |
| Death certificate | $33 |
Now when it comes to funeral insurance cost, there are four main factors that affect your premiums. These are age, amount of funeral cover in NZ, optional add-ons, and medical history (for some providers only)
This is why its important to do a funeral insurance comparison in NZ.
For a 50 year-old non-smoking individual seeking a $10,000 cover, the yearly cost is between $300 and $500.
A 50-year old smoker, on the other hand, will usually pay more and could range from $600 to $750 (or more) annually for the same plan.
To give you an idea, the table below illustrates the differences in premiums for $10,000 cover for different individuals.
Average Funeral Cover Premium in NZ Compared
| | | | | | |
| --- | --- | --- | --- | --- | --- |
| | 50 year old man non-smoker | 50 year old man smoker | 65 year old man non-smoker | 70 year old woman non-smoker | 70 year old man non-smoker |
| Company A | $464 | $685 | $835 | $908 | $1073 |
| Company B | $500 | $734 | $906 | $957 | $1166 |
| Company C | $395 | $701 | $1003 | $1039 | $1419 |
| Average Premium | $495 | $767 | $874 | $934 | $1159 |
Funeral Cover in NZ: The Best Funeral Insurance in New Zealand Compared
Now that you know what to expect financially when seeking funeral insurance, we can take a look at our picks for funeral insurance companies in New Zealand.
1. AA Life Insurance
For Accidental Death Payouts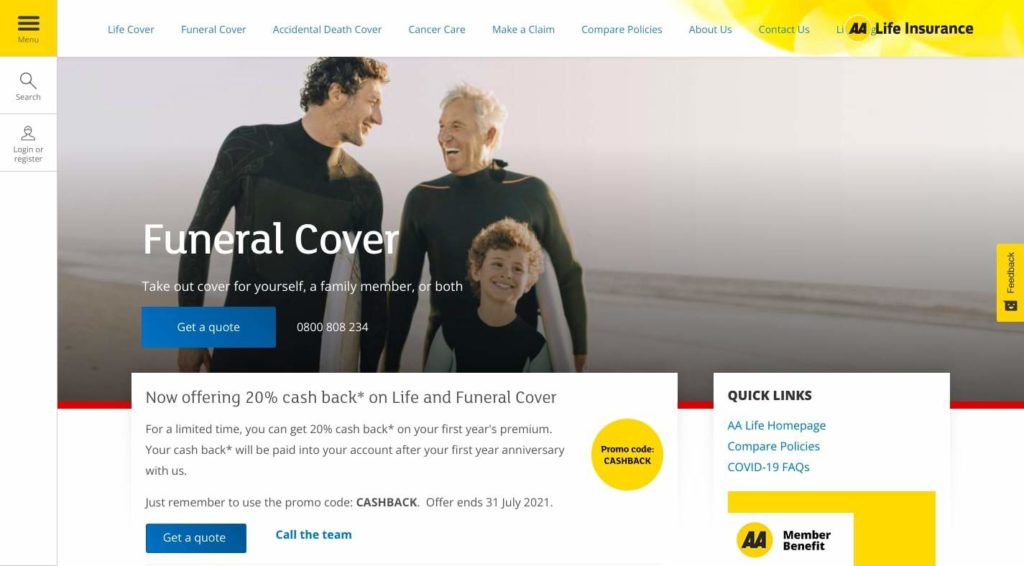 SERVICES
Life Cover, Funeral Cover, Accidental Death Cover, Cancer Care
WEBSITE
https://www.aa.co.nz/
ADDRESS
Mailing Address PO Box 894 Wellington, 6140 New Zealand

Head Office Level 16, 99 Albert Street, Auckland 1010

Find a branch closest to you HERE
CONTACT DETAILS
Life Insurance
Toll-Free (Sales Enquiries): 0800-808-234
Toll-Free (Customer Service & Claims): 0800-874-444
Email:

[email protected]



Head Office
Phone: (09) 966-8800
Fax: (09) 966-8896
OPERATING HOURS
Monday to Friday: 8:00am – 6:00pm
The AA was founded in 1903, with humble beginnings as the Auckland Automobile Association aiming to provide roadside assistance to fellow motorists. Today they're one of the most highly regarded companies and offer a range of services in finance, travel, and insurance, just to name a few.
To offer clients their funeral covers, AA has partnered with Asteron Life, which is part of Suncorp New Zealand, one of the country's most reliable life insurance providers. Together, they draft the policies for clients to ensure the widest coverage possible for people's needs.
AA Life Funeral Cover is open to New Zealand citizens, residents and even those with a work visa that's valid for one year at the time of application. Take note, however, that only individuals aged 50 -79 can apply, so this is a great option for seniors funeral insurance in NZ.
No medical records are needed and policyholders can receive up to $30,000 in coverage. Premiums will be paid until you turn 90 years old, at which point it will be free of charge, even though the cover continues.
If you've been covered for a minimum of two years, you can receive an early payout if you get diagnosed with a terminal illness. If natural causes lead to your death, however, only your premiums will be refunded.
AA Life Funeral Cover also offers a "Premium Holiday Benefit", which grants those experiencing financial problems a temporary pause in their premium payments for up to six months without any consequences.
However, this only applies to those under 65 years old and must be a policyholder for at least 24 months.
You'll feel secure knowing that your coverage extends even outside of New Zealand with AA Life Funeral Cover.
Moreover, after your death, your beneficiaries will receive the full payout within 48 hours in a lump sum without any deductions and tax. So if you want to leave your loved ones without any stress or worries, this could be one of the insurance with the best funeral cover in NZ for you.
Up to $30,000 coverage
Double payout in the event of accidental death
Coverage wherever you are in the world
Accepts those with a 1-year valid work visa
Offers "Premium Holiday Benefit"
Multiple branches throughout New Zealand
Higher premium costs compared with other insurers
Only premiums will be refunded if death within first 2 years of holding policy
Only ages 50 to 79 can apply for AA Life Funeral Cover
2. New Zealand Seniors
For Funeral Insurance for Value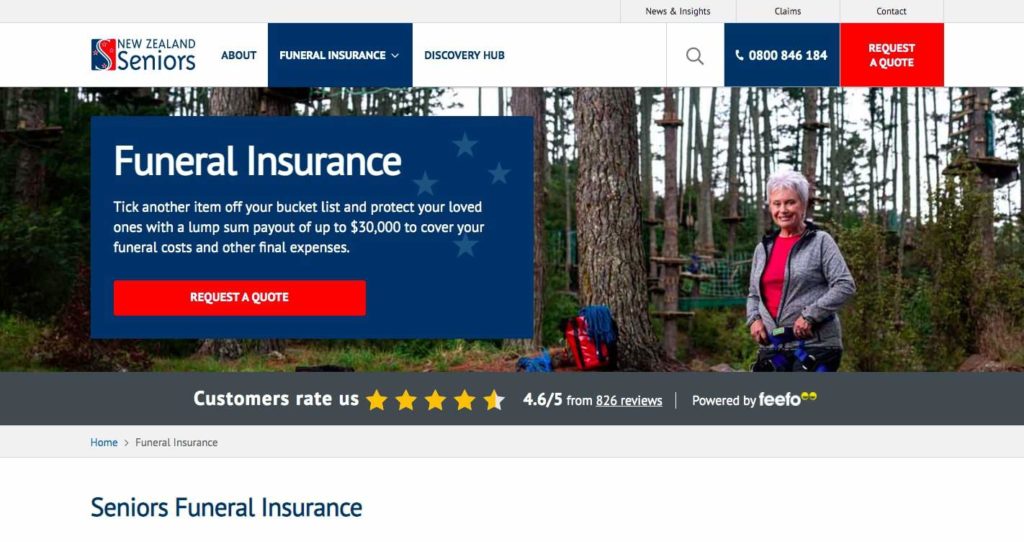 SERVICES
Funeral Insurance
WEBSITE
https://www.nzseniors.co.nz/
ADDRESS
Mailing Address DX Box EP71505, Penrose, Auckland
CONTACT DETAILS
Toll-Free: 0800-846-84
Toll-Free (Fax): 0800-527-541
Email:

[email protected]

OPERATING HOURS
Monday to Friday: 8:00am – 8:00pm
If you're looking for a great seniors funeral insurance in NZ, then this one's for you.
New Zealand Seniors is known for their cost-effective offers and have been given awards multiple times, receiving recognition from Feefo and Reader's Digest for three consecutive years.
Aside from being cost-effective, their products aren't difficult to understand and their funeral cover is one of the top examples.
For starters, you can choose from a plan ranging from $3,000 up to $30,000 upon your death. Unlike other seniors life insurance in NZ, your premiums do not increase yearly and you can even select your preferred budget scheme.
One thing that sets them apart is the age range that they offer their funeral cover for – which is from 18 to 79 years old. As long as you're a New Zealand resident, you're essentially guaranteed acceptance and no medical screening or laborious documentation is needed to apply.
As a policyholder, once you hit 85 years old, you'll be eligible for an additional 25% bonus cover and you no longer have to pay premiums afterward. We like this considerate gesture, making it easy for most to get seniors funeral insurance and enjoy a long, stress-free life.
On the other hand, an early payout is also granted to you at that age if you choose to end your policy and you can immediately receive 75% of your cover.
However, NZ Seniors does have an age limit – when you reach 100 years old, your policy ends. However, if you live to be that age, you'll even get 100% of your cover amount back plus an additional 25%.
The standard policies apply here as well, such as an "accident-only" policy, which means that you won't receive a premium within the first 24 months if your death is not due to an accident.
However, after this time frame, your family or beneficiaries will receive triple your cover if your death is from an accident.
Moreover, in the event you are diagnosed with a terminal illness, you may receive 100% of your benefit so that you can handle your affairs without worrying about finances.
We particularly like NZ Seniors because claims are granted within just one business day as long as all the paperwork is in order, which is one of the quickest payouts on the market.
Larger age range accepted (between 18-79 years old)
Claims payout within one day
Special perks once you turn 85 years old
Policy limited to 100 years of age
Only receive 75% of benefit if you end policy at 85 years old
3. Greenwich Funeral Insurance
For Premium Payment Stop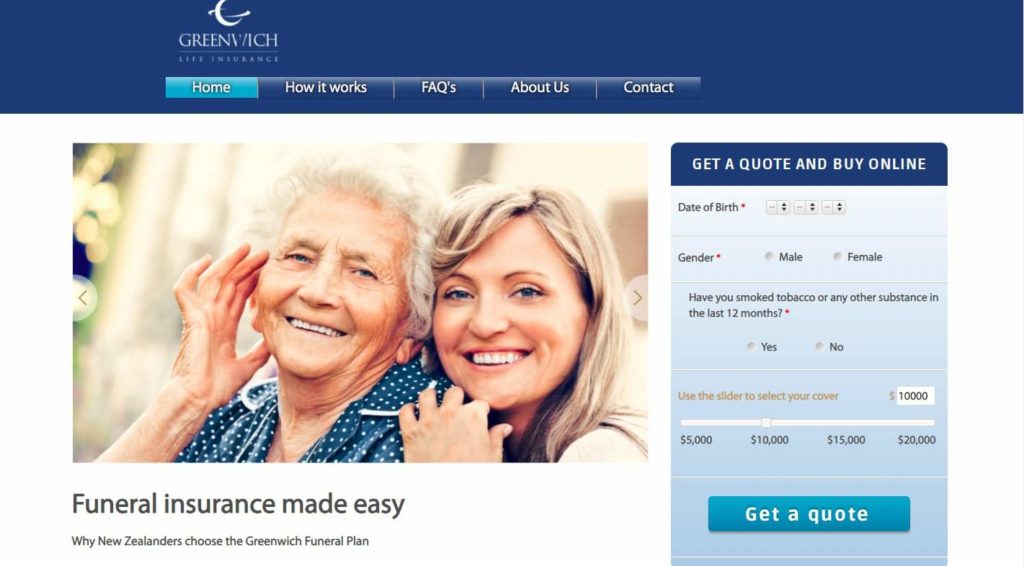 Greenwich Life Insurance evaluates and analyzes policies from DPL Insurance Limited, which is owned by Turners Automotive Group. They have been providing NZ funeral insurance products in New Zealand for over three decades.
Anyone aged 30 to 70 years old is accepted regardless of medical conditions. For the first two years as a policyholder, the full benefit is given in case you die due to an accident.
If however, you die from any other reasons, only your premiums will be refunded, although they will be paid in full.
After the two-year "accident-only" period, you're covered for life and you can keep your policy as long as you want so long as you pay the premium. There's no age limit requiring you to end your cover and for you to receive your payout.
We like this kind of freedom and flexibility that's why we included them on our list of best funeral cover in NZ not just for seniors but of all ages.
The funeral cover of Greenwich will pay out your full benefit no matter the amount of premium you've already paid. This means, even if you haven't paid the full cost before your untimely death, your estate or your beneficiaries will receive the full payout.
Ranging from $5,000 to $20,000, you are free to select the funeral cover in nz you prefer with no annual increases in your chosen payment scheme. What we like best about the funeral cover at Greenwich Funeral Insurance is that the total amount you pay in premiums will never surpass your payout.
Your premiums will stop as soon as you've paid the full amount, but your cover will continue until your death and the benefit is paid out. Once your total paid premiums equal your cover, the payments stop.
If you're not satisfied with the funeral plan and you decide you want to cancel, you can do so anytime within the first 30 days. You'll be refunded all your premiums with no questions asked and no cancellation fees.
There isn't much not to like about Greenwich Life Insurance, except they do take up to two business days to pay out compared to other companies that can give it within one day.
Nevertheless, the policy is straightforward, offers an easy cancellation policy, and benefits the holder in more ways than one. Their easy, practical policies make them one of the best funeral insurance in NZ.
No age limit
Straightforward policy
Payment stops when you've paid the full benefit
Same premium price throughout
30-day money-back guarantee
Slower payout process than the competition
Cover amount only up $20,000
4. Cigna New Zealand
Most Affordable Funeral Policy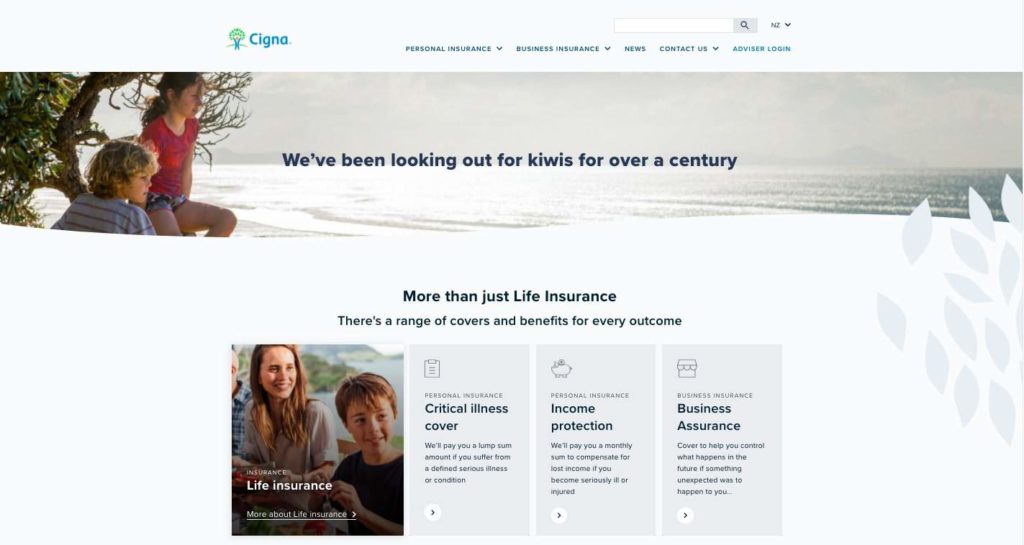 SERVICES
Life Insurance, Assurance Extra, LifeOne® Life Insurance , Income Cover Insurance, Travel Insurance , Funeral Cover, Business Assurance, Business Extra, Agribusiness Extra
WEBSITE
https://www.cigna.co.nz/
ADDRESS
Mailing Address Post PO Box 10 845, Wellington 6143
CONTACT DETAILS
Toll-Free: 0800-900-047
Overseas: (+64) (4) 931-9772
Fax: (0064) (4) 470-9151
Email:

[email protected]
Cigna has been offering its services in New Zealand for over a hundred years. They currently have almost half a million clients covered under their various insurance policies.
Your funeral cover at Cigna ranges from $5,000 to $30,000 and acceptance is guaranteed. They'll take in applicants between 50 to 80 years old with no restrictions on health and medical history–that's great news for those looking for seniors life insurance in NZ with a decent funeral cover.
Once your policy starts, you'll be instantly covered for accidental death, and fully covered after 24 months. Any other cause of death will result in a full refund of any paid premiums, but no payment will be made at all in the event of suicide or self-inflicted harm.
Should you change your mind within 30 days, a full refund of all the premiums you've paid will be granted. If, however, you cancel after the grace period, you will not be refunded any premiums unless you have un-used premiums that you've paid in advance.
Payouts are made in tax-free lump sum payments within 48 hours as long as all documentation is in order. Unlike other companies, they can also assist your beneficiaries with any paperwork needed to help accelerate the process of receiving the payout.
What sets them apart from other funeral insurance in NZ is their special joint discount offer wherein you can receive up to a 20% discount for a joint policy. This allows you and your spouse to be conveniently covered by a single policy.
Moreover, once you turn 90 years old, you stop paying premiums but your coverage will continue. Depending on how long you have held a policy with Cigna, you may pay more in premiums than your actual cover.
Moreover, unlike their other insurance policies, the funeral premiums with Cigna have the possibility of changing rates. While this is rare, they will give you advance notice of 30 days before charging you a modified amount.
Affordable premiums
20% discount on joint policies
Will assist in processing paperwork to receive claims
Unused premiums will be refunded after cancellation
Possible to pay more in premiums than amount of benefit
No payments for self-inflicted harm or suicide
Premiums can change during the policy
5. Momentum Life
For Overall Funeral Insurance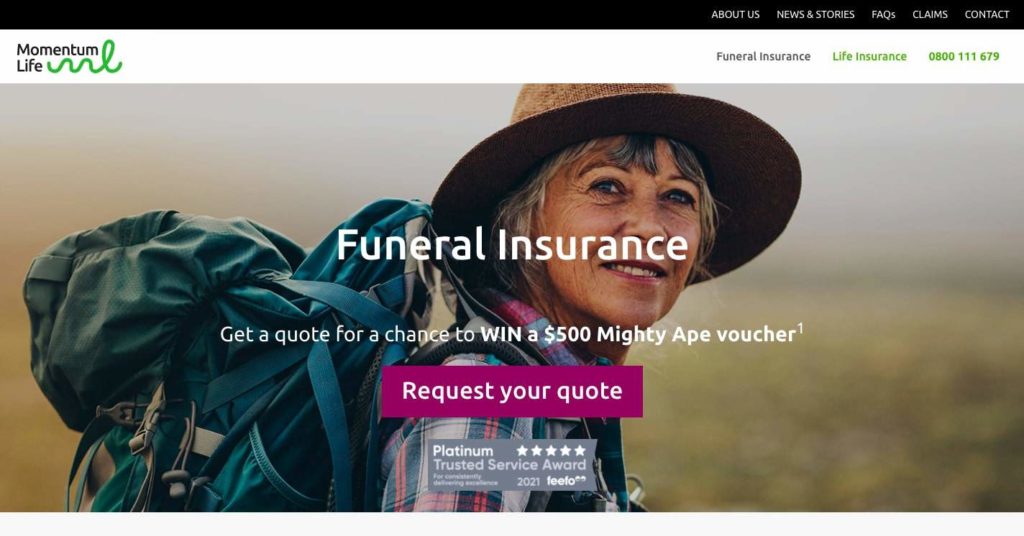 SERVICES
Life Insurance, Funeral Insurance
WEBSITE
https://www.momentumlife.co.nz/
ADDRESS
Mailing Address PO Box 99892, Newmarket, Auckland 1149
CONTACT DETAILS
Toll-Free: 0800-111-679; 0800-08-108
Email:

[email protected]

OPERATING HOURS
Monday to Friday: 9:00am – 7:00pm
Momentum Life has won several awards for its insurance products including the Reader's Digest NZ 2021 Quality Service Award. They have also been recognized by Feefo's Trusted Services Awards for three years running, receiving the Silver, Gold, and Platinum distinctions.
For residents of New Zealand aged 40-75, you're guaranteed acceptance into Momentum Life's funeral insurance plans. There are no required medical tests and coverage can be conveniently purchased over the phone.
We like that they start accepting from age 40, which is a generous inclusion. This makes them one of the best funeral insurance in NZ in our books.
When your policy starts, we like that you get a complimentary "Will Kit", which essentially contains a guide and some basic paperwork to help you construct a will. You can even arrange a lawyer to look it over and work together with Momentum Life.
You can get a free no-obligation quote here, with benefits packages ranging from $3,000 up to $30,000. To give you a general idea, the premium for a 50-year old non-smoking female can start as small as $3.97 per week for a $5,000 cover.
Better still, your premiums remain at a level rate throughout your cover – this means that there is no annual increase and you will pay the same amount each year. You can even get a joint funeral cover option with your spouse and you may even qualify for a special discount.
You can select between fortnightly, weekly, monthly, or yearly payments with no change in amounts despite the frequency or schedule of payments. Once you reach 89 years old, your premiums will stop but your cover and customer support will continue, so your seniors funeral insurance is covered without any stress on your part.
In the event of your death, your beneficiaries will receive the payout within 24 to 48 hours after the claim has been approved. To help accelerate the processing of your claim, you should inform your loved ones of the needed documents for claim approval.
All in all, there's not much disadvantage in signing up with Momentum Life funeral insurance in NZ, except that you may pay a greater amount in premiums than your benefit package.
Free "Will Kit" included with each policy
Affordable premiums
Covered even if you're overseas
Premiums stop at 89 years old but cover continues
Offers joint policies
Can pay more in premiums than total amount of benefit
Doesn't have a brick-and-mortar location
BONUS ENTRY:
6. Ease Insurance Brokers
For Those Who Prefer Insurance Brokers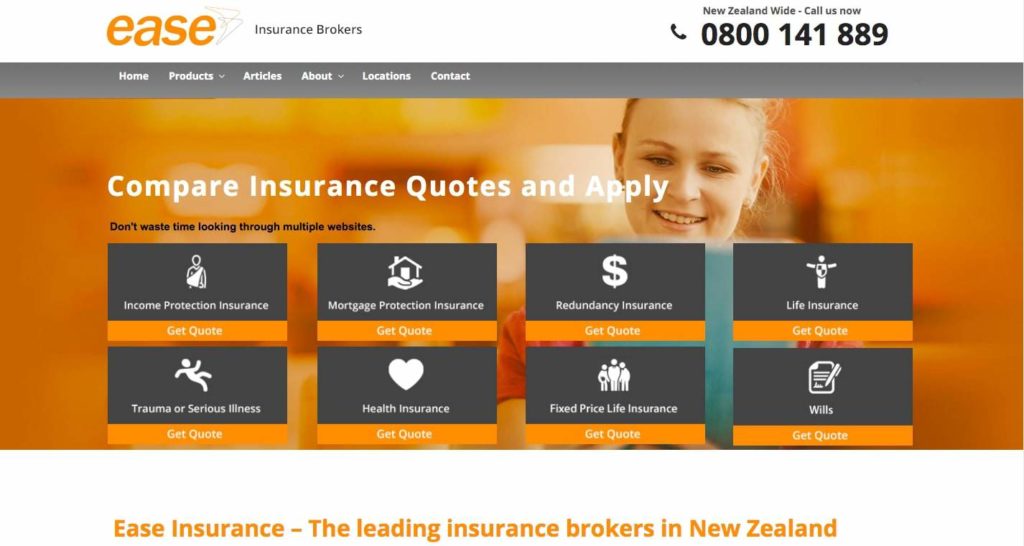 SERVICES
Income Protection Insurance, Mortgage Protection Insurance, Redundancy Insurance, Partners Life Insurance, Life Insurance, Serious Illness Trauma Insurance, Health & Medical Insurance, Fixed Price Life Insurance, Wills, Funeral Services
WEBSITE
https://www.momentumlife.co.nz/
ADDRESS
Street Address Building 730, Level 3, 261 Morrin Road, St Johns, Auckland 1072

Postal Address P O Box 28-572, Remuera, Auckland 1541, New Zealand
CONTACT DETAILS
Phone : 09 631 7771
Email:

[email protected]

OPERATING HOURS
Monday to Friday: 9:00am – 7:00pm
Established in 2001, Ease Insurance (formerly Ease New Zealand Limited), offers its insurance services to clients all over the country. They specialize in consulting for life, income, and health insurance.
We like Ease Insurance because they can provide their services either through phone or email no matter where you're located. If you prefer a more traditional in-person consultation, they can even go to you and discuss the specifics in the comfort of your own home.
As insurance brokers, they're not limited to a single company's insurance policies – they can gather information on up to eight different companies and present them to you so that you can make the final choice. So they can help and guide you select the best funeral insurance in NZ for you.
Do take note that these eight distinct companies are partnered with Ease Insurance, so if you prefer one they're not affiliated with, you might have to seek your brokerage services elsewhere.
Nevertheless, with backgrounds in accounting and financial advising, Ease Insurance can conduct full financial reviews and provide advice before issuing you a written recommendation on the most comprehensive insurance you should avail of.
Once you begin a policy with their help, you don't pay anything to Ease Insurance, as their services are "free". They are paid by your chosen insurer, so technically they receive indirect compensation from you via a percentage of the amount of premium that you end up paying.
Do take note that Ease Insurance may charge you a fee if you cancel your insurance policy within two years from its start date. This cancellation fee must be paid on the 20th of the month after and serves as compensation for their consultation services.
However, even after you have your policy all set up, you can still retain the services of Ease Insurance through consultations. If there are any complicated wordings in your policy or you want to make amendments, they can help you out.
Can present policies from up to 8 insurance companies
Offers complete financial evaluation and risk analysis
Provides continuing assistance even after policy is in effect
Can provide consultations in your home
Fees are charged through insurance company's policy
Policies will be more expensive because of additional fee
How to Choose the Best Funeral Insurance in NZ
Put simply, funeral insurance provides your beneficiary with money to use for your funeral expenses when you die.
It's a 'risk policy' since you don't know how much you will actually have to pay. Also, the policy will be cancelled if the client has failed to pay the premiums on time.
However, to minimise that risk, we've enumerated things that you should carefully consider before buying a funeral policy. These are:
1. Cost
This is the cover that you would like your beneficiary to have. It mostly ranges from $5,000 to $30,000 depending on the insurance agency. The premium you'll pay depends on your age and whether you're a smoker or not.
2. Application
You can apply for funeral insurance at the office, online, or by phone. A simple application process counts so that you can immediately start using your insurance.
3. Payouts
It's vital that you read the fine print on our policy and check when the payouts of your insurance will be given.
For example, are they going to give you the full cover only if you die accidentally in the first year or will they cover any cause of death in the years after that?
Moreover, it's important to know until what age you have to pay the premium. You have to be careful, as sometimes you might end up paying more than the covered amount.
4. Discounts
This will get you more value for the policy that you've bought. It might be a 10% off on the second year, special discounts when you apply online, or other special promos.
5. Review of Terms & Conditions
Make sure that you completely understand the terms and conditions in your policy before purchasing. You have to be aware of the procedure, risks, and payment terms, among others.
The last thing you want is to be caught off-guard by something you don't expect such as hidden and additional fees, or a condition that means you won't receive the full cover you have been paying for.
FAQs about Funeral Insurance in NZ
---
Our list of funeral insurance comparison in New Zealand has come to an end. It's always good to know that you're doing everything possible to take care of your family in the event of your death.
If you have any questions or comments, we would love to hear from you. Send us a message and we'll promptly get back to you.
Now ensuring your family is taken care of during your funeral isn't enough. You need to get some adequate life insurance as well and this list of life insurance in New Zealand is a great place to start.