Your Guide to Mt Hutt — ALL You Need to Know!
Do you know why they say snowboarders at Mt Hutt ever get lost? Because no matter where they go, it's all downhill from there!
Silly jokes aside, if you're getting ready to come here for a holiday, you're on the right page. Strap on your skis or board and get ready for a journey into everything you need to know about Mt. Hutt. We'll take you through all you need for a perfect trip to the area!
The Best Time to Go to Mt Hutt
The best time to visit Mt. Hutt largely depends on your preferred winter activities.
If you're an avid skier or snowboarder, the prime time for hitting the slopes is between early June and October, with the snowiest period typically falling in the second week of October. This aligns with the New Zealand ski season, which sees Mt. Hutt boasting one of the longest ski seasons among local resorts.
However, if you want to experience deep winter conditions, consider planning your trip for July or August.
Getting to Mt Hutt
No matter where you are in New Zealand, journeying to Mount Hutt can actually be fun in itself. We've mapped out the most scenic routes from New Zealand's major cities to the snowy peaks of this skiing paradise below!
From Auckland: The North Island Adventure
Starting from the City of Sails, you're in for a 12-hour drive—but who's counting when there's so much to see? Traverse the lush Waikato farmlands, skirt past the volcanic landscapes of Tongariro National Park, and marvel at the rugged Kapiti coastline.
Remember, the journey is as important as the destination!
From Wellington: The Cook Strait Crossing
Swap your wheels for sails as you embark on a ferry ride across the Cook Strait. The 3-hour journey from Wellington to Picton is nothing short of spectacular, with dolphins often spotted frolicking in the wake.
Once you dock in Picton, it's a straightforward drive down to Mt. Hutt, with the stunning Kaikoura Ranges keeping you company.
From Christchurch: The Canterbury Plains Cruise
If you're starting from Christchurch, you're just a 2-hour drive away from Mt. Hutt. This route takes you through the patchwork beauty of Canterbury Plains and the glistening waters of Lake Ellesmere.
Don't forget to make a pit stop in Methven—the gateway to Mt. Hutt and a charming alpine village worth exploring.
From Queenstown: The Southern Scenic Route
Starting from the adventure capital of the world, Queenstown, you're in for a 6-hour drive filled with awe-inspiring landscapes. Journey through the heart of Central Otago, past turquoise lakes and golden tussock lands. The Lindis Pass, with its moon-like terrain, is a sight to behold.
Where to Stay Near Mt Hutt
Mt Hutt Lodge
Address: Zig Zag Road, Rakaia Gorge 7782, New Zealand
Phone: +6433186898
Pricing: $$
Book Now
A stay at Mt Hutt Lodge means waking up to the sight of majestic mountains and the soothing sound of the Rakaia River. This cosy place is your home away from home, surrounded by nature's beauty.
The rooms are comfy, the food is yummy, and there are lots of fun activities. You can go fishing, hiking, or even skiing right from the doorstep.
Mt Hutt Motels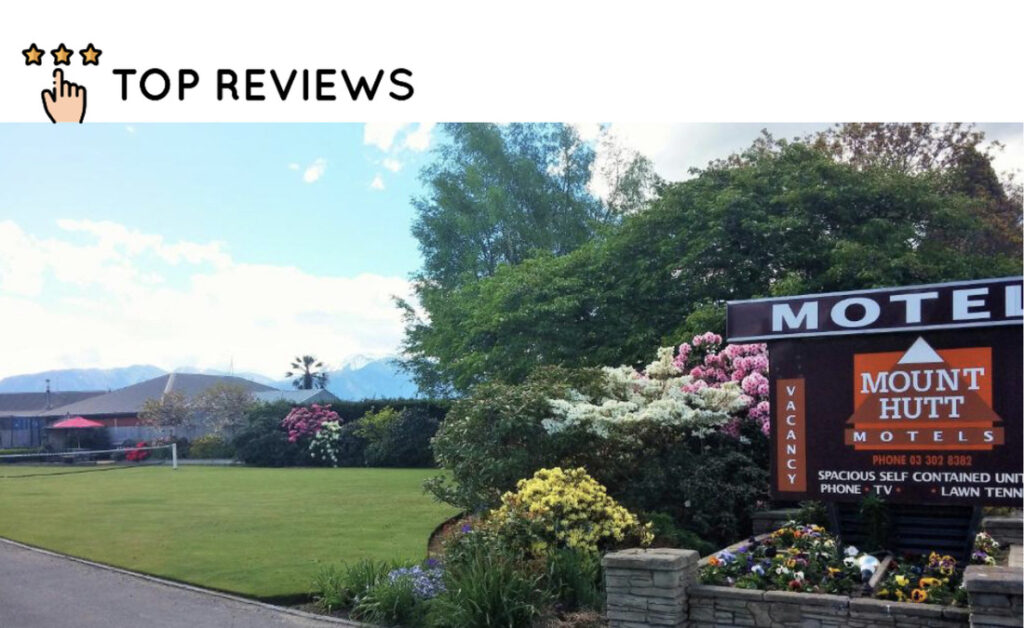 Address: 205 Main Street, Methven 7730, New Zealand
Phone: +6433028382
Pricing: $$
Book Now
Mt. Hutt Motel has cosy, comfortable rooms perfect for families and solo travellers alike. They've got all the basics covered: comfy beds, hot showers, and even a kitchenette for whipping up your own meals.
Plus, this motel is just a stone's throw away from the ski fields, making it an ideal base for your Mt Hutt adventure.
Fable Terrace Downs Resort
Address: 623 Coleridge Road, Canterbury 7572, New Zealand
Phone: +6433186943
Pricing: $$$
Book Now
Fable Terrace Downs Resort has stunning panoramic views of the Southern Alps, a sight that'll leave you speechless every morning.
Each villa is tastefully decorated, offering a unique blend of comfort and luxury. Their on-site restaurant serves up delicious food, while the golf course is a must-try for any enthusiast.
Methven Resort
Address: 1st floor/51 Main Street, Methven 7730, New Zealand
Phone: +6433028724
Pricing: $$
Book Now
Methven Resort is a slice of paradise nestled amidst the breathtaking alpine scenery. The rooms are spacious and cosy, offering unparalleled views of the surrounding mountains.
And we've got to give a special shout-out to their hearty breakfasts that set you up for a day of adventure.
Ski Time in Mt Hutt
Address: 43 Racecourse Avenue, Methven 7730, New Zealand
Phone: +6433028398
Pricing: $
Book Now
The rooms at Ski Time in Mt Hutt are no-frills but warm and comfortable with top-quality beds, ensuring a good night's sleep after a day on the slopes.
Moreover, the lodge also offers free WiFi and on-site parking, which adds to the hassle-free experience. Their à la carte restaurant serves savoury meals, and the bar is a great spot to unwind.
Where to Eat Near Mt Hutt
Mt Hutt Lodge Restaurant
Address: Zig Zag Road, Rakaia Gorge 7782, New Zealand
Phone: +6433186898
Pricing: $$
Website
Mt Hutt Lodge Restaurant is a foodie's paradise with stunning views to match.
For starters, their vegetarian, chicken or beef noodle soup is a must-try. It's a warm, hearty bowl of comfort. If you're up for something a little more indulgent, try their coconut curry seafood or their chicken wings and fries.
Ski Time Methven
Address: 43 Racecourse Avenue, Methven 7730, New Zealand
Phone: +6433028398
Pricing: $
Website
Ski Time Methven Restaurant, Accommodation & Conferences is a great place to eat, especially if you are looking for a meal with a view. The restaurant has a large outdoor deck with stunning views of Mount Hutt.
Their menu features a variety of dishes, including scallops, lamb chops, beef filet and more. And for the little ones, there's a tasty kid's menu.
The Green Parrot Bar & Grill
Address: 36 Forest Drive, Methven 7730, New Zealand
Phone: +6433029900
Hours:
Monday to Saturday – 4 PM to 10 PM
Sunday – 12 PM to 10 PM
Pricing: $$
Website
Kickstart your meal with their cheese balls. Every bite is gooey richness. But if you're more into seafood, their calamari or chili prawns are must-trys.
For the main course, the BBQ Pork ribs is a satisfying dish that meat lovers will adore. And for the vegetarians among us they have a pretty tasty vegetarian burger.
Primo e Secundo
Address: 38 McMillan Street, Methven 3503, New Zealand
Hours: 
Monday to Saturday – 7 AM to 4 PM
Sunday – 7 AM to 2:30 PM
Pricing: $$
Primo e Secundo is a must for all food enthusiasts. Not only is it a café, but it also doubles as a second-hand store, adding an extra layer of charm to the dining experience.
Kick off your culinary adventure with their beautifully brewed coffees. They're rich, aromatic, and just the right pick-me-up you need before or after hitting the slopes.
Their classic toasties are a real crowd-pleaser. Hearty, delicious, and perfectly cooked—just what you need to fuel up for the day.
The Dubliner
Address: 116 Main Street, Methven 7730, New Zealand
Phone: +6433028259
Hours: 
Monday to Friday – 5 PM to 12 AM
Saturday & Sunday – 12 PM to 12 AM
Pricing: $$
Website
No matter what you choose, you are sure to have a delicious meal at The Dubliner. This award-winning Irish Bar and Restaurant crafts a culinary experience that's hard to forget, with its unique blend of authentic Irish flavours and a touch of local Kiwi cuisine.
For something hearty, try their Magner's Irish cider lamb stew, or their Murphy's stout pie. But if you're looking for something lighter, The Dubliner also offers a variety of salads and sandwiches.
To wrap up your meal on a sweet note, try their "Whiskey Tasting Tray". It includes four single malts, offering a delightful palate of flavors that whiskey connoisseurs will appreciate.
What to Do at Mt Hutt
Go tobogganing down the mountains
Glide down the smooth, snow-covered slopes with a rush of cold air nipping at your cheeks. The best part? No expertise is required!
Simply rent a toboggan at the base, take a scenic ride up the chairlift, and then slide down at your own pace. Remember to dress warmly, and don't forget your camera—the panoramic views of the surrounding mountains are absolutely breathtaking!
Do some sightseeing
Mt Hutt is a great place to go sightseeing, even if you are not interested in winter sports. One of the best ways to experience the views from Mount Hutt is to take a ride on the Summit Six chairlift.
This chairlift takes you to the top of the mountain, where you can enjoy panoramic views of the Canterbury Plains, the Rakaia River, and the Southern Alps.
Hit the slopes with skiing or snowboarding
Mt Hutt known for its wide-open terrain, leg-burning runs, and monster snowfalls, this alpine paradise is truly a winter sports enthusiast's dream come true.
Mt Hutt boasts one of the longest ski seasons in New Zealand, thanks to a seasonal average snowfall of 4 meters. From gentle slopes for beginners to challenging terrains for the more experienced, there's a run for every skill level.
Try snowshoeing up Mt Hutt
What makes Mt Hutt particularly appealing for snowshoeing is its wide-open terrain. Another advantage of Mt Hutt is its long snow season. Translation: you can enjoy snowshoeing for a large part of the year!
There are a number of different snowshoeing trails at Mt Hutt, ranging from easy to challenging. Some of the most popular trails include the Summit Trail, the Lake Taylor Trail and the Glacier Trail.
Check out Mt Hutt's hiking trails
Mt Hutt has a range of trails, from the gentle Rakaia Gorge Walkway to the more challenging Scotts Saddle track, there is something for every level of experience.
The Rakaia Gorge Walkway, for instance, is an easy trail that rewards hikers with stunning views of the Rakaia River and the surrounding mountains. It's a great option for families or those looking for a relaxed day out in nature.
On the other hand, if you're up for a challenge, the Scotts Saddle track will test your endurance. This trail leads to a viewpoint that offers breathtaking panoramic views of the Southern Alps and the Canterbury Plains.
Speed down the slopes with a yooner
Give credit to: Tim Friedel
Speed down the slopes of Mt Hutt, seated just 20 centimetres from the ground, carving your way through the crisp, white snow. A yooner is a lightweight, easy-to-use device that offers an amusing combination between skiing and sledding.
Despite its thrilling nature, it's also incredibly accessible—even for beginners. But once you have mastered the basics, you can start to explore the different Yooning areas at Mt Hutt.
There are groomed runs for beginners and intermediates, as well as more challenging terrain for experienced riders. You can even try your hand at Yooning through the trees.
What to Expect from Mt Hutt's Weather
Spring (September to November)
During the spring months, Mt Hutt experiences a transition from cold winter conditions to warmer weather, making it the ideal time for those who enjoy both snow and slightly warmer temperatures.
This time of the year sees a mix of snow showers and fine days, with temperatures ranging from -4°C to 4°C. The ski field often still has a significant base of snow, with the potential for snowfall continuing into October, providing a great opportunity for late-season skiing.
Summer (December to February)
As we move into summer, temperatures at Mt Hutt begin to rise, reaching up to 20°C during the day. Snow is rare in these months, and the landscape transforms into lush greenery, offering outdoor activities such as hiking, mountain biking, and scenic chairlift rides.
The strong southwesterly winds that are common in the spring gradually ease, making for more comfortable outdoor conditions.
Fall/Autumn (March to May)
In the fall, the weather begins to cool down again, with temperatures dropping to around 10°C during the day and often falling below freezing at night. The landscape starts to change, with the greenery giving way to beautiful autumn colours.
This season serves as a prelude to the winter ski season, with occasional snowfall towards the end of May.
Winter (June to August)
Winter is the prime time for snow sports at Mt Hutt. During this season, the mountain is typically covered in a thick layer of snow, with temperatures often falling below freezing.
Snowfall is frequent and heavy, creating excellent conditions for skiing and snowboarding. The ski field is generally fully operational, with all lifts open.
However, it's worth noting that the weather can be quite variable, with strong winds and snowstorms occasionally leading to closures.