6 Best Health Insurance in NZ Compared and Reviewed
Featured Image Source: Pixabay
Expensive medical bills can easily cost you your hard-earned life savings. Fortunately, if you have the best health insurance in NZ, you won't need to worry about expenses if something happens to you.
Selecting policies and comparing health insurance in nz can be a daunting task, that's why we're here to help you out. We studied several policies from different companies and put together this list based on their products, premiums, and reputation.
Before we dive into our top picks, we'll need to cover the basics first, such as medical expenses and the cost of premiums. After that, we'll show you the best NZ health insurance that you can get today. .
Cost of Health Insurance in NZ Compared
Before we get to the cost of health insurance, it probably helps to understand how much you'd pay without it.
So, let's take a look at some common treatments and their associated costs first. With the vast range of surgeries and medical procedures available, prices can range from $2,000 up to a staggering $150,000.
To better visualize this data, we've compiled a few common procedures and their costs in the table below.
| | |
| --- | --- |
| Adenotonsillectomy | $4,500 – $7,000 |
| Strabismus | $6,000 – $7,500 |
| Sinus Surgery | $9,000 – $33,500 |
| Heart Valve Replacement | $60,000 – $85,000 |
| Mastectomy (unilateral) | $17,000 – $30,000 |
| Mastectomy with Breast Reconstruction | $50,000 – $100,000 |
| Removal of Skin Lesion | $500 – $10,000 |
| Hernia Repair | $8,500 – $20,000 |
| Spinal Surgery | $30,000 – $150,000 |
| Hip Replacement | $25,000 – $40,000 |
| Bowel Resection | $40,000 – $60,000 |
While the costs outlined above might be enough to convince you to sign up for a health plan immediately, this isn't even the whole story just yet. Before you receive any treatment, you'll need a diagnosis first, which usually means getting diagnostics done.
To determine what treatment is most effective for you, some of the diagnostic tests listed below may need to be conducted.
| | |
| --- | --- |
| Ultrasound | $400 – $500 |
| ​​CT Scan | $1,300 – $1,700 |
| MRI Scan | $1,500 – $2,500 |
| P.E.T Scan | $2,000 – $2,800 |
But let's go into further specifics by focusing on a common ailment. Let's take a look at cancer, for which treatments can easily burn a hole in your savings (as illustrated in the table below).
| | |
| --- | --- |
| Chemotherapy | $15,000 – $150,000 |
| Pharmac funded drugs | $800 – $3,500 per month |
| Non Pharmac funded drugs | $8,000 – $25,000 per month |
| Radiotherapy | $20,000 – $45,000 |
| Lung cancer | $50,000 – $200,000 |
| Metastatic melanoma | $100,000 – $200,000 |
Now let's compare these costs to the cost of health insurance.
The best nz health insurance policies essentially cover the cost of private medical treatment for 'acute' or 'critical' conditions. You pay a premium or scheduled fee to retain your cover or insurance policy with the company.
For example, a 40-year-old non-smoking couple with a joint policy can pay on average $2,000 yearly for private insurance. However, clients can choose an "excess" level that can dramatically reduce the cost of premiums.
​Insurance excess lets you pay a portion of the amount in a claim, which in turn grants you a discount on your premium. Different companies offer different rates and you can also choose to pay no excess at all.
To better illustrate how much you'll pay for a policy with and without excess, we created a table of excess policies of health insurance in nz compared side by side.
| | | | |
| --- | --- | --- | --- |
| Insurance Company | Annual Policy (No Excess) | Annual Policy ($500 Excess) | Annual Policy ($1,000 Excess) |
| AIA | $2,447.82 | $1,878.69 | $1,499.27 |
| Southern Cross | $1,789.38 | $1,520.86 | $1,341.94 |
| Nib | $2,280.88 | $1,693.41 | $1,458.43 |
| Partners Life | $2,784.98 | $2,006.51 | $1,747.02 |
| Accuro | $1,777.80 | $1,417.00 | $1,197.50 |
In all these, though, you can see that the average annual costs for health insurance are still lower than those for common ailments and their treatments. Even the highest average estimate here is lower than the cheapest common procedure from our earlier table!
The Best Health Insurance in New Zealand Compared and Reviewed
We know that was a little tough to get through, but you should now have a better understanding of medical expenses and premiums. With that said, we can now move on to our list of health insurance companies in New Zealand.
1. AIA Health Insurance
For Financial Strength Rating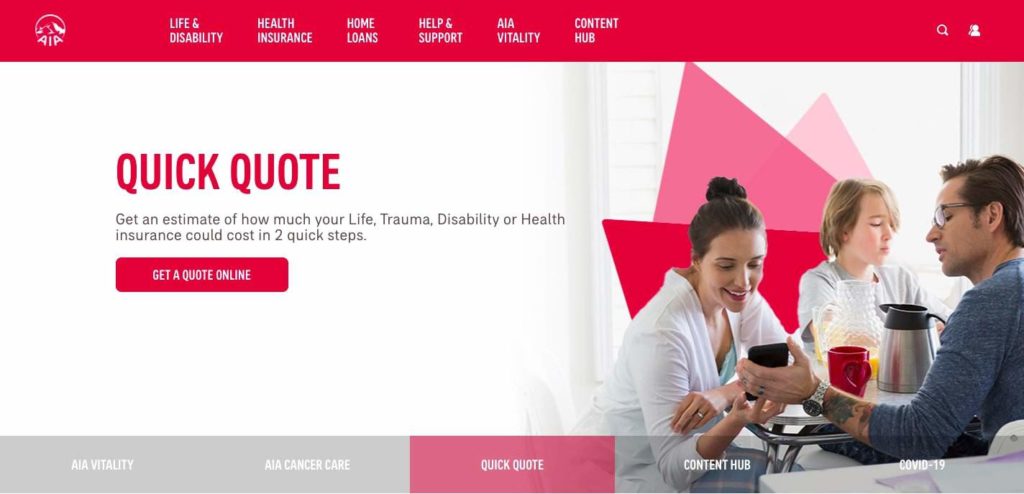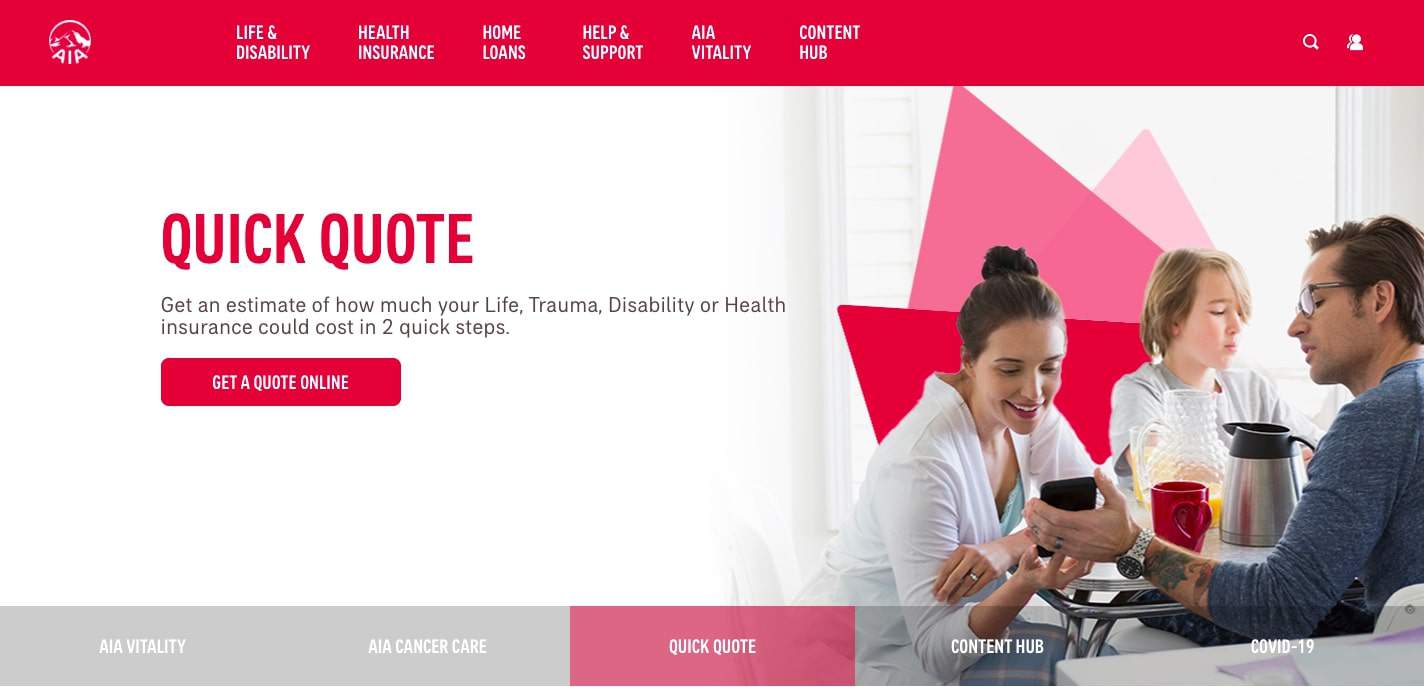 PRODUCTS & SERVICES
Life Insurance, Trauma Insurance, Total Permanent Disablement Insurance, Income Protection Insurance, Business & Rural Insurance, Private Health, Cancer Care, Home Loans
HEALTH INSURANCE
Private Health, Private Health Plus, Cancer Care
FEATURED BENEFITS
Unlimited Surgery Claims, Cancer Cover Medical Hospitalisation & Testing, Overseas Treatment, Enhancement Passback Specialist & Tests, Reproductive Health, Health Screening, Premium Waiver
FINANCIAL STRENGTH RATING
AA (Very Strong)
WEBSITE
https://www.aia.co.nz/
ADDRESS
AIA House, 74 Taharoto Road, Takapuna, Auckland 0622
CONTACT DETAILS
Phone: 0800 500 108
Email:

[email protected]

OPERATING HOURS
Monday to Friday: 8:00am – 6:00pm
AIA Insurance is one of New Zealand's most prominent insurance companies with over a century of history. They offer insurance products that they claim are meant to help Kiwis live longer, happier lives.
They offer two main health insurance policies, namely Private Health and Cancer Care. We checked out both of them for this article, but let's start with Private Health.
If you get approved, Private Health provides extensive cover for various illnesses, conditions, care, and treatments. You have the added benefit of choosing your own medical provider and treatment schedules as well.
As a client, you'll get unlimited annual claim amounts relating to any kind of surgery. You can get up to $500,000 for cancer cover, and can receive treatment abroad as well.
However, when we compared NZ health insurance policies, we found that private health doesn't include specialist consultations, reproductive health, and a health screening allowance. For these, you'll need to sign up for the higher-tiered premium Private Health Plus. For these, you'll need to sign up for the higher-tiered premium Private Health Plus.
Upgrading gives you an extra $100,000 for any diagnostic imaging and tests that aren't related to treatment or surgery. You'll also receive up to $1,500 for reproductive healthcare but only a $500 health screening allowance (that you can avail of every three years).
You can also get a Waiver of Premium add-on that further protects your health insurance in case you struggle financially and can't make payments on your premiums.
Cancer Care, however, already includes the waiver under a different name called "Suspension of Benefit". Aside from covering expenses related to diagnosis, treatment, and recovery, it comes with the same perks as Private Health.
In any case, both Private Health and Cancer Care are solid policies, in our estimation. The latter is probably more suited to those who have family histories of cancer, though.
It's also pretty appealing that the policies are available for your children the moment they're born. Moreover, the policy doesn't require underwriting until they're older than three months.
Additionally, their Enhancement Pass Back Benefit means that any future changes to their product offerings are automatically applied to your existing policy.
On a lighter note, you can earn 1 Airpoints Dollar for every $100 that you pay in premiums. You'll need to sign up for an Airpoints membership though and link it to your account first.
There's not much to dislike about AIA's health insurance products on the whole… except that their premiums increase annually. Other than that, their policies are fairly easy to understand and have almost everything covered, earning a spot on our list.
AA Financial Strength rating
Can sign up your children as soon as they're born
Improvements made to your policies automatically apply
Earn Airpoints Dollars when paying premiums
Health screening allowance resets every three years
Premiums increase annually
Applications are subject to approval
2. Southern Cross Health Insurance
For Tailored Health Insurance Plans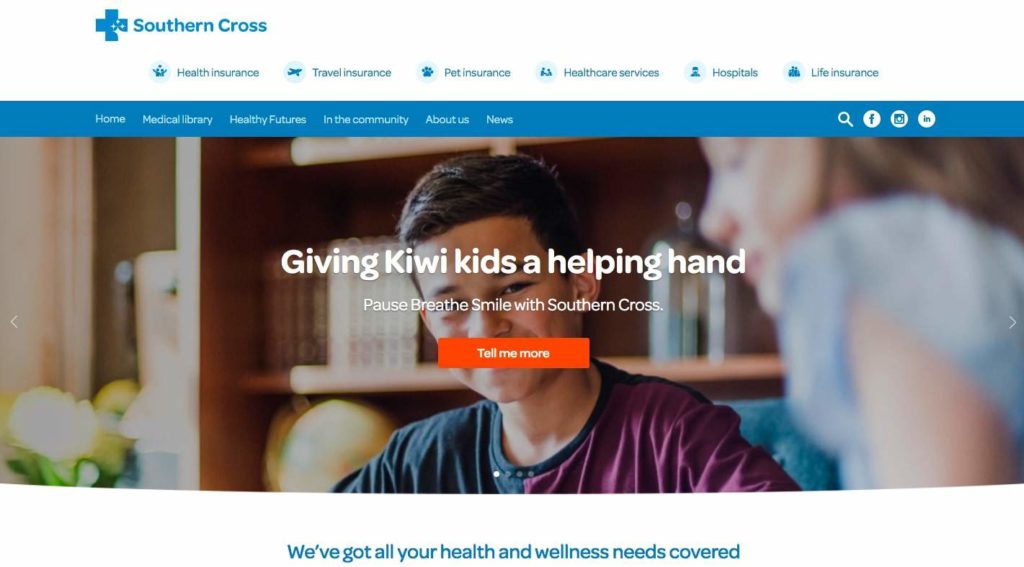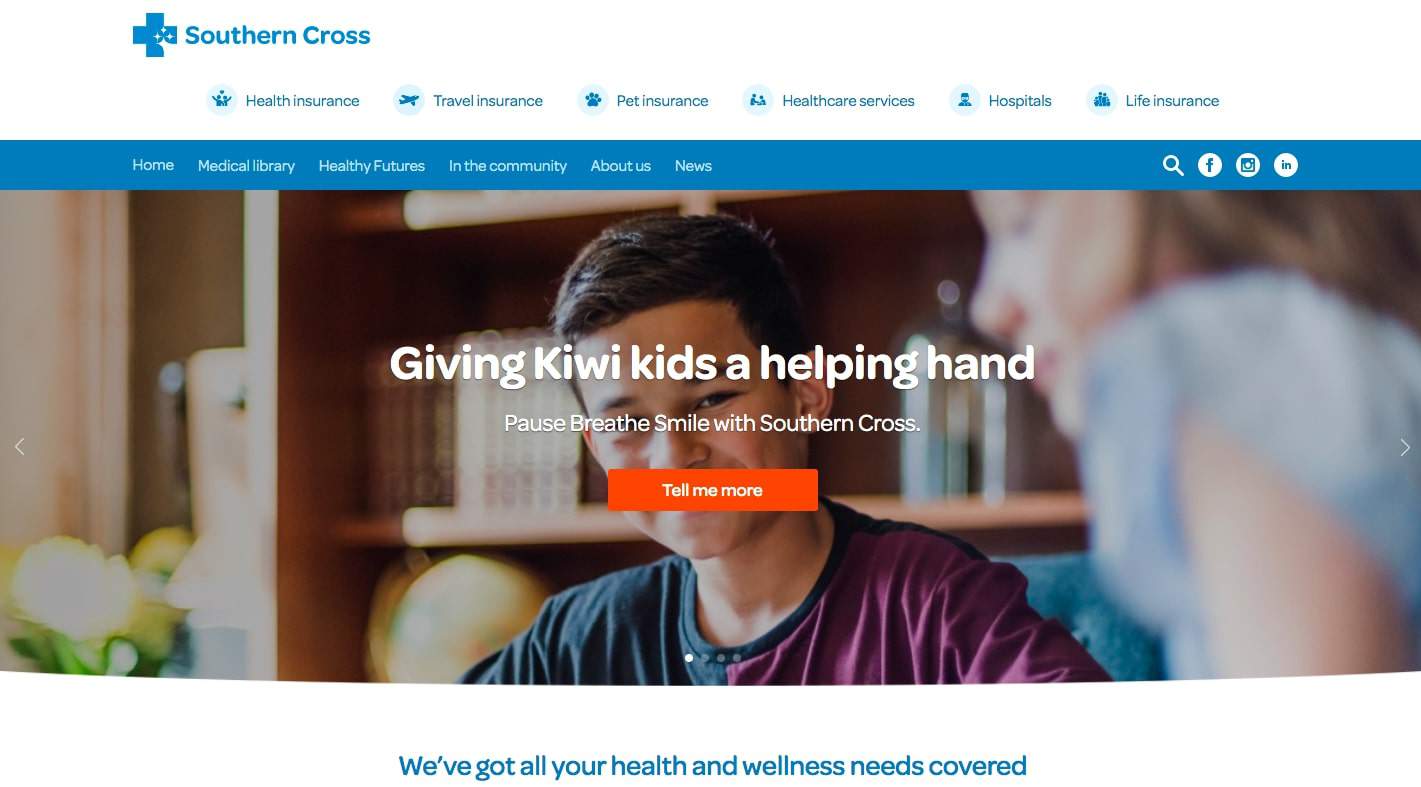 PRODUCTS & SERVICES
Health Insurance, Health Care, Hospitals, Life Insurance, Pet Insurance, Travel Insurance, Financial Advice
HEALTH INSURANCE
HealthEssentials, Wellbeing Starter, Wellbeing One, Wellbeing Two, UltraCare, RegularCare, KiwiCare, Cancer Care, Cancer Assist, Critical Illness
FEATURED BENEFITS
Surgery, Specialists, Cancer Care, Diagnostic Imaging And Tests, Day-To-Day Healthcare, Critical Illness
FINANCIAL STRENGTH RATING
A + (Strong)
WEBSITE
https://www.southerncross.co.nz/
ADDRESS
Level 1, Te Kupenga, 155 Fanshawe Street, Auckland 1010
CONTACT DETAILS
General Inquiries: 0800-800181
New Members: 0800-100-777
OPERATING HOURS
Monday to Thursday: 8:00am – 5:30pm
Friday: 9:00am – 5:00pm
Saturday & Sunday: Closed
APPLY ON SOUTHERN CROSS
Southern Cross was founded in 1961 with a single goal – that New Zealanders be given access to various options for private health care. They are a not-for-profit company offering a range of services to individuals, couples, families, and even pets.
Each insurance plan features different levels of cover to match your requirements. Namely, these are HealthEssentials, Wellbeing Starter, Wellbeing One, Wellbeing Two, UltraCare, RegularCare, and KiwiCare.
The most basic plan is HealthEssentials, which takes care of your most common needs. These include your family doctor, dentist, or optometrist visits.
It provides cover for 75% of your costs but is limited to the amounts indicated in your policies and depends on the health care you seek.
For example, you can only claim up to $150 for any GP care per year while dental caps off at $500 annually. If this doesn't seem like a value-for-money plan for you, then you'll want to take a look at their higher-tiered plans.
The Wellbeing, Shared Cover, and Ultra Care plans are more comprehensive options, in our opinion. These include cancer care, consultations with specialists, diagnostic imaging, day-to-day healthcare, and critical illness.
Take note that there are restrictions to what each category covers, particularly concerning surgery.
Coverage for chemotherapy and drugs are at $60,000 for the Wellbeing and Ultra Care plans, while the limit is at $48,000 for joint coverage policies. If you want increased coverage, you'll have to upgrade to Cancer Care Plus.
You'll also need to include the Cancer Assist add-on if you want to receive a one-time payment. This will only happen though if you're diagnosed with what they disconcertingly call a "qualifying cancer."
Regardless of this condition, you'll have unlimited radiotherapy coverage for all plans except for HealthEssentials.
If you're getting confused, don't worry – you're not the only one. Southern Cross's attempt to cater to everyone's wants and needs has probably given too many options to consider.
To keep things simple, for the most overall comprehensive policy, WellBeing Two and UltraCare are the prime choices. That's especially true when it comes to post-surgery recovery.
These two plans don't have a 6-month coverage limit either. What's more, all surgical procedures have unlimited coverage.
If you want to customize your plan, then Wellbeing One and Two are the best picks, since you can add specific "modules" for categories you want included. You can choose between the Keeping Well Module, Body Care Module, Day-to-day Module, or a Vision and Dental Module.
As a client here, you'll be able to manage your account or membership with their handy My Southern Cross app. You can check benefit balances, request approvals in advance, and make claims no matter where you are.
If you've always wondered what is the best health insurance in NZ that is flexible and tailored to your personal condition, then Southern Cross is the ideal choice. The multiple options to customise your plans let you tailor yours specifically to your needs, and landed them a spot on our list.
Can manage your account online
Can customize health insurance plans
Your third child and subsequent children have free coverage
HealthEssentials only covers basic needs
Too many options to make consideration easy
3. Nib Health Insurance
For Value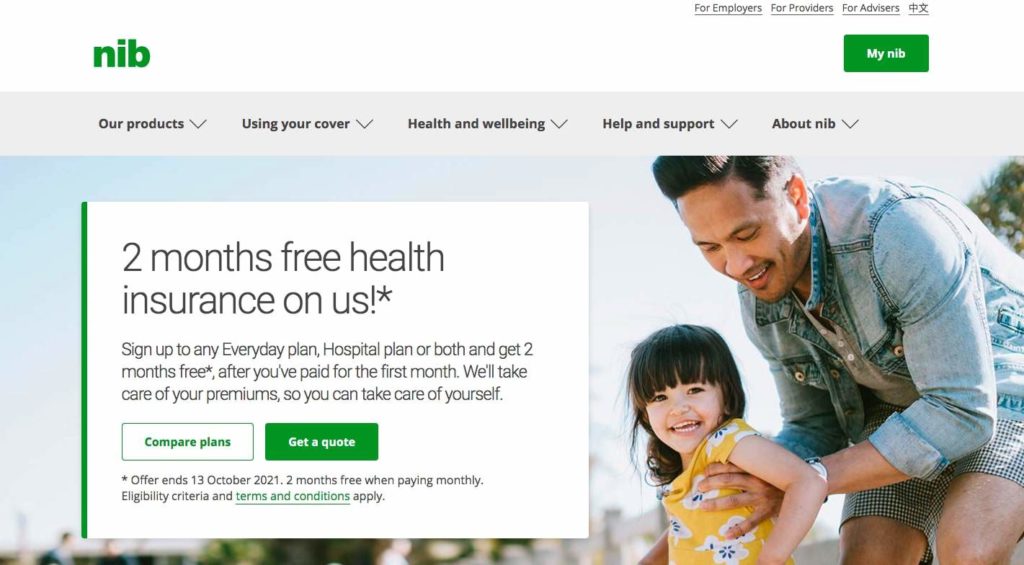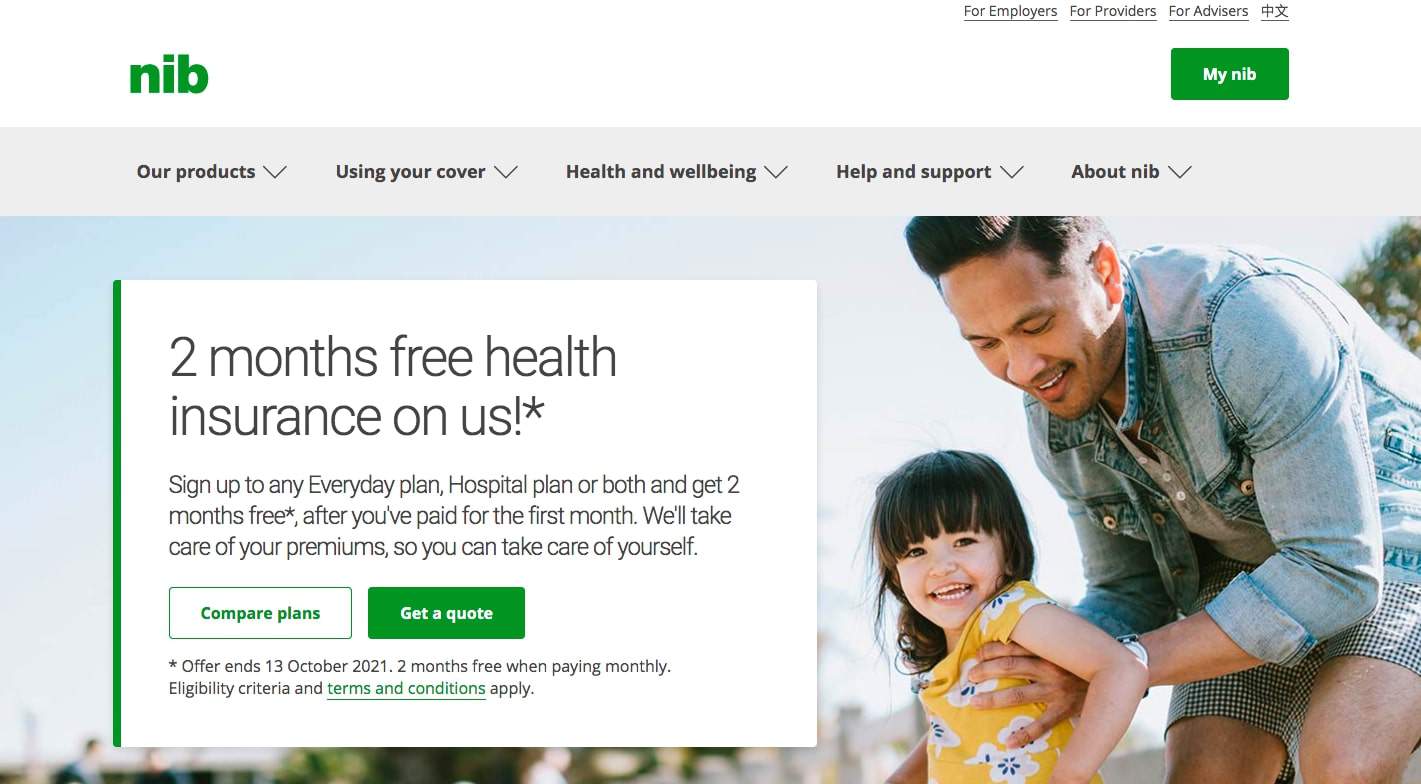 PRODUCTS & SERVICES
Health Insurance, Health Insurance for Employers, Travel Insurance
HEALTH INSURANCE
Hospital Plan, Everyday Plan
FEATURED BENEFITS
Cancer Surgery, Diagnostics, Obstetrics, Home nursing, Dental, Glasses & Contacts, GP Visits & Prescriptions, Physiotherapy, Chiropractic, Osteopathy, Remedial Massage, Acupuncture Vaccination
FINANCIAL STRENGTH RATING
A – (Strong)
WEBSITE
https://www.nib.co.nz/
ADDRESS
48 Shortland Street, Auckland CBD, Auckland 1010, New Zealand
CONTACT DETAILS
Phone: 0800-123-642
Email:

[email protected]

OPERATING HOURS
Monday to Friday: 8:00am – 7:00pm
Saturday: 9.00 AM – 1.00 PM
Sunday: closed
APPLY ON NIB HEALTH INSURANCE
Formed in 1952, Nib is one of NZs best health insurance providers, known for their commitment to the local community. With their health insurance plans, you get fast access to cancer treatments, surgeries, diagnostic tests, and consultations.
We like Nib Health Insurance because they keep their plans simple with three major categories: the Everyday Plan, Hospital Plan, and a combination of both covers. For each category, you can choose between a standard or premium option.
The Hospital plan, as the name implies, covers you for major medical needs such as cancer treatment, MRI diagnostics, and tooth extraction, just to name a few.
It also covers surgical-related benefits amounting up to $300,000, including procedures such as hip and knee replacements.
Upgrading to the premium Hospital Plan gets you coverage for obstetrics, intravitreal eye injection, sterilization, and post-hospital therapeutic and post-hospital home nursing care.
You can also choose an excess option to get a discount on your premium with different options to suit your budget.
The Everyday plan, on the other hand, covers you for common day-to-day needs. This includes visits to your GP, chiropractor, physiotherapist, and optometrist costs.
The only difference between its standard and premium plans is the amount of coverage. So at almost double the cost, the premium isn't much of an upgrade.
If you want complete coverage at an affordable price, Nib Health Insurance offers a combination of both plans. We do think this was their intention, though: to get you to sign up for the blended policy.
​​Nevertheless, with Nib Health Insurance, you can easily join through their online application without the need for any complex medical questions.
Your cover begins immediately upon applying, but take note that pre-existing conditions will be covered only after 3 years from the policy's start date. Exceptions to this rule are for cancer, heart conditions, transplant surgery, and cosmetic surgery.
With a 14-day trial period, you'll have time to choose if Nib Health Insurance is the best for you, and you'll be refunded any paid premiums if you decide that it isn't.
All told, their comprehensive coverage and affordable premiums are worth considering. If you're looking for the best-value health insurance in NZ, then this is certainly it.
Affordable premiums
14-day free-look period
Simple and easy-to-understand plans
Fewer excess options
Premium Everyday Plan isn't good value
4. Partners Life Health Insurance
For Benefits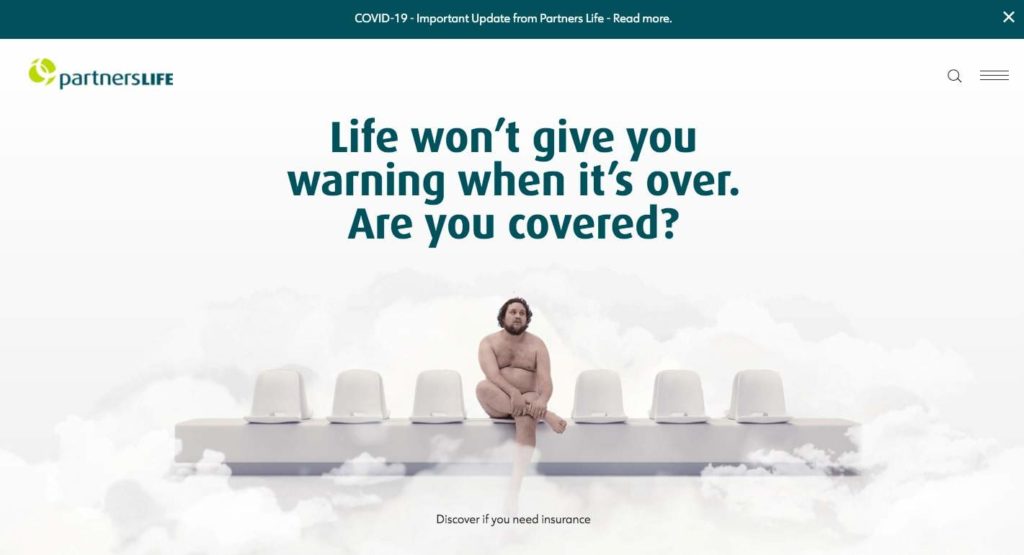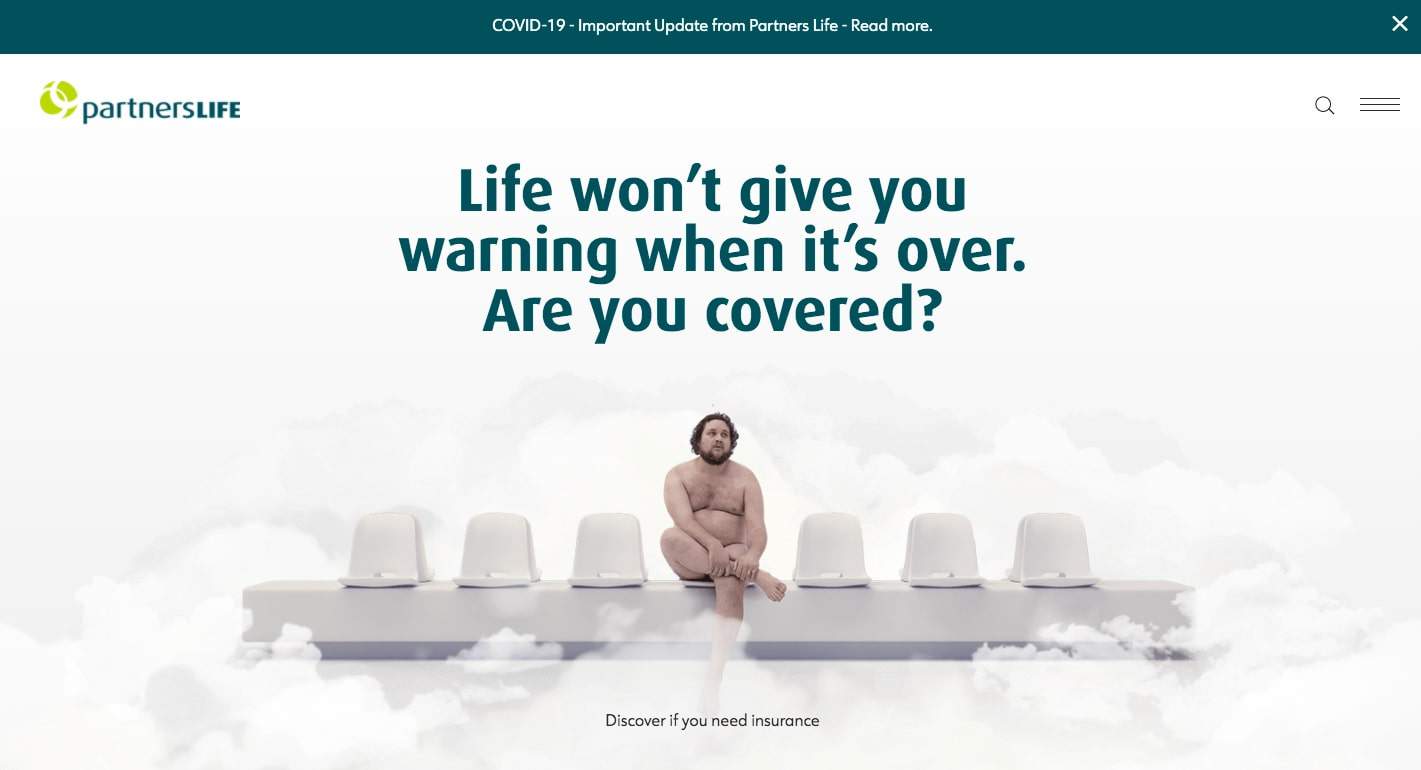 PRODUCTS
Life Insurance, Health Insurance, Life Cover, Life Income Cover and Terminal Illness Cover, Trauma Cover, Moderate Trauma Cover and Severe Trauma Cover, Total and Permanent Disability Cover
BENEFITS
Surgical Treatment, Non-Surgical Hospital Treatment, Serious Illness Treatment, Non-Subsidised Drug Treatment, Hospitalisation Costs, Major Diagnostic Costs
FINANCIAL STRENGTH RATING
A- (Strong)
WEBSITE
https://www.partnerslife.co.nz/
ADDRESS
Level 1, 33 – 45 Hurstmere Road, Takapuna, Auckland 0622, New Zealand
CONTACT DETAILS
Phone: 0800-145-433
Email:

[email protected]

OPERATING HOURS
Monday to Friday: 8:30am – 5:00pm
APPLY ON PARTNERS LIFE HEALTH INSURANCE
Partners Life Health Insurance is a homegrown, Kiwi-operated business that began as a start-up in 2011. Today, they've cemented their position as one of the most reliable insurers in New Zealand, offering one of the most comprehensive life and health insurance products.
They have three main goals, they say: to protect clients against lost income, to minimize the struggle of debt, and to cover any unforeseen expenses.
However, you won't find an online calculator or estimates with Partners Life – they believe that each health plan is different and must be decided with the help of an independent adviser.
Some might think that a pain, but we disagree. We like their old-school approach to insurance because it gives it a personal touch.
Now, if you're diagnosed with a terminal illness or pass away, they provide coverage that pays out in a lump sum and can be converted into an investment fund instead of a direct deposit.
This can be used to provide steady income, pay off debts, or can be put aside for education or funeral fees.
On the other hand, if you're diagnosed with cancer or have had a heart attack, their Trauma Cover is ingeniously converted into a recovery fund. This will be used for your treatment and medical bills so that you can recover faster.
In the event that your illness inhibits your ability to work or earn, then their Income and Expenses Covers can help you out. These can be set up in such a way so that you can continue to receive a monthly "income" to help you pay for daily expenses.
However, if your illness permanently prevents you from working, their Total and Permanent Disability Cover is what kicks in. It helps cover expenses including fees related directly to your illness as well as any outstanding debt.
Private Medical Cover is one of their more popular covers, in particular. It can help you receive the best care without having to enter the public health care system, you see.
The Private Medical cover offers the vastest range of benefits, in our opinion, but you can partner it with Specific Condition Cover and Hospital Cash Cover for a better policy. The latter two pay out a set monetary amount depending on what type of condition needs to be treated.
And if you're stuck with Partners Life through the years, you can get a premium loyalty discount from them. That's always a plus when looking for the best health insurance in NZ!
Loyalty discounts
Free consultation
Policies are easy to understand
No app or online management tools
No online quotation or estimate
5. Accuro Health Insurance
For Fast Applications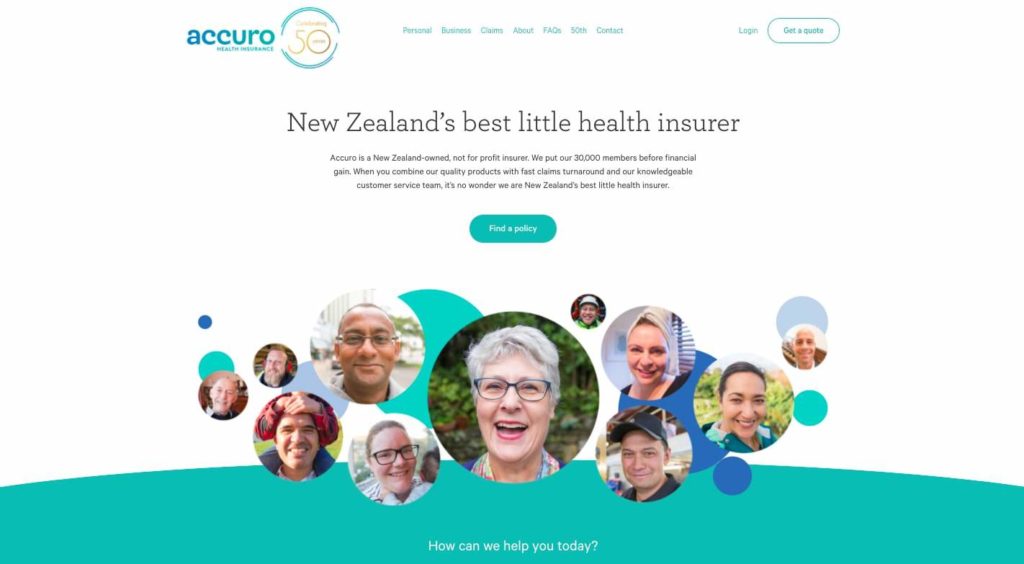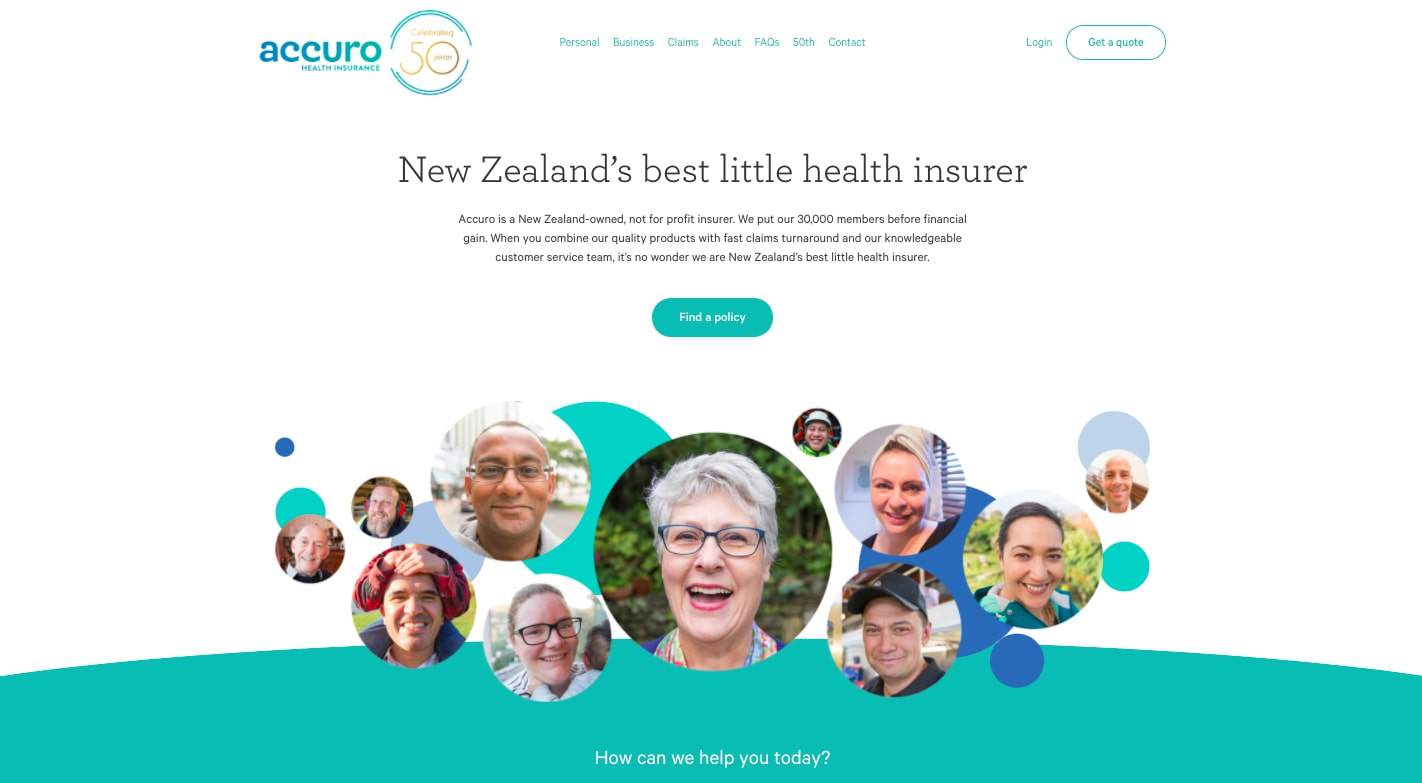 PRODUCTS
SmartCare, SmartCare+, SmartStay, KidSmart, StaffCare+, StaffCare
BENEFITS
Hospital & Surgical Base Plan, General Surgery, Private Hospital Medical Admission, Non-Pharmac Subsidised Drugs, Best Doctors, Optional Plans, Specialist Plan, Dental, Optical Plan, GP Plan Natural Health Plan
FINANCIAL STRENGTH RATING
B+ (Good)
WEBSITE
https://www.accuro.co.nz/
ADDRESS
Level 3, 17 Whitmore Street, Wellington 6011, New Zealand
CONTACT DETAILS
Phone: 0800-ACCURO (0800-222-876)
Fax: 04-473-6187
Email:

[email protected]

OPERATING HOURS
Monday to Friday: 8:30am – 5:00pm
APPLY ON ACCURO HEALTH INSURANCE
Accuro is a non-profit company, wholly owned and operated by New Zealanders. First established in 1971, their health plans are extensive, affordable, and accessible.
While they may not be as large as other companies, this allows them to focus more on their 30,000 members. They are known for their fast claims turnaround, the quick application process, and highly trained team that can help you find the quality products you need.
One way they achieve this speedy client application is through HUGO or Health Underwriting Goes Online. It's an online survey where you will only answer the questions that apply to your medical history and personal characteristics.
At the end of the survey, you'll immediately receive the best offers based on your answers. Their algorithm can also determine if you have a special case that needs an actual human to be involved.
Nevertheless, after you choose one of the plans offered, you're instantly covered. This streamlined process is so efficient that Accuro won the Innovation of the Year award at the New Zealand Insurance Industry Awards in 2018.
Accuro accepts New Zealand citizens, residents, and those who are on a work visa as well. This makes them a great choice for expats who don't know how long they'll be in the country but still want access to adequate health insurance.
New Zealand residents and citizens can avail of SmartCare, which is the basic option. It covers general surgery, admission to private hospitals, and access to virtual consultation services.
Upgrading to SmartCare+ adds coverage to non-Pharmac-subsidized drugs and increases coverage amounts.
This "base plan" covers the important stuff, but you can customize your plan by adding additional modules or plans to cover specialist consultations, dental, optical, and GP visits.
You can even add a "Natural Plan" that covers osteopaths, natural therapists, and nutritionists.
SmartStay, on the other hand, is for those who are in the country on a work visa. This plan provides almost the same base plan, except oral surgery is included and they can only add a Specialist plan or GP Plan to their policy.
Accuro is also the only health insurer with a specific product for children and infants. We like KidSmart because it allows children to be covered without the need for their guardian or parent to be under one of Accuro's policies.
Another perk of joining Accuro is that you'll have access to Best Doctors, an online service that gives you access to over 50,000 medical doctors who can answer any questions you may have.
They can help assess your condition, advise you on local specialists, and help ease any stress you may be experiencing before a procedure from anywhere in the world.
Since Accuro has a free look period of 14 days, you won't have to commit to the policy if you change your mind. That's another strong reason to at least check them out.
Fast application and approval process via HUGO
Access to Best Doctors virtual consulting
Offers services to those with work visas
Children can stay at child rates until they are 25 years old
1-Year coverage for specialist consultations and diagnostic procedures
Claims can be approved within 48 hours
Does not cover overseas
No pregnancy policies
GP and dental visits not included on base plan for residents
6. NZ Insurance Services (BONUS ENTRY)
For Insurance Intermediary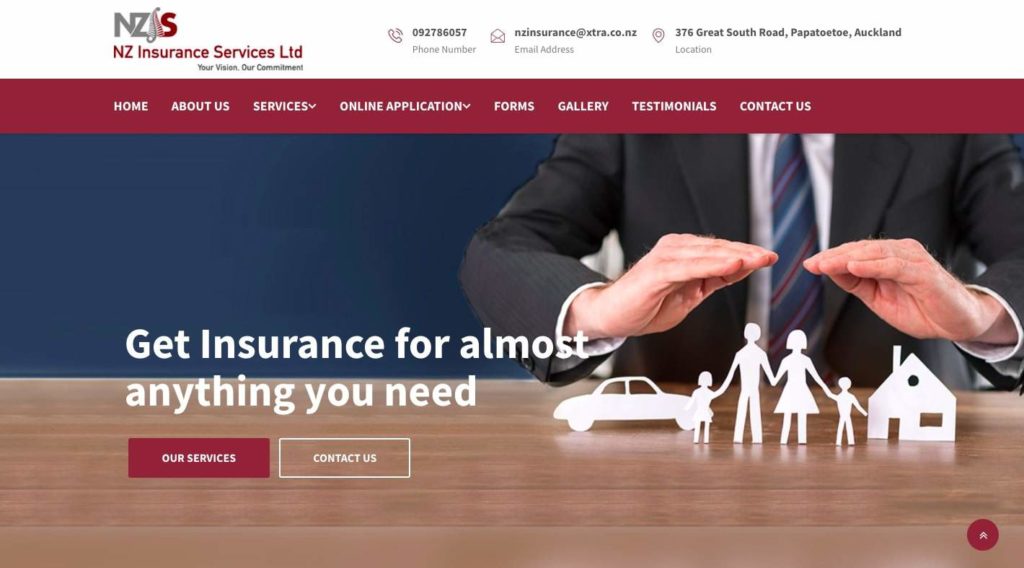 PRODUCTS
Life Cover, Private Medical Cover, Trauma, Mortgage Repayment Cover, Kiwisaver, Household Expenses, Disability Insurance, Total Permanent Disability, Business Protection Plan
BENEFITS
Surgical Treatment, Non-Surgical Hospital Treatment, Serious Illness Treatment, Major Diagnostic Costs, Non Subsidised Drug Treatment, Hospice Respite, Return to Home Benefit, Worldwide Benefit, Medical Tourism Option
WEBSITE
https://nzinsurance.net.nz/
ADDRESS
376 Great South Road, Papatoetoe, Auckland
CONTACT DETAILS
Phone: 092786057
Email:

[email protected]

OPERATING HOURS
Monday to Friday: 9:00am – 5:00pm
APPLY ON NZ LIFE INSURANCE
Okay, so this isn't an insurance provider, but they're so effective at helping people find providers that we're mentioning them as a bonus.
NZ Insurance Services is one of the leading insurance intermediaries in Auckland. A majority of their advisors have been in the field since 1991 with other insurance brokers and joined when it was established in 2005.
What makes them a great intermediary is the selection of insurance providers that they have chosen to work with, which include the companies that we've included in our list.
So, if you would prefer to speak to a third-party agent rather than a customer service representative or adviser employed by the companies you're interested in, then you're in the right place.
The products that NZ Insurance Services offers will have already been vetted to best suit your needs. As they're insurance experts, you may find that they're better suited at understanding how the different policies will benefit your unique life situation.
Take note that just like other brokers, you don't directly pay NZ Insurance Services – they'll receive a commission from the company whose policies you'll avail of. In this regard, don't be surprised if they suggest that you sign up for the more expensive policies.
However, going with an intermediary can have its benefits as well, since they may receive special discounted prices that are lower than what companies will normally offer if you go directly to them.
NZ Insurance Services' Private Medical Cover is provided by Partners Life Health Insurance, which offers cover for a range of treatments and up to $600,000 in surgical procedures as well as $200,000 in diagnostics, among others. You'll also receive cover for terminal illness, hospital admission, non-subsidized drug treatment, and more.
Moreover, your medical cover will apply no matter where you are in the world. If you happen to be in Australia during a medical emergency, you'll be reimbursed the cost equivalent of any treatment in New Zealand Dollars.
Another thing to like about NZ Insurance Services' policy is the Return to Home Benefit, which will cover the expenses of bringing you and a companion back to New Zealand if you need urgent treatment. However, this will only apply if you've been working overseas for more than 3 consecutive months.
In short, if you'd prefer to have an intermediary show you the pros and cons of different coverage plans, then going with NZ Insurance Services is a great choice. They'll explain the various policies and even provide a risk analysis of your current state.
Can provide lower rates

In-depth knowledge of various insurance policies
Free service disagreement settling
Limited coverage and benefits
Little to no customization options for policies
May try to sell you higher priced policies first
How to Choose and Compare the Best Health Insurance Plans in NZ
The first step in choosing a health insurance product is assessing your health and taking note of any pre-existing medical conditions you have. You can also look to your family history and think about which diseases you may be prone to acquiring.
A healthy person will certainly get a lower premium than someone with pre-existing conditions. Don't forget to get quotes from multiple insurers to find the best price.
Below are the important things to consider when applying for a health insurance:
1. Types of Health Insurance
There are three types of health insurance you can get. These are:
Minor health insurance
Minor health insurance plans only cover the small, day-to-day medical treatments and costs, such as consulting with your general practitioner, physiotherapist, or dentist. This plan doesn't cover major surgeries and treatment costs.
Major health insurance
Opting for the major medical cover will answer for the more significant surgeries and treatment costs, as well as specialist visits.
This is the most popular option of the three types of health insurance. From diagnosis to recovery, you can get treated for cancer, heart attack, amnesia, injuries, and others.
Comprehensive health insurance
The comprehensive option covers all that the minor and major medical plans do. It is also the most expensive of the three.
2. Policy Benefits
Here are some of the most useful benefits you should look for when choosing health insurance:
Cancer Care
This benefit insures you against all cancer-related expenses with the inclusion of Pharmac and non-Pharmac-funded chemotherapy drugs.
Surgical Treatment
This covers both minor and major surgery costs to treat a particular illness, condition, or injury.
Non-Surgical Treatment
On the other hand, non-surgical benefits include allergy treatments, IV infusions, psychiatric confinement, counselling, consultations, and so on.
Diagnostic Testing
This provides cover for diagnostic testing and health screening like mammograms, biopsies, and more.
Pre-Existing Conditions
This one protects you from the possible discomfort or sickness that could ensue given your pre-existing conditions.
Overseas Treatment
With an overseas treatment benefit,the policy covers you while you're being treated in a foreign country.
3. Excess Option
A key factor in getting the right medical cover is the excess. An excess can be defined as the amount you pay every time you make a claim to your insurer.
For health insurance, you can choose from different excess choices. Most health insurance providers offer at the very minimum, an excess rate of $250.
The higher the excess amount you opt for, the lower the premiums for health insurance you will have to pay. Although you should be aware that the excess can be paid either each year or on each claim.
4. Terms and Conditions
Understanding the T&Cs allows you to know the features, exclusions, and conditions of the insurance product.
It's very helpful to let an insurance adviser explain the benefits and terms to you. By doing so, it'll help you make the most of your health insurance policy.
5. Rewards and discounts
Rewards and discounts give you extra value for your insurance. You can find great perks for health insurance such as Airpoints, low claim, loyalty discounts, direct debit, and free child discounts.
FAQs about Health Insurance in NZ
---
And that's all for the health insurance in New Zealand. By getting insured, you can leave the medical expenses to your provider as you focus on being healthy.
Has everything about our picks been clear thus far? If you have any questions, kindly drop us a line, and we'll get right back to you.
Worried about your family's future? You can also get one of the life insurance options in NZ, which pairs nicely with health insurance if you're one of the main breadwinners of the family.