The 6 Income Protection Insurance Products in NZ We Prefer
You may only earn enough to make ends meet. But if your greatest financial asset—your ability to earn—is compromised due to an illness or injury, what will you do?
To protect against the risks involved, we've listed here income protection insurance products in NZ, so you can continue to settle your living costs and mortgage.
However, it can be difficult to pick an income cover since most products differ in features and prices. Add to that, people have different budgets and lifestyles, too.
So first we'll tackle the basics of choosing an income protection cover to help you decide from our list later on. Scroll down to see our guide about income protection.
How to Choose the Right Income Protection Policy
Before you get an income protection policy, you have to ask yourself:
Do you have enough savings to cover your expenses if suddenly you become ill or injured?
Can you live without income from your work for a length of time?
If your answer for both of these questions is no, you may want to apply for income insurance. Here are the things you should consider before buying one.
1. Types of Income Insurance
There are 3 income insurance types you can come across: fixed-rate, yearly renewable, and age-related policies. Let's define each of them in turn.
Fixed-Rate Policy – Simply put, fixed-rate policies let you know how much premium you have to pay for your income protection each month.
Yearly Renewable Policy – For this, you will only need to pay the premium for a single year. You can then renew your level of income cover for the succeeding year.
Age-Related Policy – Since injury and illness risks go up as you get older, premiums increase as well. Of course, you will stay protected from diseases and injuries that can prevent you from working by being covered.
2. Coverage
Income protection cover insures you against diseases, accidents, and injuries, which keep you from earning an income.
You will receive an amount each month to cover for the income that you would otherwise earn if you were physically fit. This is until you are able to work again or decide to retire.
Also, buying the cheapest policy is not always advisable. Since we never know what will happen, it's best to get one that covers you from many accidents and illnesses.
3. Wait period
The wait period is the duration between when your claim is approved and when the benefit will take effect.
After this wait period, you will receive monthly sums to make up for your income. Insurers let you choose between approximately 30, 60, or 90 days for the wait period.
4. Benefits
Built-in benefits of income protection insurance include monthly payouts, full and partial disability, recurrent disablement, and overseas cover benefits.
You can also add optional benefits to tailor the policy to your needs. Some examples are return-to-home, bereavement support, specific injury, and severe illness benefits.
5. Compare
Policies differ amongst insurers in what they cover and don't cover. That's why, it's vital to compare multiple policies to find the best deal.
Furthermore, you can have a chat with your insurance adviser who can go through each benefit and conditions with you to help find the right income policy you need.
Income Protection Insurance Products in NZ
Now that you know how to pick from our list of income protection insurance in New Zealand, let's proceed!
1) Partners Life Income Insurance

Best for
Tailored income insurance
Products
Income Cover
Life Income Cover
Address
Level 1, 33 – 45 Hurstmere Road, Takapuna, Auckland 0622, New Zealand
Contact Details
Phone: 0800 145 433
Overseas: +64 995 15020
Office Hours
Monday – Friday: 8.30 AM – 5.00 PM
Saturday – Sunday: closed
Partners Life offers two tailored products that can suit your situation should you become unable to work.
In particular, they offer Income Cover and Life Income Cover. These provide you with a monthly sum to compensate for your income if ever you get sick, injured, or die. Their income protection cover can be for a specific term or until your retirement age.
The team at Partner's Life don't believe in a one-size-fit-all solution because each person has a different financial background and needs. This is why they don't have an online quotation tool.
Therefore, they recommend that you talk to a financial adviser to help you find the right policy. They aren't affiliated with Partner's Life and consulting with them is free of charge.
Excellent financial strength (A- as rated by A.M. Best)
Free insurance advice
2) Fidelity Life Income Insurance

Best for
Flexible insurance options
Products
Income Protection Cover
Benefits
Built-In Benefits
Total disability benefit
Partial disability benefit
Family member support benefit
Hospitalisation/nursing care benefit
Rehabilitation and retraining benefit
Recovery support benefit
Recurring claim benefit
Relocation benefit
Future insurability
Replacement benefit
Leave without pay
Optional Benefits
Death benefit
Specific injury benefit
Specified medical condition benefit
Premium waiver
Address
Fidelity House, 81 Carlton Gore Rd, Newmarket, Auckland 1023, New Zealand
Contact Details
Phone: 0800 88 22 88
Fax: 09 308 9953
Overseas: +64 9 373 4914


[email protected]

Office Hours
Monday – Friday: 8.00 AM – 5.00 PM
Saturday – Sunday: closed
Public holidays: closed
The income we earn is the lifeblood that supports ourselves and our family. If we're not able to work because we're incapacitated, then we incur a huge loss.
With Fidelity Life, you'll have the power to support your family even when things don't look bright. It is well-designed and has all the essentials and extras you might need.
Among them are rehab and retraining cover, hospitalisation cover, and total disability benefit. Optional benefits include premium waiver, injury benefit, death benefit, and others.
You can choose how much you'd like to be covered for each month. The monthly payout can be up to $30,000 (given that you earn that much), but conditions will apply.
Also, your payment options can be customised whether it's more convenient for you to pay yearly, semi-yearly, quarterly, monthly, and fortnightly.
Excellent financial rating (A- as rated by A.M. Best)
Flexible payment options
Decent rates
3) Cigna Income Insurance

Best for
Affordable premiums
Products
Income Cover
Benefits
Built-In Benefits
Total disability benefit
Partial disability benefit
Increasing income benefit
Recurrent disability benefit
Bed confinement benefit
Vocational retraining and rehabilitation benefit
Recovery support benefit
Return-to-work benefit
Optional Benefits
Optional dependant leave without pay
Optional Reduction in waiting period
Partial payment bonus benefit
Bereavement support benefit
Severe illness benefit
Return-to-home benefit
Booster benefit
Address
Level 24, 100 Willis Street, Wellington, 6011, New Zealand
Contact Details
Phone: 0800 900 047
Overseas: 0064 4 931 9772
Fax: 0064 4 470 9151
Email:

[email protected]

Office Hours
Monday – Friday: 8.00 AM – 6.00 PM
Saturday – Sunday: closed
In terms of price, Cigna offers income protection insurance in New Zealand. With an excellent credit rating, they are willing and able to pay out on your claim.
You will receive a monthly sum up to $25,000 (or $20,000 for agreed value) if you aren't able to work as a result of sickness or injury.
If you've become totally or partially disabled, Cigna will hand out a lump sum to cover your hospital and treatment expenses.
Optional features like return-to-home benefit, bereavement support, and dependant leave without pay can be added to your policy for an additional price.
Being a Cigna client, you will also be entitled to exclusive and additional benefits, including mental health, nutrition and fitness, and career counselling services.
Affordable rates
Excellent financial strength (A as rated by A.M. Best)
Gives you access to Cigna client Benefits
Lower sum insured compared to other providers
4) AIA Income Insurance

Best for
Complete benefits
Products
Income Protection
Mortgage and Income Protection
Benefits
Built-In Benefits
Total disability benefit
Partial disability benefit
Rehabilitation and support
Recurrent disablement benefit
Vocational assistance
Home modification and equipment expense
Bed confinement benefit
Suspension of cover
Back-to-work payment
Pregnancy premium waiver
Waiting period reduction benefit
Concurrent waiting period benefit
Return-home benefit
Childcare support benefit
Property special event facility
Waiver of premium
Premier Option Add-Ons
Extra cash benefit
Permanent disablement benefit
Home care benefit
Bereavement grant
Optional Benefits
Mental health limitation
Future insurability (only available with Income Protection)
Claim indexation benefit
Retirement protection
Redundancy cover
Accidental injury cover
AIA Living Benefits
Enhancement passback
Worldwide cover
Address
AIA House, 74 Taharoto Road, Takapuna, Auckland 0622, New Zealand
Contact Details
0800 500 108
Office Hours
Monday – Friday: 8.00 AM – 6.00 PM
Saturday – Sunday: closed
If you want a boatload of benefits for maximum income coverage, you should enquire with AIA. They have income protection insurance in NZ.
They have Income Protection and Mortgage and Income Protection. From partial disability payments to premium waivers and everything in between, they have them.
You will even be supported with a recovery plan to get you back to your work. If you can return to your job within 2 years, they will pay you 3 times your monthly benefit.
Apart from that, you can add a suite of optional add-ons including redundancy cover, accidental injury, future insurability, and claim indexation benefit.
On top of that, AIA enables you to earn Airpoints Dollars which you can use whenever you fly with Air New Zealand. You get these points through paying your premiums.
Very strong financial strength (AA as given by Fitch Ratings)
Earns Airpoints Dollars
Free insurance advice
Easy online application
5) Asteron Life Income Insurance

Best for
Easy-to-understand policy
Products
Income protection insurance
Benefits
Built-In Benefits
Income support
Rehabilitation & retraining support
Recurrent disability
Return to work
Family assist
Accommodation support
Disability reset
Elective surgery
Payment while overseas
Funeral assistance
Grief support
Overseas assist
New parent premium waiver
Optional Benefits
Income top-up package
Immediate assist package
Specific injury support
Increasing claim
Needlestick
Mental health discount
Redundancy cover
Kids cover
Address
Level 13, Asteron Centre, 55 Featherston Street, Pipitea, Wellington 6011, New Zealand
Contact Details
0800 737 101
+64 4 495 8700


[email protected]

Office Hours
Monday – Friday: 8.00 AM – 6.00 PM
Saturday – Sunday: closed
With strong (A+) financial strength, Asteron Life provides a full range of cover for income protection if there's no way you can work in the meantime.
You are covered from income support to overseas support and grief benefit. You also have the option to include the income top-up package and kids cover, some of the unique features of the policy.
The income top-up package allows you to receive a higher monthly benefit when you file a claim, while the kids cover ensures that they are well taken care of.
If you need to clarify something or have questions about the policy, Asteron Life can get an independent insurance adviser to assist you.
Strong financial strength (A+ as rated by Standard and Poor's)
Free insurance advice
Decent rates
Inconsistent customer service
6) Pinnacle Life Insurance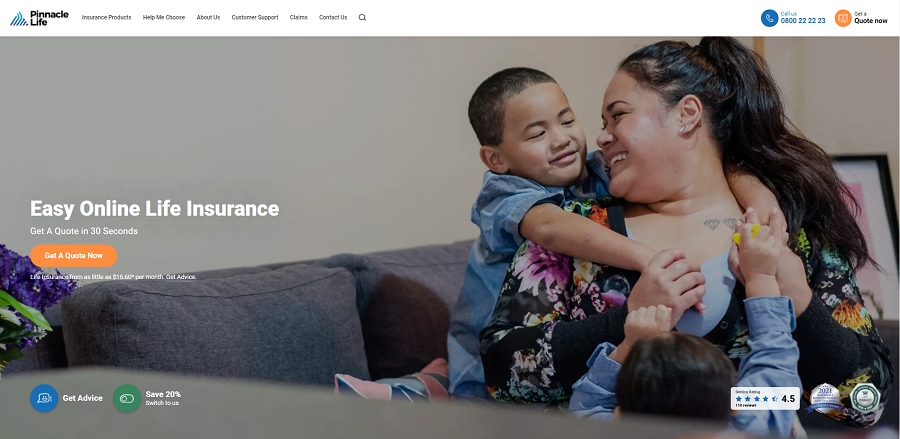 Best for
Online Insurance Application
Products
Life Insurance, Income Protection, Funeral Cover. Critical Illness Cover, Disability Cover
Benefits
Contact for more information
Address
Level 2 Gillies Avenue Office Park 27 Gillies Avenue
Newmarket, Auckland 1023 New Zealand
Contact Details
0800 22 22 23 | [email protected]
Office Hours
Monday – Friday, 8:00 AM to 5:00 PM
The best kind of life insurance is the one that suits you and your dependent's lifestyle and budget. Pinnacle Life's top priority is giving more for less and that means finding the perfect plan for you.
Pinnacle Life also prides itself on having an easy online application process. Applying online will even give you a 10% discount on your first year and you may also be eligible for further discounts depending on your health and lifestyle.
Apart from all these wonderful benefits, because of its online processing, Pinnacle Life also extends its offers to kiwis who are living in Australia, the USA, Canada, UK, Ireland, Hong Kong, or Singapore.
Pros
30-day free look period
Ability to decrease your cover anytime
Joint life policy discount of 7%
Can be fully covered all online no phone calls unless you want one
Cons
Payments may increase each year
FAQS about Income Protection Insurance in NZ
---
And that's all for our list of income protection insurance in NZ. Being covered, you'll still be able to pay your everyday expenses even if you become sick or injured.
Any questions or suggestions about our picks? If so, kindly send us a message and we'll get back to you as soon as we can.
Also, you could read about trauma insurance in NZ. This covers treatment and hospital expenses in case you suffered a stroke, heart attack, or a serious injury.