Top 6 Best Life Insurance in NZ Compared and Reviewed
Our family is very important to us. As much as possible, we want to ensure that our family is able to live happily and healthily, as well as be financially sound.
When you're armed with the best life insurance in NZ, your family won't be burdened by financial costs should anything happen to you.
It can be overwhelming, however, to do a full life insurance comparison in nz.
So how do you know which insurance policy to apply for? We'll tackle this shortly with our guide below and help you with choosing the best NZ life insurance for you.
This will come in handy when you explore our list later on. If you're ready, let's begin.
How to Compare and Choose the Best Life Insurance in NZ
It's no joke to be paying high premiums each year, month, or fortnight. Therefore, we must ensure we're paying for the right policy that covers our needs.
Below are the essentials you have to consider in order to find life insurance in NZ for your budget or lifestyle:
1. Types of Life Insurance
There are two common types of life insurance policies:
Term-Life Insurance
As the name suggests, term-life insurance has a set period that the policy will be valid, for example, 2 years, 6, years, or a decade.
In the event of premature death or terminal illness, your beneficiaries will receive a sum of money within the said period.
Whole-of-Life Insurance
On the other hand, with whole-of-life insurance, there's no end for you being covered by the policy as long as you continue paying your premiums.
In other words, this type of insurance is for life. However, one disadvantage is that it costs more in premiums compared to term-life insurance.
2. Cover Amount
The cover amount is the full amount that will be paid out to you or your nominated beneficiaries if your claim has been approved.
In terms of age, health, and income, the cover amount varies for every applicant. Asking an insurance adviser or getting a quote online will help you figure it out.
3. Features and Benefits
Some of the common features and benefits of life insurance include:
Funeral Cover – This payout is meant to be used for arranging the funeral ceremony and burial.
Terminal Illness Cover – In case you were told that you only have up to a year to live, due to an incurable sickness, a sum will be provided to your beneficiary.
Special Events Increase – Special events include getting married, taking out a home loan, and others. This type of benefit assists you in paying those added expenses.
Premium Waiver – This is also called a premium holiday. This is useful if you're struggling with paying the premiums, as it puts a stop to your payments for up to 6 months.
Trauma Insurance Buy-Back Benefit – Suppose you made a claim and it has already been paid. This lets you buy back your trauma insurance so you can use it again in the future.
4. Policy Wording
You should always read the fine print before applying for a policy. It's worth taking the time to clarify or ask questions about something not entirely clear to you.
This prevents any misunderstandings and disappointments when the policy is already in place. For this, you can talk with your insurance adviser who will sort you out.
5. Price Comparison
To find the lowest rates for your insurance, our suggestion is to get at least 3 quotes from different life insurance in nz, compare their benefits and premiums against each other.
Alternatively, you can use online comparison sites such as LifeDirect that will juxtapose different life policies and give you reliable insight and details about them.
The Best Life Insurance in NZ Compared and Reviewed
Now that you know the basics of choosing the right life insurance, here are our picks for life insurance in New Zealand!
1) Cigna Life Insurance
For Life Insurance for Value

Products
LifeOne Life Insurance
Benefits
Life benefit Advanced funeral benefit Terminal illness benefit Special events increase benefit Optional critical illness benefit
Address
100 Willis Street, Wellington Central, Wellington 6011, New Zealand
Contact Details
+64 800 900 047 Overseas: 0064 4 931 9772 Fax: 0064 4 470 9151 Email:

[email protected]

Office Hours
Monday – Friday: 8.00 AM – 6.00 PM
If you're looking for affordable and cheap life insurance in NZ, look no further than Cigna Life Insurance.
The policy offers essential benefits such as early payouts for funeral and terminal illness. You can choose to add an advanced payout critical illness cover as well.
It's also relatively simple to apply as there's always an insurance adviser who will guide you. They will help you plan out the cover amount and repayment term most suitable to you.
You have the option to increase your cover by up to 25%. This is useful when there's a major life event like marriage, promotion, or house moves.
Bonus: there's a 10% discount on initial premiums and an additional 10% less if you have a clean bill of health. Thus, you'll save more with Cigna life cover.
Affordable policy
Simple application process
Allows cover increase of up to 25%
30-day money-back guarantee
2) AIA Life Insurance
For Life Insurance for Smokers

Products
AIA Living Life Insurance
Benefits
Built-in Benefits Bereavement support Terminal illness benefit Specified terminal conditions benefit Repatriation benefit Financial and legal advice benefit Counselling benefit Parents grieving benefit Special events increase facility Premium conversion facility Enhancement passback Worldwide cover
Optional Benefits Life cover future insurability benefit Waiver of premium Accidental injury cover
Address
AIA House, 74 Taharoto Road, Takapuna, Auckland 0622, New Zealand
Contact Details
0800 500 108

[email protected]

Office Hours
Monday – Friday: 8.00 AM – 6.00 PM Saturday & Sunday: closed
AIA Life Insurance offers a full suite of benefits that can prove useful when a difficult and unexpected event presents itself.
From terminal sickness to bereavement cover, they have you covered. They also have useful extras such as counselling and legal advice benefit.
Along with those, when your policy has been improved after you bought it, the new benefits will automatically take effect on your policy.
AIA policies have become the choice for many since it also lets the insurer earn Airpoints on premiums paid. This is an excellent deal for those who love to travel.
To have an idea of what the policy would cost, you can simply get a quote online. You can also talk with their insurance adviser if you aren't sure of the insurance terms.
Based on the price comparison table of Life Covered NZ, AIA Living has the lowest average for insurance rates for male and female ages 30 and 55. Thus, we can say that AIA Living provides the best rates for smokers compared to other insurers.
So when we did a quick life insurance comparison in NZ, we found that AIA living provides the best rates for smokers.
Allows you to earn Airpoints
Multi-policy discount
Free insurance advice
Easy to apply
3) Asteron Life
For Life Insurance for Claims

Products
Asteron Life Life Insurance
Benefits
Built-In Benefits Death benefit Terminal illness support Funeral advancement Financial planning Grief support Funeral conversion Optional Benefits Kids cover Premium waiver Needlestick Funeral benefit
Address
Level 13, Asteron Centre, 55 Featherston Street, Pipitea, Wellington 6011, New Zealand
Contact Details
0800 737 101 +64 4 495 8700

[email protected]

Office Hours
Monday – Friday: 8.00 AM – 6.00 PM Saturday & Sunday: closed
Asteron Life offers a comprehensive life cover with several benefits including death, terminal illness, and bereavement support.
You can also choose to put optional benefits like a kids cover, premium waiver, or funeral benefit. Moreover, you can put in cover for needlestick diseases like Hepatitis B, C, and HIV.
A third-party insurance adviser can work with you to give you the best policy that fits your needs and budget. Also, he can make sure your policy is updated for you.
Asteron Life has been graded a solid A+ in financial strength by Standard & Poor's. That means your claim has high chances of being paid out by the provider, always a plus when you're looking for the best life insurance in nz.
High creditworthiness (rated A+ by Standard & Poor's)
Third-party insurance advisers
Live chat available
4) Partners Life Limited
For Life Insurance for a Tailored Cover

Products
Life Cover, Life Income Cover, and Terminal Illness Cover
Address
Level 1 33 – 45 Hurstmere Road, Takapuna Auckland 0622, New Zealand
Contact Details
Phone: +64 800 145 433 Overseas: +64 995 15020 Email:

[email protected]

Office Hours
Monday – Friday: 8.30 AM – 5.00 PM
With Life Cover, Terminal Illness Cover, and Life Income Cover, Partners Life Limited lets you choose the type of cover to dovetail with your needs and budget.
Life Cover and Terminal Illness cover pays out a lump sum, whereas Life Income Cover gives your beneficiaries income support to back up your responsibility to them.
Like those we've mentioned here, you can increase your sum insured for special life events with Partner Life policies. This can curb your worries and ensure your loved ones will be provided for in case something happens to you in the future.
High creditworthiness (A- as rated by A.M. Best)
Live chat available
No special discounts
No insurance advisors
5) Fidelity Life
For Life Insurance for Flexibility

Products
Fidelity Life Life Insurance
Benefits
Built-In Benefits Bereavement benefit Terminal illness benefit Terminal illness partial benefit Special events Financial planning benefit Child's funeral benefit Premium holiday option
Optional Benefits Business future insurability option Children's life cover Inflation protection Continuation option
Address
81 Carlton Gore Rd, Newmarket, Auckland 1023, New Zealand
Contact Details
Phone: 0800 88 22 88 Overseas: +64 9 373 4914 Fax: 09 308 9953

[email protected]

Office Hours
Monday – Friday: 8.00 AM – 5.00 PM Public Holidays: closed
The great thing about Fidelity Life's life policy is that it's flexible. It gives you loads of options to pick from that works best for you.
For payment frequencies, you can choose yearly, semi-yearly, quarterly, monthly, or fortnightly. You can also select if you want yearly renewable (to adjust to inflation) or level-term payments.
The policy has a complete list of benefits to care for your family when you're not there. And if your business is expanding, you can also increase your amount of cover to protect it.
The funeral benefit lets you get up to $15,000, to be deducted from the sum insured. The premium holiday option temporarily suspends your cover and can be useful in times of financial stress.
People from ages 16 to 75 can apply and the policy doesn't stop after a particular term as long as your payments keep rolling.
Flexible options
Excellent financial strength (A- as rated by A.M. Best)
No-obligation insurance advice
6) Pinnacle Life Insurance
For Online Life Insurance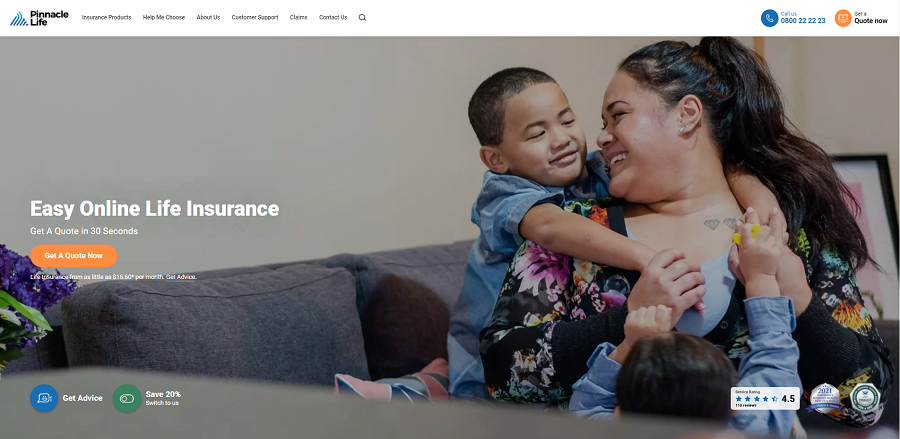 Products
Life Insurance, Income Protection, Funeral Cover. Critical Illness Cover, Disability Cover
Address
Level 2 Gillies Avenue Office Park 27 Gillies Avenue
Newmarket, Auckland 1023 New Zealand
Contact Details
0800 22 22 23 | [email protected]
Office Hours
Monday – Friday, 8:00 AM to 5:00 PM
The best kind of life insurance is the one that suits you and your dependent's lifestyle and budget. Pinnacle Life's top priority is giving more for less and that means finding the perfect plan for you.
Pinnacle Life also prides itself on having an easy online application process. Applying online will even give you a 10% discount on your first year and you may also be eligible for further discounts depending on your health and lifestyle.
On top of all these wonderful benefits, it also offers a seamless online processing. It extends its policies to Kiwis living in Australia, USA, Canada, UK, Ireland, Hong Kong or Singapore.

Due to Its flexibility, ease of use, and international recognition, we're not surprised that Pinnacle is considered to be one of the top 10 insurance companies in New Zealand.
30-day free look period
Ability to decrease your cover anytime
Joint life policy discount of 7%
Payments may increase each year
FAQS About Life Insurance in NZ
---
And that completes our comparison of the best life insurance in NZ. Being insured, you can be confident that your family will be well-looked after irrespective of what happens.
Any questions so far about our picks? If you have one, please send us a message, and we'll get back to you promptly.
At any rate, you might be looking for a standalone trauma cover. In this case, you could read about trauma insurance in NZ.