Our 6 Picks for Motorcycle Insurance in NZ
Image Credit: State Insurance
It's costly to repair or replace a motorcycle damaged from an accident or fire. To avoid this kind of problem, we've gathered motorcycle insurance in NZ for you here.
Motorcycle insurance policies largely depend on the brand, model, and type of motorcycle. Add to that your age and experience, and it can be hard to know which motorbike policy you should choose.
That's exactly why we wrote a guide about the basics of a motorcycle insurance policy. This will greatly help you to decide your pick from our list later on, so let's start!
Things to Consider About Motorcycle Insurance
There are different types of bikes, such as sports bikes, cruiser bikes, vintage bikes and more. Whatever bike you ride, it's crucial to protect it against certain types of damage and theft.
In doing so, you won't have to put up with the driver-at-fault not paying for the damage. More importantly, you won't have to splurge for your bike's repair or replacement.
Anyway, here are some helpful tips about buying motorcycle insurance:
1. Get a quote from multiple insurers
Motorcycle quotes vary across different insurers. They base it off the bike's model, brand, and type, as well as your driving history and age.
Getting quotes from multiple insurers will give you more options so you can find the most comprehensive policy in terms of the level of cover and price.
Know the type of cover you need
Like car insurance, motorcycle insurance products come in three types. They are comprehensive, third party fire & theft, and third party.
Let's take a look at each of them.
This is the most basic of all cover options for a motorcycle policy. This covers you for the damage caused to another person's vehicle or property by your bike.
Your own bike, however, won't be covered. So third-party is best if your bike doesn't cost much and you want to insure against accidentally gashing or damaging another car.
Third Party, Fire, and Theft
As its name implies, TPFT covers your motorcycle against fire or theft. Furthermore, you're also covered for any damages caused to the third party's vehicle/s or property.
Like the Third Party insurance, you're also not covered for accidental damage caused to your own motorcycle.
Comprehensive cover provides the best level of cover for your motorcycle. It provides cover for your bike from accidents, vandalism, fire, theft, and third party liabilities.
Depending on the insurance company, it may cover the costs for recovery and storage of a motorcycle involved in an accident. Also, it can have additional benefits like helmet and accessories cover.
For fixed accessories like a GPS device and alarm, you'll have to inform your insurer about them prior to buying the policy. Otherwise, it might cause some trouble when you make a claim.
2. Know whether the insurer offers agreed or market value
You have to find out whether your insurer offers an agreed or market value for your cover. This will help you get the most value out of your policy.
Agreed value is the amount of cover both you and the insurer consent to. For instance, if your motorcycle is damaged in an accident, this amount is what you'll get.
On the other hand, market value is the motorcycle price based on the current market. Same thing, this is what you'll be paid in case your bike is written off in a crash.
If the insurance company pays you the market value for your stolen motorcycle and it is located after, it would then become theirs to sell or dispose of as they want.
3. Increase your excess if you can
As you probably know, the fee paid to make a claim is called an excess. A great way to lower your premiums is to go for higher excess when buying a policy.
Although you'll pay a higher cost up front, you will benefit from it in the long run. Even when you've made a claim, you will have saved more through lower premiums.
4. Check the additional benefits
Additional benefits may include breakdown assistance, key and lock cover, helmet and accessories cover, and the like.
It's important to have breakdown assistance cover. Suppose you are involved in an accident, you'll need help to tow and repair your bike, as well have a way to get back home.
5. Understand the T & Cs
Last but not the least, you have to review the policy's terms and conditions. That will let you know up to what extent your motorcycle is covered and not covered for.
If you don't understand something, you can talk to your adviser. They will give you sound advice in choosing a policy option in relation to your budget and motorcycle.
Motorcycle Insurance in NZ
Now you know how to pick motorcycle insurance policy from our list. Without further ado, here are motorcycle insurance in NZ!
1) Kiwibike Motorcycle Insurance
For Motorcycle Insurance for All Motorcycle Types

No matter the make, model, and type of your motorcycle, Kiwibike offers comprehensive cover to protect it from damage from accidents, theft, and fire.
The following bikes are covered in the plan: cruisers, sports bikes, adventure bikes, touring bikes, classic bikes, and track day bikes, as well as scooters and mopeds.
Kiwibike is owned by motorcyclists which means that they completely understand your needs. Another advantage is that they won't treat you as a number but as a name.
You can get an instant quote on their site to help you set up your policy. If they find you a better price, they will notify you as soon as they can.
Pros
Offers full comprehensive motorcycle cover
Insures all types of motorcycles
Personal approach to clients
Quick to get a quote from
Finds you a better policy rate
Cons
No other type of policies available (such as third party and third party, fire, and theft)
Other insurers have lower rates
Customer Reviews
Service-wise, Kiwibike is among those that offer motorcycle insurance in NZ. Below are what some clients say about them on Google Reviews.
John M. wrote this review:
"Quick and good service, road and track cover through them as a broker, competitive prices too! I've also had a claim/accident under the coverage provided and all went well. Happy with the service."
Another client, Karen L., said:
"Great experience in getting both quote and insurance processes. Quick and friendly service. Competitive quote. Haven't needed to make a claim but so far the service has been excellent."
2) AA Motorcycle Insurance
For Motorcycle Insurance for Benefits

Need complete cover for your super sleek motorcycle? If so, you can take out a motorcycle policy from AA Insurance, one of the most highly respected insurers in the industry.
You can select your desired level of cover: comprehensive, third party fire & theft, or third party. Keep in mind that choosing a higher excess will bring down your insurance premiums.
With the first two covers, your motorcycle will be assessed for the agreed value. This will be the amount given to you in case your bike can't be repaired or recovered.
Irrespective of the cover, you get the benefit of one event, one excess. This means that when you make a claim on more than one AA policy during an incident, you only have to pay a single excess amount.
When making claims, their client manager will take you through the whole process so it will be easy and stress-free.
Pros
Provides you with an agreed value if your motorcycle can't be repaired or recovered
24 hours claim support
Premiums can be lowered with a higher excess
Has a multi-policy discount
Simple, stress-free claims process
Cons
Higher premiums compared to other insurance providers
3) Protecta Insurance Motorcycle Cover
For Motorcycle Insurance for Price

If you're not quite sure of what level of cover to buy, then wait until you see Protecta Insurance's Motorcycle Cover options.
Their motorcycle insurance is divided into Full Cover Motorcycle Insurance, Third Party Fire & Theft, Fire Theft & Transit, and Storage Cover.
It's worth noting that their third party plan covers you if your bike is hit by an uninsured vehicle. Ordinary third party cover doesn't have this benefit.
Also, the Fire, Theft & Transit option gives assistance if your motorbike abruptly stops on the road. This makes it an excellent option for off-road bikes, by the way!
Note that the insurance products are based on the agreed value. Moreover, the claims process is easier thanks to a dedicated service team who are also motorcycle enthusiasts.
Pros
Competitive premiums
Allows you to tailor the level of your insurance cover
Policies are based on agreed value
Comprehensive plan include a death and a ride apparel benefit
Additional limited cover for their third party plan
Offers a unique storage cover plan
You can apply for insurance by phone or online
Understanding claims team
Cons
Complaints about customer service
4) Ami Motorcycle Insurance
For Motorcycle Insurance for Claims Processing

Boasting an AA- claims rating, Ami keeps to their promise of paying out for the loss or damage of your motorcycle, provided policy conditions are met.
The benefits of their comprehensive policy are not many. Their extras only include cover for legal defence, motorcycle removal, and home transport costs.
On the flip side, their service is quite impressive. According to many customers, the staff is friendly and helpful and has made the experience seamless for them.
You also get a discount If you buy more than one policy from them. For example, getting insurance policies for your car and motorcycle will get you a price cut.
Pros
Cover for accidental loss or damage to your bike
Offers multi-policy discounts
Very strong claims-paying ability (AA- rating)
Friendly and helpful staff
Seamless experience
Cons
Only two cover options available
Very limited third party insurance
Customer Reviews
Their policy made it to our list because of their first-class service and, of course, a superb claims process.
Wenyu, one customer from Auckland, wrote this review:
"The service from the staff is very well-recommended and the staff is very friendly, effective and helpful. Also, the rate for insurance is pretty good."
Here's another review from a satisfied client, Lexia:
"Best insurance company I've dealt with, things are well explained, made easy, people fun and polite."
5) State Motorcycle Insurance
For Motorcycle Services

Covering for the things you care about, State's Motorbike insurance policy provides fantastic cover for theft, damage and medical, as well as for lost and stolen keys.
Both full and basic cover have personal liability insurance up to $20,000,000. With excess protection, you can refund the excess you used on your previous policy claim.
Not found in other policies, their accidental death and disablement benefit pays a sum if the insured dies or becomes incapacitated in the event of an accident.
Moreover, State is proud to be the only general insurance provider to offer Flybuys. The points you earn can be spent to buy merchandise in the Flybuys store.
Everything is done online to make a claim or manage your insurance. Through this, you'll save a lot of time and effort that you can focus on the more important things.
Pros
Full cover for motorcycle accidents, theft, and damage
Excess protection against uninsured drivers
Personal liability protection for up to $20 M
Accidental death and permanent disablement benefit (for comprehensive plan)
Medical expenses cover for injuries sustained
Up to 10% multi-policy discount
Manage your insurance online
Lets you earn Flybuys
Cons
Only two cover options available
Higher premiums compared to other insurers
6) DR MOTO
For Speedy Motorcycle Services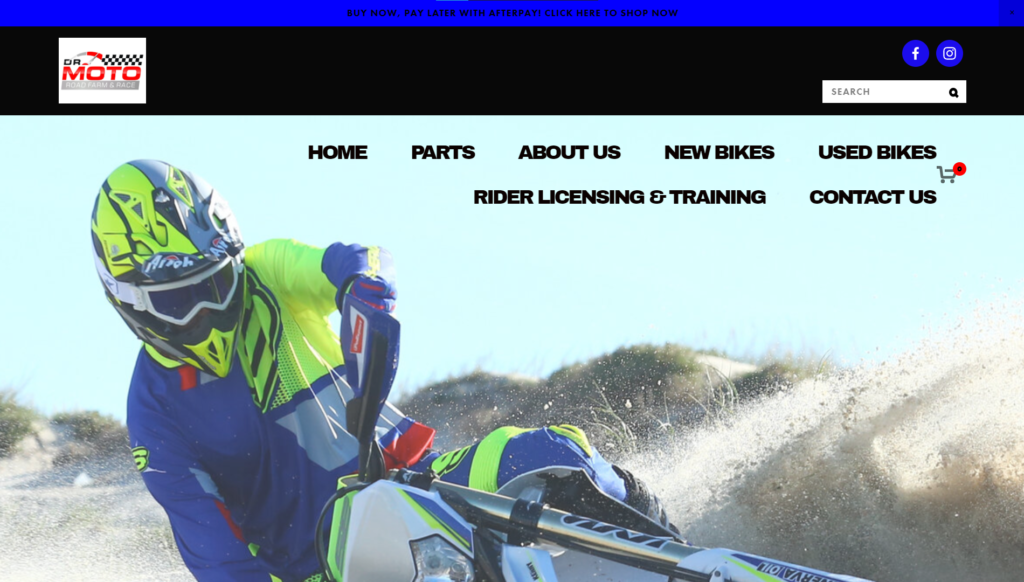 DR MOTO is a one-stop service provider when it comes to motorcycles. They specialise in working with motorcycle suspension.
They have a wide range of services available for their customers. Motorcycle servicing, insurance repair work, and motorcycle repair are just some of what they have to offer.
Their expert team of professionals is knowledgeable in what they do. With their honest prices and top-notch work, you can count on them to give you the best value for your money.
Pros
Wide range of services
Motorcycle suspension specialists
Accommodates Star Insurance
Expert technicians
Cons
Single insurance provider only
And that finishes our list of motorcycle insurance in NZ. Being insured, you can speed on your bike around the city with complete peace of mind.
Do you have any questions or comments about the policies here? If you have one, you can leave us a comment, and we'll get back to you in a bit.
Other than that, you may want to check out our other insurance lists. For example, you can try car insurance in NZ to protect your vehicle from sudden accidents and theft.