4 Best Pet Insurance in NZ Compared and Reviewed
Featured Image Source: PxHere
With mounting vet costs and the many ways your pet can get sick, getting pet insurance in NZ is more important than ever. Luckily, we've rounded up some plans from the best pet insurance in New Zealand today!
We based our selections on reputations, range of cover, and the cost of each company's premiums. Don't worry if you're new to all this: we'll even guide you through the basics of choosing pet insurance towards the end of this article to help you out.
Before we go through our list of pet insurers, though, let's discuss how much pet insurance in NZ costs first.
How much does pet insurance cost in NZ?
To better understand how pet insurance can help you, it's necessary to tackle what a normal trip to the vet costs. Since your pets cannot pay for themselves, any trip to their doctor will obviously be paid by you.
The table below shows some common procedures or tests for your pets and the average amount that it might set you back.
| | |
| --- | --- |
| Condition / Procedure | Average Estimated Cost |
| CT scan | $1,750 – $2,000 |
| Broken limbs due to accident | $1,800 – $3,000 |
| Surgery to remove ingested items | $1,950 – $2,500 |
| Surgery after getting hit or run over by a car | $4,000 – $5,000 |
| Chipped tooth | $2,200 – $2,800 |
If paying the fees above is a problem for you, then it's a good idea to get the best pet insurance in NZ for you.
However, take note that certain breeds of dogs may not be approved for insurance, such as pitbulls. Additionally, if your pet has a specific function or job, such as herding sheep or racing, some insurers may not approve these as well.
Breeds also play a large role in how much in monthly premium fees you'll pay. Pet insurance for dogs, for example, can cost around $120 per month for a French bulldog, but $150 for a border collie on a $15,000 yearly claim.
The Best Pet Insurance in NZ Compared and Reviewed
Now that you know what to expect financially when applying for a policy, we can take a look at our picks for pet insurance in New Zealand.
1. Southern Cross Pet Insurance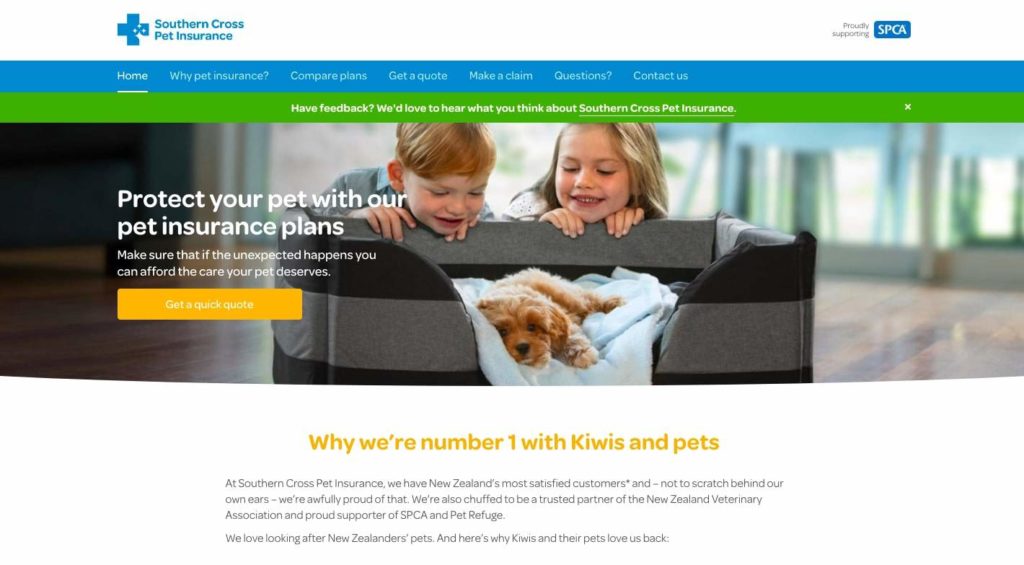 | | |
| --- | --- |
| PRODUCTS | PetCare, AcciPet |
| BENEFITS | Accidental Injury, Illness, Inherited Conditions, Vaccinations/Checkups, Day-To-Day Care, Dental Care (optional) |
| FINANCIAL STRENGTH RATING | A (Strong) |
| WEBSITE | https://www.southerncrosspet.co.nz/ |
| ADDRESS | Private Bag 3240, Waikato Mail Centre, Hamilton 3240, New Zealand |
| CONTACT DETAILS | Toll-Free: 0800-800-836 |
Southern Cross was established in 1961 to bring health insurance and private health care to New Zealand. They have since expanded their services across various communities, helping to care for entire families and pets.
If your pet has been involved in an accident or sickness, Southern Cross Pet Insurance has your little buddy's back. They offer two main levels of cover for pets, namely AcciPet and PetCare.
AcciPet is the more budget-friendly option but only covers medical costs for accidents amounting up to $5,000 annually. You'll need to renew this each year and it is accepted only upon approval from Southern Cross.
PetCare, on the other hand, is the more comprehensive option, covering accidental injuries, genetic conditions, and general illnesses. It includes only $25 cover for vaccinations but you can give it a boost up to $75 for an extra fee on our premium.
Moreover, PetCare doesn't include dental coverage as part of its standard plan, but you can add this as an extra as well.
Despite the "basicness" of their plans, what we like about Southern Cross is that there are multiple ways that you can save money with them.
For both plans, you have the option to pay 20% excess of your pet's vet bill to receive discounts on your monthly premium. If, for example, your vet charges you $2,000, your payment will be $400 with a $1,600 benefit payable to you – and you'll get a lower premium, of course.
Now, if you have multiple pets, you'll be pleased to know you get a 5% discount for each additional pet that you apply for too. Moreover, if you already have a health insurance policy with Southern Cross, you'll get an additional 2.5% discount.
Make sure to pay the correct amounts on your premiums, though because Southern Cross will not notify you for overpayments less than $100. The good news is that you can set up an automatic Direct Debit deduction for a discount of 2.5% on your premium.
Moreover, if your pet is between 6 and 26 weeks old, you have the opportunity to apply for free 6-week health cover with claims of up to $2,000 in tests and treatment.
Overall if you want an insurer that's been trusted for more than 50 years, Southern Cross could very well be the best pet insurance in NZ for you.
Discounts for multiple pet policies
Southern Cross members get additional discounts
Offers free 6-week cover for baby pets
Partner of the New Zealand Veterinary Association
Low vaccination coverage
Dental care not included
Does not pay directly to the vet
2. AA Pet Insurance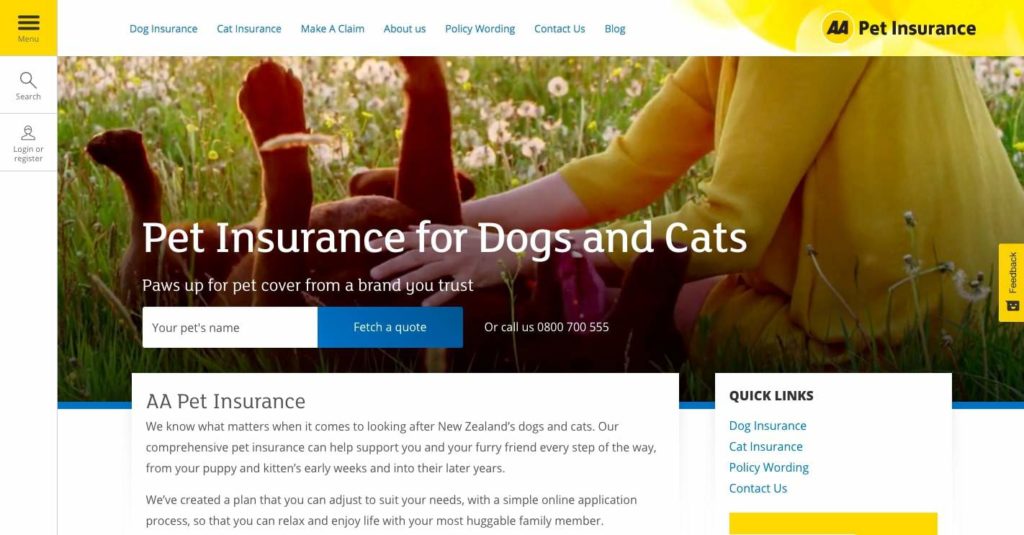 SERVICES
Dog insurance, Cat insurance, Puppies and kittens
BENEFITS
Injury, ​Illness, Specialist Treatment, Patella Conditions, ​Cruciate Ligament Conditions, Alternative Therapy, Routine Care, Funeral Costs, Lost Pet, Dental Cover
FINANCIAL STRENGTH RATING
A- (Excellent)
WEBSITE
https://www.aa.co.nz/insurance/pet-insurance/
ADDRESS
P.O. Box 992, Shortland Street, Auckland 1140
CONTACT DETAILS
Toll-Free: 0800-700-555
Email:

[email protected]

OPERATING HOURS
Monday to Friday: 8:30am – 5:00pm
For those not familiar with AA, it stands for Automobile Association, and they've been around since 1903. As their name implies, they began as a club for car enthusiasts, which eventually expanded to include travel, finance, and insurance services.
In any case, if you're looking for insurance that can provide your pet cover from their early weeks to later years, you may want to take a look at what AA has to offer.
AA's Pet Insurance provides coverage for both dogs and cats, but the plans are equal in scope. It can provide for swallowed objects, poisoning, skin conditions, cruciate ligament injury, and accidents just to name a few.
They'll also provide cover for any diagnostic tests, cancer treatment, or surgery your pet may need. However, take note that your premium will increase as your pet gets older because the likelihood of needing more care increases.
Choosing your plan at AA is quite easy, as there are only two things you need to decide: your yearly benefit plan and excess amount.
They offer three yearly benefit plans, which indicate the maximum amount you can claim annually. These are $5,000, $10,000, and $15,000 respectively.
However, only accidental injuries and illnesses are covered to the maximum of your selected annual limit. Things such as dental fees, cruciate ligament conditions, boarding fees, and intervertebral disc disease have caps on the amount of coverage.
Now, as for the excess options, you can select from no excess, $100, $250, or $500. If you're familiar with how this works, this means that if you choose a higher excess, your monthly premium will be lower.
AA's pet cover options can include pre-existing conditions but only applies to temporary conditions and not chronic ones. They'll cover pre-existing illnesses that typically heal over a short amount of time, such as an eye infection or gastroenteritis.
They also offer an optional add-on cover called the Paw Care Package that provides an additional $100 of claims for routine care. This covers regular vet items like vaccinations, microchipping, registration costs, flea control, regular blood tests, and more.
5% multi-pet discount
Paw Care Package add-on for routine care
No upper age limit once insured
Dental is included
Limited cover for some treatments such as dental
Maximum excess limit of $500
3. PD Insurance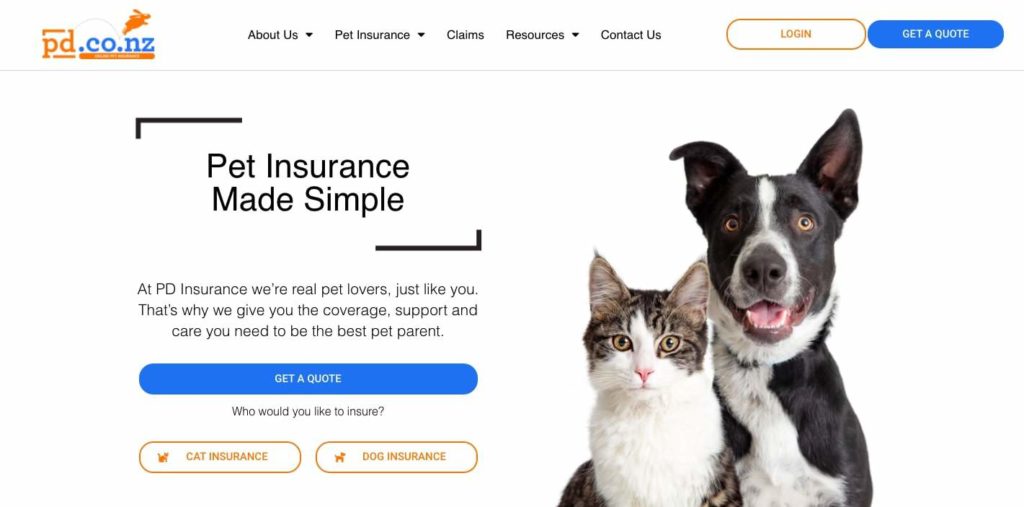 SERVICES
Emergency Plan, Classic Plan, Deluxe Plan
BENEFITS
Emergencies, Illness, Accidents, Dental, Wellness, Benefits Package (optional)
WEBSITE
https://www.pdinsurance.co.nz/
ADDRESS
PO Box 33540, Takapuna, Auckland 0740, New Zealand
CONTACT DETAILS
Toll-Free: 0800-738-467
Email:

[email protected]
PD Insurance is a local New Zealand company that specialises in pet insurance. They aim to provide low-cost but high-value products for your family pet's health care.
Their pet coverage applies to dogs, cats, puppies, and kittens. PD pet Insurance offers three easy-to-understand plans namely Accident, Classic, and Deluxe.
The Accident plan is the most basic and also the most affordable but excludes cover for illness and hereditary conditions. It offers all the other main benefits as the other two higher-tiered plans but doesn't cover dental and wellness.
On the other hand, the only difference between the Classic and Deluxe plan is that dental coverage is included in the latter and costs $5,000 more. With these two plans, you'll have complete coverage for almost everything your pet may need, from hospitalization to surgery.
Take note, the wellness package is still an optional add-on to boost the Classic and Deluxe Plans. This covers situations such as boarding fees, cremation, de-sexing, microchipping, and vaccination.
What we like about PD pet Insurance though is that their policies offer protection against any damage that your pet may inflict on other people or their property.
If you need to file a claim, PD Insurance can resolve it quickly, aiming to settle it within 2 business days. While this is by no means a guarantee, providing a 48-hour time frame can certainly help appease worried pet owners.
Another good reason to take out cover with PD Insurance is they've partnered with a non-profit group called HUHA (Helping You Help Animals) and donate a portion of their profits to provide food and shelter to NZ dogs and cats.
If you want straightforward, fuss-free coverage that has policies that are easy to understand, PD pet Insurance could be the best pet insurance in NZ for you and you furry friend.
Claims refunded in as little as 2 days
Offers discounts for multiple policies
No excess plan options
No fortnightly payment option
No option for wellness package with Accident plan
4. Petcover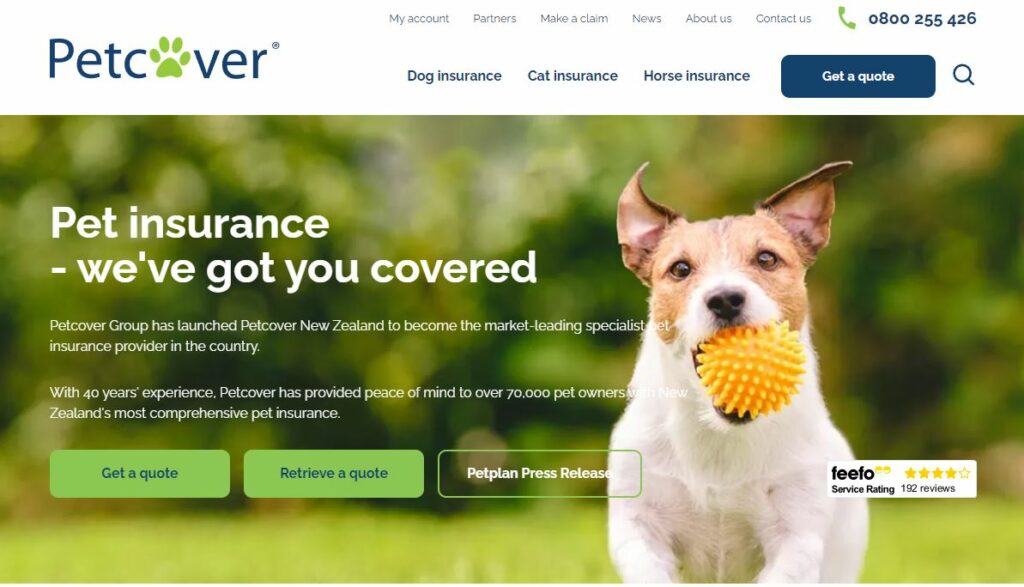 SERVICES
Dog Insurance, Cat Insurance, Equine Insurance
BENEFITS
Third-Party Liability, Complementary Treatment & Alternative Therapy, Death From Illness, Death From Injury, Boarding Fees, Advertising & Reward, Loss By Theft Or Straying, Holiday Cancellation, Quarantine Expenses & Loss Of Documents, Emergency Repatriation, Cover Permanent Loss Of Use, Disposal After Death, Saddlery & Tack Cover, Horse Float Cover
FINANCIAL STRENGTH RATING
A+ (Excellent)
WEBSITE
https://www.petcovergroup.com/nz/
ADDRESS
101D Station Road, Penrose, Auckland 1061
CONTACT DETAILS
Toll-Free: 0800-255-426
Email:

[email protected]

OPERATING HOURS
Monday to Friday: 8:30am – 7:00pm
Saturday: 11:00am – 7:00pm
Sunday: 12:00pm – 6:00pm
Petcover originally began in the United Kingdom and has more than three decades of experience in handling pet insurance. They first set up shop in New Zealand in 2008, offering Kiwis better health for their dogs, cats, and horses.
Yes, you heard that correctly – what makes Petcover unique among the other pet insurance companies in NZ that we've featured on our list is that they offer insurance for equines. Their base plan offers cover for death (including euthanasia) or disappearance, whether it's stolen or strays away.
However, cover for veterinary fees isn't included in their base package and is offered as an optional add-on. Other covers for your horse include insurance for equipment and third-party liability if any damage is caused if they stray.
Nevertheless, they also offer a Permanent Loss of Use package that can cover you up to 60-100% of market value if your horse is injured or sick. This only applies if the equine can no longer serve their originally insured function though.
Dogs and cats, on the other hand, are covered under one type of plan. These are offered in three main categories namely Essential, Classic, and Ultimate.
The Essential plan only offers cover for 12 months and up to $7,000 veterinary fee cover for injuries, accidents or illness. However, your pet will receive the same benefits as the other plans albeit in a capped amount.
The Classic plan has two options named Classic 1 and Classic 2, which only differ in the amount of maximum annual claims you can file for. Your pet is covered for life under these plans, which is the most common.
Finally, if you are particular that you get one of the best dog insurance in NZ, check out their Ultimate plan.
The Ultimate plan is what makes Petcover unique, offering the highest yearly claim of up to $20,000 for dogs and $15,000 for cats. Your pet will also be insured up to $5 million in third-party liability covering damage caused to people or property.
Now that you can see how Petcover can cover your pet, we also like that they'll pay the vet directly. There's no need for you to wait for your claim and then have to pay the vet yourself.
Furthermore, another reason to like Petcover is that they also work in partnership with breeders, pet stores, veterinarians, and volunteer groups. They offer short-term insurance plans that can help with adoptions so that young pups and kittens can find a safe home faster.
Maximum cover of $20,000
10% discount if over 3 pets insured
Offers coverage for equines
Vet fees for equines are an add-on
Hefty increases in premiums in milestone years
How to the Best Choose Pet Insurance in NZ
Having a pet is a big responsibility and this includes taking them to the vet if they're sick or hurt.
With pet insurance, you don't have to worry about large vet bills that can put a dent in your finances.
1. Apply for pet insurance early
Insuring your pet early on is practical for a number of reasons.
First, some insurers don't accept dogs and cats over a certain age (typically over 9 years old).
Second, it's also likely that your pet hasn't developed any medical conditions yet at a young age, which makes it easier to apply for insurance.
Plus, you won't be surprised by vet and surgery prices and worry in case your pet needs immediate treatment as a result of an accident or illness.
2. Check the track record of your insurer
Before applying for a policy, it won't hurt to do some background check on your chosen insurers to see if they actually payout their clients during claims time.
You'd want to go for insurers that have high financial strength because, after all, that's what you're paying the premiums for—to get paid in the future when you need it.
3. Check if the benefits you need are included
You have to ensure that the pet policy you're taking out has the coverage you and your pet need, as each insurer offers a different set of products for clients.
Most pet insurance companies offer basic, intermediate, and comprehensive options. You can even add extra benefits such as day-to-day and dental pet care.
You also have to take note of the policy's exclusions and limits too so that there won't be any hitches when you lodge a claim.
4. Enquire for special discounts
Look out for special discounts such as membership or multi-policy discounts. This can bring down your premiums and save you a lot of money in the long run.
For example, some insurers offer 5-10% discounts if you insure multiple pets with them. You can also receive an additional discount if you also hold a personal policy with them as well.
5. Review the policy wording
As with all types of insurance, you should have a clear understanding of the policy wording—the ifs and buts particular to your chosen insurance product.
If you don't understand something, you can just call the insurance adviser to explain parts of the policy that trouble you.
FAQs about Pet Insurance in NZ
---
And that concludes our list of pet insurance in New Zealand. With these policies, your cuddly pet (and your wallet) will be protected.
Do you have any questions or thoughts regarding our list? If you have one, please drop us a line and we'll get back to you in a bit.
Need anything for your pets like food, apparel, or toys? If you do, you can look up pet shops in Auckland.