Our 5 Preferred Student Credit Cards in NZ
Students might need a credit card to purchase something they need or to have something to use for emergencies. If you plan to apply for one, no problem, as we've compiled a list of student credit cards in NZ here.
With a great range of credit cards for students out there, you might not know which one is the most reliable or has the most perks. Since each student has different needs, it only gets harder to find the right card.
To help you with this, we've written a guide on how to choose a student credit card. In doing so, you'll find it easier to pick from our list later on.
Without any further ado, let's begin!
How to Choose a Student Credit Card
A student can get a credit card even if he has no work or income yet. As long as the application is countersigned by a parent or guardian who has a good credit score and a stable job.
An acceptable option for a student credit card would be one with low-interest rates and no annual fee. Hence, it can either be a low-interest or free credit card.
When choosing a card, it's important to consider your personal needs and how you plan to use it. So, here are the important factors that you consider when choosing a credit card:
1. Interest Rate
Since it's likely that you're not working yet or are working part-time, the card should have a low-interest rate so that you can repay your credit with less cost.
Low-interest rates for a credit card are usually between 12% to 14% p.a. You can even find one as low as 9.95% p.a., like with the Kiwibank Low Rate Visa Card which we've featured below.
Some cards let you earn Purple Dollars, Airpoints Dollars, or cash rewards. As these credit cards have high-interest costs, they aren't advisable if you're a student.
2. Annual Fee
As mentioned earlier, the annual fee should be light or—better yet—free for a student credit card. As the years go by, this can significantly add to your card expenses.
Generally, low annual fees cost around $30 to $35. Fees higher than that are considered costly.
Some student credit card issuers waive the annual fee for the first year. This is a great bargain, enabling you to save money to use for your school or grocery needs.
3. Cash Advance
Unless you really need it, you should avoid getting a cash advance through your credit card. The rates are at an all-time high and can shake you up financially.
Instead, it would be better to borrow cash from your parents and pay them back later. Or you can just look for a credit card with a fair cash advance rate beforehand.
4. Special Offers
For credit cards, special offers include zero-interest, low-interest, and balance transfer, as well as minimum spend deals. These are what make owning a credit card very worth it.
However, you would have to pay your full monthly balance or transferred credit to qualify for interest-free days.
5. Contactless Payment
Technology is advancing and so are credit cards. Some of them incorporate contactless payment which lets you pay on the go whether for shopping or repayment.
Paying with your card is now fast, secure, and hassle-free. All you have to do is to tap the card at the terminal and you're done—it's as simple as that.
When paying with your phone via Google Pay or Apple Pay, just place the backside of your phone on the terminal and you're good to go!
6. Security Features
Card security features give you peace of mind. If it's lost or stolen, you should be able to temporarily block your credit card to prevent someone from using it.
Also, it helps a great deal for a card to have fraud monitoring services. The credit card company can monitor and see if there are any unauthorised transactions on your card and deactivate it.
These will save you from grand headaches and having to pay for expenses that aren't yours.
Student Credit Cards in NZ
With those things in mind, here's our lineup of credit cards for students:
1) ASB Visa Light Credit Card
For Student Credit Card for Big Purchases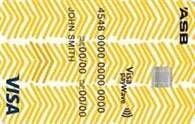 You can open a student bank account with ASB and get great benefits, including the ASB Visa Light credit card.
With a zero annual fee and a low purchase rate, the ASB Visa Light is an excellent choice for students. You also get 0% interest on purchases of $1000 or more for 6 months.
Apart from that, you can conveniently pay at store checkouts with a range of payment options, such as Google Pay, Apple Pay, Garmin Pay, and Fitbit Pay.
That said, the only downside is that the ASB Visa Light has a high cash advance rate at 22.95% p.a. Therefore, we advise against withdrawing cash with this card.
Pros
No annual and joint fees
Low-interest rate of 13.50% p.a.
0% balance transfer rate for 6 months
0% interest for purchases of $1000 and up for 6 months
55 days interest-free period
Great benefits with the ASB student bank account
Various payment options (including Apple Pay and Google Pay)
Cons
High 22.95% cash advance rate
Customer Reviews
According to creditcard.co.nz reviewer, Roland Bleyer, this credit card fits those who want to keep costs down, make big purchases, and have something to use in times of emergencies.
Furthermore, he wrote of the card's security and payment features:
"On top of the basic security features found on all credit cards, the card offers some nice tech compatibility for convenient payments on the go. Not only is this card compatible with Apple Pay, Google Pay, Fitbit Pay and Garmin Pay, it also offers ASB Virtual, which allows you to tap and pay with your Android, as well as an ASB PayTag sticker that turns almost anything into a mobile payment device."
2) Kiwibank Low Rate Visa Credit Card
For Overall Student Credit Card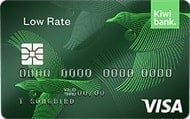 Kiwibank's Low Rate Visa is another budget-friendly card that university students can benefit from. It boasts an interest rate of 9.95%—the lowest rate on the market.
In the first year, students are waived of the $30 account fee. This is a great deal as you'll be able to save more money, coupled with the card's low-interest rate.
The cash advance rate is 9.95% and balance transfer is 1.99% for 6 months, giving you more options to manage your finances.
You can buy what you want, totally interest-free, for up to 55 days. Although, you will have to settle your full balance for the month to qualify for it.
Pros
Super-low 9.95% interest rate
Excellent cash advance rate of 9.95%
Up to 55 interest-free days on purchases
$30 account fee waived for the first year for students and graduates
1.99% balance transfer interest for 6 months
Cons
3) ANZ Low Rate Visa Credit Card
For Free Credit Card for Students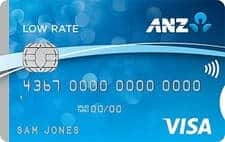 ANZ Low Rate Visa Credit Card offers a zero annual fee, a low-interest rate, and payment convenience.
Even if you only manage to pay the minimum monthly balance, you're still covered. The low interest per year helps to keep your finances and student expenses on track.
ANZ bank provides you with several options to pay, whether it's by internet banking, goMoney, phone, ATM, or at your local ANZ branch.
When you're paying for your items, you can use Google Pay, Apple Pay, or your credit card. As the card never leaves your hands, it's a quick and secure way of making payments.
In addition, with the Visa Zero Liability policy, you won't be held liable for any fraudulent charges on your card. But you have to report the problem to your credit card issuer at once.
Pros
No annual card fee
Low-interest rate of 12.90% p.a.
Up to 55 days interest-free on purchases
1.99% p.a. on balances transferred in the first 2 years
Quick and secure contactless payment
Visa Zero Liability policy
Cons
Cash advance rate is at 19.95% p.a.
No rewards and benefits
4) Westpac Low Rate Mastercard
Lowest Minimum Payment for a Student Credit Card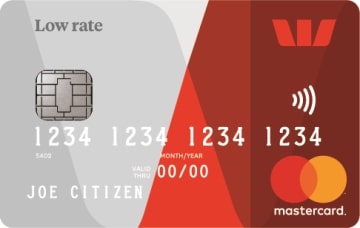 Worried that you can't pay the monthly minimum? Well, the Westpac Low Rate card only requires you to pay 2% or $5 per month—twice lower than that of other credit cards.
The rates and fees are more balanced compared to others as well. The card has a low account fee of $25, a low-interest rate of 13.45%, and a fixed balance transfer rate of 5.95%.
You can also get up to 55 days of a zero-interest period where you can save big-time. Conditions apply though, that is, you'll have to settle the full balance every month.
Needless to say, the Westpac Low Rate Mastercard is widely accepted across New Zealand, so you can use it for shopping, dining, filling up your car, and more.
Pros
Low-interest rate of 13.45% p.a. on purchases
Low account fee of $12.50 in two 6-month instalments
5.95% p.a. balance transfer rate
Up to 55 days interest-free
Widely accepted around the world
Easy to repay with 2% or $5 minimum payment
Cons
Lofty 22.95% cash advance rate
High late payment charge
Customer Reviews
One reviewer from creditcard.co.nz, Roland Bleyer, wrote this:
"If you want a no frills card that doesn't come with heaps of small print, this card could be a great option. If you're new to credit or you don't use your card that much, this card could be there when you need it, helping you to keep interest and annual fee costs to a minimum whether you use the card or not.
As for features, the Westpac Low Rate Mastercard is not completely devoid of extras. You can enjoy access to contactless payments, while benefitting from all the security features you'd expect from a big bank card. You can access exclusive offers via Mastercard Priceless Cities, 24-hour emergency credit card assistance, and no international transaction fees (usually $2) when withdrawing money from a Global ATM Alliance ATM."
5) Kiwibank Zero Visa Credit Card
For Student Credit Card for Emergency Use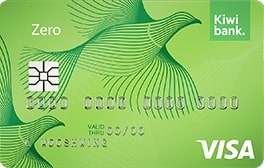 A tweak of the Kiwibank card from earlier is the Kiwibank Zero Visa Free Credit Card. It has a slightly higher interest rate of 13.95% but carries no annual account fee.
This card is ideal for those who purchase goods or services seldomly. Like Kiwibank Low Rate, the Zero Visa has a 1.99% rate for transferred balances.
To top it off, you can forget about the 13.95% interest and spend freely during the 55-day zero-interest period. However, it's necessary to pay off your month's balance by the due date to qualify for this.
By the way, the minimum repayment has to be 5% or $10 of your statement balance, whichever is more. Failing to pay on time will incur you a late payment fee of $5.
Pros
No account fee
55 interest-free days
1.99% p.a. balance transfer rate for 6 months
13.95% cash advance rate
Cons
Slightly higher interest rate of 13.95% as compared to others
No rewards and benefits
And there you have it for our list of student credit cards in NZ. As you can see, these cards are user-friendly and secure, without high-interest costs to burden you.
Do you have any questions, comments, or opinions about our picks? If so, please leave a comment below, and we'll get back to you as soon as we can.
As a student, your phone's battery can get used up pretty quick throughout the day. To avoid this, you may want to use your new credit card to get some power banks in New Zealand!