The 5 Best Naturopath Centres in New Zealand
If you're looking for a highly qualified naturopath, then you've come to the right place. Here you'll find an overview of the best naturopathy centres in the country for natural health and holistic healing.
All of our picks have naturopaths with a reputation for providing quality personalized care and outstanding customer service. Let's go over them all and see why they stood out!
The Cost of Naturopath Services in New Zealand
The cost of naturopathy services can vary depending on factors such as the length of the appointment, the type of treatment and the experience level of the practitioner. Generally speaking, a single consultation may range from between 50 to 160+ NZD.
Please use the following price list as a guide only:
| Naturopath Services  | Prices |
| --- | --- |
| Nutritional and Dietary Advice | 100+ NZD |
| Stress Management | 50+ NZD |
| Allergy Testing and Management | 100+ NZD |
| Homeopathic remedies | 30+ NZD |
| Body Composition Analysis  | 50+ NZD |
| Blood/Saliva/Urine Tests | 200+ NZD |
| Herbal Medicine and Supplementation | 200+ NZD |
These are just a few example prices that should give you an idea of what to expect, and we urge that you schedule an initial consultation to fully understand the rates involved.
How We Chose the Best Naturopaths in New Zealand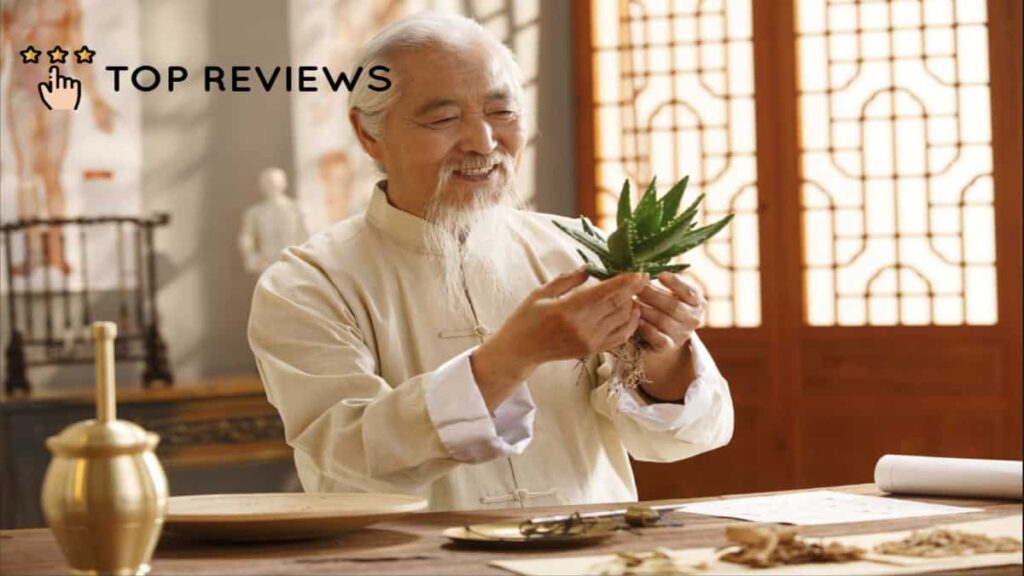 We ranked and narrowed down our choices based on factors such as these:
1. Advanced Natural Medicine – Naturopath West Auckland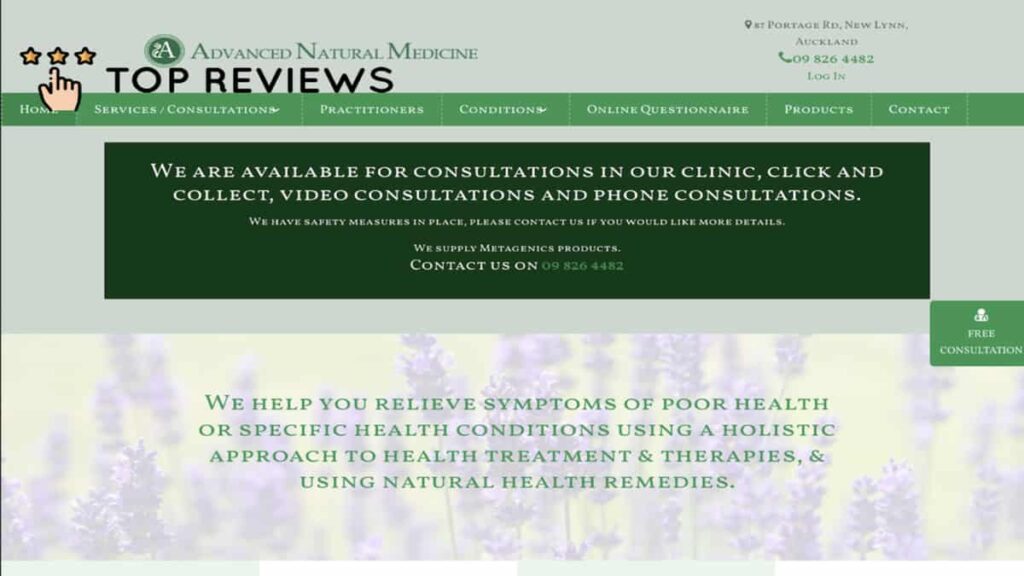 Test
Info
SERVICES
Health Assessment, Initial Consultation, Diet & Nutrition, Pain Management, Analysis & Tests,
WEBSITE
Advanced Natural Medicine - Naturopath West Auckland
ADDRESS
87 Portage Road, New Lynn, Auckland 0600, New Zealand
CONTACT DETAILS
+64 9 826 4482
OPERATING HOURS
Monday: 8:30 AM to 5:30 PM

Tuesday to Thursday: 8:30 AM to 6 PM

Friday: 9 AM to 5:30 PM

Saturday to Sunday: Closed
| | |
| --- | --- |
| Qualifications | ★★★★★ (5/5) |
| Areas of Expertise | ★★★★☆ (4/5) |
| Organization | ★★★★☆ (4/5) |
| Services | ★★★★★ (5/5) |
| Attitude | ★★★★★ (5/5) |
| Philosophy | ★★★★★ (5/5) |
| Healing Approach | ★★★★☆ (4/5) |
We chose Advanced Natural Medicine – Naturopath West Auckland as one of the best naturopathic centres because their physicians have years of experience and a deep understanding of the principles of naturopathy. 
First of all, we liked how the practitioners at Advanced Natural Medicine appear to have the expertise and dedication to make sure that every treatment they provide is tailored to meet the individual needs of each patient.
They take a holistic approach to medicine, treating the whole person instead of just the symptoms. Furthermore, we observed how their practitioners take the time to thoroughly understand each individual's history, lifestyle and genetic traits when devising treatments and remedies.
What we thought was great is how they strive to make sure their treatments are safe, using natural remedies wherever possible. Plus, we liked how they offer a variety of pain management therapie and treat a variety of conditions.
What we didn't like, though, was the cost of their services. But we can see why they charge more than the average naturopath. They have specialised services in microcurrent therapy and ozone therapy, after all.
Additionally, we noted that some of the remedies used by the practitioners at Advanced Natural Medicine might not be effective for everyone and may have to be modified in order to achieve the best results.
Free consultations
Knowledgeable and empathetic practitioners
Utilises holistic approach therapy and treatment
Microcurrent therapy and ozone therapy
Expensive treatments 
Some remedies are a bit hit-or-miss
Customer Reviews
Biggest difference in my overall health
I've seen multiple specialists and doctors over the years for ongoing issues relating to my gut, hormones, and immune system and after only seeing Joe a few times, I noticed the biggest difference in my overall health than I ever have before, and I'm very happy to say that my health has been the best it's been in a very long time thanks to Joe. Thank you so much Joe for your amazing advice and support and thank you to your wonderful team for all their help too! — Catherine Cole
Prepared and calm physicians who make you feel more alive
My name is Richard, and I can't thank Joe and the team at Advanced Natural Medicine enough. When I got diagnosed with prostate cancer I needed some grounding in what my options were. I had a consultation with Joe and he prepared a menu of great nutritional products and a process to guide me through the before, during and after my radiation treatment. All delivered in a calm approach which made the real difference. Now at the final stages of my journey I have boosted my immune system through having the nutritional products suggested and a course of ozone therapy treatments. After having a course of radiation and catching covid my symptoms have been really mild and I put that down to all the team at Advanced Natural Medicine. A big acknowledgement to Joe and the team and I fully recommend anyone with a health issue or if you just want to be more alive go and have a chat with Joe. — Richard Mayo
2. Simply Great Health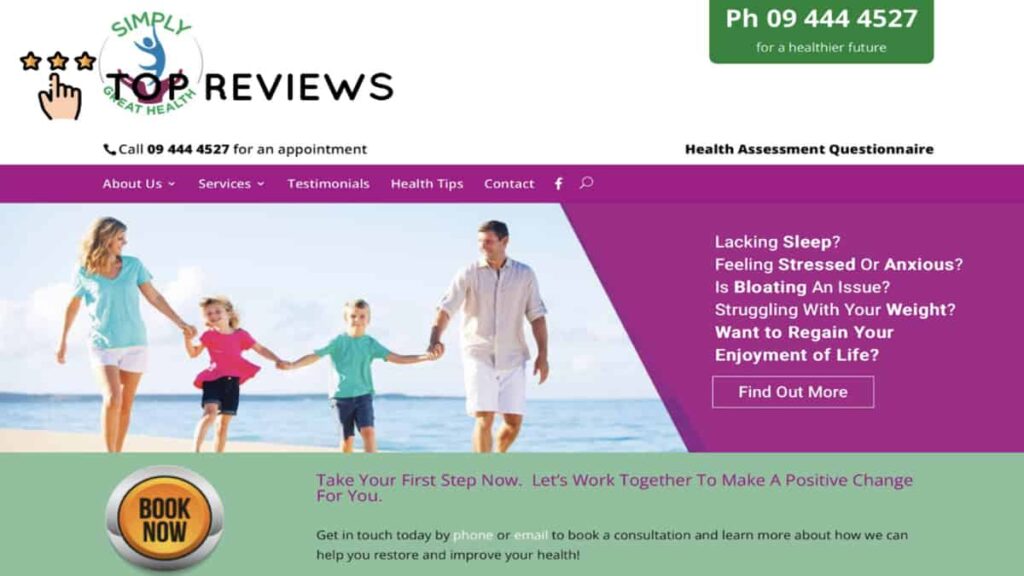 Test
Info
SERVICES
Herbal Formulas, Bach Flower Remedies, High-Quality Supplements, Hemaview Live Blood Analysis, Personalized Exercise Programmes, Infra-red Saunas, Massages, Diagnostic Tests, Acupuncture
WEBSITE
Simply Great Health
ADDRESS
1A/16 Saturn Place, Albany, Auckland 0632, New Zealand
CONTACT DETAILS
+64 9 444 4527
OPERATING HOURS
Monday to Friday: 9 AM to 5 PM

Saturday to Sunday: Closed
| | |
| --- | --- |
| Qualifications | ★★★★★ (5/5) |
| Areas of Expertise | ★★★★☆ (4/5) |
| Organization | ★★★★☆ (4/5) |
| Services | ★★★★☆ (4/5) |
| Attitude | ★★★★★ (5/5) |
| Philosophy | ★★★★★ (5/5) |
| Healing Approach | ★★★★☆ (4/5) |
Many raved to us about the naturopathic physicians at Simply Great Health in New and their simple and efficient process. Others told us about their infra-red saunas and claimed they make taking care of your health a relaxing process, which we obviously liked. 
So, we checked them out. True to the claims, Simply Great Health does have infra-red saunas for you to use as part of a stress relief treatment.
They seem to offer a wide range of natural health treatments to help people manage their health in a holistic and sustainable way, on the whole. Their treatments range from herbal and nutritional medicine to treatments for general health, acupuncture, massages, and many more.
We also love the fact that Simply Great Health employs experienced and passionate naturopaths who offer a very personalised, tailored treatment approach to each patient.
We noted that their naturopaths take the time to ensure that a treatment plan is individualised to each person's unique needs and preferences. We got this from both interviews of their patients and our own staff who tried them.
On top of that, we observed how their physicians understand the importance of good communication. They worked with each patient to ensure that they understand what the plan is, what it will involve and how best to move forward.
The only downside that we saw in the naturopath process at Simply Great Health was the long appointment wait times. They do seem to be booked more tightly than other centres.
Simple and efficient process 
Range of treatments 
Good communication
Customer Reviews
For the first time I understand and have hope
Simply Great Health is simply the best! My first appointment was with Alison, two days ago. There are a lot of reasons why I like this Naturopath, but I will try to narrow it down. I can recommend Alison wholeheartedly! First, I like that Alison really wants to get to the root of the problem and treat the cause, not the symptom. This is very important to me. In addition, I love that she doesn't apply a standardized treatment plan, but creates a plan tailored to your needs. I have been trying to heal myself for many years and my symptoms have kept coming back. For the first time, I feel understood and have hope again. What a great feeling! Alison will listen to you, understand you, deeply care for you and create a unique treatment plan just for you! Thank You! — Eva Zylla
Caring and compassionate practitioners
Alison is one of the most caring and compassionate practitioners I have ever met. She is a highly experienced and knowledgeable naturopath. She has helped me to optimise my own health and many of my friends and family have also had amazing results working with her. I would highly recommend her services. Whether you simply want to improve your overall well being, or have complex health challenges, Alison really knows her stuff and will take great care of you! — Dr Jan O Neil
3. Holistic Health & Wellness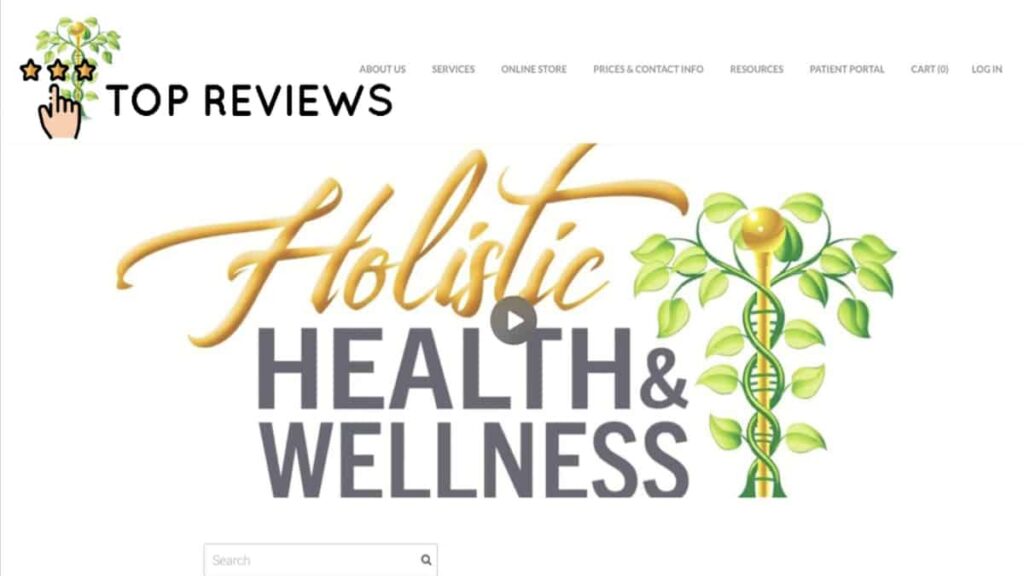 Test
Info
SERVICES
Naturopathic Consultations, Functional Medical Diagnostics, Herbal Medicine, Health & Inspiration Days, & Events
WEBSITE
Holistic Health & Wellness
ADDRESS
275 Fifield Terrace, Opawa, Christchurch 8022, New Zealand
CONTACT DETAILS
+64 21 198 0057
OPERATING HOURS
Monday: 9:30 AM to 2:30 PM

Tuesday: 9:30 AM to 5 PM

Wednesday: 9:30 AM to 7 PM

Thursday: 9:30 AM to 2:30 PM

Friday: 9:30 AM to 3:00 PM

Saturday to Sunday: Closed
| | |
| --- | --- |
| Qualifications | ★★★★★ (5/5) |
| Areas of Expertise | ★★★★★ (5/5) |
| Organization | ★★★☆☆ (3/5) |
| Services | ★★★★☆ (4/5) |
| Attitude | ★★★★☆ (4/5) |
| Philosophy | ★★★★★ (5/5) |
| Healing Approach | ★★★★★ (5/5) |
Several of our staff used the services of the naturopath physicians at Holistic Health & Wellness to help us assess them.
From their experiences, we can say that the naturopaths here are knowledgeable, professional, and kind. We liked that they took the time to thoroughly assess their condition and make a plan.
Furthermore, we thought it was great that their naturopathic physicians took it a step further and guided our team members through every step of their treatment. They even had special consideration for the one who had never done naturopathy before.
From what our team members said, their process was comprehensive and medically sound. The naturopath doctors that our team members saw started off by taking the time to learn their history, do a physical exam, and order tests.
Then, each physician created an individualized plan tailored to their needs. Each team member noted that their doctor was knowledgeable about many types of treatments and used multiple modes of therapy, including nutrition, herbs, supplements, and lifestyle changes.
What our team members liked the most was their meticulousness and their attention to detail. They could tell that they genuinely cared about their well-being.
The only downside to our team members' consultations was how time-consuming they were. And indeed, when we surveyed other patients of this centre, they mostly agreed with that as a weakness of the place's services.
Meticulous physicians 
Individualized treatment plans 
Medical diagnostics 
Time-consuming consultation
Customer Reviews
Eye opening first session
My first session with Stephen was an eye opener, but in some cases what I already knew due to being a Nurse. However I left my first appointment feeling inspired, positive and ready for a challenge to make changes for my health. For years having Drs tell me the same old thing and that only one or two options would help my condition, I wasn't prepared to sit back and continue to listen to something that wasn't working. So I'm being prepared to make some major changes but one small step at a time. — Linda Campbell
Genuine care for patients
I have been battling a chronic health condition for 8 months getting countless examinations and tests without any clear diagnosis until my appointment with Stephen. He has provided me with the root cause of my health problem and has given me a detailed protocol to follow. Stephen has been absolutely amazing to deal with, I truly feel like he has genuine care for his patients. After my first appointment I knew he was the medical professional I wanted to work with for the rest of my health journey. — Kristen Schrader
4. Gina Sarten, Naturopath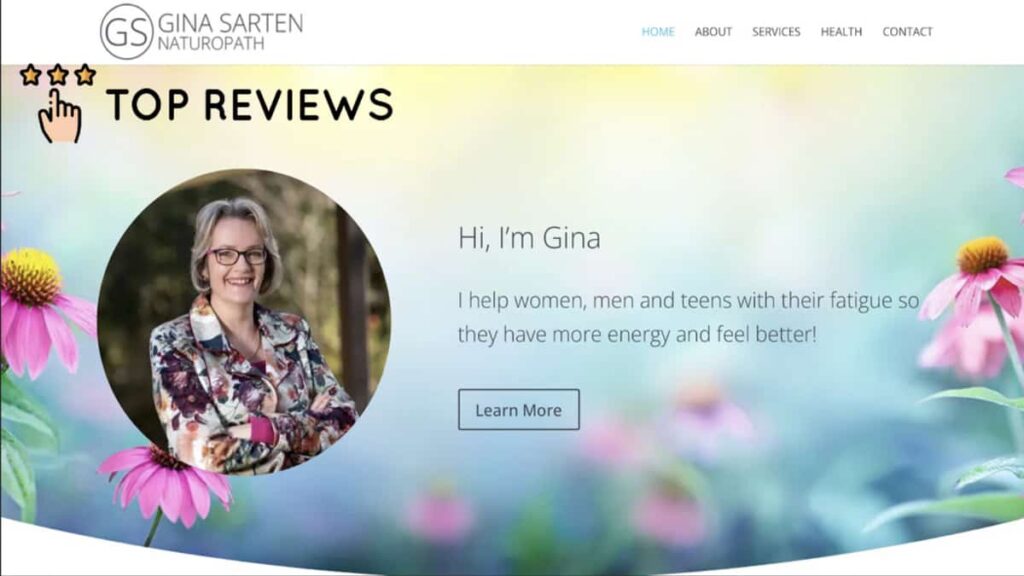 Test
Info
SERVICES
Initial Consultation, Body Talk, Reiki, Neuro Linguistic Programming, QRA Testing, Food and Environmental Sensitivity Hair Test, Hair Tissue Mineral Analysis, & CDSA Stool Tests
WEBSITE
Gina Sarten, Naturopath
ADDRESS
58 Clinic Plateau Road, Upper Hutt,
CONTACT DETAILS

[email protected]

021 576 149

OPERATING HOURS
Sunday & Monday: Closed

Tuesday & Wednesday: 10 AM to 8 PM

Thursday: 10 AM to 6 PM

Friday: 9 AM to 1 PM

Saturday 10 AM to 4 PM
| | |
| --- | --- |
| Qualifications | ★★★★★ (5/5) |
| Areas of Expertise | ★★★★★ (5/5) |
| Organization | ★★★★☆ (4/5) |
| Services | ★★★★★ (5/5) |
| Attitude | ★★★★★ (5/5) |
| Philosophy | ★★★★★ (5/5) |
| Healing Approach | ★★★★★ (5/5) |
Gina Sarten is a leading New Zealand naturopath and is the person powering this centre, which has a reputation for providing natural treatments tailored to each individual's needs and nurturing the body, mind, and spirit.
Her extensive experience in natural medicine and passion for helping her patients achieve their optimal health was made evident during our testers' patient consultations. We noted how she uses an evidence-based approach to her practice and uses herbal medicines, nutrition, and even Neuro Linguistic Programming.
Furthermore, we thought it was great that Gina knew how to address the underlying causes of discomfort in each case. It's probably because surveys of her patients show that she's treated a wide range of conditions, ranging from chronic fatigue to digestive disorders.
Something we really liked about her approach to naturopathy, in particular, is that she took the time to listen and get to know her patients to truly understand their individual needs.
She takes a very personal approach to her practice and is incredibly compassionate and understanding when it comes to helping her patients achieve the best possible outcomes.
Plus, we love how she also offers a free 15-minute phone consultation so that she can get to know you and answer any questions you may have about her treatments and services.
This is incredibly helpful for first-time patients, as it allows them to get a better understanding of what she does and see if it's the best fit for them.
Overall, we were pretty happy with her. The only thing we didn't like about Gina Sarten is the fact that her services are not always covered by her patient's insurance.
Free 15 minute phone consultation 
Compassionate and understanding 
Neuro Linguistic Programming
Doesn't always accept insurance
Customer Reviews
Helped me heal on the inside
Gina is phenomenal! I'd never been to a Naturopath so was unsure of what to expect. What I experienced was an extremely kind woman who helped me heal on the inside. I will forever be grateful and recommend Gina to anyone who needs to find their inner peace. — Ingrid Osborne
Relaxing personality, kind and understanding
Gina is amazing! Both of my daughters have attended Gina's practice and had Bodytalk. Gina has a lovely relaxing personality and was kind and understanding. I really have no idea how it works, but it was incredible and we had success with two different matters within a relatively short space of time. Certainly, worth the effort to go natural! — Moira Robertson Brown
5. Alive Natural Health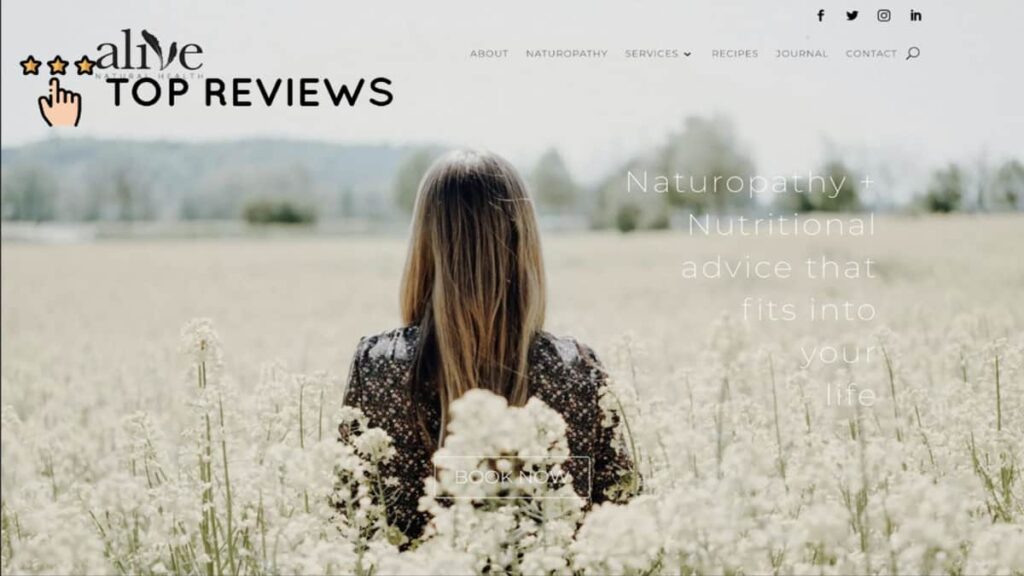 | Test | Info |
| --- | --- |
| SERVICES | Naturopathic Consultations, Fitness, DNA Health and Wellness Functional Testing |
| WEBSITE | Alive Natural Health |
| ADDRESS | 192A Valley Road, Mount Maunganui 3116, New Zealand |
| CONTACT DETAILS | 021 797 774 |
| OPERATING HOURS | Monday: 9:00 AM to 2:30 PM   Tuesday: 9 AM to 1 PM |
| | |
| --- | --- |
| Qualifications | ★★★★★ (5/5) |
| Areas of Expertise | ★★★★★ (5/5) |
| Organization | ★★★★★ (5/5) |
| Services | ★★★★☆ (4/5) |
| Attitude | ★★★★☆ (4/5) |
| Philosophy | ★★★★☆ (4/5) |
| Healing Approach | ★★★★☆ (4/5) |
We recently shadowed Helen, a leading naturopath at Alive Natural Health in New Zealand. Although she provides limited naturopath services, her organized process of dealing with patients stood out to us.
We like how Helen focuses on giving evidence-based, natural therapies for both medical and emotional issues. Plus she also does comprehensive health and lifestyle assessments.
We also found that any treatment process is tailored to her patient's individual needs and conducted in a safe and private setting. What's more, we thought it was great how she gave helpful, easily actionable advice on optimizing health.
Furthermore, her practice is very affordable. The cost of her services is very reasonable when compared to others and we noted that there were no hidden fees.
However, some of her patients commented to us about the herbal treatments she offers. They said they have a strange taste.
Still, we thought this was a minor issue, as we observed that her patients were still able to achieve their desired results. In fact, we learned that the same is true of other patients of the centre, even those working with other naturopaths.
Overall, we found Alive Natural Health to be reliable and professional. The pricing is reasonable, treatments are effective, and the practice is managed in a safe environment.
Reasonable prices
Well-organised centre
Effective treatments
Strange-tasting herbal treatments
Customer Reviews
Handled all of my concerns
Helen was excellent at actively listening to exactly what my concerns/issues were and had an excellent approach to helping me solve them. She was available to support me and answer any questions I had throughout my time with her. I would definitely recommend Helen to anyone needing help! — Melody Klein Ovink
Perfect for people going through menopause
I have been really struggling with severe menopause symptoms for sometime and with Helens help and the right supplements after 6 weeks I am feeling a lot better, the symptoms although not gone completely are very manageable and continue to improve. Helen is super friendly, very professional and gives you all the information you need to get on track with your health and goals – I am truly thankful I found her and would strongly recommend her to any people suffering thru menopause! — Kate Lawry
FAQs About Naturopaths in New Zealand