What is Whakatane known for? (ALL the answers!)
Whakatane—a place where the sun always shines, the people are warm, and the adventures are endless. But if you've never been here, you're probably wondering what Whakatane is known for.
Well, no need to search far and wide because we have the answer for you!
Whakatane is known for its stunning beauty, White Island, Whakatane Heads, Ohope Beach, Moutohora, street art, and range of outdoor activities for visitors.
Join us as we delve into each of these today!
Whakatane is known for their stunning scenic beauty
Whakatane boasts a captivating blend of natural beauty and, with it, an undeniable sense of tranquillity. But what sets this town apart from others in the country? What makes it so stunningly beautiful?
The answer lies in its diverse landscapes. Whakatane is a vibrant canvas of breathtaking coastal vistas, lush green forests, and enchanting wildlife reserves.
It's a place where you can start your day watching the sunrise on Ohope Beach and end it with a tranquil walk surrounded by ancient trees. Below are three of our team's top places where you can see the scenic beauty of Whakatane for yourself!
Kohi Point
Kohi Point is a scenic headland with panoramic Pacific Ocean and Whakatane views. Standing atop this point, you'll see Whale Island (Moutohorā) and White Island (Whakaari) in the distance.
Otarawairere Bay
This secluded bay is only accessible by foot or sea, making it an idyllic escape.
For the hikers among us, a scenic walking track leads to Otarawairere Bay from West End, the westernmost point of Ohope Beach.The walk typically takes about 20 minutes and has views of the Pacific Ocean and White Island along the way.
Wairere Waterfall
At Wairere Falls, a track leads you through lush native forest to two lookout points. The first lookout, about halfway up the track, provides a spectacular view of the falls cascading down the cliff face.
If you continue along the trail, you'll reach the top of the falls, where you can enjoy panoramic views over the Waikato Plains and the Bay of Plenty.
Walking to the top lookout is a bit challenging, taking about 90 minutes each way, but it's certainly worth it.
Whakatane is known for White Island
Whakaari, also known as White Island—an active andesite stratovolcano—is a focal point for scientists and researchers, but it's the island's surreal beauty that draws in travellers and divers.
Divers come here to explore the vibrant underwater world around White Island, which is teeming with various marine species, including schools of blue maomao, kingfish, and more. The volcanic activity contributes to abundant marine life and creates a unique, dramatic dive environment.
In addition to diving, scenic flights over White Island offer a different perspective on this natural wonder. From the air, you can fully appreciate the scale and beauty of the volcano and its surroundings.
Whakatane is known for the famed Whakatane Heads
The Whakatane Heads is where the mighty Whakatane River meets the sea, creating a mesmerizing spectacle of natural beauty.
Whakatane Heads is not just known for its stunning vistas—it's also famous for its dramatic sunsets. As the day draws to a close, the sky above Whakatane Heads transforms into a riot of colours, painting a breathtaking picture beautifully framed by the iconic 'lady on the rock' statue.
Moreover, it's a popular spot among surfers. The beach's right-hand point river mouth break offers an exciting surfing experience.
Whakatane is known for Ohope Beach
Blessed with great surf and stunning views of Whale Island and White Island, Ohope Beach is perfect for long, leisurely walks, sunbathing, or catching waves. The waters here are also ideal for swimming, kayaking, and paddleboarding.
But the charm of Ohope Beach extends beyond its sandy shores. One of the beach's hidden treasures is Ōtarawairere Bay.
And let's not forget about the stunning sunsets. The sky over Ohope Beach is set ablaze with orange, pink, and purple hues—a sight sure to take your breath away.
Whakatane is known for Moutohora
Whakatane is renowned for many things, and one of them is the small, uninhabited island located just off its bay—Moutohorā. (Whale Island)
It's one of New Zealand's most protected wildlife sanctuaries, so only permitted guided tours can take you there. This careful management has allowed the island to flourish as a safe haven for various native species.
Bird lovers will love seeing endangered birds up close, like the saddleback, bellbird, and stitchbird.
There are a few blue penguin colonies on the island too!
Whakatane is known for their outdoor art
From traditional Maori carvings to contemporary sculptures and paintings, the town of Whakatane is adorned with a diverse range of artistic expressions. These artworks beautify the town and tell stories of its history, culture, and people.
Here are some examples of the town's dazzling art.
Movie Villains Whakamax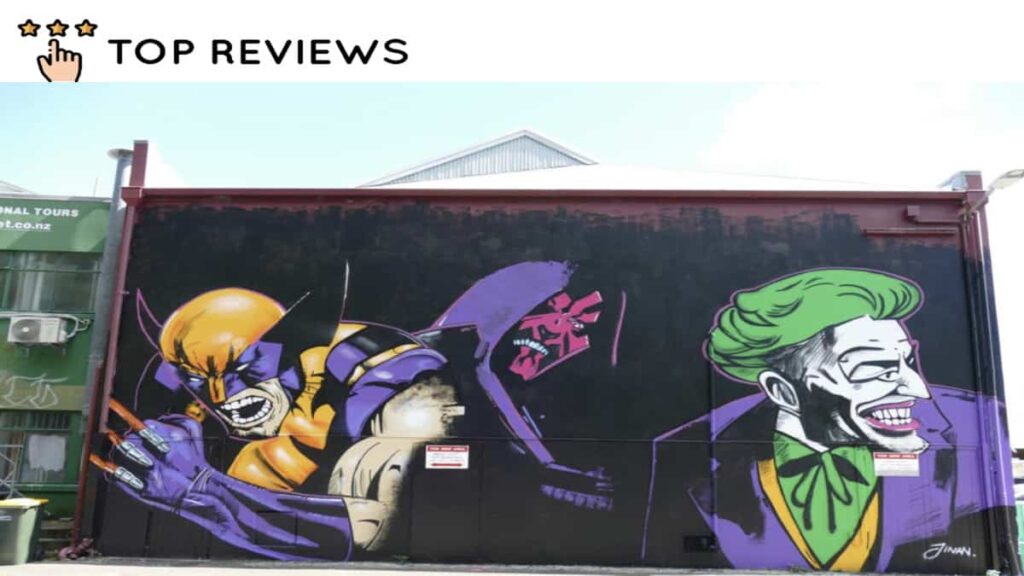 As you stroll around Whakatane, you can't miss this larger-than-life mural.
Jinan Dodd, a talented artist and musician from Whakatane, is the mastermind behind this awe-inspiring artwork. His interpretation of these notorious characters is visually striking and brings a slice of Hollywood to this charming Kiwi town.
Taurahere Tangat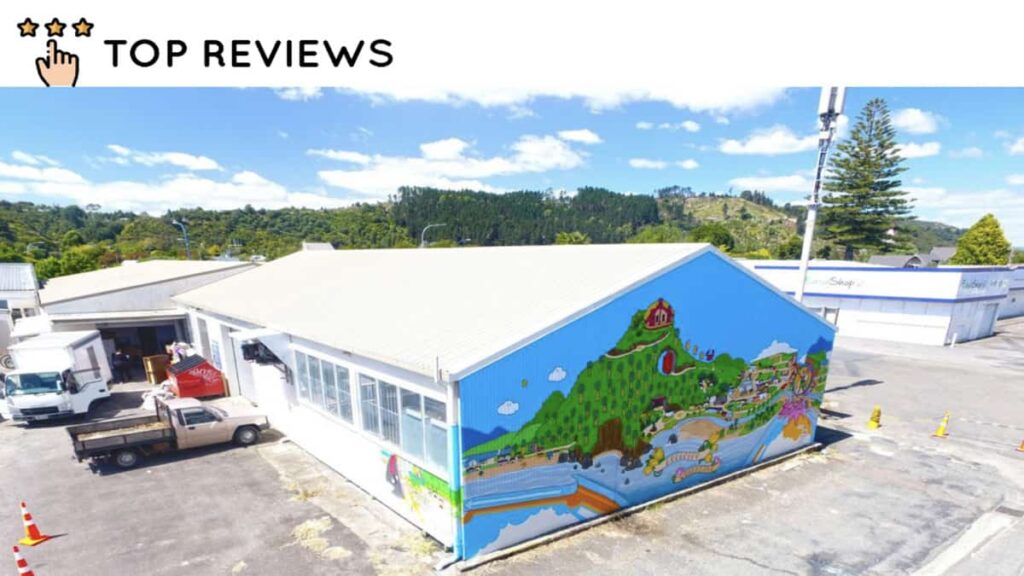 This complex and colourful artwork celebrates the region's local culture, history, and important Tīpuna (ancestors).
Gonnella's style is evident in this mural, where he has encapsulated the spirit of Whakatane and its rich cultural heritage.
Te Tira Hou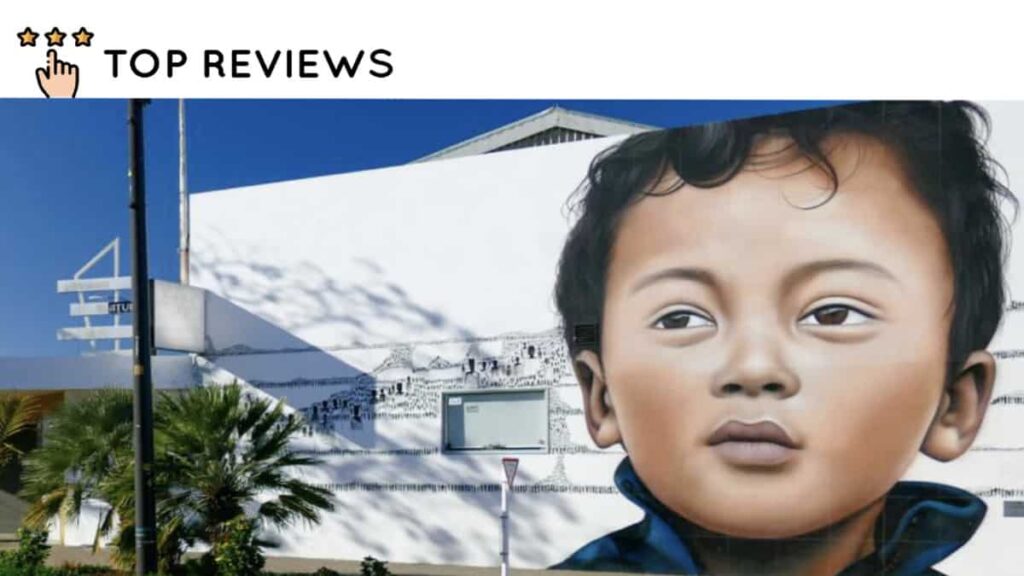 This magnificent work of art is a collaboration between Tame Iti, a renowned Tuhoe artist, and Owen Dippie, an internationally recognized muralist from nearby Kawerau.
Te Tira Hou, which translates to 'New Generation', beautifully embodies the spirit of Maori culture and community. Watching over the corner of Whakatane's The Strand, this mural features Iti's grandson, symbolizing the continuity and vitality of the Maori culture passed down through generations.
The mural is a vibrant mix of traditional Maori symbols and contemporary street art, making it a unique visual feast. The intricate detailing, bold colours, and compelling theme make it an essential stop for art enthusiasts visiting Whakatane.
Public Art Trail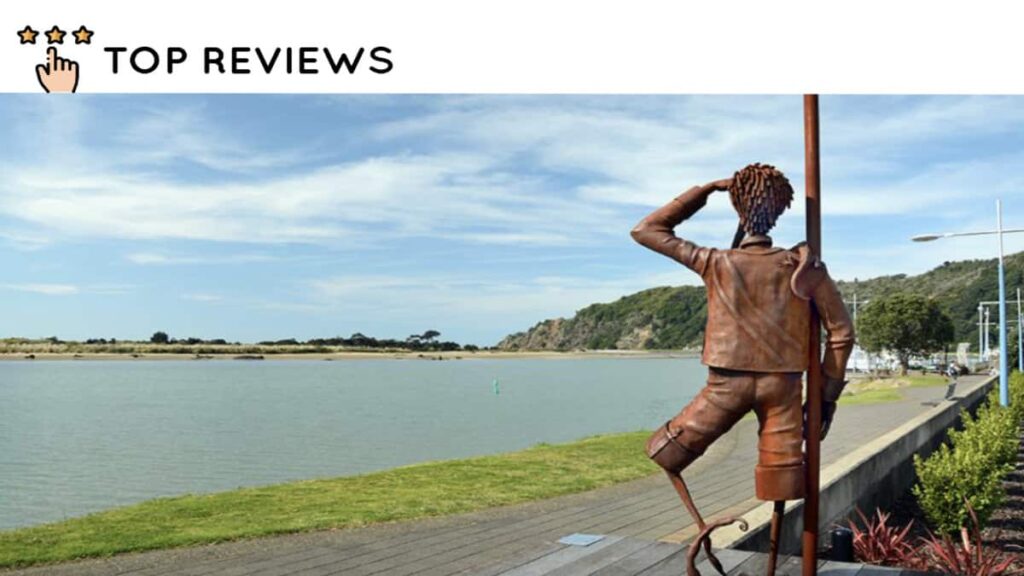 The Public Art Trail in Whakatane is a must-visit, offering diverse art, from traditional Maori carvings to contemporary sculptures and paintings. With 21 artworks to discover, it's like embarking on a treasure hunt, each telling a unique story about the area's history, culture, and people.
Whakatane is known for its plentiful outdoor activities
Whakatane is an adventurer's playground with free and budget-friendly activities. From exploring the local art scene to visiting historical sites, there's plenty to see and do.
Below are three of our team's top-voted favourite outdoor activities to do in Whakatane.
Fishing
Whakatane is an angler's paradise. Renowned as one of the country's best fishing destinations, it offers an array of opportunities for both freshwater and sea fishing.
The Whakatane River is a haven for brown trout and kahawai, particularly during late spring and early summer when these fish chase whitebait to the river mouth.
For those who prefer deep-sea adventures, you can't miss the exhilarating fishing charters Whakatane offers. Top-rated charters such as Gambler Fishing Charters nz and Ezyfishing Charters provide trips to White Island, where you might land that big catch.
Surfing
With a series of beaches offering varying wave conditions, Whakatane is an ideal spot for both beginners and experienced surfers.
West End is a popular spot for safe surfing, particularly for those learning to surf. The seafloor drops away gently here, creating waves that don't break too hard, providing a perfect playground for newbies.
For more seasoned surfers, Whakatane Heads is a must-visit. Be prepared for some company, though, as it's one of the most famous surf spots in the region.
Hiking
One of the crown jewels of Whakatane's trails is the Nga Tapuwae o Toi Walkway. This loop track offers you everything from breathtaking ocean views to encounters with native bird species.
The Fairbrother Loop Walk and the White Pine Bush Track are perfect for those who prefer shorter walks. The Warren Cole Walkway, another favourite, is a tranquil stroll along the Whakatane River, offering scenic river views and ample bird-watching opportunities.