The 5 Worst Upholstery Cleaning Mistakes You Should Never Make
From long cushy sofas to soft, cloud-like armchairs, our upholstery offers us a ton of comfort.  But nothing ruins this comfort quite like an unsightly stain or an unpleasant scent emanating from your favorite lazy-boy 
To help you clean your upholstery the right way, we'll be outlining some common cleaning mistakes to avoid.  As a bonus, we'll also include various resources such as cleaners and products to help you keep your upholstery fresh and well-maintained.
5 Upholstery Cleaning Mistakes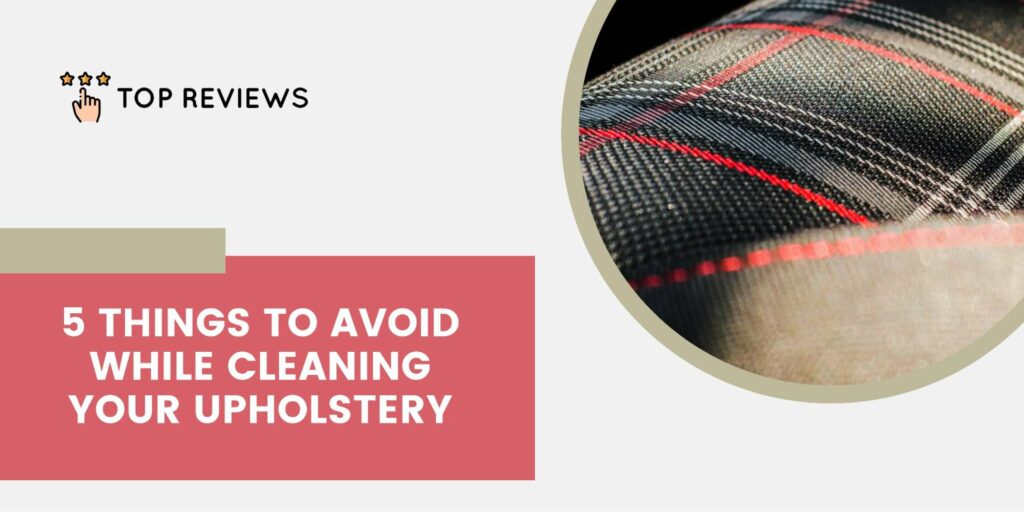 ---
Scrubbing Stains
Much like carpet cleaning, scrubbing upholstery stains is a surefire way to ruin your favorite piece of furniture. This is because scrubbing can actually drive stains deeper into your upholstery making it even tougher to clean.
Instead, we'd recommend blotting your couch or chair with a damp rag. But, if the stain is particularly bad the best course of action would be to use a spot-removing product or a steam cleaner.
Soaking Upholstery
For most upholstery pieces, even a small amount of water can lead to prominent watermarks if left untreated.  Because of this, soaking upholstery to remove a stain is usually frowned upon since you'll end up with one huge watermark instead of a stain.
If you truly must resort to using water to clean your upholstery, we'd recommend that you do so sparingly or better yet simply use a steam cleaner.
Using the Wrong Products
Furniture can come in many different forms with various materials such as leather, suede, cotton, and more. If you happen to use the wrong type of cleaning product to clean your upholstery you may end up putting holes in your furniture instead of cleaning it.
So that you don't ruin your upholstery, we'd recommend always checking your cleaning products to see what materials they can be used on.
Using Fabric Protectors the Wrong Way
Used properly, fabric protectors can greatly extend the life of your upholstery by protecting it from dirt, oils, and stains. But, if they are installed incorrectly they can actually end up trapping moisture in your furniture which can cause mold and damage to the fabric.
In order to get the full benefits of a fabric protector, it would be wise to have it installed by a qualified professional. Otherwise, you may end up having to bring your furniture to a restoration specialist to have the fabric removed and replaced.
For reference, we've found several lists for furniture restoration services in Auckland, Wellington, and Christchurch.
Heating Your Upholstery Too Much
As we stated earlier, upholstery pieces often use different types of materials depending on their intended use.  Some types of materials do not respond well to heat from outdoor conditions and cleaning equipment..
If your furniture is exposed to too much heat, it can end up cracking, drying out, or melting altogether.  So, to make sure your furrniture doesn't melt mid steam clean, we'd recommend enlisting the help of a professional upholstery cleaner.
The main takeaway from this long list of DIY don'ts is to know your upholstery and be smart with your cleaning products/equipment. We sincerely hope this list will be of some use to you should you ever find the need to clean a couch, sofa, or any other piece of upholstery