The 5 Best Italian Restaurants in Christchurch
If you need ideas on which Italian restaurant to go to for tonight, you're in luck, as we've listed the best Italian restaurants in Christchurch here!
We selected those that have a variety of great-tasting Italian dishes. Moreover, we chose those with attentive and friendly staff and a welcoming restaurant atmosphere.
Anyway, enough of the preamble! If you're all set, here are the best Italian restaurants in Christchurch.
1)  Venuti Cucina Italiana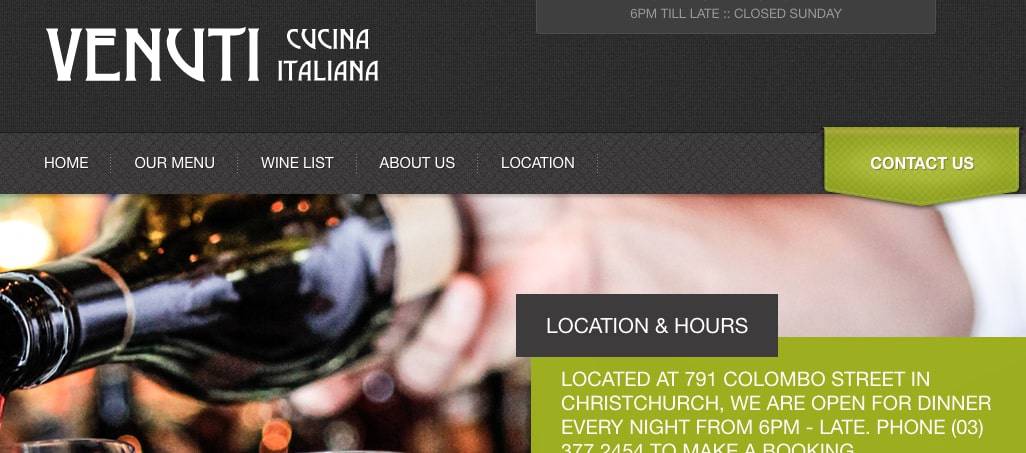 BEST FOR
Modern Italian food
SERVICES
Starters

Pasta

Mains

Pizza

Dessert

Sides

Wine List

WEBSITE
http://www.venuti.co.nz/
ADDRESS
791 Colombo Street, Christchurch, New Zealand
CONTACT DETAILS
(03) 377 2454
OPERATING HOURS
Monday to Saturday: 6pm till late
Venuti is a family-owned and -operated restaurant offering modern and tasty Italian dishes. It is situated at 791 Colombo Street in the heart of Christchurch City.
You can try their Chicken Parmigiana, Spaghetti Con Prawns, or lasagne, which guests love. For salads, you can order Rucola or a vegetarian rocket salad with pear and parmesan; try their Mista Salad for leafy veggies with tomato, cucumber and olives.
To complement your meal, you can select from their premium range of wines. These drinks are made in Italy and New Zealand. Their staff can suggest a great wine for your dinner too, if you like.
Also, clients say that the restaurant has a wonderful and inviting atmosphere.
Highlights 
Modern and tasty Italian dishes
Family-run business
Premium range of wines
Friendly atmosphere
Customer Reviews 
One guest, Abby Booker, shares her food experience in Venuti Italian restaurant:
"This is a review that deserves an exceptional level. We had been looking for an Italian restaurant on our travels around NZ and found Venuti in Christchurch. It was so good that we visited 2 nights in a row! On our 1st visit we tried the pasta – one with scallops and a tomato based sauce so amazingly delicious and perfectly cooked, the other was chicken in a sumptuous cream sauce. Dessert consisted of a serve of Tiramisu and the upside down cheesecake. Both absolutely delicious. The wine list is fantastic, the port a particular favourite! Then a delicious drop of Limoncello to finish. We didn't think it could get any better."
2)  Tutto Bene Restaurant & Pizzeria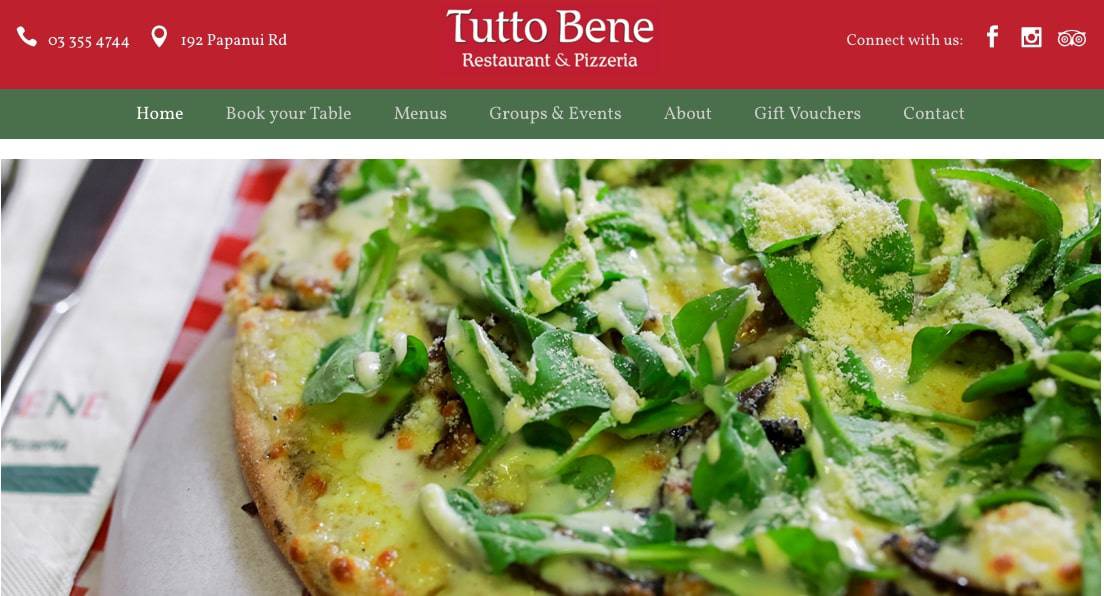 BEST FOR
Dedicated vegan menu
SERVICES
Pasta

Pizza

Chicken/Fish

Vegan

Vegetarian

Wine List & Beverages

WEBSITE
https://tuttobene.co.nz/
ADDRESS
192 Papanui Road, Merivale, Christchurch 8014, New Zealand
CONTACT DETAILS
+64 3-355 4744
OPERATING HOURS
Wednesday to Sunday: 5pm – 10pm
If you are a vegan by heart and want Italian food, then you've found the dining joint to match your needs… and it's Tutto Bene, one of the best Italian restaurants in Christchurch.
They offer a scrumptious vegan menu, perfect steak and fish dishes and an extensive wine list. Their pizzas and pastas are mouth-watering and great for sharing with the family.
Interestingly, they are also one of the country's first carbon-neutral restaurants. They care about the environment and contribute their profits to the NZ Native Forest Restoration.
Highlights 
Carbon-neutral restaurant
Serve scrumptious vegan meals
Have vegan, vegetarian and gluten-free options
Extensive range of wines
Customer Reviews
Check out Jaspinder Singh's review of Tutto Bene:
"The service was great. I ordered polenta chips which was great nice and crispy from outside and soft from inside. Then I order ed pizza vegan one which was great And I also order mocktail which was very good and refreshing love to go over there again."
3)  Cafe Valentino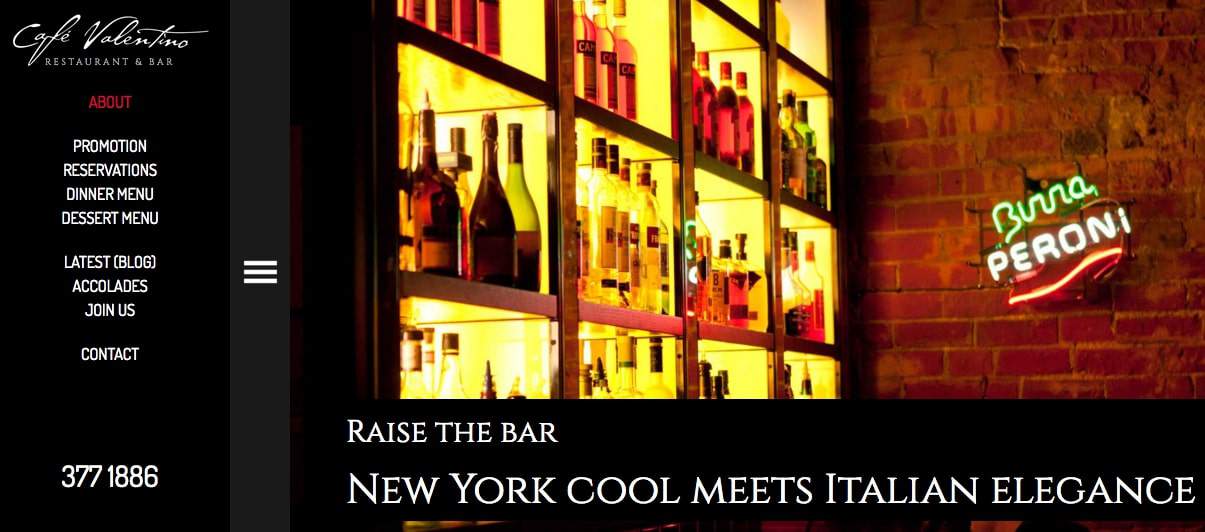 BEST FOR
Vibrant restaurant with exceptional service
SERVICES
Dinner

Dessert

WEBSITE
http://cafevalentino.co.nz/
ADDRESS
168 St Asaph Street, Christchurch, New Zealand
CONTACT DETAILS
+64 3-377 1886
OPERATING HOURS
Monday to Sunday: 4.30pm – 9.30pm
One of the best Italian restaurants in Christchurch, Cafe Valentino is a favourite restaurant hangout for touring artists, locals, patrons and first-timers.
The atmosphere here is buzzing with lots of people appreciating great food and drinking flavourful wines. The food is cooked by Chef Karren Gray and is creatively presented.
Hospitality is at the very top of their list and has kept their clients coming back. They ensure that you totally enjoy your time here by giving you an exceptional service.
They always seek to be better and to innovate each time — setting them apart from the rest. That's why people can't stop raving about their food, including the crispy and perfect wood-fired pizzas and heavenly desserts.
Highlights
Award-winning Italian restaurant
Serves amazing food
Vibrant restaurant with hospitable staff
Driven to be the best
Centrally located
Customer Reviews
Let's see the review of Audrey Watt about the food at Cafe Valentino:
"Lunch was of exceptional quality and of generous portions. Very convivial atmosphere (great music!)whether you are on your own, couple or a group. Very attentive staff throughout, ensuring you are happy without being intrusive. High end quality food but without the price that you may expect to accompany it. Parking outside. This is a must visit."
4)  Francesca's Italian Kitchen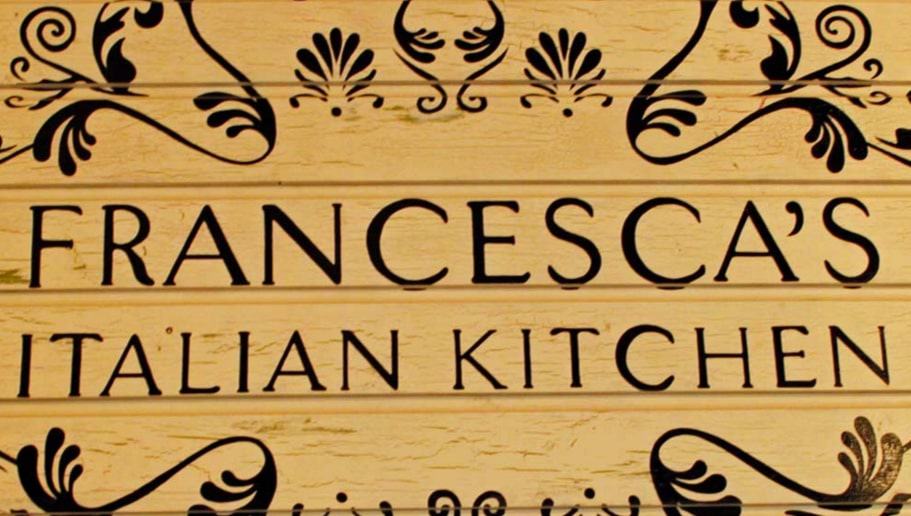 BEST FOR
Exceptional-tasting food
SERVICES
First Dish / Appetiser

Pizza

Pasta & Main

Salad

Dessert

WEBSITE
https://fransitalian.co.nz/christchurch-home/
ADDRESS
149 Gloucester Street, Christchurch Central, Christchurch 8011, New Zealand
CONTACT DETAILS
03 374 9790
OPERATING HOURS
Monday to Sunday: 12pm – 3pm | 5pm – 9pm
Francesca's Italian Kitchen serves authentic Italian food prepared by skilful and passionate chefs. Only the newest and freshest ingredients are used for their menu.
It has been featured in the Lonely Planet and is commended for offering delicious meals, even down to the 'simple things' like pizza, pasta and polenta chips.
Of course, they also offer beverages including local and Italian wines, craft beers, cocktails and spirits. In addition, they are proud to serve diners with soothing AllPress Coffee.
And needless to say, the restaurant treats their guests with hospitality, which has been a longstanding Italian tradition, as customers can attest.
Highlights
Exceptional food and service
Uses only the freshest ingredients
Offers AllPress Coffee
Customer Reviews
Hannah Lily Herman, one client, wrote a review about dining at Francesca's Kitchen:
"My girlfriend and I came here last night for dinner. We were blown away by the service and food! Our waitress was so accommodating and so lovely. The pizza and pasta was definitely the best we have had in Christchurch 🙂 we will definitely be coming back!"
5)  ChiChi Kitchen

BEST FOR
Aromatic and savoury pastas
SERVICES
Oil-Based Pasta

Tomato Sauce-Based Pasta

Cream Sauce-Based Pasta

Ravioli

Risotto

Pizza Wrap

Sides

Create Your Own Pasta

Fresh Pasta

WEBSITE
https://www.chichikitchen.com/
ADDRESS
270St Asaph St, CBD, Christchurch 8011, New Zealand
CONTACT DETAILS
+64 274 373 526
OPERATING HOURS
Monday to Thursday: 5pm – 9pm

Friday & Saturday: 5.30pm – 10pm
Offering unique flavours from around the globe, ChiChi Kitchen has something exciting for you! Their menu consists of meals from pastas to ravioli and pizza wraps.
Here, their pastas are fragrant and savoury whether you like oil-based, tomato sauce-based or cream sauce-based. For their DIY pasta, they even let you choose the ingredients you prefer and the chef will cook it for you.
There are many options here to satisfy your craving and discerning palate. The ChiChi team continues to be creative and innovative in their menu — which you can't find at just any Italian restaurant.
ChiChi Kitchen has been recognised as the Best Italian Restaurant by Restaurant Guru in 2019 and 2020. It's also well-liked by people, which is why we added it to the best Italian restaurants in Christchurch list!
Highlights
Award-winning Italian restaurant
Unique flavours
Interesting menu
Innovative and creative team 
Customer Reviews 
Liza Brown, one customer, wrote of her experience at ChiChi Kitchen: 
"Wow! wow wow! what a flavour sensation! Meals are perfectly seasoned, you can literally taste every single ingredient in the dishes. What a delightful experience,  my tatsebuds were singing. Thankyou so much ChiChi Kitchen for sharing your wonderful talents with Christchurch,  I will definitely be back to tickle my taste buds again."
So there you have it for the best Italian restaurants in Christchurch. You can go to these restaurants to relax and dine on the very best Italian fare in the city.
Do you have any questions or comments about this topic? If you have one, you can send it our way by messaging us and we'll get right back to you.
Also, you may like to check out our list for the best cafes in Christchurch. You can visit one of these stores for your brunch or dinner as they have great meals and coffee!